Rocket Science Have Uncle Geddy Assist Them
By Tim Melton, ChartAttack.com, June 28, 2001
---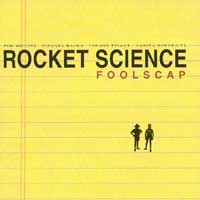 Rob Higgins, bassist/vocalist for Toronto's Rocket Science has been a busy man as of late. He's recently returned from a spring tour subbing on bass for Duncan Coutts of Our Lady Peace fame, who took leave for a spell to nurse various injuries. Higgins just finished mastering Rocket Science's soon to be released debut, Foolscap. Produced and recorded by Rob's uncle, fellow bass monster Geddy Lee, and the boys in Rocket Science at Geddy's home studio.
The advance of Foolscap hands you a little of what you might expect and a whole lot you won't. Rob and I relaxed with a cold one on the patio just steps from the studio and he told me a few stories on a hot summers day.
"Jeremy (OLP) just called me up and asked if I could help them out for a little while and we'd just finished tracking Foolscap and we were just going to be waiting for the snow to melt," he laughs, rubbing his goatee. With that tour under his belt, Rob and RS bandmates Richard Faima (guitar), Gordon Reilly (guitar) and drummer Daniel Cornelius are now planning for a fall release for an album that seems to have taken a long time to make, but in reality didn't.
"We only got the chance to record, like, once every few months," he explains. "There was really no timetable, so we were in no hurry to put just a record together and put it out as something to do." All of Foolscap's tracks were recorded as they were written, so in reality Rocket Science's debut only took about three weeks to record.
Songs like the Primus heavy bass smack of "Losing An Edge" and the sonic eardrum punch of "Be" will delight fans of bands that dare to put their musical foot down on the pedal and hold it there. Rocket Science rhythmic interplay and punk-meets-prog fearlessness in the face of a largely pop driven 4/4 time world is refreshing. "We wanted to take some time and make a creative record that explored a lot of our interests instead of making a record that sounds very much the same from song to song," he states flatly. "That's a good marketing scenario, but I think it's more important to make music you wanna make and explore those things," he adds.
Recording at Lee's studio provided a comfortable experience for Higgins and co. "He knew things that we wanted and just tried to help us get them," he explains with a laugh, adding, "He likes things a little weird and out there." With a host of guest appearances including K.D Lang collaborator Ben Mink, the gals from Sticky Rice and a backing vocal on "Space Suit" by Geddy, Foolscap will keep you guessing as to what's coming next. It's funky, it's complicated at times, and is most definitely not for the faint of heart. The band even dabble in sampling, adding what Rob calls with a grin the "digital soul."
The fall isn't too far away, so for now Rocket Science will gig a bit. They have a stop at Molson Park for an appearance on the EdgeFest side stage before they begin to work on putting together the packaging for Foolscap yet un-labeled launch. Countdown commencing.
[Editor's Note: Tim Melton is a Canadian born and bred bass player who scrambles to the record store with the release of every new Rush album. At some points in life he had to travel hundreds of miles to do so. To have been fortunate enough to hang out with Rob, have a beer, chat about Rocket Science, playing bass, Toronto's music scene and rock 'n' roll at the studio that the godfather of Canadian rock built makes him believe two things. 1) God is a bass player 2) Fate.]