Hiatus Evaporates into Vapor Trails
By Rich "Rock" Priske, Canadian Musician, May 2002, transcribed by John Patuto
---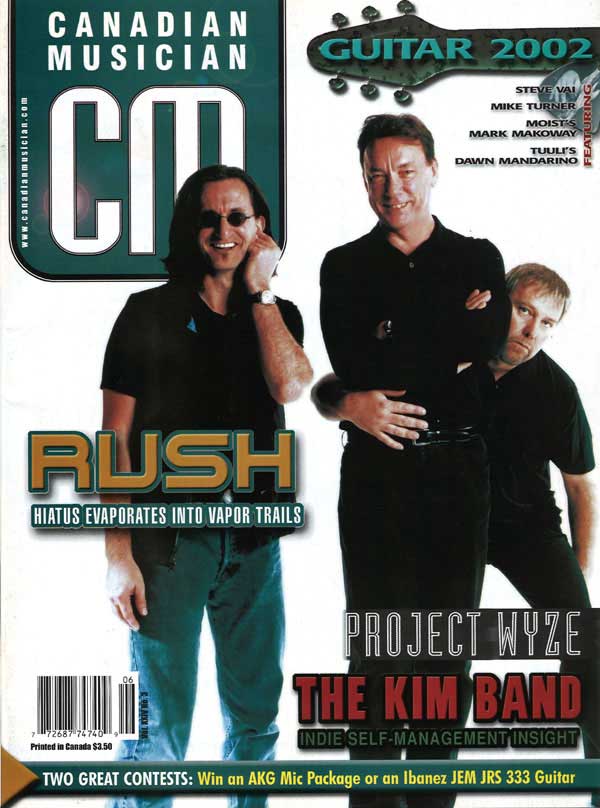 Canada's musician heroes make their first album in over five years - Vapor Trails. The band re-grouped after a lengthy hiatus to prepare this album, which will be supported by a summer tour.
One day, back when I was in high school, I was hanging out at my friend Sonny's house. He grabbed this album from his brother's collection and passed it over to me. "You ever hear of these guys?" he asked. "They're wicked." I looked at the cover, saw what appeared to be some sort of pentagram-type thing, and thought, "What the hell, these guys might be cool." Well, he put the record on, dropped the needle, and that moment changed my life. The year was 1982, the album was 2112 and the band was Rush.
Canadian Musician called me up one day to ask if I was a fan, and would I be interested in talking to Alex Lifeson and Geddy Lee, in order to find out what the guys have been up to, I, of course, said "Hell yeah." So, what follows is a 'fly by night' attempt to pay homage to one of Canada's most influential groups.
For close to 30 years, Rush has been among the world's most popular bands. The trio's 22 albums have all been certified RIAA gold or better, CRIA platinum or better, with cumulative worldwide sales of over 35 million. Their most recent Atlantic/Anthem releases are 1996's gold-certified Test For Echo, which hit No. 5 on The Billboard 200, followed by 1998's gold-certified multi -disc live set, Different Stages. "Tom Sawyer" from 1981's Moving Pictures routinely shows up on "best of all time" lists, and is a classic rock staple. While "YYZ" from the same album drove aspiring young drummers, guitarists and bass players (yours truly included) to grab their headphones and log countless hours trying to duplicate the frenetic riffing. They have received three Grammy nominations, eight Juno awards and were inducted into the Juno Awards Hall of Fame in 1994. Revered as the Holy Trinity among music purists and metal heads alike, Rush have a devoted fan base that approaches an almost 'trekkie'-like fanaticism, coming together at RushCon, held annually in downtown Toronto. Not bad when you consider that Rush has accomplished all of this with little to no support from the mainstream music industry.
The band has been out of the limelight since its last performance, July 4, 1997 at Ottawa's Corel Centre, the final date in support of their Test for Echo album.
So what have they been up to?
In 1997, Rush received the esteemed Order of Canada. The honour was created in 1967 to recognize "significant achievement in important fields of human endeavour." This award is usually associated with business leaders, philanthropists, scientists and the like, however, 1997's nod to Rush marks the first time the honour was bestowed upon a rock band. The award was given as much for their community service as for their contribution to the arts. Over the years, they have raised over $1 million for food banks and the United Way, as well as contributing to many other charities.
In 1998 the classic anthem "Tom Sawyer" was remixed by DJ Z-Trip for the film Small Soldiers. As well, "Tom Sawyer" found its way onto the soundtrack albums for Adam Sandler's hilarious The Waterboy and the movie Whatever. A modern day warrior, indeed. "Tom Sawyer" appeared later in 2000 as the soundtrack for a Nissan commercial, sparking a heated debate amongst Rush fans. Anthem records confirmed, "Yes, this was approved by both the band and Anthem. We really don't have a problem with it as it was tastefully done. In this day and age where there's no real rock radio left, and video TV only plays pop music, we are trying other directions to get the music out there. I know the whole 'corporate sell out' lines. I just don't think they're applicable any longer." - Anthem Records, Oct. 17, 2000.
1999 found Geddy Lee contributing to Euphoria's self-titled album, as well as I Mother Earth's Blue Green Orange.
In May 1999, Rush was given a star on the Canadian Walk of Fame. You can find the star on Simcoe Street, in front of Roy Thompson Hall in downtown Toronto. Members of Canada's entertainment industry started Canada's Walk of Fame in 1996 as a private initiative to recognize this country's very best entertainment stars. Still no word on a star for the "Analog Kid".
June 1999 saw the release of the soundtrack South Park: Bigger, Longer & Uncut - Music from and Inspired by the Motion Picture. Lifeson and Lee recorded Canada's national anthem for the Oscar-nominated cartoon. The song was recorded by Lifeson at his home studio. Terence and Phillip are old friends of the band, when the opportunity arose to work together both sides jumped at the chance. Unfortunately, the rumoured tour with Fingerbang has yet to materialize, although Timmy! and the Lords of the Underworld, The B Sharps and the Gorillaz have all expressed interest.
Closing out the century on a high note, Rush won the JAM! ShowBiz online poll as Canada's "most important musicians of all time," according to the results of an online poll conducted during the final weeks of 1999. At one point Rush led the voting by a margin of two to one. High praise indeed.
In spring 2000, Lifeson produced three songs with Mississippi-based 3 Doors Down. "Wasted Me", one of the three tracks, was made available on a special double CD Australian version of Better Life, and released to coincide with their first Australian tour.
November 2000, Geddy Lee's first solo album My Favorite Headache was released to the applause of fans. Produced by Ben Mink, (he contributed the wicked electric violin part on "Losing It" from the 1982 album Signals, as well as being a long-time kd lang collaborator) Lee "wanted to work with Mink for quite some time," and welcomed the chance to work together with his old friend. Lee called it "A great learning experience and I enjoyed the process immensely."
During 2001, Alex Lifeson produced the band Lifer (Republic/Universal). Lifer, who hail from Pennsylvania, were originally discovered on the MTV Ultimate Cover Band Contest. It proved to be an enjoyable experience for both parties. For Lifeson who welcomed the challenge of stepping into a new role in order to work with a young and keen band, and for Lifer, who welcomed Lifeson's input as a musical mentor, bringing his many years of experience to the table.
So now the countdown is on. The new Rush album, titled Vapor Trails has been penciled in for a May release from Atlantic/Anthem (USA) and Anthem/Universal (Canada). The trio's 17th studio album is being produced by the band and with old friend and engineer Paul Northfield. Other territories will reportedly see the album first, with Japan lined up for March 27 and Germany on May 10.
Coming Together
In January 2002, Rush met in a room for the first time in over five years to discuss recording the new album. Careful discussions occurred as to what exactly the trio wanted to achieve. Ideas were shared, roles were defined and a clear vision came to pass. The first few months were spent getting to know one another again, and found Lee and Lifeson meeting every day at Reaction Studios in downtown Toronto, following a three weeks on/one week off schedule. These early sessions found the guys becoming reacquainted, just hanging out and making sure everything still worked. Both Lee and Lifeson hold Reaction Studio in high regard, calling it an "artist friendly environment, that was very comfortable and accommodating."
Taking a break in June, the band got back together and began in earnest. Lee and Lifeson bashed out the riffs, arranged the parts and added melodies, while Neil Peart began writing the first Rush lyrics penned in a while. Last fall, Lee posted a message on his Web site (www.geddylee.net) calling the recording sessions "an experiment ... an environment that allows us to keep some of the more spontaneous moments that occur during writing and blend them with a more rehearsed and typical style of production. It took a while for us to get to the point where we felt what we were producing was fresh enough and of the quality that we demand of ourselves." Any doubts as to whether there was any gas left in the tank were quickly put to rest, as the long break between albums seems to have lent itself to a prolific blast of creativity from the band. The album looks like it will clock in at well over 60 minutes, with most songs around six minutes in length.
For this new record, Rush chose to work with old friend and previous collaborator Paul Northfield. Although Northfield is co-producing Rush for the first time, he has worked with the band for over 20 years, applying his engineering, programming and mixing skills to Different Stages, A Show Of Hands, Grace Under Pressure, Signals, Exit Stage Left, Moving Pictures and Permanent Waves. In addition, Northfield also engineered Neil Peart's Burning For Buddy tribute albums, and has also worked with notable Canadian artists such as, The Headstones, I Mother Earth, Tom Cochrane and Moist, as well as internationally known stars Marilyn Manson, Hole, Suicidal Tendencies, Clark Nova, Geezer Butler, Ozzy Osbourne, Alice Cooper and Queensryche. Lifeson credits Northfield for helping clean up song arrangements and sounds. Rather than travel the traditional road and demo all the songs only to re-record them later, Rush chose to record everything on to a Mac-based hard-disk. Using Emagic's Logic, the early ideas and jams becoming the bed tracks, with the conscious effort to keep as many original takes as possible. Both Lee and Lifeson have high praise for Emagic's Logic software. The flexibility it provides, as well as the unlimited options it gives you, allows for unprecedented creative freedom. This method of recording allowed lots of time to live with each song, tweaking until each track was just right. "Often the challenge is deciding what to keep and what to throw away. The digital domain opens a great many creative doors to explore," states Lee, continuing, "Because of the wealth of possibilities anyone who says hard-disk recording is faster is lying!" Sonically, Lee adds, good quality preamps and DIs play an important role in overcoming the "digital harshness" that seems to be the biggest complaint of HD recording.
Lee records all his bass tracks direct, splitting the signal from his trusty Fender Jazz bass three ways, one line running through a SansArnp, one line through an Avalon U5 DI Box, and one line through a Palmer speaker simulator. Lifeson stayed away from effects, opting for a dry and up front sound, driving his main axe through a Hughes & Kettner, Matchless or Marshall amp. In a surprising turn, diehard Rush fans will find less keyboards on this album. Instead, Lee turned to Lifeson to add creative guitar lines to help flesh out the songs with the synth like textures that Lee's keyboards usually provide. Once the arrangements were together, Peart came in to lay down the drums. According to Lifeson, having Northfield come in was an important step. After the raw frames and structures of the songs were down, Northfield helped to refine the sounds, make minor arrangement and part suggestions and to help fine tune the drum sounds.
In December 2002, Rush moved out of Reaction Studios and into Studio 2 at Metalworks to begin mixing the album with David Leonard. Leonard mixed My Favorite Headache and he has worked with the likes of the Barenaked Ladies, Moist, Sugar Ray and Sir Paul McCartney. It was here that the album really began to take shape. Bringing in an outsider at this point added objectivity to the process and allowed the songs to take on a life of their own. Lee regrets not taking more time off between mixing and tracking, as he felt that more time to live with the songs would have allowed for more objectivity. Maintaining objectivity is a difficult thing for most artists. Long days, long hours in the studio make it difficult to see the forest and not the trees. However, Lee credits listening and referencing other albums throughout the process as important in order to maintain freshness. Lee finds himself listening to the Foo Fighters and Icelandic exports Bjork and Sigur Ros these days, while Lifeson has high praise for the band Tool.
March 2002 finds the freshly mixed album on its way to Howie Weinberg at Masterdisk in New York. Weinberg's discography includes artists such as The Clash, Metallica Nirvana, Sonic Youth, The Ramones, Oasis, Smashing Pumpkins, P.J. Harvey and Geddy's My Favorite Headache. This is his first crack at a Rush record. According to Lifeson, they admire the way Weinberg's albums sound and praise his harder edge.
Vapor Trails marks the first release since the phenomenon of Internet file swapping came to be. Needless to say, Rush have very strong opinions regarding the illegal trading of MP3 audio files over the internet. Calling it "outright robbery," Lifeson points out that it takes a great investment of time and money to make an album. Without the income from sales, artists quickly lose the opportunity to create and release more music; therefore ultimately, the fan suffers. Lee notes that "it is not only about money, but about respect," spending time away from family and friends for months at a time, only to have the fruits of your labour distributed freely can be disheartening. Lee also finds it interesting to note that while many artists cry out against file swapping, some are using "cracked" or unlicensed software to create the music in the first place. For now, education into what file swapping means to the artist seems to be the only deterrent, until there is a method in place to control how material is distributed over the net, this situation will not go away.
There is no question, Rush fans are a breed apart. Not many fans can boast such a broad and diverse fan base that spans the globe. Go anywhere in the world, and they will know "Tom Sawyer", "By-Tor", and the "Cinderella Man". Rush has influenced legions of musicians. Ask anyone you know who is in a band, and they will tell you that they have nothing but the utmost respect and admiration for the impeccable musicianship and dedication to their craft. Watch the front row at any Rush concert, and everyone air drums Peart's fills with uncanny accuracy. Every guitar player I know plays the intro to "The Spirit of Radio". And I still -can't play the second bass break in "YYZ". Everyone has a Rush story.
Joey Keithley
(DOA/President, Sudden Death Records)
"We did have a rock and roll band (Stone Crazy), we did "In the Mood". That was one of the songs we played at our first show, but I'm not sure how we played because we got fired from our very first paying show. After we got fired from that show, we stopped and decided "This Rock & Roll ain't so glamorous, let's start a punk rock band."
Jeff Burrows
(drummer, The Tea Party)
"The first real concert I went to was a Rush concert in Detroit. I snuck out of the house to see Rush when I was 12 or 13 and it was the Permanent Waves tour. I got in a lot of trouble but I got the shirt, which is cool. I figure I've spent about a thousand dollars on tickets. I never took [drum] lessons as a kid, so my teachers were Stewart Copeland and Neil [Peart] ... I learned from Moving Pictures, 'Subdivisions' (Signals) and Grace Under Pressure. That was a big thing. Of course, trying to get my brother to learn how to play like Geddy was an obstacle."
Gordie Johnson
(guitar, Big Sugar; producer)
"I think the first concert I ever saw was, my Dad took me to see Rush at Cobo Arena in Detroit. They were on tour for Hemispheres. I saw them there for Hemispheres, Permanent Waves and Moving Pictures ... then about '95 or '96, I met Alex Lifeson at a cigar dinner. He invited me by the studio where they were recording Test For Echo, and I came by and I saw the white double-neck set up in Alex Lifeson's guitar world, and I went, "Wow, I saw you play this guitar 20 years ago, man!" He pulled it off the rack and said, "Well, here take it. You're making an album; maybe it will bring you good luck." That's when we were recording Hemivision, and for the first couple of days I kept it on the stand and just looked at it, I recorded most of Hemivision with it, finished writing most of the album on it, in fact."
Chris Nelson
(MuchMusic personality)
"I remember driving from Regina to Saskatoon, I was 17, to see a girlfriend of mine who lived there. I had taken my parents car and I had told them I was going to work when in fact I was going to go to Saskatoon and come back the same day and no one would be the wiser, except work called looking for me. I remember that it was a Rush song that I was listening to ('Tom Sawyer') when I pulled up to my girlfriend's house, and she told me that my parents had called looking for me. She told them that I was going to be there in a few minutes. So, I've always associated Rush with a sense of impending doom."
Accomplishments/Awards
- Eight Juno awards and were inducted to the Juno Awards Hall of Fame in 1994.
- Order of Canada in 1997.
- Star on the Canadian Walk of Fame in 1999.
- 3 Grammy nominations.
- 1990 - named Canadian Artists of the Decade.
- 1992 - received Lifetime Achievement Award from the Musician's Institute in Hollywood, California.
- 1993 - received the 7th Annual Musicians Of The Millennium Award from Harvard Lampoon.
GEDDY LEE
Guitar Player Magazine Bass Hall of Fame.
Bass Player Magazine Best Rock Bassist more than six times.
Bass Player Magazine Best Rock Bass Player 1993 readers' poll.
ALEX LIFESON
Guitar for the Practicing Musician Best Rock Talent: 1983.
Guitar for the Practicing Musician Hall of Fame: May 1991.
NEIL PEART
Modern Drummer Hall of Fame: 1983.
Modern Drummer Best Rock Drummer: 1980-88.
Modern Drummer Best Multi-Percussionist: 1983-86.
Modern Drummer Best Percussion Instrumentalist: 1982.
Modern Drummer Most Promising New Drummer: 1980.
Modern Drummer Best All Around: 1986.


Dubious Achievements
- Details, July 1999 #33 Best Album to Remind You That You Were Once Oily, Girlfriendless, and Obsessed with Dungeons and Dragons: Rush, Moving Pictures (1981).
Your hair: feathered, blow-dried, and centre-parted.
Your jeans: unwashed, dark blue, and painfully tight.
Your chance of finding a girlfriend: an implausible rumour.
Your vaguely understood hormonal impulses: channeled into marathon air-drumming sessions.
Your hero: a skinny Canadian guy with a voice higher than Neil Sedaka's at 78 rpm.
Your world: a lighted stage.
You: merely a player.
Your band: Rush.
Acceptance Speech: "Not since receiving the Order of Canada have we been so moved by an honour. We endeavour to hold high our geek banner with mean, mean pride." -Alex Lifeson.
So there you have it. Rush is coming off a five-year hiatus, which is a lifetime in rock years. The tour will start this summer in North America, and will then see Europe and South America. In fact, at www.RushPetition.com, fans can add their name and choices to a "request list" of rarely played songs they would like to see the band perform. There are no plans for a video, and with the songs clocking in at a radio-unfriendly six minutes, no word on a first single. For Rush, this is business as usual. By living by their own philosophy, and by maintaining a close friendship with each other over the years, they have developed a trust and confidence in themselves that allows for great music, and the luxury of playing by their own rules. It has been said that the truest art is crafted to please the artist. If this is true, Rush must be very pleased, indeed.