Atlantic's Rush Blazes A 'Vapor Trail'
Reuniting After Tragedy, Progressive Rock Heroes Release First Studio Set In 6 Years
By Christa Titus, Billboard, May 4, 2002, transcribed by pwrwindows
---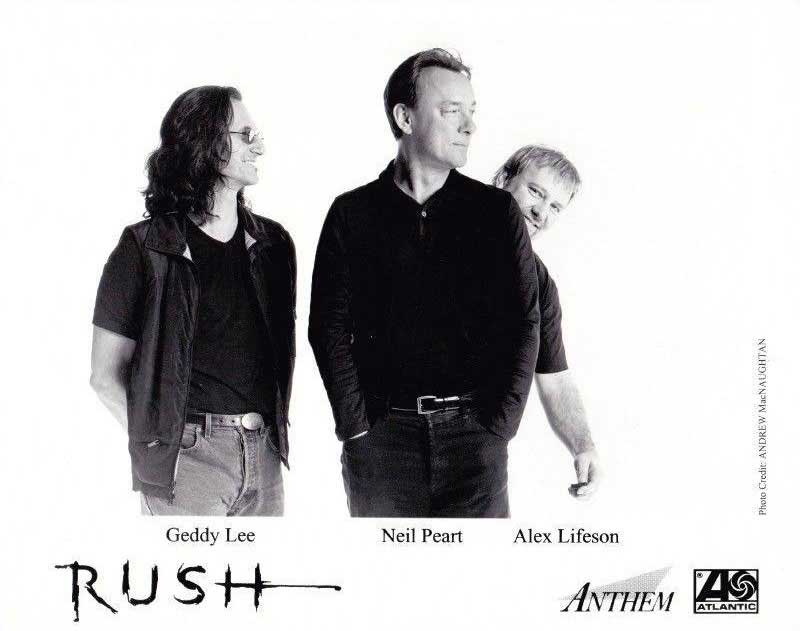 It is and it isn't a coincidence that "One Little Victory" - a song that celebrates personal triumph - is the lead single from Rush's forthcoming album, Vapor Trails (due May 14 via Atlantic Records), the first collection of new music from the Canadian progressive rock trio in six years.
"It's a coincidence in the sense that nobody planned to have a song like that," bassist/vocalist Geddy Lee explains. "The way the song turned out, there's so many kind of symbolic things about that song that relate to our condition that it seemed really appropriate to come out with that first."
The condition Lee refers to is the hiatus the band went on in 1997, when drummer/chief lyricist Neil Peart lost his daughter and then, not long afterward, his wife. All music business was put aside to give him the time he needed to recover before deciding when he wanted to return to Rush - if he wanted to return at all.
Peart's health was the foremost concern of Lee and guitarist Alex Lifeson, but they did occasionally wonder if Rush would ever record again. "Generally, it was kind of best to put it out of your mind and focus on [Peart's] well-being and his recovery," Lee says of that time. "It was more important for us to be his friends at that point than his bandmates, and that's what we did."
In the interim, the pair contributed to 1999's South Park: Bigger, Longer & Uncut soundtrack, and Lee released a well-received solo album, My Favorite Headache (Billboard, Oct. 28, 2000). Meanwhile, Lifeson produced Universal act Lifer and played guitar and produced a few as-yet-unreleased tracks for 3 Doors Down.
The sessions for Vapor Trails - captured at Reaction Studios in Toronto - spanned 14 months, beginning in early January 2001. Maintaining a comfortable atmosphere in which the trio could reconnect and work took precedence over finishing a record by a certain deadline.
"The nature of our deal is we deliver a finished project to [Atlantic], so we in a sense have an open-ended kind of scheduling," Lifeson explains. "Toward the end of the project, it became a little more intense; we took a little longer than we had expected by that point, and [the label was] very supportive all along the way, and they were very sensitive to what we'd gone through."
The resulting 13-track album, produced by the band and Paul Northfield, is a non-stop wallop of energy that shows the trio still in perfect rhythmic step with each other. In fact, it sounds rejuvenated and more cohesive than ever. The cuts "Ceiling Unlimited," "Peaceable Kingdom," and "Out of the Cradle" recapture the vibe of the band's early '80s catalog, whereas "Secret Touch," "Nocturne," and "Freeze" contain pure power-rock jams that should keep fans hailing Rush as musical gods. Peart once again wrote most of the lyrics, and his humanist musings, coupled with some crafty time changes, make the songs "Sweet Miracle" and "Ghost Rider" especially poignant.
"We spent a long time talking and getting a sense of where we'd been and where we're going," Lifeson recalls about the songwriting process, "but it wasn't until about three or four months into it, after getting a break and getting away from it and coming back in, that we started to produce the kind of material that we were happy with and thought we could develop."
For Atlantic senior director of product development David Burrier, Vapor Trails is "a new classic. It's fresh, yet it still retains their sound, and it's distinctly them. Whether you're a fan for the last 20 years or whether you're just hearing them for the first time, I think people can really relate to it."
Judging by the response "One Little Victory" is getting at radio, Burrier's assumption is correct. After going for adds at heritage, mainstream rock, and active rock the week of April 8, it debuted at No. 22 on the Billboard Mainstream Rock Tracks chart and is No. 15 this issue. The song debuted at No. 7 on sister publication Rock Airplay Monitor's Heritage Rock Tracks chart, where it is now No. 4, as well as No. 30 on its Active Rock Tracks chart.
While Atlantic is keeping Webmasters of Rush fan sites updated to help promote Vapor Trails, the rush.com web site is being constructed, and the sites rushvaportrails.com and vaportrails.com are functioning as e-cards that stream "0ne Little Victory." Those who pre-order the album through Amazon.com can stream the disc there or hear it at GetMusic.com starting May 10, where it is tied into an interview widi Lee and Lifeson.
A TV direct-response campaign consisting of 60-second spots will reward consumers who order Vapor Trails with a free 12x24 lithograph of its cover art. Print ads are being placed in such magazines as Rolling Stone. To tap Rush's extensive fan base of performing artists, Burrier says ads will also run in musician-oriented publications like Guitar World.
Rush kicks off a Norlh American tour June 28 in Hartford, Conn. The band is booked by Adam Kornfeld at Artists Group International in New York for the U.S., Vinny Cinquemani at S.L. Feldman & Associates in Toronto for Canada, and Neil Wamock at the Agency Group in London for the U.K. and Europe. The act is managed by Ray Danniels at SRO Management.