Vapor Trails (Review)
By Mac Randall, Guitar World, June 2002, transcribed by Dave Ward
---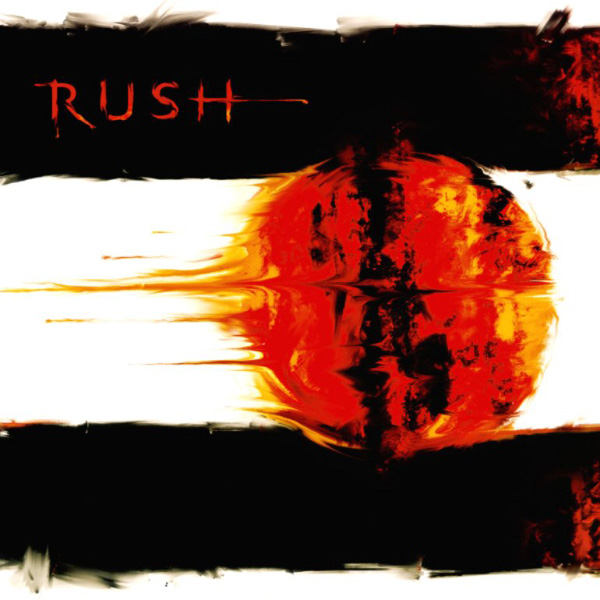 *** 1/2 (3.5 stars)
RUSH
Vapor Trails
ATLANTIC/ANTHEM
IT'S BEEN A TOUGH FIVE YEARS FOR RUSH AND THEIR fans. Comparatively speaking, the fans have had it easy - they've just been missing a new Rush album to listen to. But the band, and drummer Neil Peart in particular, has been dealing with far more traumatic events. In the fall of 1997, Peart's only child, his 19-year-old daughter, was killed in a car crash. Less than a year later, he lost his wife to cancer. Under such horrible circumstances, it only made sense that suspend their activities for a while. Peart kept a low profile, while guitarist Alex Lifeson and bassist/singer Geddy Lee worked on solo projects. But as the seasons stretched on with no word about the group, the inevitable question arose: did Rush have a future?
Vapor Trails answers that question in the affirmative, and with vigor aplenty. You can hear that right from the first few seconds of the album's opening track, "One Little Victory." Peart starts the song himself, flogging his high-hat and snare over a brutal double-kick beat. Lifeson comes in next with a pulverizing low-register guitar riff; Lee soon joins him and we're off to the races. It's instantly clear that this is no half-assed comeback: Rush are rocking as hard as they ever have.
For the next 67 minutes, the momentum hardly flags, and each member of the trio gets many moments in which to shine. There's at least one head-shakingly virtuosic Peart fill per song. Lee's high-pitched singing is solemn yet warm (he's way past the strident shrieking of yore), and when he isn't pumping out aggressive single-note bass lines, he's expanding the bottom with meaty two- and three-note chords. As for Lifeson, his solos are few, but he's got two fo the best ears for texture in the business, and he incorporates so many different tones into his playing - from fuzzed-out hammer-ons, and ghostly sliding to chiming 12-string arpeggios and swirly backward tracks - that you never know what's around the corner.
Of course the best part of any Rush album isn't the playing of the individual members. It isn't the songs either, important as they are (the 13 here are consistently good, though not great). Rather, it's the way the three players interact with each other. Check out the intro to "Ceiling Unlimited," where Lee hangs on the off beat and Lifeson sticks to the on beat while Peart traces out a pattern around both of them. Or the entirety of "Freeze," which switches effortlessly between a slashing 5/4, a chugging 6/4 and a grandiose 4/4. That's tightness, the kind you get only from musicians who've been playing together for decades.
Given that Peart is not just Rush's drummer but also their resident lyricist, one can't help but wonder how much his recent losses have influenced Vapor Trails' songs. One the basis of half a dozen listens, I'd say that grief, though certainly present here, does not dominate. A couple of songs do seem to take it on more or less directly. The chorus of "Stars Looked Down" [sic] asks the unpleasant questions "What is the meaning of this? What are you trying to do? Was it something I said?" only to be answered by the repeated words "And the stars looked down." And "Sweet Miracle" suggests the guilt suffered by those left behind: "I wasn't walking with angels/ I was talking to myself/ Rising up to the surface/Raging against the starless night." But as usual, Peart's lyrics tend to be more distanced, more cerebral. Yes, you could say that a line like "There is never love without pain," from "Secret Touch," applies to his personal situation, but it's also meant to be a universal statement.
In other words, if you thought Rush were going to get sentimental this time around, you thought wrong. On the contrary, parts of this album are so heavy you'd swear the guys were taking their cues from a band like Tool - until you realize that Tool probably developed their sound in part from listening to Rush records. Fact is, when you're looking for hard rock with brains, you still can't do better than Rush.