Alex Lifeson
From North York Garage Band To Rock Superstars, Rush's Lead Guitarist Tells Their Tale
By David Fleischer, North York Post, June 2002, transcribed by John Patuto
---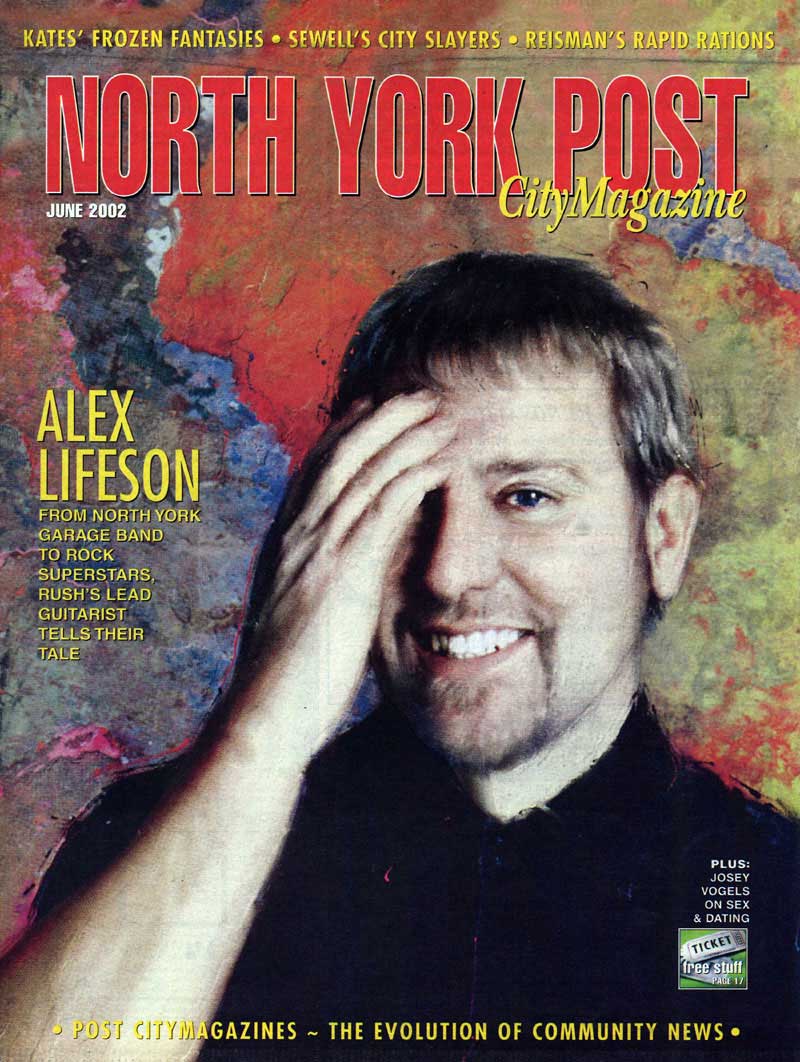 If one accepts the axiom that everyone in the world is connected by six degrees of separation, then one must also realize that everyone in Toronto seems to be only two degrees removed from the band Rush. If you have lived in the city for any length of time you almost certainly know someone who heard Rush at a legendary high school Battle of the Bands, saw Geddy Lee ordering a latte at a local Starbucks, or perhaps you know the guy who knows the guy who cuts Alex Lifeson's hair.
Today that hair is cropped short and, meeting with Lifeson in the basement of Rush's Cabbagetown offices, one can't help but be struck by how much the band has changed over the years. The walls of the lobby are covere.d with it pastiche of gold and platinum records - and a row of Juno awards - looms over the reception desk like a matched set of stalactites. The basement room where I meet Lifeson would be unremarkable were it not for the props from Rush videos (the dice from "Roll the Bones," for example) laying about, and the original album art adorning the walls.
Rush has sold more than 35 million albums worldwide and with Vapor Trails, their 17th studio album in 26 years, and a new world tour about to kick off, a new chapter is about to begin.
The six year break between Vapor Trails, and their last album, Test for Echo, was Rush's longest ever. During that time, drummer Neil Peart lost both his wife and daughter; a man many consider the best rock drummer ever, simply stopped playing for four years. Lee put out his own solo album and Rush fans could hardly be blamed for wondering where the band's future lay.
Born Alex Zivojinovic in Fernie, British Columbia, Rush guitarist Alex Lifeson grew up in the Bathurst and Steeles area of North York. It was at Fisherville Junior High that Lifeson would hook up with one Gary Lee Weinrib (soon to be Geddy Lee) and form Rush. Lifeson went on to attend George Vanier S.S. and then A.Y. Jackson S.S. while Lee was at nearby Newtonbrook S.S.
St. Catharines-born Peart would join the band in 1974, replacing original drummer John Rutsey, and the trio was formed. Throughout the 70s and 80s Rush was always, well, Rush. When other "hard rock" bands were espousing the virtues of Satanism or strutting around in tom jeans and leather jackets, Rush wore silken robes and their songs explored the philosophies of Ayn Rand. They sounded like no band before them, and none have really sounded like them since.
No fan of making music videos, Lifeson acknowledges the amusement of watching the video put out for Rush's live album, Different Stages. The clip for "Closer to the Heart" showed various incarnations of the song over the length of Rush's career. "Everything was in sync but we were changing throughout the song ... from long hair and robes to chubby cheeks and balding heads," Lifeson chuckles.
Vapor Trails doesn't sound like an album recorded by chubby-cheeked wannabes, however. The album has an immediacy and intensity, a new, more personal feeling, than much of their work. Coming off a hiatus, the band took their time feeling out where they wanted to go.
Normally, says Lifeson, the band would spend six or seven weeks writing and then go into a studio and put it all on tape. This time, "we kind of parked ourselves [at Reaction Studios] with an open schedule," he says. "There were no deadlines, we wanted it to take as long as it was gonna take to make the record."
Lee and Lifeson would sit in the studio jamming, figuring out what worked and what didn't, while Peart worked on the lyrics in a separate office. "It took two or three months really," says Lifeson. "We took a break for a couple of weeks, then came back and really got a sense of what the direction of the album would be ... that's when we were most prolific."
At 67 minutes and 13 songs, Vapor Trails is one of Rush's longest albums but Lifeson thinks it is one of their most consistent. "I don't think I can say I'm 100 per cent happy with our records," he offers. "There are always two or three songs I think could have benefited from rewriting or review ... That's not the case with this record."
This time the band aimed to record 13 songs, and then discard the weakest two; something they were ultimately unable to do. "It was like kicking a couple of your kids out of the house and leaving them behind," says Lifeson.
Lifeson acknowledges that over an hour of Rush's intensity "is a lot of music to listen to. It's very draining on the listener." But coming off their longest-ever hiatus, he says that, "I think for Rush fans, the more the better."
Fans hoping to hear the synthesizers that have augmented the power trio's sound for so long, or to hear 12-minute sci-fi epics might be surprised. "This record is by far the heaviest, most powerful intense record we've made and there are a lot of reasons for that," says Lifeson. While the band members, nearing 50 years of age, weren't setting out to prove that they could still rock with the best of them. "We wanted to make an album that reflected the intensity of the last five years for us," Lifeson says. He corrects himself slightly saying that the album is "more passionate, than intense to my ears."
For the first time in a long time, the guitar-bass-drums lineup is centre stage as is Peart's most personal writing. The use of keyboards was always particularly galling for Lifeson and he is not quite lamenting their disappearance. "There's a great feeling of liberation," he says, citing how inorganic synthesizers are compared to a guitar.
And is there any possibility that Vapor Trails will be Rush's swan song? Lifeson says that the events of the last few years have taught the band that it is not a good idea to make long term plans, that anything can happen. But, he says, "We had such a great rewarding time making this record, I can't see us not making another ... if everybody feels good, healthy and happy at the end of the tour, I'm sure we'll do another one."
"I love working in the studio, it's such a great creative time," says Lifeson. But as the band gears up for months on the road he acknowledges that playing live is a totally different animal. It's about "power of the audience, the energy of the audience," he says. Playing older songs "doesn't really connect with you the way new material does," he says "but it's certainly very overwhelming and exciting to be in front of 15,000 people." For this tour the band is working on a three-hour career-spanning set.
Lifeson promises that some old favourites will be dropped but at the expense of "material we haven't played before or in years and years ... The intent is to have a lot of other material prepared so that we can change the set around, drop these ... pop these three in," he says. Typically known for their strict and structured ethos, Lifeson says that "it's a nice new way for us to work."
The road is still an enjoyable experience for Rush but there is no question where they enjoy setting their roots down. "This is home for me," says Lifeson of Toronto. "My friends are here, my family is here. I love the city, I love being Canadian. I've travelled all over America and there's not a single place I would rather live. If I want to travel and see the world, I can do that but I like coming back here. We're all very attached to who we are."
Over the last decade, the band members have each done solo projects, which Lifeson feels have been immensely valuable. In 1996, he put out VICTOR, his own album with a different band. At the same time Peart put out several albums including a tribute to jazz drummer Buddy Rich. Talking about Lee's recent solo album, My Favourite Headache, Lifeson says, "I was so proud of what he did with his record ... I thought it was so valuable to him to put himselfin that position where you're in charge of everything."
For Rush, the time apart has truly brought them closer together.
Of their new work together, Lifeson says that "what it's done to our friendship is made it so much more connected and deeper than it was ... Everybody plays out with that power we always felt from when we were 15 years old. That's what I love most."