Rush's Vapor Trails Tour Promises To Blaze Brightly
By Christa Titus, Billboard, June 22, 2002, transcribed by pwrwindows
---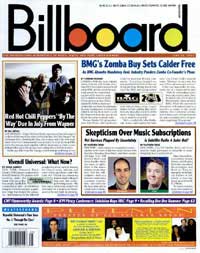 NEW YORK-Since it was announced April 15 that legendary rock trio Rush would tour in support of its new album, Vapor Trails (Atlantic), the trek has become one of the most anticipated of the year. Alter being on hiatus for five years, Rush is returning with a slew of dates featuring an "evening with" format that will run about 2 1/2 hours with an intermission.
After the North American leg of the tour was announced, tickets went on sale April 20: although it has been routed, all dates have not been disclosed. Lt will hit more than 50 cities on a run that continues into November. Kicking off June 28 at the Meadows Music Center in Hartford. Conn., some of the summertime stops include the Altel Pavilion in Raleigh, N.C. (July 4), the Tweeter Center in Boston (July 12), the Polaris Amphitheater in Columbus, Ohio (Aug. 8), and the DTE Energy Music Theatre near Detroit (Aug 11). So far, one date has been announced in Rush's homeland of Canada: the Molson Theatre in Toronto (July 17). International dates are being considered in Mexico, South America, and Europe, but as of yet there are no concrete plans.
The tour will primarily play 15,000-plus-capacity venues, a testament to how, even alter its absence, Rush retains an impressive fan base. Although band members Geddy Lee (bass/vocals/keyboards), Alex Lifeson (guitar), and Neil Peart (drums) are road veterans, the last time they performed together live was in July 1997 during the Test for Echo tour which supported the 1996 gold-certilied album of the same name.
According to Billboard's Boxscore, Rush performed 47 shows during that tour between October 1996 and July 1997. Seven of those dates-again consisting of arenas and amphitheaters-were sold out. Tickets were in the $40-25 range, with gross ticket sales totaling almost $14 million. Total attendance was recorded at 481,364 people.
Rush is booked by Adam Kornfeld at Artists Group International in New York for the U.S., Vinny Cinquemani at S.L. Feldman and Associates in Toronto for Canada, and Neil Warnock at the Agency Group in London for the U.K. and Europe. According to Kornfeld, ticket sales so far have performed beyond expectations.
"I knew the ticket sales would be great, but even I am pleasantly surprised about how well the shows (are) doing," he says. "The first part of the tour is the amphitheater tour and the pavilions are selling out instantly and immediately, selling a great many seats into the lawn as well."
Clear Channel Entertainment's Toronto-based VP of touring Gerry Barad corroborates Kornfeld's assessment. "They've been selling great. In fact, this is gonna be one of the most successful tours of the year," he predicts. "It's been very strong, brisk sales. lt actually surprised people. We're selling tickets at a greater rate than they did on the last tour."
As far as presales go, "we did a presale of the fan club and a couple of radio station presales, but for the most part, the fan club got a crack at it," Barad says. Tickets range from $30 to $85, with a tour average of $40. He estimates that the gross could be close to $30 million when the tour finishes.
"They're one of the all time legendary bands," Barad observes of Rush and its almost 30-year career. "They make great records, they have a dedicated following, and the thing about them is when people go see them live, they are getting a great night of entertainment" He points out that he's sure "there are people that even their kids might want to see this band, because their parents listened to them over the years, plus they're gonna pick up a bunch of new fans because of this record."
Kornfeld says Clear Channel bought "approximately 90% of the tour [except for] a few isolated situations that are outside of that Clear Channel deal." Those markets are Buffalo, NY; San Diego; Denver; and Seattle.
Living In The Limelight
Rush's return is being played up in the advertising strategy that is working market by market, touting how long it has been since the band's last tour through an aggressive campaign in both print and radio ads. Appropriate radio formats-like Philadelphia rock station WMMR (93.3)-are featuring ticket giveaways. Marketing has also been done in conjunction with Atlantic, and the Internet has played its part, with announcements being sent via e-cards to Rush fan sites and individuals who fall into a similar demographic.
Rush began rehearsals around May 20 and were to hold production rehearsals June 16-26, with one rehearsal at the Meadows the evening before the first show. Production manager Craig Blazier, who also oversaw production for the Test for Echo tour, says that with a steady crew of 45 (not counting local help), he estimates there will be at least five trucks, with setup taking about eight hours and breakdown taking two. Production will primarily consist of lighting and a 20-foot-by-30-foot video wall that will display live and prerecorded footage.
"Neil Peart's drum riser, he normally has two drum kits, and that will spin so he can face the audience, utilizing both kits," Blazier says. "There won't be too many props. They're real-ly just a down-to-earth band."
According to Blazier, Clair Bros. is handling the audio. Lighting is by Premier Global and designed by Howard Ungerleider. Brad Maddox is the engineer, and Liam Birt is tour manager. SRO Management (the company's Ray Danniels is Rush's manager) verified that merchandising will he handled by Showtech.
Vapor Trails' first single, "One Little Victory," has been well-received at radio. By hitting the top 10 on the Billboard Mainstream Rock Tracks chart, it has reintroduced the band to its audience and built excitement for this tour. But Rush is not resting on the strength of its reputation to guarantee a good turnout.
"This record, by far, was the most work we'd ever done on an album," Lifeson told Billboard while discussing the process of recording Vapor Trails (Billboard, May 4). "Taking that long-two or three times longer than normal-and after not touring for five years, there's a lot of work ahead of us there, as well. It's just a matter of getting up to speed, I think."
On the last outing, fans were ecstatic that the band performed its landmark 1976 album 2112 in its entirety, along with classics like "CIoser to me Heart," "FreewiIl," and "Subdivisions." Lee said of this year's set list, "We'll dig some old bones out and polish them up and see what happens. I think we'd like to overhaul the set quite a bit from the last one, but there are certain things that obviously are kind of benchmark tunes that you just can't lose. It's like you can't go out on tour and not play 'Tom Sawyer.' It would be unthinkable for some fans not to do that. We'll keep the ones that are most popular and the ones that are the most significant and try to refresh the rest of the set with some different older tunes and hopefully squeeze in a bunch of new ones."