On The Road With Hard Rock's Comeback Kings
By Michael Hollett, Now, July 11-17, 2002, transcribed by John Patuto
---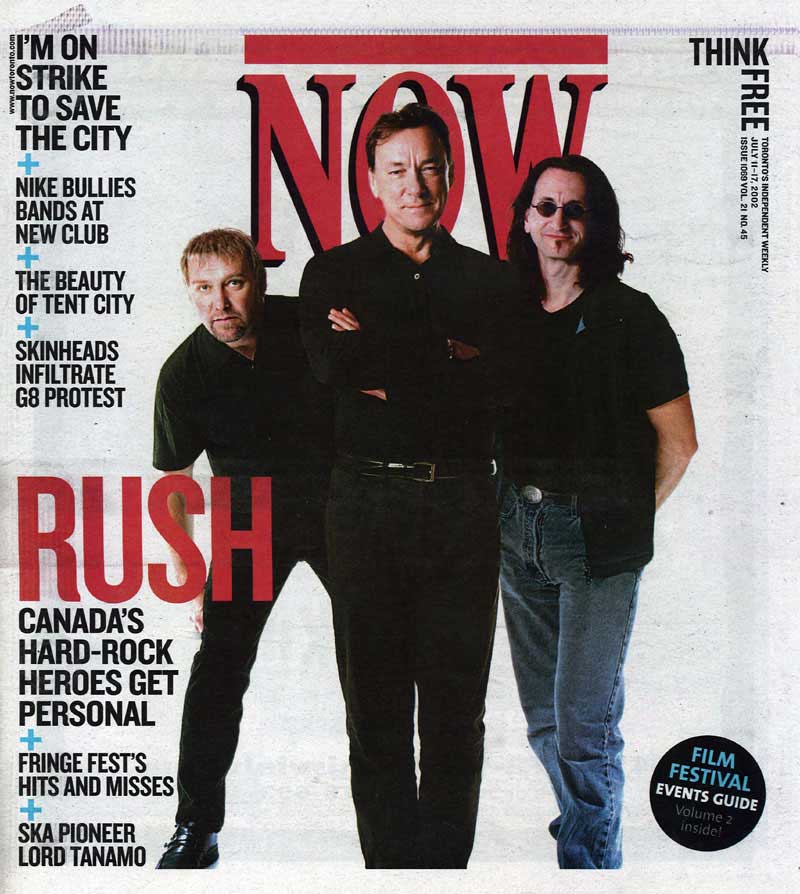 Saratoga Springs - sitting backstage at the Saratoga Springs Performing Arts Center, Geddy Lee and Alex Lifeson are laughing about a tale of 70s rock and roll excess. Something involving frozen vodka shots, a damp studio in an icy castle, a bucket of water and a producer's girlfriend.They've just finished the sixth show in Rush's first tour in five years, playing to a full house of 15,000 people.
Almost 30 years after they became friends in high school, the two are back on the road. This summer sees glimmering tour-busloads of rock megastars, including the Rolling Stones and the Who, but Rush are the only veterans touring behind one of their best albums ever - their most recent.
The just-out Vapor Trails disc is a power-packed, personal passage that's as fresh and vital as releases from players half their age. The band, which also includes legendary drummer Neil Peart, has stripped its sound to the bare essentials, showcasing their talents as great players who can crank a staggering salvo of sound from a three-piece.
It's a disc that even people who couldn't get close to the band before can embrace - if it doesn't blow them away. And as music starts to rock loud again, it sounds remarkably of the time.
During two shows over this past American Fourth of July weekend, Rush deliver dynamic performances that reaffirm their status as one of the hardest-rocking and best-playing bands anywhere. Packed houses tonight and again tomorrow at Buffalo's Darien Lake, two stops on a 50-plus tour that hits the Molson Amphitheatre Wednesday (July 17), attest to a fanatical fan base that has helped this Canadian band sell more than 40 million discs worldwide.
And this tour, they've left the kimonos and costumes at home.
"Of course we think Spinal Tap is funny," says Lee, who along with Lifeson has a good sense of humour about some of the overblown antics that were so much a part of rock as their band was growing up.
"We have Spinal Tap moments now, but fortunately we recognize them." There is much comparing of favourite TV moments from The Osbournes, and as the two tuck into an elegant post-show meal prepared by their travelling chef, a perplexed Lee mentions being mistaken for Ozzy by a Manhattan shopkeeper.
Peart misses the munch-down because as each gig ends he bolts for the "Elvis Bus," a top-of-the-line tour transport with a shower, plasma screen TV and only two bunks. He's not avoiding anyone - it's clear they all get along great - but the drummer loves the road. Two hundred miles before each new city, Peart bails from the bus to make the rest of the trip on his BMW bike.
Lifeson and Lee will head to their road home tonight on a private jet. The band sets up a base camp in a city central to each leg of the tour, make one-hour flights to the shows and, after playing and unwinding with good food and great wine, wing back to their main hotel, rejoining the tour the next day. Right now, Manhattan is Rush's base camp. For the first shows, Charlotte, North Carolina, was their temporary home at the end of the day.
"You have to have a sense of humour, especially when you start going back into the crypt. We had some sword-and-sorcery flying around for a time - that was fun," says Lee, smiling and stealing a look at a silent TV that shows a muted baseball game. (Baseball is one of the personable Lee's true passions, and he has some of the best seats at Toronto's Skydome.)
"Getting ready for this tour, Alex and I listened to all our material. We haven't done that, maybe ever. We'd hear some songs and we'd just start laughing and wondering what we were thinking. Then another song would come on and we'd think, "Wow, did we write that? It sounds good and modern in a crazy way.'"
Despite all their success, Rush are down-to- earth rockers subject to real life's intrusions. The band has been silent, not recording or touring for five years while Peart recovered from the tragic deaths of both his wife and his teenage daughter in the same year.
Peart spent much of that time "ghost riding" on his motorcycle across North America, trying to find himself and his spirit again. And while he doesn't do interviews - never has - he's just published a book, Ghost Rider, that details his distraught travels.
Lee and Lifeson spent the half-decade first dealing with their own grief and then waiting for their friend. No deadlines were issued, no ultimatums or tough love given.
"After the initial shock wore off," says Lifeson, "none of us felt compelled to continue in music or do anything creative. It just killed that whole spark. But slowly, we started to recover. Geddy and I found that music was a still a very, very important part of our lives and we wanted to continue.
"Then it was a matter of Neil catching up. But at the time, I don't think either one of us thought Neil was ever going to be interested in coming back."
"I can't really say that it felt like waiting after a time," says Lee. "I resigned myself to the fact that this could have been the end. It was a sad way to end, but Alex and I thought, "Let's just be to him what he needs. He needs us to be his friends, and if he gets to the point where he feels good about making music again, then that's a huge win, because that means he's feeling good, period.'"
Lee made a solo album with k.d. lang collaborator (and his public school pal) Ben Mink. Lifeson produced some young bands and listened to tons of new music by people like Quicksand, Jesus Lizard, the Deftones, Queens of the Stone Age, Tool and Radiohead.
Both men logged serious hours in their home studios, Lifeson trying out new sounds while playing his musical "exercises," free-wheeling explorations of his instrument. I've heard some of these hours of tape, sometimes recorded over intense beats laid down by one of Lifeson's 20-something sons, and they clearly form the basis for some of the best aspects of Vapor Trails.
"I went away from what I normally do and experimented with tones and the lack thereof, more dissonant guitar and rhythms," says Lifeson.
But even exploring noise, Lifeson remains musical, always playing his instrument, never just abusing it like many of the hard rockers who have attempted to follow in his path.
Onstage, he still delivers the kind of expansive, searing solos that can make hosers' and highbrows' hair stand on end, but the playing is always tasty and clean - just loud as hell and really powerful.
Is hard rock back?
"Definitely," says Lifeson. "The economy is getting a little worse in North America. When the economy is good nobody wants anything too heavy or deep, so pop makes a huge resurgence. Through the 90s there was a long period of economic growth and materialism, and music reflected it with boy bands and cute, fluffy female artists. There was no deep commitment to the music at all.
"In the early 90s, when we went through the recession, grunge and the darker side of rock music became popular. Maybe that's what's happening now. Things are cooling down, people are more concerned, obviously, since September. So it's tenser, and I think a tenser environment is better for hard rock music than a happy, laughing one."
"For me it's always been about hard rock," says Lee. "It's essential to play and to listen to."
Tough talk from two men who are soft-spoken, gracious and even goofy at times. But their hard rock has never been agro; it's about empowerment and, gulp, responsibility. It's clear watching the fixated, sing-along faces in the crowd at the two U.S. shows that this band has spoken to its fans in a personal way.
So while creased cock-rockers end up looking kind of silly singing about chasing girls and racing cars and run out of things to write about as they grow older, Rush resonate.
"It's up to you, it's your life," says Lee of their themes.
"That's why some people like the band and some people hate it," says Lifeson. "Some think rock should be about the rock and roll lifestyle of freedom and no responsibility. We've always been a little more serious about the content - not that we're serious people, just about our work.
"That's what I think real Rush fans get out of it. And for us to come back after this period, it's all about that hope."
For obvious reasons, the songs on Vapor Trails - whose lyrics, as always, are by Peart - are more personal but remain universal despite the specific pain that launched many of the ideas.
But intensely personal lyrics weren't the only change in Rush when they headed, apprehensively, back to the studio.
"The expectations were different. It wasn't the same band any more, and we weren't the same people - not just because of what happened to Neil," says Lifeson. "We had all grown and matured a lot. When you get to your mid-40s, you definitely go through a change, and I think that's reflected in the sound."
Although the band spent their longest time ever recording and writing - over 14 months - they didn't head into the studio with tons of pre-production and completed songs. Many of the tracks were created from live jams between Lee and Lifeson, and those original tracks, not re-recordings, form the basis of most of the songs.
"It's definitely one of our best records. It has a passion and spirit that I think are lacking in some of our previous work," Lifeson says. "We get a little surgical and anal in the studio; we've been trying over the last few records to loosen up a little."
Lifeson was determined to try some of his new guitar ideas, and he and Lee agreed there'd be less keyboards as they approached the sound more as a three-piece.
"We wanted it to be groove-oriented," says Lee, "That's something we agreed on early. "Can white Canadian rock boys funk up a little?' That seemed like an area of weakness. We were always technical in our playing. We tended toward the histrionic; we were players first, songwriters second, so that's still part of our learning process."
The next day, after spending the morning in New York City's Central Park with his wife and young daughter, Lee relaxes after a sizzling sound check at a dilapidated upstate amusement park. The band gets more relaxed each day, their precise playing more natural.
"Today in sound check we started jamming, and it felt good and fresh," says a smiling Lee. "There are two directions we can go in. We'll have this tour and we might decide we don't have the fortitude to carry on and we'll go our separate ways, or we'll continue this rebirth that we're experiencing. Today it felt a lot like that would be the likely road we'd go down."