Rush Captures The Beach
By David J. Criblez, Good Times, July 30 - August 12, 2002, transcribed by John Patuto
---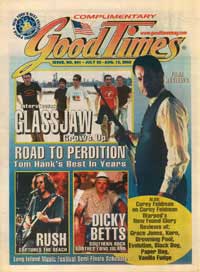 "Good things come to those who wait" is an expression that rang true at Rush's sold-out show at Jones Beach, as 15,000 fans gathered in unison to welcome their heroes back. Vocalist/bassist Geddy Lee, guitarist Alex Lifeson and drummer Neil Peart are back in the rock-n-roll fold after a six-year absence.
Wasting no time at all, the band opened the show with their most famous song, "Tom Sawyer," a timeless classic that instantly jump-started the evening. "Distant Early Warning" and "New World Man" followed, proving that live rock music does not have to sound muddy. The sharp sound system was stellar and extended far beyond the average set-up. Every note was crisp making songs like "Roll the Bones," "Earthshine," "YYZ" and "The Pass" thoroughly enjoyable as the musician-saturated crowd hung on to every lick and drum beat.
Rush "We have a lot of punishment for ya tonight, some 30-40 songs. Is that OK?" stated Lee. "I hope you're ready!" The set list consisted of rare chestnuts ("Between Sun & Moon," "Vital Signs," "Natural Science") as well as standards ("The Big Money," "Bravado").
After a brief intermission, Rush opened the second set with their powerful new single, "One Little Victory," complete with pyro-techniques. New material continued to flow with "Ghost Rider" and "Secret Touch" which brought out the lasers and cheers, while "Dreamline" and "Red Sector A" kept the energy up.
The instrumental "Leave That Thing Alone" was stunning and proved that Lifeson is perhaps rock's most underrated guitarist. Peart's 15-minute drum solo was worth the price of admission alone. He masters his kit with sheer precision and grace putting him in a class all his own. Meanwhile the acoustic rendition of "Resist" displayed Lee's vocal capabilities.
As soon as the symbol of Rush's "2112" flashed on the screen, the crowd rejoiced in anticipation for its performance. Hits "Limelight," "La Villa Strangiato" and "The Spirit of Radio" fleshed out the remainder of the second set.
A three-song encore completed the evening of Rush euphoria. Beginning With "By-Tor & The Snow Dog," followed by "Cygnus X-1" were interesting choices bypassing better known tunes "Closer to the Heart," "Time Stand Still" and "Freewill." The audience enthusiastically responded to the closer, "Working Man," singing the lyrics at the top of their lungs and mimicking Lee's signature high notes. The show was a success for Rush, who prefer to dazzle their fans with musical talent rather than on-stage antics. For that reason, they will always sell-out the Beach.