You Can Judge An Album By Its Cover, Says Rush Band Member
By David Lindquist, Indy Star, August 9, 2002
---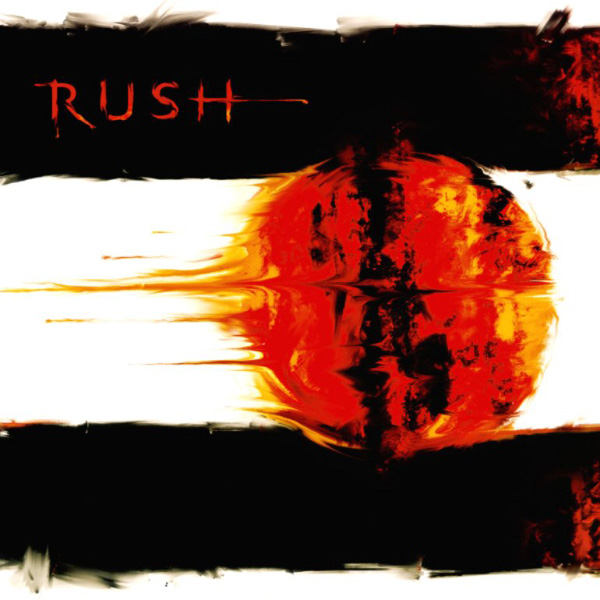 Geddy Lee calls "Vapor Trails," the 17th studio recording by the Canadian rock band Rush, a "return of spirit."
It's an uplifting statement in light of the heartbreaking recent past of drummer-lyricist Neil Peart. Peart's daughter, Selena, was killed in a car crash in 1997. His wife, Jacqueline Taylor, died of cancer in 1998.
Lee, Peart and guitarist Alex Lifeson will perform tonight at Verizon Wireless Music Center, the band's first local appearance since 1997.
But even when Rush is away, it maintains a crucial Indiana connection.
Art director Hugh Syme, a resident of Henry County, first worked with the band on its 1975 album "Caress of Steel." For "Vapor Trails," Syme created a design in which a fiery red ball moves from left to right.
During a recent telephone interview, bass player-vocalist Lee classified an album's visual art as a continuation of the music within.
Not to say that other artists don't take their album packaging seriously, but your band has always done interesting things with its covers.
I think it's a reflection of the period we grew up in. Album covers were always really important to the three of us. We were all collectors of vinyl LPs. When we were growing up, those covers meant a lot to us. You take good care of your records. Those pieces of music were everything to us. That's what we grew up loving and made us want to do what we're doing.
As a result, we grew up with a great appreciation for the beautiful album covers. How cool it was when you went to you record store and waited for your favorite band's album to arrive. You'd listen to the record and hold that thing in your hand, and that was part of the experience.
And back then, I think the vinyl record was symbolic of the way you regarded music. You had to take care of it to get the music off of it. It became a precious kind of thing. Now a compact disc is a small, little insignificant-looking thing. I think that hurts. I think the cumulative effect of that has been harmful for the way people view music. I think it's not just a coincidence that people regard music in a more disposable manner.
I might look at the cover of "Vapor Trails" and see our planet?
Yeah, you could see your planet. You could see a lot of things in there. For me, it's a more symbolic representation. It's representative of the fire of human spirit and how hard it is to extinguish that.
Across the past few years, your band has persevered once again.
We have. This album, "Vapor Trails," is really all about spirit. It's about loss of spirit and how spirit can be found again and recharged. The music, I think, has a lot of passion and energy. In a way, it's a celebration of a return of spirit.
The three of us have a relationship that kind of defies description. It's hard to really figure it out. But I look across at those guys -- and I've known them most of my life and I've played with them for most of my life now -- and there's a comfort level and a respect and an understanding of each other that's hard to describe to people.
We're appreciative of our opportunities and we're happy to be there.
Can you give me a brief overview of the set list?
Well, I don't like to give details because I like fans to come out and go on a little trip with us. We cover material from the very first album to the present. It's two sets, about three hours of music. Because a lot of these venues are outdoors, we start in daylight. We've constructed a show that gets more visually interesting and intense as the night wears on. As a result, we make the music get more intense as the night goes on. We kind of become our own opening act.
It's a very interesting, diverse and powerful show. We're very in sync, and I think it shows in the way we regard each other onstage and the amount of fun we're having. I think the crowd feels that.
When you describe that type of concert, I think of two-set shows from various "jam bands" I see. Do you feel any kinship to that style of performance?
We're pretty much creatures of structure, although I would say there's probably more improv stuff in the course of our show than on any other tour.