One More Little Victory
After Several Life-Altering Setbacks, Rush Ends Its Six-Year Hiatus
By Kerry Gold, Vancouver Sun, August 31, 2002
---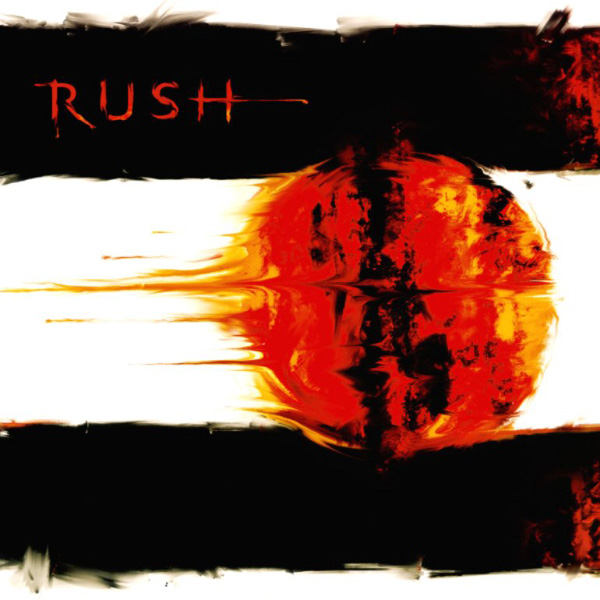 Never mind Canada. One of the most beloved bands in the whole wide world is back after a six-year break. And judging from response to the new album and a string of sold-out shows, Rush has picked up where it left off. And then some.
It's been nearly 30 years since lead singer and bassist Geddy Lee, guitarist Alex Lifeson and drummer Neil Peart kicked into action, most notably with landmark concept album 2112. Like all good marriages, the Toronto band's fans have stuck by them for better or for worse. As Rush fans well know, the band suffered a life-altering setback between 1997 and 1998, when drummer Peart lost his 19-year-old daughter when she was killed in a car accident, and then his wife to breast cancer.
Peart withdrew, taking his bicycle on an extended cross-country trip, distancing himself from the band and coming to terms with his grief. Lee and Lifeson gave their lifelong friend (they are all 49 years old) as much time and space as he needed. Uncertain if the band would ever continue, they formed side projects while they waited to hear from Peart (Lee's project last year with Vancouver musician-producer Ben Mink was critically praised; they have plans to release another one).
As a result, the new tour, which kicked off June 28 in Hartford, Conn. and winds through GM Place Sept. 8, is an emotional hotbed for band and fans. Judging from reviews, Rush have regained their stride.
"There's nothing like when you survive something really bad. It makes you really appreciate everything that's good," says Lee. "The first gig on this tour was probably the most emotional I've ever seen us together. Fans had literally come from all over the world to see that show, and it is very hard for me to describe the atmosphere. Even afterward, it was quite emotional."
Rush fans are, quite possibly, the most diehard tribe of all. Cross Rush, and be prepared.
When Eagles frontman Don Henley dissed the band in an interview with the Vancouver Sun last spring, the story was immediately circulated throughout the Net and fans went ballistic. In a reference to old bands like his own making a comeback, Henley had said:
"I can't think of another band that has broken up for 14 years, then got back together and made a record ... You do get bands like Rush getting back together. Yuck."
And furious Rush fans responded. Several pointed out that Rush, in fact, had never split up. Lee concurs.
"It's not a comeback," says Lee, on the phone from a tour stop in Nashville, Tenn. "It's our next record."
As for Henley's comment, soft-spoken Lee is flummoxed, and obviously not impressed.
"Why should he talk about us? What the hell did we have to do with him?" asked Lee. "He sounds like an a--hole to me," he added, laughing.
As for the fans who came to his defence, he's pleased:
"Good - he brought the negative energy on himself. I never met the man in my life."
Rush's fans are so zealous about their heroes that in an effort to fill the void left by the band's hiatus, nearly 500 of them held RushCon conferences in Toronto this year and last that included singalongs of Rush songs. For them, the band goes beyond mere entertainment and represents a philosophical approach to life, a set of values.
For example, the band is known for giving millions of dollars to charity, which earned them the Order of Canada in 1997. In the spirit of that goodwill, all proceeds from this year's RushCon went to the Face Up To Hunger Foundation, a fund set up by the fan organizers to help the Daily Bread Food Bank in Toronto.
And although the Rush trio has got a huge fan base south of the border, they've chosen to remain in eastern Canada because they love it there and figure it's a good place to raise children. Also, there is the touching kinship between the three men.
"It kind of defies description," Lee says. "It's a brotherhood, it's a friendship - it's kind of a mixture of those two things."
The sensitive manner in which they dealt with Peart's tragedy has earned them deeper respect with fans. And of course, there's the fact that Peart is considered one of the world's premier rock 'n' roll drummers, and the band's sincere and continued exploration of the progressive rock 'n' roll sound that has become the apotheosis of the genre.
Lee has his own theory.
"There's something in what we do and the way we go about doing it that reaches someone at some point in their life in some kind of meaningful way, and I think there's such a strong connection made at that point, in the receiving of some positive energy or message in what we do, that it makes them lifelong fans."
Rush can do no wrong with the fans, but the critics took more convincing. Having established themselves through diligent touring and the occasional hit single (like Closer to the Heart, New World Man, Limelight, Spirit of Radio, Tom Sawyer), Rush has sold in the order of 35 million records. According to the Recording Industry Association of America, the band's entire catalogue of 21 records has been certified gold or platinum.
New album Vapor Trails, released in May, scored with the single, One Little Victory, which went to No. 1 on heritage format (classic rock) radio stations in the U.S. and hit No. 13 on the Canadian rock chart. The song also served as the theme song for Stanley Cup winners, the Detroit Red Wings.
But back in the '80s, when guitar rock, and particularly epic-proportions prog-rock, had become laughably passe, Rush had taken a few brutal licks from the critics. Now that guitar rock is hip again and younger bands are pointing to Rush as an influence, Rush's strict allegiance to its roots has given the band a glowing respect reserved for rock 'n' roll's old-school masters (in 1999 Rush was added to Canada's Walk of Fame). Not that Lee cares about critics.
"I don't know what to make of critics in general," says Lee. "I gave up trying to guess. As the industry's changed around us, we somehow became more legitimate through the years. I think of us as being the same band and everyone else is changing." Of bands like Primus, who cite Rush as an influence, Lee doesn't hear many musical similarities.
"I can kind of see a quirkiness that maybe came from spending too many hours listening to us," he says. "But I don't hear the influence as much as I hear the artist talk about the influence. I think their music is quite different. But I think their inspiration to do what they do came from us."
Lee and Lifeson go all the way back to high school, when the two friends and original drummer John Rutsey formed a band and went on to play the Toronto bar circuit. In 1974, they released their debut on Moon Records, cultivating a following in Ontario but getting little airplay. That year, Rutsey left the band due to poor health and was replaced by Peart, who'd been playing in a St. Catharines band called Hush. Rush eventually caught the attention of a Cleveland, Ohio radio station, and the exposure led to a record deal with Chicago label Phonogram Records, which released 1975 album Fly by Night. As soon as America got on board, the phone started ringing, recalls Lee.
As for the famous high-pitched vocals, he developed his register early on.
"When I was young at school I was in choir, and I was always the soprano," he says. "And then when I joined this band the music we were doing was particularly raw. And it seemed to be the right attitude. We were heavily influenced by Roger Daltrey and the Who and Led Zeppelin and those kinds of bands that had high-energy vocalists. It was the style of the time, really - I just interpreted it in my own way."
Lee has had to work on maintaining his vocal power, however. He speaks softly (he's barely audible) to ensure he doesn't strain his vocals while he's on the road. He follows a strict diet that omits eating dairy, spicy and acidic foods.
"Singers are like pitchers, you live in constant fear that you're going to get a cold or sprain your throwing arm," says Lee. "We live in fear of air conditioners. It's kind of mental, but it comes with the territory. You have to avoid doing things like this [interview] on the day of the show. I try to be as quiet as I can on days off."
Such extreme measures are required for epic songs like 2112. In concert, Rush aims to cover as much of the old material as possible, with concerts that clock in at close to three hours. Lee concedes that it doesn't feel quite like old times, however.
"It seems like new times," he says, laughing.
The band had reunited in January 2001, when they held the first band meeting since Peart's tragedies. Peart hadn't written any songs, but he wanted to talk about the prospect of a new album. Lee was surprised that Peart was ready again, but he'd always suspected that his friend would find his way back. When making the album, the band produced much of it themselves, in order to keep the atmosphere casual and intimate.
On tour so far, the drummer has had his good days and his bad days.
"Of course he has his moments when it's difficult for him," says Lee. "But he's been very positive, much more positive than I've seen him for a long time. I think he's enjoying the closeness that developed between the three of us while making this record.
"I think that was a great comfort for him in a way, that he could just go back with no judgements, no questions asked. Just support from us."
And what if Peart had never come back? "As you get older in a band you always expect what you're doing to be the last time that you'll do it," says Lee. "It's very hard to imagine yourself with a 20-year future, for example. But for things to unravel in such a tragic way ... it would have been a very sad way to end. If one day the three of us look at each other and say, 'Guys, we've had a great run and I think it's time for us to sink slowly into the west,' that's fine. I have no problem with that.
"But for it to have ended on such a tragic note, I think it would have been a shame."