Time and Motion
By Jim Clevo, Music's Bottom Line Magazine, November 1-15, 2002, transcribed by John Patuto
---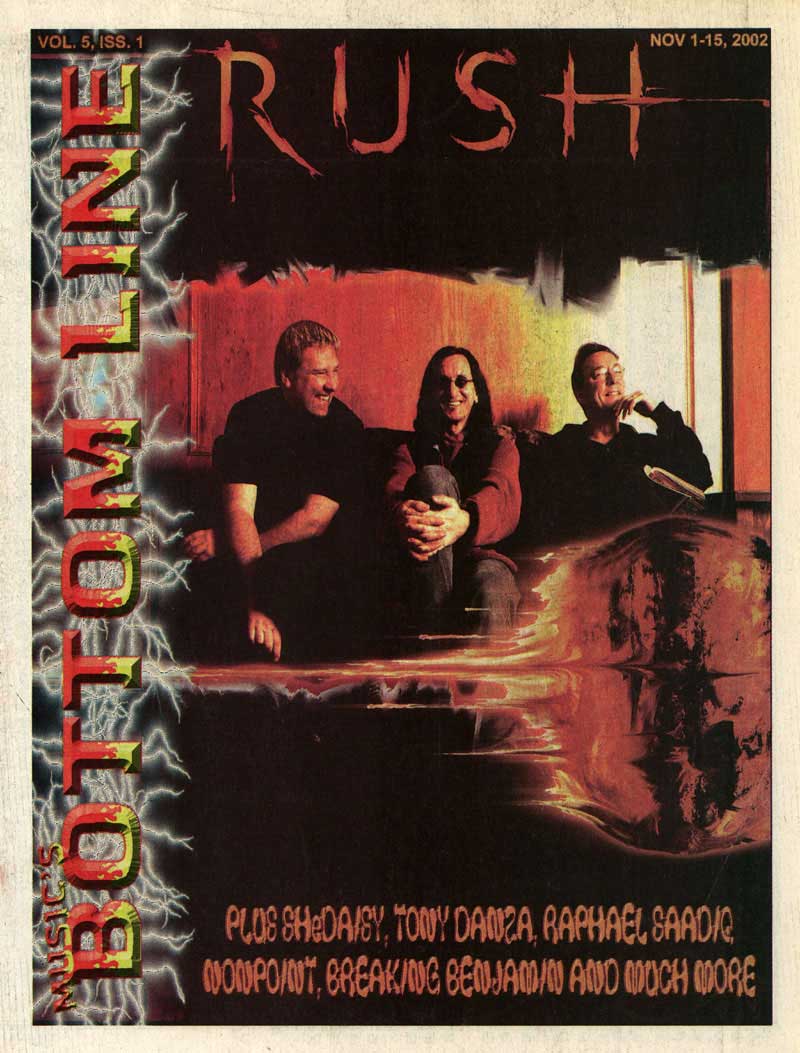 It's not often that MBL responds to a letter to the editor by letting the writer of the letter write a cover feature. In fact, it's never happened before. But after this rare letter, we figured we would do just that. Cleveland icon Jim Clevo dropped us the following letter to the editor, and we just couldn't resist:
Chris,
My work rarely appears in regional music papers for nada, much less for the chickenfeed which papers Matt Groening once derisively termed "struggling Free urban newsweeklies," insult writers with under guise of 'pay', but a cover story on the most productive and influential band of the last 30 years, even without an actual interview, is an opportunity not to be passed up. I brought this story to MBL because they are a MUSIC paper first, and that is where Rush belongs. Counterbalancing years of ignorant insulting crap excreted by other area papers is also strong incentive. Barring an all-Rush issue, this is 25% of what I could have done.
VAPOR TRAILS is a puzzling CD with a minimalist sound, verbosely vague lyrics, and lack of good choruses, and only a couple of cuts work well live. Mario Becerra is a respected metal DJ/writer of fine old-skool WUJC vintage. Yet the notion of Rush's last 20 years as a pile of dross is dispelled by instrumentals on their three prior CDs, plus '90s cuts "Double Agent", "Time And Motion", and the last 2 cuts on 'VT', all reminding fans of bygone 'Cygnus/Hemispheres' spirit is not gone! Plenty still feel Rush never out-rocked their first album; even hard-ass bikers along the taverns of Fulton, Clark or Lorain Ave., use pool cues as guitars when "Working Man" hits the box. SIGNALS was not as good as later CDs to me, but I defended it by saying that Van Halen safely found acclaim with keyboards in "1984" - AFTER Geddy & Alex proved it could work in 1982! The crux of my feature regards Rush's lack of due credit received.
-Jim Clevo
And with no further adieu, here is Rush by Jim Clevo
---
A 1987 caller to the syndicated radio topic show "Rockline" professed allegiance to the show's guest, Rush singer Geddy Lee, feverishly stating that he 'even had you guy's picture on mah refrigerator', Geddy calmly replied in his self-depreciating style, "No; take it off! It'll spoil the milk, eh". Earlier that year, the trio staved off road monotony during European recording sessions by undergoing a 'cowboy-hat phase', sporting western wear while spouting rodeo lingo. The summer leg of Rush's 1996-97 tour found 3 toy reptile monsters, predictably dubbed "The Dinosaur Trio", hiding alongside Alex Lifeson's foot pedals. Snippets of "Simpsons" shows and spooky song 'Monster Mash' have aired during Rush Concerts. At many points in their career, the impulse to break into a couple bars of the 1974 Alice Bowie stoner classic "Earache My Eye" [webmaster note: Alice Bowie is Cheech Marin in character] has been hard for Rush to resist, a song undoubtedly heard by the group on their station-wagon radio during Rush's first smoke-filled American tour that year.
This is the level of humor that has been required for Rush - here in Cleveland at Gund Arena on Monday, November 4th - to withstand nearly 30 years of torrential critical abuse and general misunderstanding, along with the tour weariness, shady dealers, shallow phonies, and shifts in fashion which the music life invariably presents. Coupled with the blessed curse of catering to the most persnickety, demanding and rabidly-obsessive fanbase in rock history, the fact does amaze that this 1974 band named Rush not only still exists in the year 2002, but is back to stage the year's most stunning technological spectacle and spiritualistic ritual, replete with powerful playing. And in late November 2002, that stunning ritual, unfolds for the first time ever in Brazil.
Yet humor took hiatus in July 1997 when the first of two soul-destroying family tragedies and the resultant perspectives instilled personally affected the ability of Rush drummer and lyricist Neil Peart to cheerily continue on. This well-documented story is best discussed by Peart himself in the touching tome "Ghost Rider", a self-penned chapbook which, for now, is sold only at Rush shows. Written in the same Kerouacian style as his cycling adventure book, "The Masked Rider", excerpts from "Ghost Rider" as seen on the Toronto Star website detail his moments of torment, cured only by cycling; suffice to say that Neil, to absolve his remorse and purge his pain, would have gladly exchanged Rush's existence, perhaps his own life, for a happier ending.
In quest of such, Rush rebounds from the setback, with Neil more than presumably ready to rock, as this is not a man with a posted track record of working against his feelings. Feelings in the crowd at the tour's fifth date in Darien Lake, NY on Sunday, July 7th resembled a family reunion, New Year's Eve party, and alien landing rolled into one. Apoplexic gasps and screams rose from the 15,000+ crowd as Rush raced to their places. Numerous fans wept hysterically and wilted upon mere sight of the first manifestation in five years of three celestial forces in human flesh. Others leapt to execute aerial hi-fives as if having won lottery millions at the first notes of the rarely-heard jewels such as the 1982 hit "New World Man", and the sensitively-written "The Pass" from the 1990 Presto CD. Following the precise performance and heart-wrenching sentimentality of the stellar 1991 rouser "Bravado", featuring one of Alex Lifeson's most soulful guitar solos, the high-decibel roar reverberating through Darien Lake would hove drowned jet engines; passersby had cause to suspect Britney or N'Sync.
Roars broke barriers throughout the nearly three hour concert; as Rush unexpectedly performed musically juicy prime cuts from bygone days of yore, such as "Natural Science", "YYZ", "By-Tor ... ", and "La Villa Strangiato". Enormous care was put into the making of song selections, positioning of those 'play-it-or-else' standards. "Spirit Of Radio", "Tom Sawyer", "Limelight" and "Roll The Bones" - was reshuffled to great advantage while other oft-heard warhorses such as "Closer To The Heart" and "Freewill" took a deserving rest. Hardcore fans who have already viewed the Vapor Trails tour, in one of several nearby stops since opening in late June, also report witnessing an unprecedented, Matrix-crossing phantasmagoria of gas-drinking rocket racers, cartoon monsters, spinning clothes dryers, and humongous flame-throwing raptors, the entire show based in the theme of a pre-historic rain forest. A raft of movie cameras feed closed circuit cuts of two strategic video command centers for live mixing, where graphic images of straws, pixels and swirls, and fresh new animations, blend with redigitized renderings of hallowed Rush iconographies from decades past. And need we even mention the whopping green laser cones and shooting beams? The effect of these effects, put to spacey lyrics such as those of the never-played "Between Sun And Moon" from the Counterparts CD, channels a multi-dimensional paranormality to rival the likes of Art Bell and David Icke; the degree of psychedelia is palpable enough to stun the most lysergically-skilled Phish or DMB fan. Of more Earthbound concern, average percentage of females in attendance now approaches 15% to 20%, a significant increase! And any of the hostile bitchiness exhibited on-stage during the previous Test For Echo tour has thankfully abated by the illuminating grace of wisdom evidenced by Alex and Geddy engaging in a brief 'unplugged' sit-down segment for the first time ever, as if events of these last several years, and their common cause of supporting Neil's recovery, has enriched and deepened their appreciation and understanding of Rush's place, not only in rock, but in the universe. Maintaining the quality control falls to the industry's most professional, most insular support crew, ranging from the gregarious Herns and the ubiquitous Jack Secret (two long serving lighting and sound-staging experts equally as crucial to the show's excellence as the trio themselves), to the presence of numerous stage techs and assistants who have continued non-stop with Rush since their '70s origins at Coff-Inn. At this point in both brilliance and relevance, as well as in entertainment value delivered in exchange for dollar spent not one major act is besting this show in 2002. To lift a phrase from Geddy's outstanding solo CD, "and when it's right it's fun again!"
Understand Neil's iconic influence in the lives of Rush fans by putting it in the context of Deadheads; in an inspirational sense, Neil is 'OUR Jerry Garcia', the difference being, oh, let's say; cycle trips through remote Africa to drill water wells, as opposed to the stuffing of one self with ice cream and China White heroin until rigor mortis sets in. As 'Osbournes'-like peep show from the Weinrib or Zivojinovich homes is not planned. Nor was Rush's recent New York show coupled with a visit to Howard Stern's show. Rush has perpetuated untenable ethical standards; quiet charity, strong aversion of involvement in farces and shams, and circumspect abstemiousness, a set of core values staunch followers faithfully emulate. Nor can their primary role in inspiring generations of musicians be minimized, (particularly in Cleveland where Rush fans populate star bands like Hostile Omish, Breaker and NDE.) But this stance, along with contradictory disdain for the stereotypical celebrity lifestyle, left rockstar/philosopher glamour pre to the Bruces, Stings and Bonos, despite timely world-issue songs like 1985's "Manhattan Project" and "Territories", and 1991's "Heresy", about Communism.
Rush, named Harvard Lampoon's Millennium Band, pioneered backstage-leftover donations to food kitchens, quietly donated earnings to charities both in Canada and abroad, and lent Geddy's talent to the Northern Lights sessions. Yet lacking drug arrests, rehab stays, messy divorces, or bimbette spiked tabloid dalliances, they have never adorned the covers of Rolling Stone, Spin or People Magazine, sticking only to music-gear mags. The fame decrying message of past Rush songs "Superconductor" and "Nobody's Hero" insures that no breath is being held ever the matter. Geddy's segment of the 1982 hit "Take Off" WAS heard on a 2002 "The Simpsons" episode, but Rush has yet to 'play' Springfield, and cautious they should remain, as Homer's track record with bands is not good (fell on Aerosmith, stole The Who, upset BTO, chased by Moody Blues, etc.)! Stay for the Encore November 4th to see Rush's own animated take on themselves engaged in muscle-flexing and time travel. Wayback is way in.
Which brings us back to Rush's self-effacing side. Sexpert Gene Simmons of Kiss stated on stuffy NPR that all bands are begun to gain money and sex only; any who believe their music is 'art' are both "on crack" and "questioning their sexuality". Were these points debated by Kiss & Rush at the Sahara Hotel in Las Vegas on May 29th, 1975, when according to the book Kiss And Sell, they shared a bill on "Glitter Night?!" Probably not. 1998 Rush bio Visions depicts period photos of what Homer would call a "wild, shirtless" Geddy Lee with millions, his dream, his wild, shirtless lyrics expected to believe that Our Heroes retired meekly to their rooms to call wives, read English lit, and sip tea amidst Gene's 'photography', Paul's groupie den, Ace's rolling champagne cart, and Peter inhaling half of Peru, well, in the famed words of Grace Under Pressure portraitist Yossuf Karsch, "that is an answer I cannot accept!"
In 1990, a female host on Canadian MuchMusic TV asked Geddy Lee in earnest if there was a time when Rush might not have made it big. Saying all he needed to by rolling his eyes, amused chuckles signifying myriad career crises, he emitted the droll response, "Let me count the ways." Now, only one statistic counts - the fact that Rush has a longer run as a platinum-selling, arena filling superband than the length of the careers of The Beatles, The Doors and Jimi Hendrix COMBINED. Of late, the trio has taken to referring to each other as 'soul brothers', in acceptance and realization of a mutual supernatural destiny. The hardest of hardcore, us fans dating back to before the sacred scriptures of "Hemispheres", "Cygnus-X1", "Xanadu" and "2112" were first put to parchment, share similar concern for the happiness of three figures who became forces of positive spiritual impact in our lives, with whom we've grown so much, shared so much, who have given us so much, and owe us little more. Monday, November 4th at Gund Arena, six years to the exact day of their previous Cleveland appearance, Ged-Heads will gather, Lerxst will make light, and 'Air Neil' will take flight - the sight of thousands of hands uniformly parodying Peart's every percussive paradiddle - as 20,003 souls rise together, making every Cleveland Rush fan the band's fourth member. I want to see all your hands! And on November 4th, that joyful noise will reverberate for several blocks down E. 9th Street to a building housing a certain Hall Of Fame which, if it intends to retain the slightest scintilla of whatever waning credibility it has left, had damn well better initiate, and post-haste, the overdue induction of Rush, along with sadly discriminated-against '70s legends such as Kiss, BOC, AC/DC and Alice Cooper.
Say Neil - you like that word, 'scintilla'? Go ahead - borrow it. It's on me.
---
Time And Motion: The Cleveland Shows
The irony and ecstasy facing Rush fans November 4th! Not that irony should surprise us, but Rush's upcoming Monday, November 4th Gund Arena appearance is EXACTLY six years TO THE DAY since their last Cleveland concert on the same date in the same building. The ecstasy will be embodied in the roar of the crowd when the first encore of "Working Man", the song that started it all, is played for the first time in 20 years in the city that started it all. And they return as a vaunted icon filling their own arena, rather than on a spoiled platter of a half-dozen 70s duds packaged for re-regurgitation. The sad part in all this, however, is that six years is the LONGEST period of time that the Canadian trio has ever been absent from the concert stages of NE Ohio, once their veritable second home.
A herculean amount of stealthy research was required in order to deduce and authenticate this pithy factoid. With the motivation of giving every long-time Rush fan a story to remember, (and with the assistance from former Richfield Coliseum and current Gund Arena director Phyllis Salem, WRUW host Joe Kleon, and Clear Channel Concerts assistant Trish Reed), this list of RUSH concerts performed in the Cleveland/Akron area since 1974 has been assembled to give "ultimate proof" of both Rush's reliance on the Cleveland fans, and the effort and sacrifice Rush consistently displayed for the mere sake of said fans' passing amusement. My question - did Rush ever stay at Swingo's in the 70s?