Rush Drummer Finalist For Literary Award
CBC Arts, February 11, 2003
---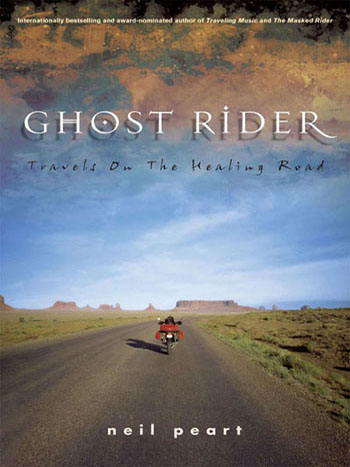 TORONTO - Rush drummer Neil Peart was nominated for a Canadian literary award Tuesday for his book on his emotional recovery after the deaths of his wife and daughter.
Peart's book Ghost Rider: Travels on the Healing Road is one of the nominees in the biography prize category of the second annual Great Literary Awards sponsored by the Writers' Trust of Canada.
The Canadian rock band musician wrote the book after his teenage daughter was killed in a car accident and his wife died of cancer less than a year later.
Finalists for the $15,000 fiction prize are Terry Griggs for Rogues' Wedding; Ann Ireland for Exile; Paulette Jiles for Enemy Women; Lori Lansens for Rush Home Road; and Nino Ricci for Testament .
For the $15,000 non-fiction prize: Katherine Ashenburg for The Mourner's Dance: What We Do When People Die; Andrew Clark for A Keen Soldier: The Execution of Private Harold Joseph Pringle; Marni Jackson for Pain: The Fifth Vital Sign; Jake MacDonald for The Houseboat Chronicles; and Lorie Miseck for A Promise of Salt .
For the $10,000 biography prize: Warren Cariou for Lake of the Prairies: A Story of Belonging; Andrew Clark for A Keen Soldier: The Execution of Private Harold Joseph Pringle; Charlotte Gray for Flint & Feather: The Life and Times of E. Pauline Johnson, Tekahionwake; Jerry Kobalenko for The Horizontal Everest: Extreme Journey on Ellesmere Island
Nominees for the $10,000 Journey Prize - awarded to a new writer for a short story or fiction work in progress published in a Canadian literary journal - are Geoffrey Brown for Listen; Jocelyn Brown for Miss Canada; and Neil Smith for Green Fluorescent Protein .
The awards will be presented March 6 at Toronto's Arts and Letters Club.
For more arts news, listen to The Arts Report weekdays at 7:12 a.m., 8:12 a.m. and 5:55 p.m. on CBC Radio Two.