Rush Readies 'Rush In Rio' - First-Ever Live Double-DVD Set & Deluxe Triple-CD Set Slated For October 21st
Rush.com Press Release, September 3, 2003
---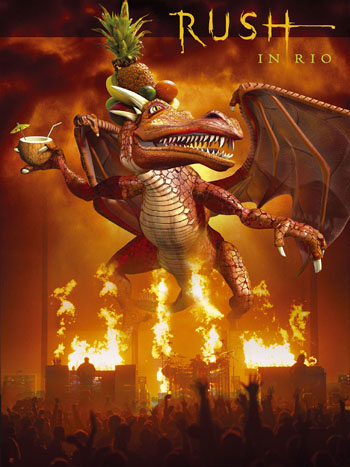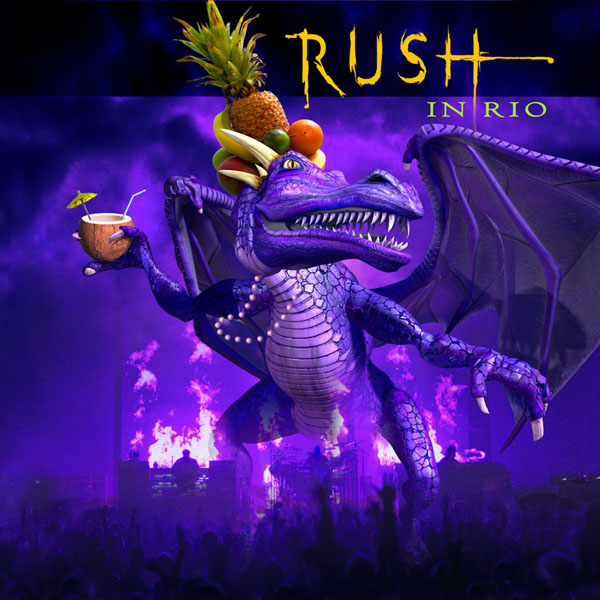 Legendary rock trio Rush (Geddy Lee, Alex Lifeson, Neil Peart) returns October 21st with the simultaneous release of a two-disc, first-ever live DVD and a three-disc live CD, both entitled RUSH IN RIO. The sets capture all the excitement of the band's 2002 tour of North and South America. One of the largest-grossing tours of the year, the itinerary found Rush performing before hundreds of thousands of fans throughout Canada, the United States and, for the very first time, in Mexico and Brazil. RUSH IN RIO (DVD on Anthem/Coming Home/ZoŽ; CD on Anthem/Atlantic) was recorded and filmed at Maracana Stadium in Rio de Janeiro, Brazil on the final night of the tour in front of a spirited crowd of over 60,000.
The three-hour concert includes songs spanning the group's entire 30-year career - from the mammoth guitar riffs of "Working Man" (from Rush's debut album) to the contemporary crunch of their latest #1 rock smash, "One Little Victory" (from their critically acclaimed 17th studio album, 2002's VAPOR TRAILS). All of the great Rush hits are present, including "Tom Sawyer," "The Spirit of Radio," "Closer to the Heart," "New World Man," "Distant Early Warning," "2112," "The Big Money," "Freewill," "YYZ," "Dreamline," "The Trees," and "Limelight." Also featured is a special never-before-performed acoustic version of "Resist" from 1996's TEST FOR ECHO and an updated awe-inspiring Neil Peart drum solo ("O Baterista"). [FULL TRACK LISTING ATTACHED]
In addition to the entire live performance, which was mixed by James "Jimbo" Barton (Metallica, Godsmack, Eric Clapton) and guitarist Alex Lifeson, both the DVD and CD packages include special bonus materials that will appeal to both new and long-time Rush fans.
The CD set contains two "authorized bootleg" tracks recorded earlier in the 2002 tour: "Between Sun & Moon," a gem from 1993's COUNTERPARTS album never before played live; and "Vital Signs," from 1981's classic MOVING PICTURES and appearing on a live album for the very first time.
The DVD was produced from a 22-camera shoot and will be presented in 16x9 widescreen format. Audio options include Dolby 5.1 Surround Sound and Dolby Digital Stereo. Among the numerous DVD bonus features are:
A documentary by longtime Rush photographer Andrew MacNaughtan that includes band interviews as well as rare rehearsal and backstage footage.
Multi-angle viewing options on "La Villa Strangiato" and "YYZ" (Alex, Geddy, or Neil angle in addition to the original cut), plus two alternate angle shots on "O Baterista."
Easter eggs: "By Tor & The Snow Dog" (from 1975's FLY BY NIGHT) cartoon created specifically for the tour, and an extremely rare live performance from 1975 of "Anthem" (also from FLY BY NIGHT) that was recently discovered in the Rush vault.
Regal Theaters will host special theatrical premieres of the DVD in over 30 major markets on release date. A complete list of cities and theaters will be announced in September.
RUSH IN RIO is a truly stellar set that captures the energy, power, and virtuosity of one of music's most dynamic ensembles.
COMPLETE TRACK LIST:
Tom Sawyer
Distant Early Warning
New World Man
Roll The Bones
Earthshine
YYZ
The Pass
Bravado
The Big Money
Trees
Freewill
Closer To The Heart
Natural Science
One Little Victory
Driven
Ghost Rider
Secret Touch
Dreamline
Red Sector "A"
Leave That Thing Alone
O Baterista
Resist
2112
Limelight
La Villa Strangiato
The Spirit of Radio
By-Tor & The Snow Dog/Cygnus X-1
Working Man
Between Sun & Moon (CD ONLY)
Vital Signs (CD ONLY)