It's Not Over Yet
Rush Line Up Rio Live Package, And Deny Split
Classic Rock, October 2003; transcribed by pwrwindows
---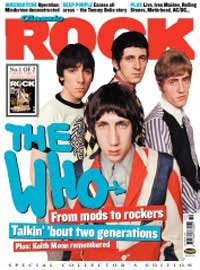 RUSH, WHO RECENTLY PLAYED IN front of half a million people at a star-studded benefit concert in Toronto, are to release a triple-disc live album that will also be available as a double-disc DVD. 'Rush In Rio' was recorded at the Maracana stadium in Rio de Janeiro on the last night of the Canadian trio's 2002 world tour to promote their 'Vapor Trails' album. To be released through Anthem/Atlantic Records in late October, it will also have extensive bonus features, including multi-camera options and hidden clips.
The CD and DVD editions both contain 28 songs, with documentary and off-stage footage added to the visual version. The full tracklisting is: 'Tom Sawyer', 'Distant Early Warning', 'New World Man', 'Roll The Bones', 'Earthshine', 'YYZ', 'The Pass', 'Bravado', 'Big Money', 'The Trees', 'Freewill', 'Natural Science', 'Closer To The Heart', 'One Little Victory', 'Driven', 'Ghost Rider', 'Secret Touch', 'Dreamline', 'Red Sector A', 'Leave That Thing Alone', 'The Rhythm Method', 'Resist', 'Excerpt From 2112', 'Limelight', 'La Villa Strangiato', 'The Spirit Of Radio', 'By-Tor And The Snow Dog' and 'Working Man'.
Vocalist/bassist Geddy Lee, guitarist Alex Lifeson and drummer Neil Peart joined headliners the Rolling Stones, AC/DC, Justin Timberlake, The Guess Who, The Tea Party, The Flaming Lips and Sass Jordan at Downsview Park for the Toronto show, which grossed receipts of $7,590,507. The event was intended to revive the Canadian city's SARS-stricken economy.
Estimates have put Toronto's tourism losses in the hundreds of millions of dollars since the disease first made headlines in March, with health care costing around $700 million.
"I think this is the biggest crowd we've ever played to," Stones frontman Mick Jagger told the audience during a set that also saw guitarists Angus and Malcolm Young of AC/DC return to the stage for a jammed version of 'Rock Me Baby'. When Angus performed his famous striptease, the audience cheered when they realised he'd been wearing a pair of boxer shorts sporting a Maple Leaf flag. Timberlake, meanwhile, guested on a version of 'Miss You' with the Stones, but was pelted with rubbish during his own set.
Rush themselves were on stage for just 35 minutes, and their set included an instrumental version of The Stones' 'Paint It Black'. For the veteran band, used to performing for more than two hours a night, the show represented a stroll in the park.
Indeed, for Lifeson, who'd spent the previous seven weeks mixing the new record, it was a welcome distraction.
"I've been in the studio from noon until 4am every day," revealed the guitarist of the Rio concert, recorded before 60,000 Brazilian fans. "But we're really proud of it." Lifeson and Lee also addressed the rumour that Rush might split up, or even take a long break, after the tour for 'Vapor Trails', which sadly did not include any British shows.
"We never really feel pressure to make another album," Lifeson said.
"When I look at all these bands that have come and gone and the ones that are around, and the kind of restrictions placed on how they do things, we're lucky. We've always done things the way we wanted to do them." Lee was more upbeat, saying: "After a reasonable amount of time off I'm sure that we'll wander back into the studio and attempt to make another collection of esoteric yet unrepentantly bombastic rock ditties. After which, providing it goes well, we'll probably head back out on the road to give and take the abuse that we and you so richly deserve."