60 Minutes
Geddy Lee of Rush
By Vic Garbarini, Guitar World, January 2004, pg 52; transcribed by pwrwindows
---
Transcribers Note: Along with "60 Minutes" and the review of Rush In Rio titled "Rio Grand" (also included here), the magazine includes the DVD in its "75 Essential Guitar DVDs" (pg 60), and has a musical transcript of "Limelight" (pg 140).
---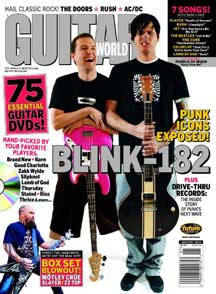 The Rush bassist and his band are marking 30 prog-rocking years together with their "Rush in Rio" CD and DVD. Now Lee pays homage to the music that keeps him warm on cold Canadian nights.
"How Many More Times" - Led Zeppelin, Led Zeppelin, Swan Song, 1969
"I saw them in Toronto at a little place called the Rockpile. We were in the second row, and when they played this song it just blew me away. It reaffirmed for me all the creative potential in blending hard rock with progressive music. John Paul Jones was the unsung hero in that band. What bass player of that period didn't know how to play that riff? I still jam to it sometimes at soundchecks."
"Thick as a Brick" - Jethro Tull, Thick as a Brick, Chrysalis, 1972
"In my view, this is the first truly successful concept album by a British prog-rock band. They even brought a flute into heavy rock music. How dare they! [laughs] Their music is so brilliantly written and well put together, what with its hard-to-play parts and odd time signatures, not to mention the great guitar sounds of the totally underrated Martin Barre. And I love how, no matter what influences they brought into the music, they always did it in a rock context."
"Time and a Word" - Yes, Time and a Word, Atlantic, 1970
"I didn't know who Yes were until a friend loaned me this record. I was totally amazed. I'd never heard a band like this, and I'd never heard a bass player placed so upfront in the mix. Chris Squire had such a driving, aggressive influence, and it made this such a pivotal, influential song for me. Squire's melodies were brilliant, and they were definitely "out there." but they were always essential to the skeletal forms of those songs; he never wandered off out of context. His lines help hold the songs together."
"I Ain't Superstitious" - Jeff Beck, Truth, Epic, 1968
"If I had to pick a favourite guitarist of all time, it would probably be Jeff Beck. I mean, was there a better guitar sound ever? I think this was the first great Jeff Beck 'moment,' the first time when you'd hear something and know that it couldn't anybody but him. He was such an amazing pioneer, and just an incredible stylist. The notes he squeezes out of that thing with a whammy bar, a volume control knob and his fingers are simply incredible."
"Over Under Sideways Down" - The Yardbirds, Roger the Engineer, Rhino, 1966
"Jeff Beck again, playing one of the most unique guitar lines ever. It's really hard to play that thing - it manages to grab something essential from the Eastern quarter-tone style without just being imitative of Indian music. And it's the hook to a pop song from back when pop, particularly in England, could be a platform for experimentation and innovation. Beck, Page, Clapton and some other Brits really discovered a totally new sound. They figured out how to get a pop angle on the blues by electrifying it, and it became a profound way for guitarists to speak through music."
"Watcher of the Skies" - Genesis, Foxtrot, Atco, 1972
"This is a very strange, ominous tune from very early Peter Gabriel-era Genesis. The time signature was completely odd - it was a little like Yes, but darker and much more theatrical. The music wasn't about people stepping out and doing blusey solos; they were taking a high level of musicianship and weaving it into the guts of the song, playing with layers of melody, odd time signatures and strange guitar riffs. What fascinated me was how these intricate parts all supported one another - and the song."
"3/5 of a Mile in Ten Seconds" - Jefferson Airplane, Bless Its Pointed Little Head, RCA 1969
"A great record, where the band really changes the arrangements, especially rhythmically. Jack Casady, one of the truly great, underrated bass players, is the star of this record. His tone was very different from other American bassists; it was edgier, and his riffs were really challenging - they aggressively pushed the songs along. I like when a bass player gets a little pushy and won't keep his place. He or she steps out of line, but in a great way."
"Spoonful" - Cream, Fresh Cream, Polydor, 1966
"'Crossroads' was the song you had to learn to play if you were in a band. Clapton just flies through that song. But for me, "Spoonful" was more about Jack Bruce's great voice and adventurous playing. Bruce, like all the bass players I've mentioned, wasn't content to be a bottom-end, stay-in-the-background bassist. He's playing a Gibson bass obviously too loud, to where it's distorting the speakers. But it gave him this aggressive sound and a kind of spidery tone, and I love everything about it."
"My Generation" - The Who, Live at Leeds, MCA, 1970
"What an amazing guitar sound on this album! And [Pete] Townshend even plays a few solos, which he usually never does. Was there anybody better at expressing themselves through power chords? I just loved that record, and I know Alex [Lifeson, Rush guitarist] did, too. Every time we jammed as a young band we would wind up jamming parts of that record."
---
Rio Grand
By J.D. Considine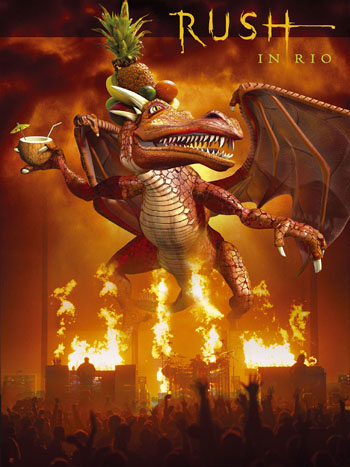 Rush get the royal treatment with their latest CD and DVD.
**** Rush in Rio
**** 1/2 Rush in Rio (DVD)
ONE OF THE great revelations contained in Led Zeppelin's recent DVD and How the West Was Won CD was how the band made improvisation an integral part of its material. Zeppelin didn't jam-they played, keeping the music lively, focused and fresh every time out. Watching those old Zep shows, it's hard not to wonder why there aren't bands like that anymore.
Ah, but there is: there's Rush.
Not that Rush are Zeppelin-esque in the Whitesnake sense. Yet, their similar approach to music becomes obvious in the Rush in Rio CD and DVD, on which the Canadian group takes a free-ranging romp through three decades of material. While the songs remain the same, the playing keeps evolving-so much so that even those who own all four of the band's previous live albums will find surprises here.
On a certain level, it's amazing Rush felt up to making a live album. As drummer Neil Peart admits in The Boys in Brazil (a documentary that's one of the DVD's bonus features) , after five years off the road, he, bassist Geddy Lee and guitarist Alex Lifeson weren't entirely sure they could pull off the tour, planned in support of 2002's Vapor Trails.
Obviously, they needn't have worried. This live set, recorded in Rio de Janeiro at the end of that tour, positively sizzles. It doesn't hurt that the guys are playing before 60,000 insanely enthusiastic Brazilians, who sing lustily along during "YYZ" (even though it's an instrumental) and loudly cheer the band through the solos. But it's not just the fans that are shocking; the playing is sharper, more together and more energized than it was on Rush's last live album, 1998's Different Stages: Live. It's as if they were a band reborn.
There's a lot of music here-31 songs on the three-disc CD set; 29 on the DVD-and apart from the pretty, pop-friendly "Closer to the Heart," nearly everything clocks in at four and a half minutes or longer. Yet none of the songs seem padded out; in fact, the longest-a 10-minute tour of "La Villa Strangiato"-actually benefits from the unexpected detours the band takes.
That song is also one of the instances in which watching Rush on DVD truly trumps the CD experience. Toward the end of the song, the three veer off into a goofy, swing-inflected vamp, over which Lifeson pours a strangely fluid guitar solo before announcing, "Jazz is weird ... " Hearing it is funny, but watching it is an education, because of Lifeson's deft use of the whammy bar and because, judging from their expressions, neither Lee nor Peart had any idea what Lifeson was going to say. (He introduces Lee as "the guy from Ipanema," which prompts a brief rendition of the samba classic.)
Naturally, the DVD also comes with some bonuses, the best being the multi-angle versions of "YYZ," "La Villia Strangiato" and "0 Baterista," which let you focus on your favorite player (although on the drum solo "O Baterista" that means you get three different views of Peart). But even without the angle feature, the video is shot to emphasize the playing, offering more in the way of busy hands than grimacing mugs. To that end, the DVD's greatest advantage is that it makes it easier to appreciate how central Lifeson's contributions are to the Rush sound. His voice may not be as immediately distinctive, but what he plays is inventive, ingenious and invariably flattering to the song and his band mates, qualities that make Rush in Rio well worth repeat visits.