Rush Guitarist Released After New Year's Arrest
By John Henderson, Naples Daily News, January 3, 2004
---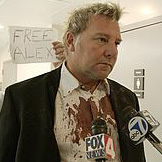 The lead guitarist for the rock group Rush was released from the Collier County Jail on Friday after posting bond following his New Year's Eve arrest at The Ritz-Carlton, Naples.
"This gives new meaning to dinner at the Ritz," Alex Zivojinovich said as he walked out of the jail in the same black suit he was wearing at the New Year's Eve bash at the posh hotel.
His white shirt was covered in dried blood. He had black eyes and a swollen nose, which he said was broken in the altercation with deputies.
Zivojinovich, a founding member of Rush, is known on stage as Alex Lifeson.
Before being whisked away Friday by Naples defense attorney Jerry Berry, who came to the jail to pick him up, Zivojinovich had a few words to say about the scuffle.
Asked whether he felt the arrest was fair, Zivojinovich replied: "Absolutely not. That is a matter of opinion. They didn't like the way we were dancing, apparently."
He is facing six charges, including four felonies, the most serious of which could result in 30 years in prison if convicted.
Zivojinovich hasn't entered a plea yet. This will occur at his arraignment, which has been scheduled for 8:45 a.m. Jan. 26. That's when he also would get an initial trial date.
Also arrested in the fracas were Zivojinovich's 33-year-old son, Justin, and Justin's 30-year-old wife, Michelle. They are facing much lighter charges than the Rush rocker.
Arrest reports paint a picture of an intoxicated, unruly, violent father and son who used profane language and refused to comply with deputies' orders. Deputies also state in their reports that they were forced to use stun guns to subdue the father and his son to make the arrests.
And they accuse Alex Zivojinovich of pushing a female deputy down a stairwell and causing her injury, as well as spitting his blood in another deputy's face.
The reports said the altercation between Alex Zivojinovich and deputies began after Justin Zivojinovich got up on the Ritz house band's stage after being warned not to do so. The reports state Justin became verbally abusive after being asked to leave the stage.
The reports said that's when his 50-year-old father came to the defense of his son and became verbally abusive with Ritz Security Supervisor Frank Barner.
During an interview with the Daily News on Thursday night, Justin Zivojinovich, who was visiting his father on vacation from Canada, gave a different account. He agreed that the trouble began after he got up on the stage.
"I was singing Happy New Year's. That's all I was doing, singing to the whole crowd. That's all I said, 'Happy New Year,' " Justin Zivojinovich said. "Everyone was enjoying themselves. That's when someone apparently started yelling for one of the security guards. There was no violence on our part."
He said the same can't be said for the deputies, who broke his father's nose. He said that as Alex Zivojinovich was spitting out blood from the injuries, deputies assaulted him again. He also said his father didn't push the female deputy down the stairs as stated in arrest reports. Instead, Justin Zivojinovic said, the deputy tumbled down the stairs as she pushed him down the stairwell.
Unlike Justin and his wife, who were released from jail on New Year's Day, Alex Zivojinovich stayed behind bars until Friday afternoon.
Collier County Sheriff's spokeswoman Sheri Mausen said he wasn't released earlier because Alex Zivojinovich is facing much more serious charges than the other two, and he had to wait for a judge to set the bond. It was set Friday morning at $14,500.
The arrest of one of the founders of the band known for a string of hits in the 1980s has garnered national attention.
And it is a particularly shocking event to many Rush fans, who don't view him as a violent or unruly person like some other rock stars, based on comments found in chat rooms on various fan Web pages.
One Rush admirer waited for hours at the Collier County Jail Friday to show his support.
Lance Moore, a music instructor who was in Naples visiting family from Maryland, drew a makeshift sign that stated: "Free Alex!"
He waited with reporters in the jail lobby for hours until the guitarist was released.
"I'm giving my support to Alex Lifeson. For 20 years I have been following the guy. I believe he is a sweet man. ... Maybe he just found himself in a bad situation. I don't think it would be the type of thing he would instigate, but I don't know," Moore said.
Rush has been an icon on the Canadian music scene and abroad for almost 30 years, releasing 22 albums with more than 35 million copies sold worldwide. A 30th anniversary tour is planned this year, with stops in North America and Europe.
Band accomplishments include eight Juno Awards and three Grammy nominations, as well as being inducted into the Juno Awards Hall of Fame in 1994. They received the Order of Canada in 1997 and in 1999 they got a Star on the Canadian Walk of Fame.
Some of the band's most popular hits include "Tom Sawyer," "Limelight" and "Spirit of the Radio."
Alex Zivojinovich was inducted into the Practicing Musician Hall of Fame in 1991, and in 1988 he won the Practicing Musician Best Rock Talent.
His Yugoslavian parents immigrated to Canada. His only formal training was during Rush's early days on the Toronto club circuit.
He has a home in Naples, where he is a seasonal resident.
Zivojinovich said as he was leaving the jail Friday that he bought a home here because he became charmed with this area, but his view of it is souring now.
"This is one of the most beautiful places in the country, let alone Florida," he said. "But I'm not so sure now."