Dear Guitar Hero
Alex Lifeson of Rush
Guitar World, March 2004, transcribed by pwrwindows
---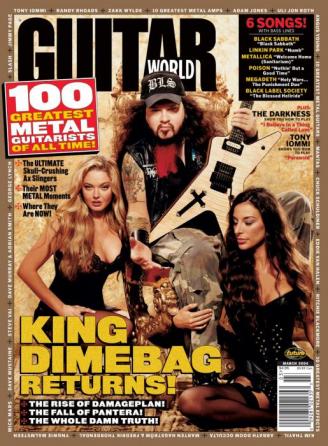 For 30 years he's been the guitar force behind "Limelight," "YYZ" and other Rush gems, but what Guitar World readers really want to know is...
Q: I love your new Rush in Rio CD and DVD. How did you play those awesome, bizarre-sounding harmonics heard before the solo in "YYZ"? - Andy Gister
I create them by playing off the pick and my thumb. I hold the pick so there's a svery slight edge of it showing between my thumb and finger. This allows my thumb to mute the string, and that's what causes the harmonic to ring.
Q: What alternate chord voicings or exotic modes might you suggest to help me out of a rut? - RICH GRECZI
I'm not that fluid when it comes to scales and modes. I just pick up the guitar and play. It's all about exploration: just tune the guitar any way you want and start playing. Or better yet, don't play for a while. When I do that, my fingers may be rusty but lend up playing much more interesting things.
Q: Any regrets about naming your band after a cheap teenage inhalant? -TIM VOLK
The cheap teenage inhalant didn't exist when we named our band. I have no regrets about naming our group after a good feeling.
Q: Were you ever behind on your housework and forced to do your laundry in Geddy Lee's dryers onstage? - DAVE PRESCOTT
No.
Q: How does playing with a virtuoso drummer like Neil Peart affect your own playing? - DOUG HESSONG
Feeling those drums behind you is quite an amazing experience. There's so much activity in there, and when Neil shifts rhythm, you can sense it go to the front or back edge of the beat - it's that tight. If you play rhythmically as a guitarist, it's wonderful to have that going on behind you.
Q: How do you remember all the intricate parts of every song you guys play? - DICKY
We've been playing a lot of these songs for 30 years, so they're stuck in my memory. Even so, for the first few weeks of rehearsal, we tend to sound like a really, really bad Rush tribute band. But then the muscle memory brings it back.
Q: How did you develop from a fairly standard blues player into a completely unique stylist? For example, the solo in "Limelight" is almost impossible to categorize - JOHN WHITE
Playing in a three-piece led me to take a broader approach to the musical space I occupy. My style became quite rich harmonically and melodically because I consciously tried to develop broad-sounding chords - the kind that are suspended, with lots of open strings ringing out - as a reaction to playing with Geddy and Neil, who take up a lot of space. I really consider myself more of a rhythm guitarist than a soloist, but "Limelight" is probably my favorite solo of any that I've done, because it is so fluid and emotional-and hard to categorize.
Q: As a Canadian, could you publicly apologize to America for letting Bryan Adams come here? - JOEY BISHOP
Bryan Adams might not be what I want to put on, but he's a pop singer with a great voice and great guitar tone. Plus, he's done more for Canada than Rush have, because he works all the time. I envy him for that. And now he's become a very successful photographer.
Q: Regarding Rush's "kimono phase," do you have any regrets about going onstage wearing the equivalent of satin pajamas? - CHARLZZ
They sure were comfortable, and I thought they looked cool at the time. We're not the only ones who should be embarrassed by what we wore in the Seventies and Eighties.
Q: Rush took a long break following the late-Nineties deaths of Neil's wife and daughter. Did it feel extra special to play together again? - ROCHELLE PHILLIPS
It felt amazing. We really didn't think we would ever do it again. At one point, things looked so bleak for Neil that it was unlikely it would ever be in his heart to play again. He went from playing every day to not touching his drums for more than four years. Getting back in the studio and seeing him rediscover his love for music was remarkable, and going back on the road was wonderful. Our first night back onstage was in Hartford, Connecticut. About 15 minutes into the show, Ged and I were by the kit, and we looked at each other and made a connection that was probably the most powerful moment in our career - it was just the realization that we had gone through this horrible experience and were still here. We didn't take a single night for granted; every show was a joy to play.