Rush Tour 'Will Go Ahead'
From "Upfront", Stories and Happenings from the world of Classic Rock, Classic Rock, May 2004; transcribed by pwrwindows
---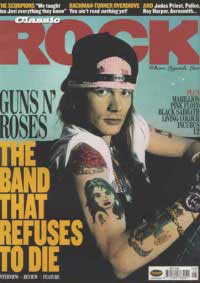 Canadians add extra dates as guitarist Lifeson hopes for the best in judgement of his court case.
RUSH HAVE ADDED TWO EXTRA dates to their UK tour in September, with Alex Lifeson assuring Classic Rock that the group's first visit to the UK in 12 years will definitely go ahead as planned despite the legal proceedings that hang over his head. The Canadian trio - completed by bassist/vocalist Geddy Lee and drummer Neil Peart - now play extra shows in London and Birmingham.
Their full itinerary is: London Wembley Arena September 8/9 (first night sold out, second is a new date), Birmingham NEC 9 (sold out), Manchester MEN Arena 12, Glasgow SE&CC 14, Birmingham NEC 15 (new date). Tickets can still be ordered by calling: 0870 100 0000 or going to www.ticketline.co.uk Guitarist Lifeson originally faced six counts including aggravated battery after an altercation with a lawenforcement officer at a hotel in Florida on New Year's Eve. Various charges were later dropped against him, although Lifeson still stands accused of two third-degree felony counts of battery that could cost him a fine of around $500 and a jail sentence of up to five years.
Legal reasons prevent Lifeson from addressing the specifics of the case, but the tour will be impossible if the worst comes to the worst on May 17 and he receives a custodial sentence.
"That's true, but it's highly unlikely to come to that," he replies. "It was all a very unfortunate situation, and hopefully a resolution is not too far away. The tour is definitely gonna go ahead."
Back in September 2002, with the band promoting their 'Vapor Trails' album around the rest of the world, Lifeson told Upfront that "we didn't get any offers from British promoters" and that it made no sense to fly in for just a handful of UK dates. The haste with which the tickets for the current tour were snapped up makes that situation seem ridiculous.
"The UK wasn't so much the problem as the rest of Europe," he now explains. "That said, we've all been surprised by the wonderful response.
We hoped that things would be okay, but you can never be sure. And the best thing about doing things this way is that we can bring the whole North American show. At first it was discussed that we would play festivals, but it's much better this way."
Rush will not have a support band on the tour. "We've got mixed feelings about that subject,"
Lifeson admits. "But it enables us to play for three hours each night."
And this being the band's 30th anniversary, he predicts that they will be including some older material in the set.
"We'll keep the structure of what we played on the 'Vapor Trails' tour, which had a pretty good cross-section of our records, but we might change around seven or eight songs and include things that we haven't played in a long time - even if we have to incorporate them into a medley."
Of the speculation that this anniversary outing will be their last: "That's something I've not even thought about," he responds. "We had such a great time with 'Vapor Trails' and played the best that we've ever done, so if we have as much fun as we did last time I don't see why we wouldn't continue."
The trio are currently weighing up the pros and cons of a boxed set to commemorate their 30 years together. But before that, on May 3 Universal release a video collection Chronicles on DVD for the first time.
"Various boxed-set ideas have been thrown around, but until the three of us get into a room together those decisions are hard to make," he says.
"But it's definitely something we've been thinking about."
The group already have some ideas for the next album. "Geddy and I have spent the past couple of weeks messing around. Because it was happening so casually, we realised how much we'd missed working together. When this tour ends, around the end of September, we'll get serious about doing some more writing."