Spotlight On Rush - 30th
By Christa Titus, Ray Waddell & Steve Adams, Billboard, Volume 116, Number 20, May 15, 2004, pages 37-58; transcribed by John Patuto
---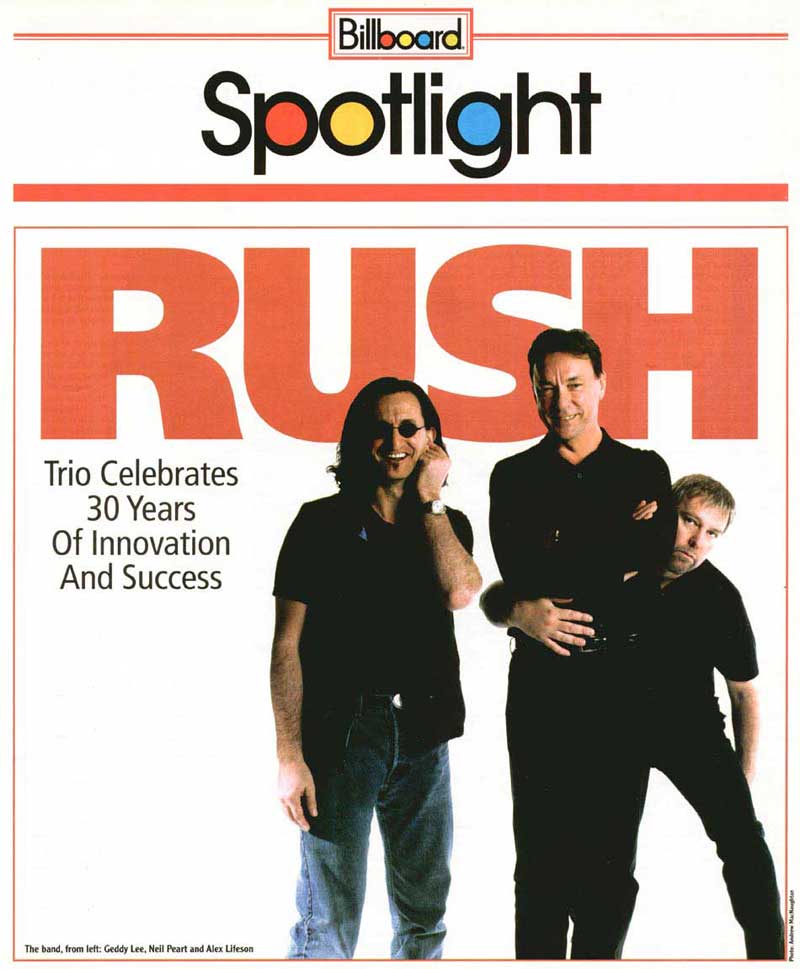 Rush: Trio Celebrates 30 Years Of Innovation And Success
By Christa Titus
Geddy Lee didn't know it at the time, but on his 21st birthday-July 29, 1974-he and his bandmates hit a career lottery.
That was the day Neil Peart joined Lee and Alex Lifeson in their band Rush. When Peart replaced drummer John Rutsey, he cemented a lineup for the Toronto-based trio that has lasted for 30 years, with Lifeson on guitar and Lee on bass and lead vocals.
"It's beyond being brothers, it's beyond being a family, it's beyond a marriage," Lifeson says of Rush's personal chemistry. "It's like a whole different kind of relationship that we have. It's so unique that it really clicked with us. We've seen so many other bands disintegrate because of ego problems [and] that sort of thing. That never existed with us."
That is true probably because the members of Rush never wanted to be pop stars. Since its self-titled debut in 1974, the trio's main goals have been to create its own sound and explore new musical terrain.
After three decades and several notable transformations, Rush's latest studio album, 2002's "Vapor Trails," shows the group still holding to that aesthetic.
"Every time we went into the studio, it was always the feeling that we were pushing the envelope a little bit further," recalls Terry Brown, co-producer of 10 Rush albums. "I always felt that we explored as much of their capability as possible."
Rush will mark the 30th of its longstanding lineup with an international tour that opens May 26 at the Starwood Amphitheatre outside Nashville. The North American leg of the tour will conclude with a hometown show in Toronto Aug. 22 before the band heads to Europe.
Rush's tenacity through the years has resulted in 17 studio albums, five live albums--including "Rush in Rio," released as a CD and DVD late last year--and five archive collections.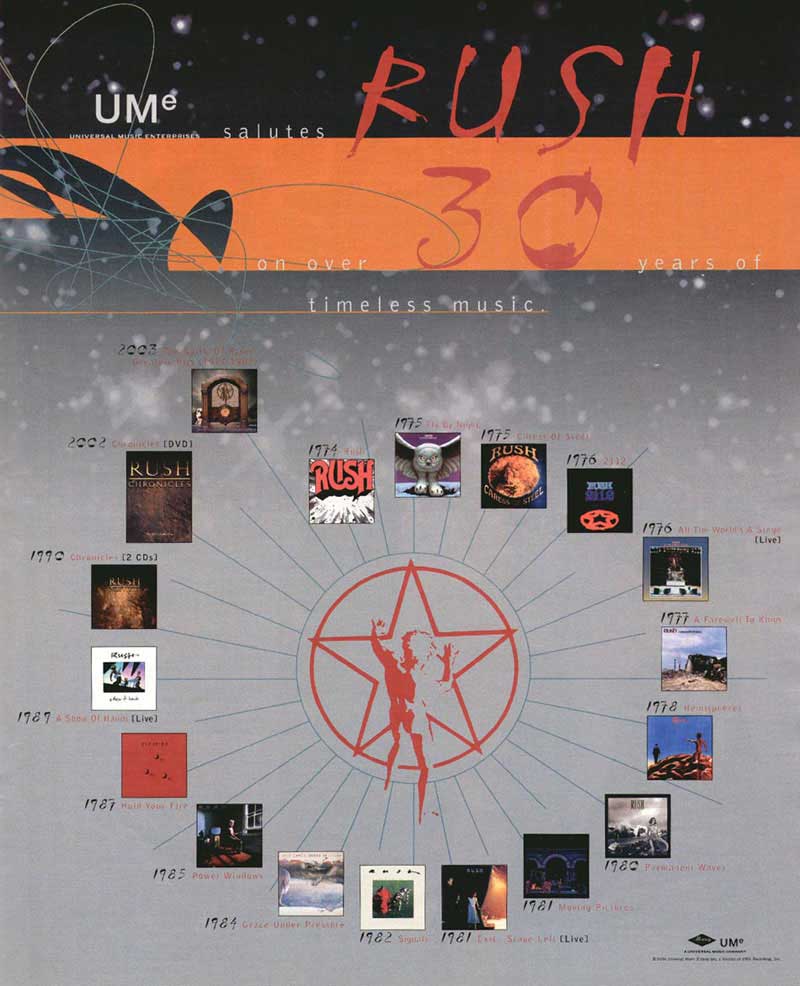 The band has received numerous accolades, including recognition from the Recording Industry Assn. of America as the best-selling Canadian band in the United States, for shipments that exceed 25 million copies. Its Canadian achievements include 42 Juno Award nominations, six wins and induction in the Juno Hall of Fame.
History Of Growth
The complexity of Rush's songs led some critics in the '70s and '80s to accuse the band of being pretentious. But the innovation that sustains its career commands deep respect from fellow musicians. For some, the members of Rush have been personal mentors.
Drummer Mike Portnoy of the band Dream Theater recalls, "My nickname in [school] was 'Mike Peartnoy.' Even in my high-school yearbook, it said, 'Future plans: to become the next Neil Peart.'"
When Portnoy, Jon Myung and John Petrucci formed Dream Theater while attending Berklee College of Music, their devotion to Rush was a bonding thread.
Rush has godfathered many other acts, progressive (Queensr˙che, Fates Warning, Tool) and alternative (Primus, Smashing Pumpkins, Soundgarden, No Doubt).
Rush formed in 1968, cutting its teeth primarily on music by British groups, especially Cream, the Who and Led Zeppelin. Rush's first gigs were at youth clubs and teen dances. When it started playing bars, the band stood out because it insisted on playing its original material along with cover tunes.
Now, the students have become the masters, and they advocate continual experimentation, writing intelligent lyrics and striving for lifelong improvement as performers.
The dramatic shifts in Rush's albums chart its growth. Its commercial breakthrough, "2112" (1976), was a sci-fi concept piece. "Permanent Waves" (1980) and "Moving Pictures" (1981) feature shorter arena-rock compositions. "Grace Under Pressure" (1984) began an era where keyboards and other synth elements enhanced Rush's sound. "Roll the Bones" (1991) and "Counterparts" (1993) were contemporary returns to form, with Lifeson's guitar work more at the fore.
"The thing that they're best at is making complexity accessible," veteran music writer J.D. Considine says. "They pack an awful lot into a song and yet still give it a simple, straightforward appeal, which is a very difficult thing to pull off. Only a handful of bands have been good [at that]-Van Halen, the Police, Cream, Zeppelin."
And few accomplish what Rush does onstage. A band that built its following with hard touring, Rush is most alive in front of an audience. Its stage productions, while entertaining, never overshadow its performance. The onstage grandeur belies the group's small size.
"Three guys making that much music is phenomenal," says Pierre Robert, longtime DJ of heritage WMMR Philadelphia. "The sound on the records is very full, but when you see it in concert, it lifts to another level."
Queensr˙che drummer Scott Rockenfeld concurs. "Being a player, I appreciate [that] they can play what they do on a record as a three-piece. They really pull it off well live, which can really be a difficult task with the world we live in of overdubs and putting all sorts of instruments on [a record] that don't really exist in the band."
Although Rush has considered hiring additional musicians for its live shows through the years, it never does. Instead, the band works with triggers and sequencers.
Rush's Top Albums
The Billboard 200
| | | | | |
| --- | --- | --- | --- | --- |
| Rank | Title | Peak Position | Debut Date | Label |
| 1 | "Counterparts" | 2 | Nov. 6, 1993 | Atlantic |
| 2 | "Moving Pictures" | 3 | Mar. 7, 1981 | Mercury |
| 3 | "Roll The Bones" | 3 | Sep. 21, 1991 | Atlantic |
| 4 | "Permanent Waves" | 4 | Feb. 2, 1980 | Mercury |
| 5 | "Test For Echo" | 5 | Sep. 28, 1996 | Atlantic |
| 6 | "Grace Under Pressure" | 10 | May 5, 1984 | Mercury |
| 7 | "Exit...Stage Left" | 10 | Nov. 14, 1981 | Mercury |
| 8 | "Power Windows" | 10 | Nov. 9, 1985 | Mercury |
| 9 | "Signals" | 10 | Oct. 2, 1982 | Mercury |
| 10 | "Hold Your Fire" | 13 | Sep. 26, 1987 | Mercury |
Compiled by Keith Caulfield
Lee, who has triple duties onstage, as vocalist, bassist and keyboard player, believes Rush's audience appreciates this approach.
"I think our fans love that there's nobody else out there," Lee says. "I think they like to look at us as the world's smallest orchestra. It's nice to try to live up to that."
Career Advisors
Putting on a great show isn't all that Rush can do. Cliff Burnstein, co-owner of artist management company Q Prime, was the executive at Mercury Records who heard Rush's debut album and helped negotiate the band's first U.S. record deal in 1974. In his opinion, the threesome offers a lesson in longevity.
"Rush are very uniquely defined musically and in the marketplace," he says. "They wouldn't have a 30-year career if that weren't the case. They might have sold more records in a shorter time span, but they wouldn't be around today and be able to make money on the road like they do and still have a fan base.
"Being original, staying original, not overexposing yourself to the media, not jumping on every trend that comes down-these are the kind of things I think that if you want to have a 30-year career, you should learn from Rush," Burnstein adds.
Rush remains uninterested in such popular branding techniques as launching its own clothing line. The band's manager, Ray Danniels of SRO Management, says the members don't enjoy making videos either, even though video collection "Chronicles" hit U.S. platinum.
Its concert videos "Exit ... Stage Left," "A Show of Hands" and "Rush in Rio" have also been successful, especially "Rio." Documenting the band's first concerts in Brazil, it debuted at No. 1 last November on the Billboard Top Music Video chart and is certified three-times platinum. It also won the 2004 Juno Award for music video of the year.
Rush also maintains a relaxed attitude toward radio airplay.
"To be honest, we never really cared about radio," Lifeson admits. "We realized it was important and we're thankful for whatever support that we did get, but we weren't really a radio kind of band."
Indeed, of the eight songs Rush has charted on The Billboard Hot 100, 1982's "New World Man" is the band's only American top 40 hit.
The trio's radio mainstay is the album rock format, where it has charted 19 top 10 hits. That is where fans hear such classic tunes as "Closer to the Heart," "Fly by Night" and "Distant Early Warning," along with newer compositions like "Bravado" and "Animate."
WMMR's Robert says an old favorite, 1981's "Tom Sawyer," is still one of the station's biggest Rush requests.
"Rush is a unique sound and some would say an acquired taste," Robert observes. "There are fewer stations for a band like Rush to find a home on. Stations that have been around like WMMR has been for 36 years, we're one of them, and I'm proud that we are."
Danniels notes that in the 1970s, the concert circuit fueled Rush's popularity. The growing touring industry spawned more venues, and he took advantage of that development.
Rush performed nearly 200 shows in some years and always included key tastemaker markets. Danniels ignored the Canadian border, reasoning that if Rush had to travel hundreds of miles to a gig, it might as well play in heavily populated U.S. cities.
"I had them touring with anyone and everyone I could get to keep [Rush] out there long enough for something to happen," he recalls.
Loyalty Means Longevity
Longstanding partnerships are another source of support. Anthem (formerly Moon Records), an arm of SRO Management, formed so Rush could find a distribution deal, and it remains the band's home label. In the United States, Rush has been signed to Atlantic Records since the late '80s (and to just one other label, Mercury, before that). Danniels has been the band's primary manager for its entire career, joined in the early years by former partner Vic Wilson. And some members of the road crew have been aboard since Rush was a bar band.
"These guys are incredibly loyal, and they're just men of amazing integrity," Danniels says. "I don't know many other examples of people like that."
Radio consultant Donna Halper has been close with Rush since giving the band its first U.S. airplay, when she was music director of WMMS Cleveland in the '70s. She says the members' dedication was evident from day one. And when the band went on indefinite hiatus in 1997 after Peart lost his daughter and then his wife a year later, she knew Lee and Lifeson would not continue Rush's work without him.
"I know other bands where a member got sick, couldn't play, died, whatever, and within a week the band had a replacement and they were back out on the road," she says. "Geddy and Alex said they would not tour without Neil, even if it took [years]. They said, 'No. We'll do solo projects, but there is no Rush without Neil.'"
Rush returned in 2002 with "Vapor Trails." Fans welcomed them back with a No. 6 debut on The Billboard 200.
Lee hopes the band will work on another album next year, but right now, it is focusing on the 30th-target="_blank" tour. According to Danniels, the outing will mark Rush's first concerts in Prague, Italy and several territories that were formerly behind the Iron Curtain.
As the tour approaches, Lee reflects on the start of the band's career in the United States, when it first signed with Mercury. At the time, a 30-year run was unthinkable.
"You think [the deal] is the beginning of something, but you don't know what that means, and you don't know how long it will last," he says.
"I remember the first tour we did--that very first tour with Neil. We would all keep the keys to our hotel rooms from all these various Holiday Inns around the United States, because we thought, 'Well, you may never get to these places again,' and you wanted proof you were there."
Research assistance by Christopher Peary in Marlton, N.J., and Larry LeBlanc in Toronto.
---
Three Players, Three Decades:
Rush Recalls 30 Years of Sharing 'The Best of Times, And The Worst'
By Christa Titus
What keeps Rush ticking? Faced with that question, members of the trio offer a simple plan for success. In their eyes, friendship and musicianship are the keys to the group's longevity and vitality. And they want to be remembered by the emotions they stir in fans and the music they create, not by how many albums they sell.
On the eve of a 30th tour that opens May 26 outside Nashville, the members of Rush --Geddy Lee, Alex Lifeson and Neil Peart - open up in a discussion of their three decades together. Peart, who has not given an interview in several years, responded to questions via E-mail.
From a musical and personal standpoint, what has helped Rush endure for so long?
Geddy Lee: There's some balance between our personalities that really kind of clicked. Even when things are difficult or stressful - and there have been a lot of times when things don't go exactly right --somehow when we sit down to work together, it's a nice rapport. We seem to be able to talk easily, laugh a lot; we've always had the same desires in terms of what we've wanted to do as musicians.
I think that a common musical vision [helps], even though our tastes are different and we argue from time to time about influences and styles and whatnot. We agree on what we want to play together 95% of the time. That's a huge advantage in staying together.
Alex Lifeson: Musically, we've always stuck to our guns, and we've compromised our music very little. We're lucky in that we've had an audience that has grown with us and stayed with us for all these years, so it didn't matter if we had radio hits or huge sales in the early days.
On the personal side, I think we're fortunate that we've got three guys in this band that love each other very much, who enjoy each other's company, have a similar sense of humor and vision and a dream that we shared when we were younger.
Would you say that is why Rush has avoided problems or breakups that egos or even success can create?
Lee: Yeah. After the first seven records, we stopped counting who wrote what, and that took a lot of arguing away. When we first started, if I wrote a song by myself, I wanted the credit for it; as did Alex, Neil, whatever. And after a while we decided that so much of our songs are indefinable - who contributed to what - we just agreed that we would have co-writing [credits] on all our material. Every album since then, we haven't even thought of it.
We've tried to do that with every aspect of our life, even when practicalities force us to have business meetings and whatnot. We've tried to make sure we focus on what we're really about. And that's staying in a band together and making music.
As a band and individually, Rush's musicianship is very respected. How does it feel to know you are admired as teachers and that you have influenced others?
Lee: Well, of course, it's tremendously gratifying and a little embarrassing, because you never really view your own work as being worthy of study on any level [laughs]. I think it's just kind of human nature to always think what somebody [else is] doing is more interesting than what you're doing. I think it's surprising sometimes and hugely complimentary.
Lifeson: That's a wonderful feeling. That's the greatest reward of all. That's easy to say when you have a good life and lots of success. But honestly, to hear somebody say they were influenced by the way you did things, the way you write, the way you think; the integrity and respect is really an amazing feeling.
Neil Peart: Nothing is more rewarding than the appreciation of other musicians. Hearing someone say that I inspired them to take up the drums or work harder at it makes me feel proud.
What are some of the most significant changes you have seen in the music business?
Lifeson: Popular music today, I just don't see a great deal of merit in it. I always feel terrible saying something like that, because I know to the artist, they're loving what they do, and it's the world to them. Even "American Idol," seeing all those kids on there, what an amazing thrill it is for them to be on something like that. But the level of mediocrity that's exposed is just amazing, and that's what they're promoting.
Before, it was a little tougher. You had to be really good to get anywhere, and you had to be willing to work really hard and tour like crazy and play every shitty gig that came your way to get exposure. I don't know if that exists to the same degree anymore.
Lee: The whole monopolization of the music industry is sad to me-the fact that one or two companies [seem to] run the whole damn thing and then buy radio stations. It just becomes again a bunch of consultants telling people what they can listen to and what they can go see.
Your albums have been released in the United States through Atlantic Records for years. What do you think of Atlantic's merging with Elektra as a result of the Warner Music Group buyout?
Lee: Well, that's what happens. There's going to be - what, two, three record companies left in the world? I think it sucks. I don't think it's good for anybody except for shareholders. It's not good for the culture. It's the Disneyfication of the universe.
The lyrics to "The Spirit of Radio" decry the commercialization of the medium. Did you find it ironic that when it was released, it got the most mainstream airplay of any previous Rush song?
Peart: "The Spirit of Radio" was actually written as a tribute to all that was good about radio, celebrating my appreciation of magical moments I'd had since childhood, of hearing "the right song at the right time." However, [the song's] celebration of the ideals of radio necessarily seemed like an attack on the reality - on the formulaic, mercenary programming of most radio stations, with music the last of anyone's concerns.
And yes, it was really ironic that such a song became popular on radio, though it was a kind of litmus test. Some radio guys who "got it" could hear the song and think, "That's the way it ought to be," while others - the shallow, swaggering salesmen-of-the-air - could be oblivious to the song's meaning and proudly applaud themselves, "That's about me!"
The book "Rush Visions: The Official Biography" notes that your 1978 album "Hemispheres" was a transitional one for the band. Why?
Lee: "Hemispheres" represents more of an end of a period, if anything. From my point of view, it was one more stab at this idea of a concept album in the form that we had been doing [them], the long pieces interconnected as a very overt concept. We've continued to do concept records, but they've been less overt and more just a kind of overall concept instead of a ramming-it-down-your-throat kind of idea [laughs].
Lifeson: By the time we got to "Hemispheres," we just felt that we had played that out. We had gone through that whole sword-and-sorcery thing, science-fiction sort of thing, and I think we just felt like we needed to go into kind of a new direction. We needed to shorten the songs a little bit and carry a little more punch.
With [the 1980 album] "Permanent Waves," there were still a number of long songs, but there were quite a few shorter songs, and we condensed them more. We were more economical with them, and that sort of set the tone at least for the next 10 years.
What Rush tour or album or song are you particularly proud of?
Lifeson: On the last tour, it was a very emotional thing. I don't know how many times I looked out at the audience and people were crying. They were so happy that we were there, and I'll never forget that. Particularly the first gig that we did in Hartford [Conn.]. There was a high level of anxiety before we went on, and so much stuff was going through our heads, having been out of the picture for so many years and everything that happened to Neil and making the record, how emotional that was, and to be there and see people in the audience crying, I can remember getting choked up a few times during the show.
I think we just left something with our fans that night, and just about every night on that tour, that will last for all of us for the rest of our lives and particularly for them.
Peart: I am most proud that for 30 years the three of us have remained the best of friends and have always done the best work we could, in the studio or onstage. We are not alike, really, as people. But we are like-minded as musicians, and we share values like pursuing "goodness" in all we do. As a band, we have never compromised or accepted any limitations other than our own.
The three of us have shared the best of times, and the worst, and I feel very fortunate to have spent such a large part of my life working with two such talented, dedicated, funny, big-hearted, supportive, stimulating and entertaining guys. They make me work harder at my job, they make me feel better about my life, and most of all, they make me laugh.
How would you like Rush to be remembered?
Lee: Gee, I don't know. A band of good players that did some wacky material. Just a band that worked hard at trying to create their own piece of music.
Lifeson: I think the way I saw it in our fans' eyes, how they remember us, and that was there before we did that [most recent] tour. I'm sure that with so many of our fans, they'll grow into their 60s and 70s being Rush fans. That's amazing.
There's something about a Rush fan that sets them apart from anybody else. It's really their dedication and their understanding. When I read the mail that Rush fans write generally and the kind of dialogue they have with other Rush fans, it's very impressive. We have a real thinking audience and really have a lot of respect for them. That's what it has always been with us. It has always been about the relationship.
---
Audiences 'Rabid' For Rush:
Trio's Live Show Highlights Musicianship, Innovation
By Ray Waddell
For this Canadian power trio, touring is indeed a rush-and has been for the past 30 years.
To maintain a fan base for three decades, a rock band certainly must deliver the goods live, and Rush is no exception.
Rush on May 26 will open a 30th tour at the Starwood Amphiteatre near Nashville. The North American leg of the tour will conclude with an Aug. 22 show in the band's hometown of Toronto. The band also will play its first shows in Europe since 1992, beginning Sept. 8 at London's Wembley Arena.
Vinny Cinquemani, president of S.L. Feldman & Associates in Toronto, has booked Rush in Canada for 27 years. "From the very beginning, they have always been extremely passionate and competent musicians," Cinquemani says.
"In an era of shrinking record sales, there are bands that consistently do business live, and that isn't an accident," Cinquemani adds. "With Rush, it's because their live show is so good. They play their asses off."
From Alex Lifeson's innovative guitar runs and Geddy Lee's fluid basslines and unearthly vocals to Neil Peart's thundering drums, Rush owns an instantly recognizable sonic presence.
And Rush remains capable of representing the most ambitious of studio material in a live concert format.
"As great as their records are, this is a fantastic live band," says Jerry Barrad, a Toronto-based promoter with Clear Channel Entertainment (CCE).
"Great production, great lights, great sound, great musicianship, a nice repertoire-that's why they sell tickets," Barrad continues. "And they always have their game face on when they show up to play."
Indeed, Rush never disappoints those in front and behind the stage. "Their performances are engrossing, and there are only three of them out there," says Adam Kornfeld, the band's U.S. booking agent at Writers & Artists Group International.
"Geddy's basslines are so special and unique, Alex is such a brilliant guitar player, and Neil Peart is without question the greatest drummer that is alive and playing today, in any musical genre," Kornfeld adds.
After a five-year absence, Rush returned to the road in 2002 with the ambitious and successful Vapor Trails tour.
"It was great to see how warm and receptive the audiences were to seeing them again," Kornfeld observes. "It was like they never left."
The Vapor Trails tour grossed more than $27 million, according to Billboard Boxscore, and drew 601,525 fans, finishing 14th among all touring acts for 2002.
"They definitely have their own devoted, rabid core audience, who were thrilled to see them back out on the road again," says Arthur Fogel, president of CCE's touring division, promoter of the bulk of dates on Vapor Trails.
"That's a great tribute to any act, 30 years down the road," Fogel adds. "And they've lasted three decades with credibility intact."
Riley O'Connor, senior VP of House of Blues Canada, has promoted Rush for more than 25 years.
"And over the course of that 25 years, Rush has remained a relevant band of our times, no matter what year they decide to tour," O'Connor points out. "They are one of the most consistent live shows that has ever toured."
Cinquemani notes, "Rush at this point can do business everywhere, but they are icons in Canada."
The current U.S. tour works primarily with CCE, under CCE Touring president Fogel with Toronto-based VP Barrad. According to Barrad, ticket sales are "vibrant." Likewise, O'Connor expects sellouts for his shows in Montreal and Toronto.
Cinquemani adds that Rush manager Ray Danniels of SRO Management is very involved in planning the tours. "The work ethic and professionalism is second to none," Cinquemani says of the Rush camp. "We evaluate every single aspect of where the band is playing, when and what the ticket price is."
Following the North American tour Rush heads to Europe for another 15 shows, beginning Sept. 8-9 at Wembley Arena in London.
The dates are promoted by Kennedy Street, as are U.K. concerts at the MEN Arena in Manchester Sept. 12 and at the NEC Arena in Birmingham Sept. 11 and 15. European dates begin Sept. 17 at Arena Oberhausen in Germany.
Rush is booked in Europe by Neil Warnock at the Agency Group in London.
Clearly the Rush audience is an international one, long ago exceeding the borders of Canada and North America, no small source of pride to those of Canadian heritage.
"As a fellow Canadian, I'm very proud to be associated with Rush, who have had such a longstanding global success over so many years," Barrad says.
"Rush's track record speaks for itself, 30 years deep," Fogel adds. "They are a great live act, always devoted to their fans, a great bunch of people, talented musicians and, of course, my fellow Canadians."
(Tour plans are proceeding despite charges pending in Florida against guitarist Alex Lifeson following a hotel incident on New Year's Eve. Lifeson faces two counts of battery on a law enforcement officer after a scuffle with Collier County sheriff's deputies at the Naples Ritz-Carlton. A tentative trial date is set for May 17, according to press reports. Band manager Danniels says, "We're confident that this will be resolved favorably for Alex.")
---
Canadian Icons Find Fans Everywhere:
Loyal International Followers Wait Years Between Rush Tours
By Steve Adams
The allegiance of Rush fans worldwide explains why the group has sold some 10 million albums outside North America, according to its management, about one-quarter of its career total of 35 million units.
The act's biggest market beyond the United States and Canada is the United Kingdom, followed by Germany, Brazil and Japan. The band also has a healthy following in northern Europe, particularly Scandinavia (led by Sweden) and Holland, and in South America.
Consistent Sales
Universal Music, which distributes the band's pre-1989 catalog, reports sales of close to 1 million units in Europe during the past 12 months. Yet despite consistently solid sales, the European media barely acknowledges Rush's existence.
The situation is especially apparent in the United Kingdom, where the trio was initially criticized by a punk-friendly music press and has been largely ignored ever since. This is despite top-five album chart placings for the best-selling "Moving Pictures" (1981), as well as the likes of "Signals" (1982) and "Grace Under Pressure" (1984).
"The British press prefers gimmick acts," says Peter Noble, managing director of Noble PR in London. Noble PR is currently publicizing Rush's U.K. DVD collection "Chronicles" from Universal Music DVD Video, "Rush in Rio" from Sanctuary Vision Entertainment and the group's upcoming U.K. tour.
"When it's a respected rock group that's been around for 30 years," Noble observes, "[the British press is] not interested."
Noble says Rush has the most dedicated fans he has come across, so campaigns for the DVDs and the tour have been "fan-centric," with the Internet playing a major role.
Shows at London's Wembley Arena and Birmingham's NEC sold out immediately, with the remainder likely to post sold-out signs long before the band opens its European tour in London Sept. 8.
"The success of the U.K. tour is not down to media support at all," he says. "The dates are selling out through word-of-mouth and the loyalty of the fans, many of whom will attend more than one show."
Neil Warnock, chairman of the Agency Group in London, echoes Noble's views. The Agency Group has booked all of Rush's tours outside of North America, from its first tentative steps into Europe in 1977 to its largest shows to date in Brazil in 2002.
Tickets Move Fast
"Rush has an amazingly dedicated fan base who are very sharp at getting hold of information, so the marketing almost takes care of itself," Warnock says. "Tickets sell fast because of a loyalty factor that goes back for years."
Jacob Harregaard, international marketing director of Warner Music International, also praises the dedication of Rush's fan base. WMI has released Rush's albums since it switched U.S. labels from Mercury (PolyGram) to Atlantic in 1989. European sales have been solid, if not outstanding, ever since.
"Rush is a difficult band to market but has a very loyal fan base," Harregaard says. He notes that European sales during the past 15 years have averaged 250,000 units per album, with "Presto" (1989) leading the way at close to 300,000 units.
"The band's European status is atypical for this type of act-sales find a level and stay there because the fans stay loyal," Harregaard adds.
That support, he says, "creates great opportunities to work the catalog and do something special for the fans, though it must be high quality to reflect the nature of the act."
WMI is considering a new best-of package featuring post-1990 material and is also looking at repackaging the Rush catalog, including upgraded vinyl replicas. That strategy worked well in a recent campaign for Led Zeppelin.
"The focus is very much on celebrating the band's career, but most of the activity is U.S.-led," Harregaard states. "The U.S. has been very much the key market in later years."
Infrequent Visitor
That last comment is of little surprise, given the lack of media support the band receives across the Atlantic. However, another factor is that Rush has only played European dates twice since 1983.
Warnock, a self-confessed fan of the band, is as frustrated as any other follower by its lack of live appearances.
"It's been a long time between drinks," he says with a laugh. "I'd love them to have played every couple of years, but they tour in a way that feels right for them and I respect that.
"Having said that, I do all I can to encourage them to tour and let them know where they can go. For instance, if they wanted to go back to Japan, I'm sure they could do very well." (The only time the band played shows there was in 1984.)
Warnock, who encouraged Rush's management to book the band's first dates outside of North America in 1977, says the success of its first South American shows in 2002 "proved to them that they had fans down there" and could encourage the trio to play other new venues in future. This year's European tour includes debut appearances in the Czech Republic and Italy.
"The band has always been very particular about production," Warnock notes. "On the early tours they brought everything with them, including the PA and lights. One of the reasons they haven't toured more is the sheer cost of bringing their shows to Europe, because they want to ensure the fans see the same show as in the U.S. and Canada.
"That remains true today, but production elements in Europe have caught up with the U.S., so they don't bring as much gear with them. Even so, it's a very unique production with several hundred tons of equipment."
Judging from the brisk ticket sales for the 30th tour-the band's first European dates in 12 years look certain to sell out-fans abroad have been waiting eagerly for Rush's return to the international stage.
---
Rush: Career Milestones
When Neil Peart replaced drummer John Rutsey in 1974, he had three weeks to prepare for his first Rush gig. It was at the Civic Center Arena in Pittsburgh, opening for Uriah Heep and Manfred Mann in front of an audience of 11,000.
The 1976 album "2112" was Rush's commercial and artistic breakthrough in the United States. The sci-fi concept record brought the band mainstream attention and became its first million-selling set. It also contained Rush's best-recognized logo: a nude man holding up his hands to ward off a huge star.
"Moving Pictures," released in 1981, remains Rush's best-selling album in the United States. The Recording Industry Assn. of America has certified it four-times platinum. (In Canada, it is certified for sales of 400,000 copies.) Rush's best-selling title in Canada is the "Rush in Rio" DVD, which the Canadian Recording Industry Assn. has certified eight-times platinum (800,000 copies).
When Rush was starting out, the band opened for such rock icons as Kiss, Aerosmith, Ted Nugent and ZZ Top.
In 1981, Rush was the only group to receive platinum certification from the RIAA for three albums in the same year: "2112," live set "All the World's a Stage" and "Moving Pictures." Billboard also named the band the top-grossing act in arenas for the year.
Rush has sold more than 35 million records worldwide and played more than 500 shows in a dozen countries to 6 million-plus fans.
Rush has received multiple honors in its Canadian homeland. The honors include the Howard Moon Award from SOCAN, the Toronto Arts Award from the Arts Foundation of Toronto and the Officers of the Order of Canada, which is the equivalent of a British knighthood.
Rush is fourth in the list of acts with the most consecutive gold albums, at 23, according to the RIAA.
Rush's two Grammy Award nominations have been for instrumentals: the songs "YYZ" from "Moving Pictures" and "Where's My Thing?" from 1991's "Roll the Bones." [Webmaster note: since this article was written, Rush was again nominated for instrumentals...]
Beginning with its Counterparts tour in 1996 [sic, should read "Test For Echo tour in 1996"], Rush has toured without an opening act. Called An Evening With Rush, the band's traditional three-hour show spans music from its entire career.
Source: SRO Management
---
Friends, Fans On What Rush Means To Them
"There are only a handful of artists who have been able to create their own musical universe-combining a signature sound and vision with career longevity and the grass-roots support of truly passionate fans. Rush stands tall among this elite group. Rush came to Atlantic 15 years after they released their first album-already far more than a lifetime for most bands. And yet they have now spent 15 years, half of their career, with us-an era during which they have made some of the most impressive, and I would predict long-lasting, music of their many years together. Three decades on, Geddy, Alex and Neil continue to evolve as musicians and composers, remaining a trio of undiminished musicality and boundless creativity. Atlantic Records is honored and proud to be associated with one of the most exceptional musical outfits in the history of rock." - Ahmet Ertegun, founding chairman, the Atlantic Group
"Of all the bands I've worked with, not only have all four of us become very close friends, I've never had the privilege of working with three better individuals in my life. One of the reasons why I stayed in the music business throughout those hard times at the beginning is because of them, and they made life very pleasurable for both me and my family; we're all still friends. You can't say that about very many people after all these years." - Val Azzoli, former Atlantic Group Co-CEO
"I knew they couldn't be stopped on that record ["2112"] when [WLS-AM Chicago was] taking calls from listeners. Some kid gets on the phone and goes [adopting a drugged voice], 'Play "2112," man, by Rush.' And this is to a top 40 station. And I'm going, 'My God, the people are so desperate for it, [since] there's no airplay to speak of, the people are calling fucking WLS.' I knew that this was something the fans wanted so bad it couldn't really be stopped." - Cliff Burnstein, co-owner of Q-Prime Management
"I never thought we'd see 30 years of Rush still playing and being hugely successful when we were doing this 30 years ago. It's remarkable. It makes me feel good that I made a good decision to stay with them. I thought they were fabulous. I can remember when I first started working with them, people frowning at me like, 'What are you, nuts?' And I always thought Rush just were the cat's whiskers, right from the beginning." - Terry Brown, producer
"Your continued success can be measured in the way you treat each other and those close to you. I could not be prouder of all of you. Thank you! Thank you! Thank you!" - Ray Danniels, manager, SRO Management
"The myth is, if you're not a bastard then you're not going to get ahead in broadcasting. It's not true. The nice guys sometimes do win, and Rush are nice people. I am thrilled beyond words that their career has lasted as long as it has and that they continue to be a group that fans can respect and admire, and I'm talking a second generation of fans now. Every week I hear, 'I used to listen to Rush, and now my kids are listening to them.' It's a thrill for me to know that I got something started back in 1974 that has not only endured but has made a positive impact on an awful lot of people's lives." - Donna Halper, founder of radio consultancy Donna Halper & Associates
"I first heard Rush in 1981-1982, at about the time of 'Moving Pictures,' and that pretty much turned my world completely upside down. I became obsessed with them at that point, and Neil Peart became my biggest drum hero ... It was Neil's drumming that immediately struck me, but also it was Geddy's bass playing; it was top-notch. It was three virtuosos.
"Thank you for 30 years of musical inspiration and musical excellence that has inspired us from the beginning to this very day. Love, Mike Portnoy and Dream Theater." - Mike Portnoy, Dream Theater
"Geddy and Alex and Neil, thank you guys so much for the positive difference you have made in so many lives, for the spirits you've lifted by your collective time together musically. I can't wait to see the 30th-target="_blank" tour, and I thank you for these 30 years and the integrity that's been a continued part of your work. Cheers and love." - Pierre Robert, DJ, WMMR Philadelphia
"For myself and for Queensr˙che, I'd definitely like to say hats off to Rush for what they've done. Their perseverance and their continued efforts to push themselves, challenge the music world-I think it's a pretty amazing thing. They've been a huge influence on me and many people. I hope there's more to come, and I hope other people, if their careers take off, carry the Rush philosophy even farther and keep pushing the envelope to inspire every generation to come. Music is important, and 30 years of making music together is a pretty cool thing. Congratulations." - Scott Rockenfeld, Queensr˙che