Closer To The Art
By Geoff Barton, Classic Rock, July 2004, transcribed by pwrwindows
---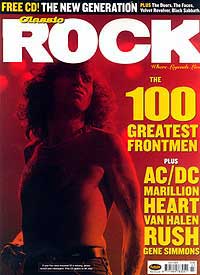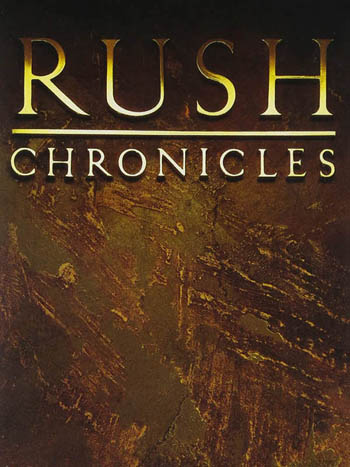 DVD version adds little to the original VHS release, but it's worth it just to see those crazy kaftans once again.
Rush
Chronicles: The DVD Collection
(Universal)
WHAT CAN THIS STRANGE DEVICE BE? When I touch it, it gives forth a sound...
Sorry, readers, I was just getting to grips with my new DVD player and its complicated remote control device. I think I've got the hang of it now. Rush's Chronicles was originally released in 1990 on VHS, so if nothing else it's good to have these videos available on DVD format because now they won't degrade over time. But unfortunately there are few extras included, the sound is uneven and the picture quality doesn't seem to be much better than on VHS. The running time is still just over an hour. Moreover, there's a suggestion that the bonus 'unreleased hidden videos' ('The Enemy Within' and 'Afterimage') in fact appeared on Rush's 'Through The Camera Eye' back in '85 (I'll have to dust down my old Laserdisc equipment to check). The one surprise on this DVD is a performance of 'Tom Sawyer' which does seem to be brand new. Along with 'Limelight', it was shot at Le Studio in Morin Heights, Quebec, during the recording of Rush's 'Moving Pictures' album. If memory serves me correctly (which means I'm almost certainly wrong) the version of 'Tom Sawyer' on the VHS Chronicles was taken from the 'Exit, Stage Left' concert video.
Enough gripes. Rush have never been the most camera-friendly of bands, but for fans who don't own the 14-year-old VHS Chronicles this DVD is invaluable. The videos here span 1977 to '87, before the onslaught of satellite music TV in the UK. Therefore they are unlikely to have been seen here more than a handful of times, if at all. Opener 'Closer To The Heart' comes drenched in patchouli oil from Rush's kaftan era (my favourite). The band shuffle around on stage on their trademark white carpet, bassist/vocalist Geddy Lee sports a Farrah Fawcett hairdo, and Neil Peart beats up a piece of modern-art sculpture (or is it a drum kit?). 'The Trees' - grander and lengthier than I remember it - offers more of the same, although Lee has invested in hair straighteners by now. I enjoyed the aforementioned 'Tom Sawyer' and 'Limelight' immensely. They give a fascinating insight into Le Studio's wintry recording environment - the Canadian three-piece craft some meticulous prog-metal while flanked by tall windows, through which you can glimpse the beautiful, brittle, frozen forest outside.
'Red Barchetta' is a straight-forward in-concert performance with Atari racing-game graphics. Guitarist Alex Lifeson looks rather uncomfortable, having eschewed his mystical robes for a Duran Duran-style red jacket, and Peart has augmented his tympanic odds and sods with what can only be described as a stack of 20 or so ring doughnuts threaded onto a long pole. Seriously.
'Subdivisions' is the most effective video of all. It's punctuated by grainy repeat-footage of row upon row of grim, cardboard houses; sprawling suburbia at its most bleak and depressing. The focal point is a bespectacled high-school geek who feels he must 'conform or be cast out'.
'Distant Early Warning' is the first (relatively) big budget effort here, depicting a young kid straddling a soaring missile, but even so the visuals barely match the first Superman movie. Meanwhile, 'Red Sector A' sees Rush on stage in top titano-dome form, while 'The Big Money' has them back in a studio cavorting on a giant Monopoly board. However, the creaking computer effects again look like they were crafted on an Etch-A-Sketch. 'Mystic Rhythms' is full of strange imagery - at one point we get to glimpse inside a doll's house where a wooden toy snake is seen looming out of a tiny wardrobe. Baffling. But '...Rhythms' is a masterwork compared to 'Time Stand Still', which is full of wobbly Rush cut-outs bouncing about. Thank goodness for a guest appearance by Aimee Mann (who also sings on the track).
The final, 'non-hidden' video, 'Lock And Key', features a giant balloon similar to those menacing beach-balls called Rover in The Prisoner (a TV show that sure had its '2112'-style moments). The not-so-cunningly concealed extra videos can be played by selecting the 'Rush Chronicles' logo on the 'Play Videos' menu. I won't annoy you further. Enjoy.