Rush Pays Tribute To Its Influences
New Album Of Covers, And Covers Of Covers, Celebrates Band's 30th Anniversary
By Doug Elfman, Las Vegas Review-Journal , July 16, 2004
---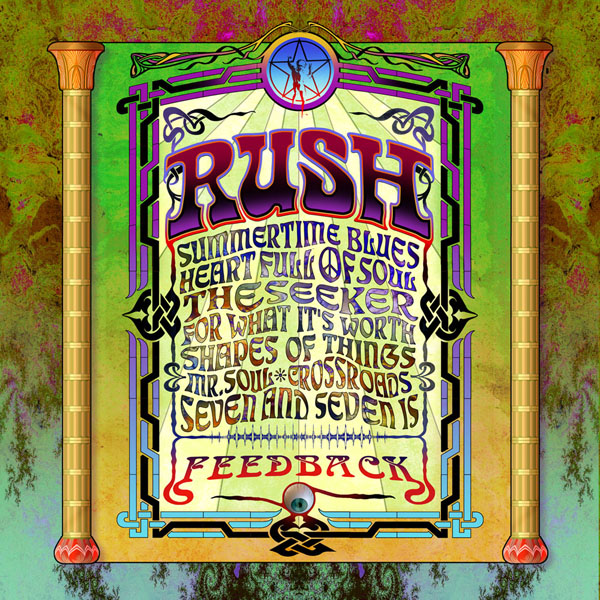 Rush guitarist Alex Lifeson's favorite song of all time is "For What It's Worth," the Buffalo Springfield song from 1967 that has the refrain, "I think it's time we stop, children, what's that sound? Everybody look what's going down."
Lifeson remembers the exact moment when the song took hold of him. He was a teenager, riding in a car with his dad. This was in his native Toronto. And his band Rush was just about to form with Lifeson on guitar, Geddy Lee on bass and vocals, and John Rutsey on drums. (Neil Peart took over for Rutsey in 1974.)
"We were going to a shopping mall or something like that," Lifeson, 50, says. "It was a sunny summer afternoon. I had my little blue granny glasses on."
And "For What It's Worth' was on the radio.
"I just connected to that whole moment. It wasn't the first time I listened to it, but I think I was just becoming so aware of moving on to a different point in my life. And it was all connected to that, in that summer, to that song."
Now, Rush is touring and playing "For What It's Worth" in concert. The band recorded it with seven other cover songs for a new CD, "Feedback," that Rush put together to celebrate its 30th anniversary of recording professionally. Also on the disc are covers of Cream's take on "Crossroads" and Blue Cheer's version of "Summertime Blues." Rush was trying to capture the same spirit that those songs breathed to them long ago.
"So when we got into the studio, we set up a whole bunch of candles and lava lamps, and brought in some rugs. We set up in the room, recorded off the floor together -- the three of us," Lifeson says.
Band members wanted to do three or four more songs, maybe a song by Led Zeppelin or Jethro Tull, but they ran out of time before hitting the road.
"We sort of toyed with the idea of including a Beatles song, or two Beatles songs -- maybe `I Feel Fine' or `Day Tripper.' We sort of jam out on that a little bit," Lifeson says.
Rush abandoned some early attempts to sketch out new arrangements of other classics. Jimi Hendrix's "Manic Depression," for example.
"There was some stuff that seemed sacred, that didn't seem right, and (`Manic Depression') was one for sure -- it's such a personal song for Hendrix. And instrumentally, it sounded fine, but with Geddy's voice, it sounded too alien and weird."
Did Rush think about something silly, like doing a Turtles song?
"Yeah, that's not a bad idea. `Happy Together' -- we'd do an awesome version of that! We'd be more inclined to do something like that than a straight copy of something that would be more typically associated with us," he says, chuckling.
Rush decided to do this cover album instead of going with another idea, green-lighting an album by other artists covering Rush songs.
"We thought it was a lot more fun and appropriate to pay tribute to some of the music we played when we were 12 and 13 years old and learning how to play," he says, "before Rush, when we were in little basement bands."
Rush recorded "Feedback" in a quicksilver two-and-a-half weeks using a lot of analog and vintage studio gear. (Lifeson remembers an old AC-30 amp, a Fender Twin Amp, and Hughes and Kettner Triamps). They wanted the album to sound raw and stripped-down, although it was recorded digitally using computer software.
The album starts with "Summertime Blues." Lifeson's guitar starts out with a nod to Hedrix's vibrato feedback.
"It's very `Foxy Lady'-like," Lifeson says.
Rush continues to be influential not just as a band but as three individuals. Peart is often cited as one of rock's greatest drummers. Lee is an inspirational bassist and lyricist. And Lifeson has given many guitar players fits in trying to trace his work.
But Lifeson says he is "still in awe of the guys that I grew up with and what they meant to me."
"In fact, going through this stuff for `Feedback,' I realized how much of me is Jeff Beck and especially Pete Townshend," Lifeson says. "When I list the people who inspired me as a kid, I usually say Eric Clapton and especially Jimmy Page. But really, I think Townsend's probably one of the biggest influences I ever had -- really taught me something about chords and how to create a big guitar sound without turning it up really loud."