Rush Puts Derivative's Secret Touch On 30th Anniversary Tour
Derivative.ca, August 9, 2004
---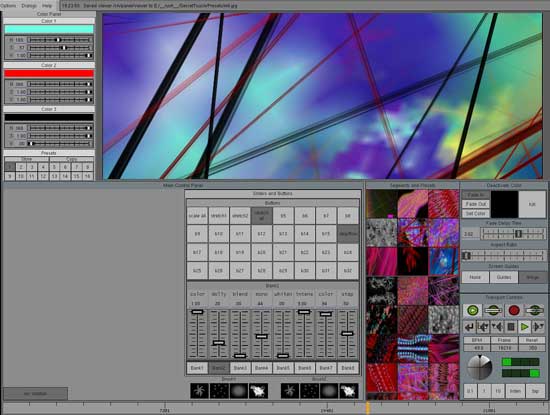 Derivative produced custom live visuals for the Rush 30-year anniversary tour this summer. Rush played 55 shows in North America, the UK, Germany and other European cities.
Touch synths for 12 songs were created by Touch artists Ben Voigt, Farah Yusuf and Greg Hermanovic. Derivative brought on Markus Heckmann to travel with the band and VJ for the tour.
Heckmann performs the visuals live, alternating between two Alienware Area-51m Extreme laptops, each running TouchMixer with a MotorMix MIDI slider/button box and an Oxygen8 MIDI keyboard. The high-resolution image from TouchMixer is fed from an Area-51m to the triple-width LED screen behind the band.
Derivative Visual Software
Derivative makes Touch Tools, the most powerful animation software for authoring and performing live visuals for a wide range of users, including installation artists, architects, stage designers, VJs, researchers, web 3D developers, educators and anyone who wishes to play and manipulate live interactive 3D visuals. Derivative's production division is available to companies who wish to tap Derivative's expertise for special projects.