Cuppa Coffee Slays Dragon for Rush World Tour
By Katie Makal, uemedia.net, Aug 16, 2004
---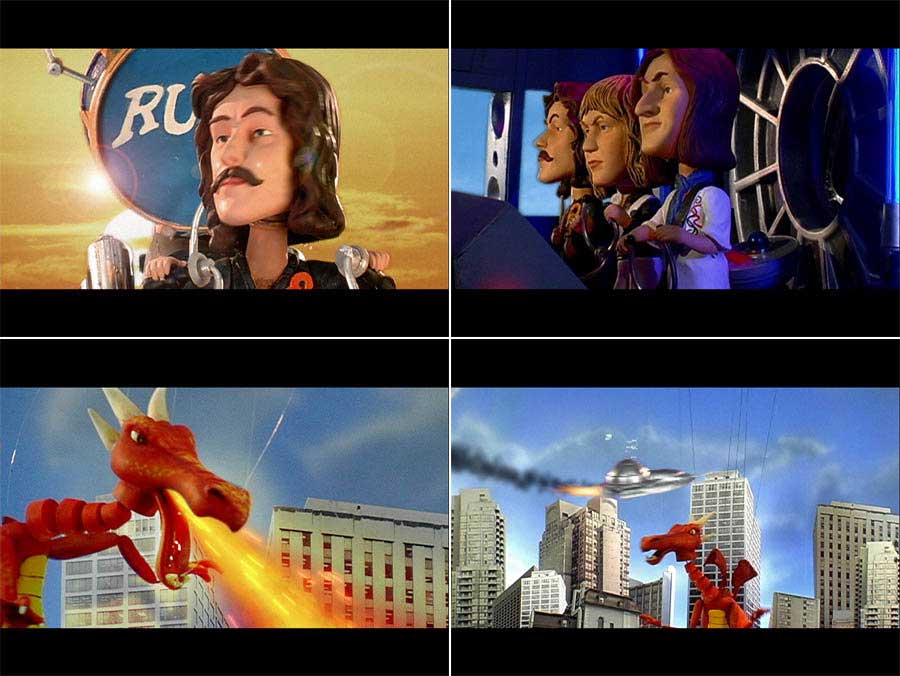 To commemorate their 30th year as a band, Canadian rock gods Rush came to Cuppa Coffee to develop a rear-screen projection mini-film for their world tour. The film tells the story of Rush's alter egos defending the world - particularly their merchandise tent - from the fiery breath of their arch nemesis: That Darn Dragon.
Using scaled bobble-head figures (a popular merchandising item) as principal actors and a marionette dragon, the film was shot live action as puppeteers controlled the main cast's performances. Sets and characters, which were inspired by Gerry Anderson's work ("Thunderbirds", "Fireball XL5"), were built in-house by the Cuppa Coffee sets and puppets department. Special effects including fire, explosions, lighting and greenscreen compositing were added in post to enhance the action scenes. Cuppa Coffee took the job one step further by getting involved in the sound editing, building a story arc with classic Rush songs that culminates in a climactic battle scene between our heroes and their foe.
Co-directors Hector Herrera and Warren Brown were excited to have an opportunity to contribute to such an interesting format. "It's not often you get a chance to work on a short film for a live rock concert. We wanted to make it campy and fun, while at the same time paying tribute to the band and their music," said Herrera. Brown agreed, adding, "Rush fans appreciate and respect the band's sense of humor and ability to laugh at themselves. We had a lot of laughs putting it together, and I think that sense of fun shines through in the final product."
CREDITS
Client: Rush Productions
Director of Visual Production: Allan Weinrib
Concept Writer: Greg Bolton
Design and Production Company: Cuppa Coffee, Toronto
Creative Directors/Directors: Warren Brown; Hector Herrera
Executive Producer/Producer: Lisa Hemeon
Postproduction Supervisor/Editor: Nick Sewell
Postproduction: Paedric O'Sullivan
Production Manager: France Daigle
Head of Art Department and Puppets: Zane Knisely
Director of Photography: Henry Sansom
After Effects Animator/Special Effects: Matthew Hemming
Assistant Director: Daniel Robinson
Graphic Designer: Ignacio Peon
Prop and Set Designers: Trevor Mercer; Ted Healey Character Designer/Storyboard Artist: Kalle Malloy
Design and Production Company: Cuppa Coffee Art Department, Toronto
Puppet Fabricator: Stephanie Lee
Model Painter: Darryl East
Sculptor: Jeanette Billard
Mold Makers: Tina Jones; Kyle Glencross; Mike Pyette