Rush: 30th Anniversary Tour
One of Canada's legendary bands celebrates 30 years of success with a world tour designed by Howard Ungerleider
By Brad Trenaman, Professional Lighting And Production, Fall 2004, transcribed by John Patuto
---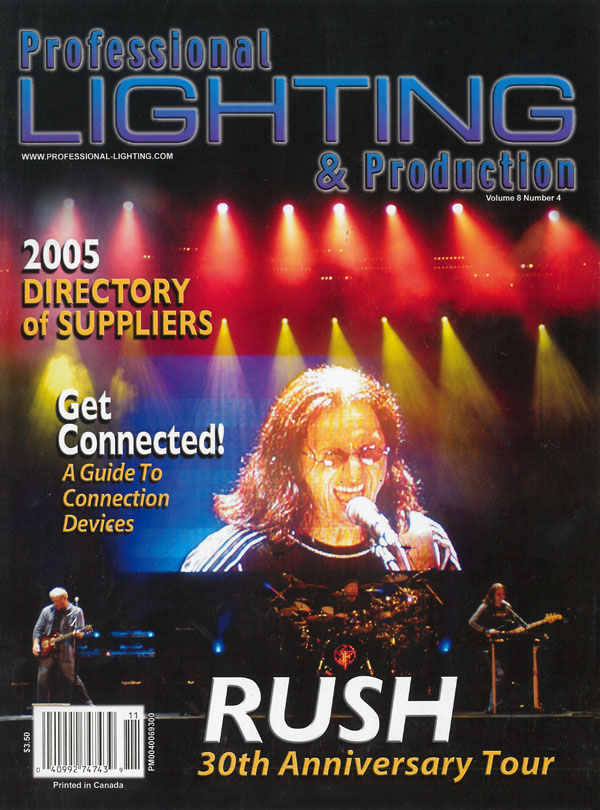 In this day and age, bands seem to come and go with increasing frequency. For a band nowadays to have any sort of staying power, it needs to either constantly reinvent itself or rely on its dedicated fans to keep buying albums. While Rush certainly has an enormous fan base that has stuck with them throughout their 30-year history, they have also managed to win new fans without radically altering their sound or image. Their rare blend of intellectual lyrics and near perfect musicianship has earned them a rightful place among the other great artists of the 20th Century.
For anyone who has never seen the band live, they may just be missing out on one of the most consistently innovative arena rock spectacles to ever hit the road. While Lighting Designer Howard Ungerleider of Production Design International (www.pdifx.com) has applied his artistry to many top rock acts, it is certainly his tenure with Rush that has allowed him to push the boundaries of rock and roll tour design. Always a big hit with their hometown crowd in Toronto, Professional Lighting & Production was lucky enough to catch the band's final show of their North American tour from the Front of House control position (packed in with about 20 other close friends of the band). Everyone had a perfect view of both shows - the band playing on stage and Howard playing a Hog II the way Glenn Gould would play a piano. We managed to nab him for lunch before jetting off on the European leg to discuss this tour as well as his long history with the band.
Professional Lighting & Production: You've been with Rush as long as the the band has existed, how were you first introduced to them?
Howard Ungerleider: I was actually working as a talent manager for a record label in New York and was sent up to Toronto to meet with Rush and see if they would like to work with us. The band and I hit it off right away and I started working with them as Road Manager and Lighting Director almost immediately.
But you already had a background in lighting?
It was one of those things I did for many of the bands I came in contact with through my work. I usually acted more as a lighting consultant than as a LD but it was an aspect of my work that I truly enjoyed.
Having worked with a group like Rush as long as you have, do you ever get a case of designer's block when trying to come up with innovative lighting ideas?
Not really. I find many of the best designs already exist in the natural and artificial world; you just have to keep your eyes open and know where to look.
Where did the ideas for this show come from?
There were two main influences which affected this particular design. The first and most noticeable is the layout of video screens. The thin strips which flank the main screen were meant to evoke wind chimes, much like the ones I have hanging at my cottage. My other influence was an article in Architectural Digest which talked about how curved glass windows can give the illusion of bending light. This led to the two main lighting trusses forming these giant semicircles around the band.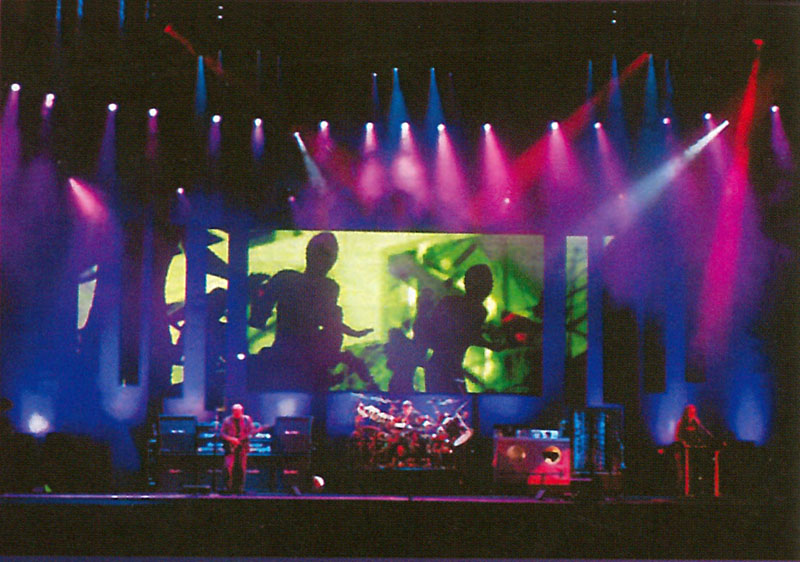 Having lit many of the same songs on many different tours, how has the cueing structure evolved through the years?
Every song has a backbone which stays pretty much the same from tour to tour, that is, the cues still occur in the same spot year after year. The challenge of course is to make those cues look different. I've spent years studying colour theory and experimenting with various colour combinations to figure out what works and what doesn't. Of, course it's not just about the colours themselves but the angles and intensities of those colours. Some LDs actually seem to avoid certain colours, especially in the more saturated range, because they haven't experimented enough to get the maximum vibrancy from those colours. For me, the more saturated the better.
Are there any other tricks you find yourself coming back to?
I also love using black light (UV) to fill in the shadows rather than just leaving them completely dark. It helps complete the stage picture even if you're trying to focus attention in one spot.
For this tour you've also ventured into high output LED territory, how has that worked out?
Yes, were using a bunch of Color Kinetics new Color Blaze fixtures. They've been very reliable and, as you could see from the show, they really are bright enough to hold their own in a rig of high-powered conventional and automated fixtures.
The red output during "Red Sector A" certainly provided an interesting contrast to the green YAG lasers.
Unfortunately our atmospheric conditions during the show here in Toronto were not ideal for haze or the lasers. Usually those 4-watt YAGs come across even more intense than they did. It's a problem in a lot of the sheds but most annoying when you're playing for the hometown crowd. Also, because of the stage layout here in Toronto, I could only hang 8 out of my 14 video "wind chimes." That was definitely a huge disappointment.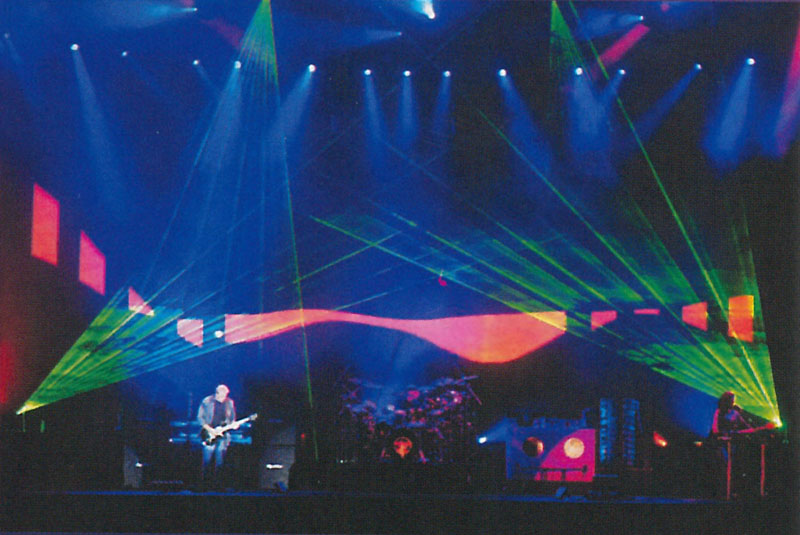 I assume most of the venues were sheds for this leg of the tour.
Yes, almost 95 per cent of them actually. They're a bit of a challenge to deal with; you never get the smoke or haze to hang around as well as an indoor arena. Also, because there's no opener and the band plays for close to three and a half hours, they're hitting the stage when it is still pretty light out so you're not really getting the full impact of the show until later in the evening.
The stage lighting still seems to cut through those waning hours of daylight quite well. Which instruments are you relying on to give you the necessary firepower?
I've always liked the High End Systems gear and for this tour I've got x.Spot Xtremes, Studio Beams and Cyberlights making up the bulk of the rig. The only real conventional fixtures are the follow spots and the MR16 strips. I've also got a few dozen Martin Atomic 3000 Strobes for that extra little kick every once in a while.
I understand you've made some minor modifications to some of your fixtures.
Yes, I love messing around with lighting instruments and changing their properties to suit my purposes. In this case, I discovered that I didn't require the zoom feature of the Studio Beams and that you can get even more punch out of them by taking the zoom lens out of the optical train. I had the shop at Premier Global Productions in Nashville, which provided all of the lighting equipment for this tour, remove the zoom mechanism from all the Studio Beams. I also had them rewire all the MR16 striplights covering the fascia of the upstage curved truss so that I could spell out simple words and phrases as well as do some unique chases.
Although the video array serves as your main backdrop, I noticed you are also using fireplace mesh as a screen behind that.
I originally started playing with that stuff for the Van Halen tour I lit a few years back and I just love how it carries the light when hit from a steep angle. For this tour I'm using the Coemar Panoramas to really make them pop. The other nice thing about the mesh is that it almost disappears when you don't light it, almost like sharks tooth scrim.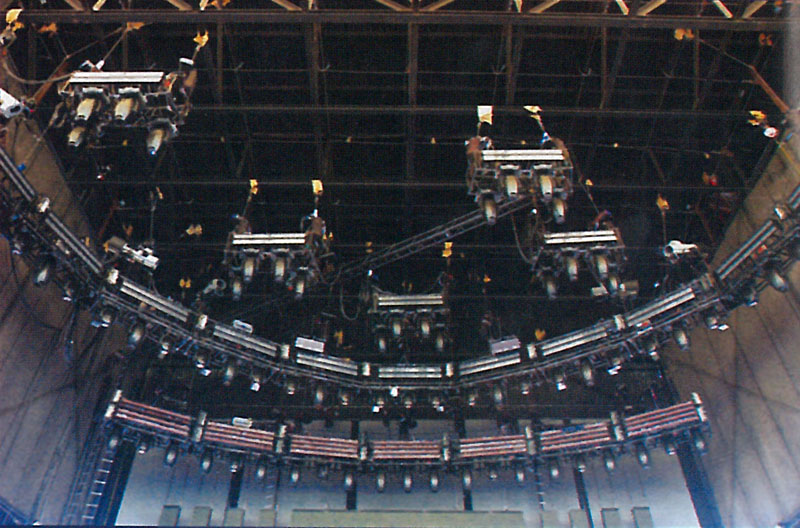 What sort of direction do you receive from the band while you're still in the design phase?
As far as the lighting and stage design goes, I'm pretty much given free reign. For the visual content used on the screens, it was much more of a collaborative effort. In this case, Alan Weinrib, Norm Stangle (Spin Productions) and Greg Hermanovic (Derivative Inc.) worked together with me and Geddy Lee to put together all the visuals used in the show. Often, all of us would be in one room just brainstorming and playing ideas off one another. This process started months before the actual tour.
Rush was one of the first acts I remember seeing use video for more than just IMAG and the visuals for this tour again seem to venture into new territory. High End Systems' Catalyst has been around for a while now and I know many of my colleagues have yet to venture into that sort of media server technology. Can you give those readers some idea of exactly how you are using the Catalyst and how it has made your life easier?
In this case we essentially have three different sources for content, Catalyst, Derivative and IMAG. Marcus Heckmann runs the Derivative (see sidebar below) as a live Vi, David Davidian directs and controls the IMAG from a switcher backstage and I trigger the Catalyst from my Hog II. The Catalyst, in addition to playing back animation and triggering B-roll playback, also controls the routing of all the video signals to the three parts of the video screen array - the main screen, the stage right wind chimes and the stage left wind chimes. The Hog II sends basic DMX commands to the Catalyst, which can trigger any number of events. Most of the Catalyst triggers are programmed right into my main cue list but I also have manual override control if, for instance, I want to dim down the video because it's overpowering out the lasers.
So, in essence, you have ultimate control over lighting and video from one central console.
David has some override capabilities from his switcher if, let's say, he wants to superimpose the IMAG over the Derivative images. What Catalyst really does for me is ensure that when I hit the go button, the lighting and video cues are perfectly synchronized.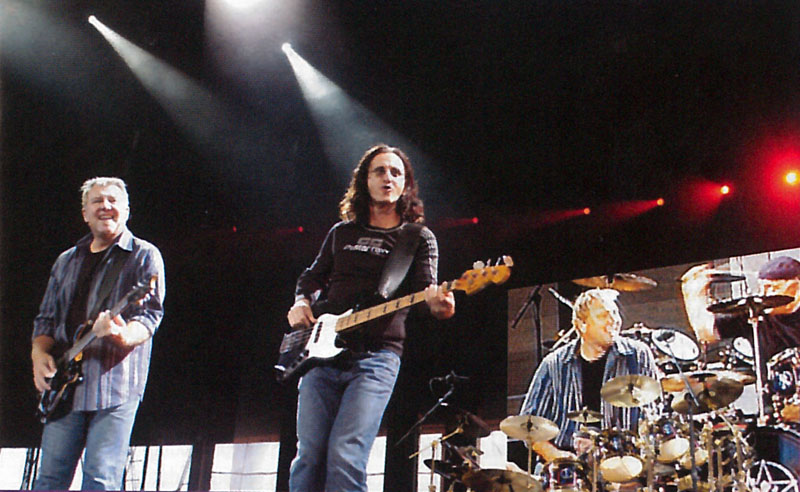 For the song "Roll the Bones" where the animated skeleton is rapping along with the band, how is the synchronization maintained?
I actually trigger the video roll manually using a couple of musical cues in the song. As long as I hit the button at the right time, it always appears to be in synch. Even with all the technology available to lighting designers, programmers and operators, it still takes that personal, human touch to bring everything together.
How much production time did you have before you hit the road?
We did about eight and a half long days, probably close to 20 hours a day.
In addition to what I suspect are hundreds if not thousands of cues on the Hog II, you seem to really put the follow spot operators through their paces. How do you go about organizing and calling spot cues?
Honestly, I just memorize it all. It becomes second nature after you've been doing it for so long. I think for any concert LD, you have to know the music as well as each member of the band so that running a console and calling spots becomes as natural as any musician playing an instrument.
Do you have a specific approach to cueing in general?
I try to dissect each song both musically and lyrically. Obviously the placement of the cues depends largely on the tempo and musical structure of the song but I often rely on the lyrics to inform what each cue will look like. It's about finding those subtle things that not everyone might notice but that give you a personal feeling of satisfaction.
The fans new and old alike seem to share that feeling of satisfaction. I'm sure many will be wondering what surprises the next tour will hold in store.
---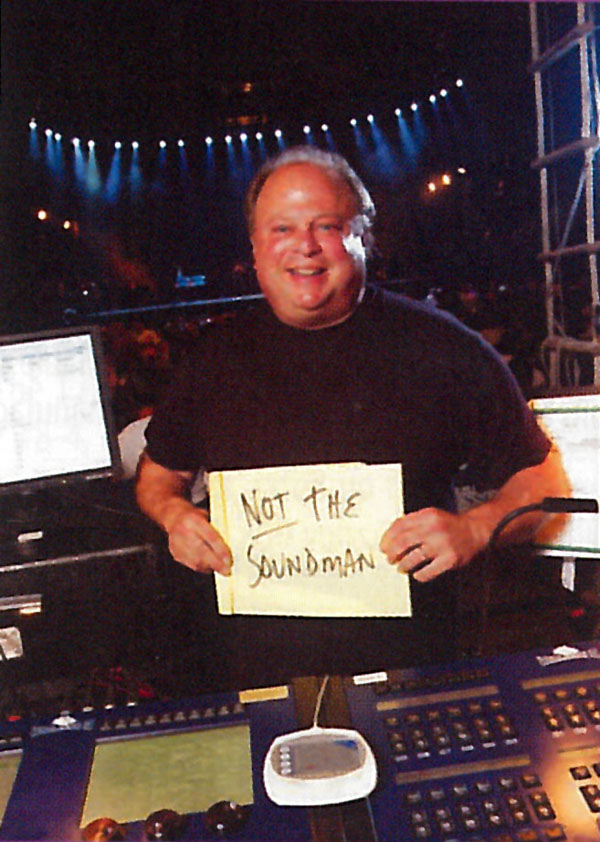 Tour Staff
Tour Manager: Liam Birt
Production Manager: Craig Blazier
Production Assistant: Karen Blazier
Lighting Designer: Howard Ungerleider
Lighting Crew Chief: Rich Vinyard
Lighting Techs: Heith Hoagland, Jamie Grossenkemper, Norman Silwa
Video Director: Marcus Heckmann
Laser Tech: Scott Wilson
Riggers: Brian Collins, Frank Aguirre, Jr.
Lighting Vendor: Premier Global Production
Laser Vendor: Production Design International
Pyrotechnics Vendor: Pyrotek Special Effects Inc.
---
Lighting Equipment
45 - High End x.Spot Extremes
29 - High End Studio Beams (Modified - no zoom)
24 - High End Litho Cyberlights
10 - Coemar Panorama Cyc Units
32 - Color Kinetics Color Blaze 6' LED Strips
28 - MR16 6' Mini Strips (Modified - Rewired)
29 - Martin Atomic 3000 Strobes
6 - Lycian M2 Followspots with Top Mounted Truss Chairs
3 - WholeHog II lighting consoles
2 - WholeHog II Wings
1 - 96-Way ETC Touring Dimmer Rack
4 - 48-Way 208 volt Distros
18 - 93" x 30" x 31" Intella Truss
5 - 93" x 30" x 26" Curved trussing
10 - 12" x 12" x 10' Utility Truss
34 - 1-ton Chain Hoists
2 - HES F100 Smoke Machines
2 - Reel EFX DF 50 Hazers
1 - Pyrotek Fireball/Firewall Dragon System
---
Derivative
This is Rush's second tour using Derivative Inc. (www.derivativeinc.com) software for live visual manipulation. Derivative actually spun off from Side Effects Software, makers of Houdini, the 3-D software responsible for many of the spectacular effects seen in such films as Spider-Man, The Matrix and Lord of the Rings.
Derivative's Touch Designer was used to create the visuals while Touch Mixer looks after the live playback. Although not a DMX system like many of the other media servers that have been gaining ground in the touring concert market, Touch Mixer allows any MIDI device, such as a keyboard or MIDI based lighting console, to not only trigger events, but to actually control individual characteristics of the visual synthesizers (synths for short).The 3-D visuals can be manipulated on the fly by changing lighting and camera angles or other aspects depending on the synth.
For this tour Greg Hermanovic of Derivative assembled synths for a dozen songs while longtime Touch user Marcus Heckmann was brought over from Germany to operate the system live on tour. Using a pair of neon green Alienware notebooks, Marcus has the same sort of control over the video synths as Howard has over the lighting cues. That is, certain looks have been saved as presets which can be recalled instantly, much like a master cue list, but Marcus can still jump in any time with the attached MIDI keyboard and override those presets.
Synths can also be set up in such a way that different layers are locked and remain unaltered by external manipulation. In "Red Sector A" for example, the human shapes move and pose at a predetermined rate in a specific pattern while Marcus has full control over the background graphics and overall camera angles.
Touch Designer has many powerful tools built in to create media from scratch but also allows the user to import graphics and video from other applications. Aimed at a very wide market, this family of software has been used for a wide variety of applications from live VJs to interactive corporate kiosks. For set and lighting designers wanting to take the plunge into media server territory, Touch may be a great starting point as it can run completely stand alone or be triggered from an external MIDI device.