Rush Of Lifeson
Interview With Rush's Alex Lifeson
By Phil Ashcroft, Fireworks, October/November 2004, transcribed by pwrwindows
---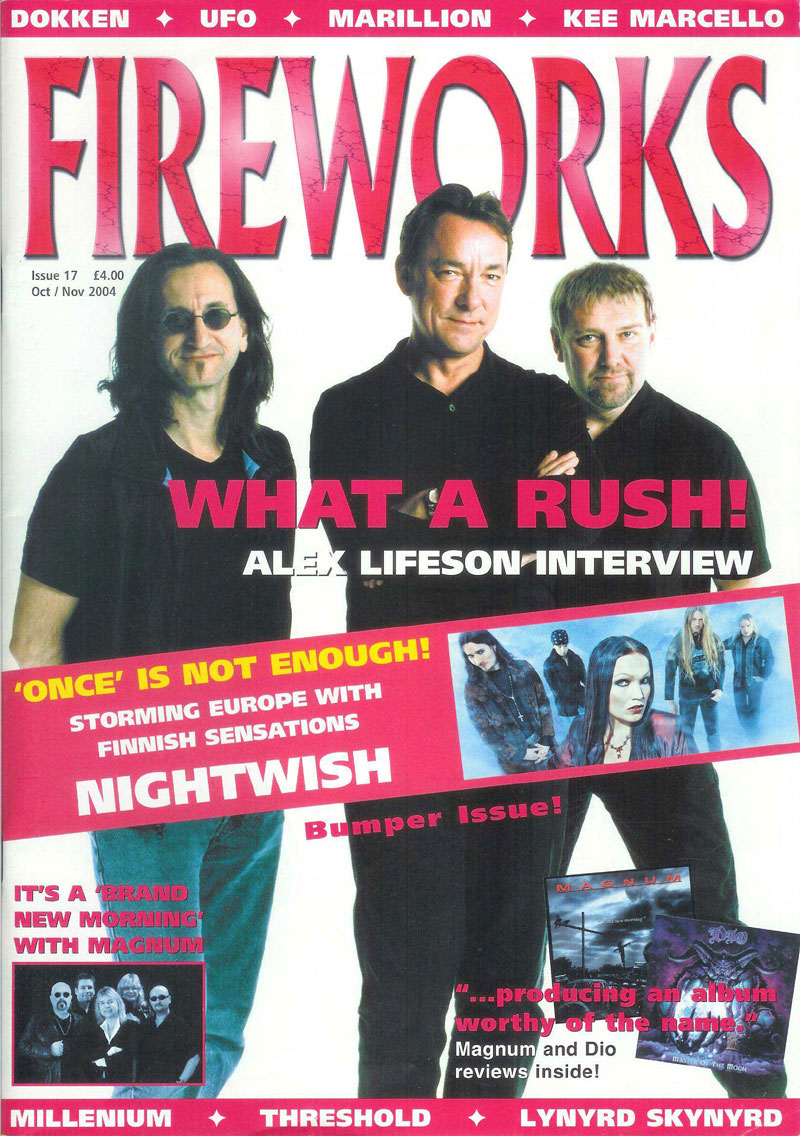 The dictionary definition of an Anniversary is 'the date on which an event occurred in some previous year (or the celebration of it)', so for Rush to clock up 30 of these since the release of their Zeppelin-influenced debut LP is amazing enough. It's true that there are many other groups who've also reached and indeed surpassed this milestone - Yes, Aerosmith, Kiss, Styx, Kansas and Blue Oyster Cult spring to mind - but what makes Rush's achievements even more remarkable is that by the time you read this they will have also reached 30 years with the same line-up. With the band about to set out on their 30th Anniversary world tour. I was able to take up an hour of Alex Lifeson's valuable rehearsal time to talk about how they've managed to be so successful for so long without compromising their integrity.
But first let's go back not 30 years but 36. Guitarist Alex Lifeson (real name: Zivojinovich) is the only remaining founder member, having formed the band in Toronto in 1968 with High School friends John Rutsey and bassist/vocalist Jeff Jones (who later sold a respectable amount of albums as a member of Tom Cochrane's Red Rider). When Jones phoned to bail out on the afternoon of only their second gig, Lifeson got in touch with his friend Geddy Lee (real name: Gary Lee Weinrib), not only to borrow his amp like at their first gig, but also to borrow him as well. Over the next five years - despite one or two hiccups, like Geddy being fired from the band for a while and all the members splintering to form groups with names like Hadrian, and Judd, the band realized their future lay together, and with the help of promoter/manager/friend Ray Daniels they built up a good following in Southern Ontario. Under Danniels' guidance and with the lowering of the legal drinking age from 21 to 18 being a great help in getting bar gigs, they eventually recorded a self-financed single in 1973 - a cover of Buddy Holly's 'Not Fade Away' - and later a full LP in 1974 that failed to impress any of the Canadian labels, and was issued on Danniels' own Moon Records label. The songs 'Finding My Way' and 'Working Man' were played regularly by Cleveland-based DJ Donna Halper causing jammed switchboards at the radio station, and the resulting sales piqued the interest of Mercury Records who signed the band to a multi-album deal, a clause of which dictated that the band had full artistic freedom to do whatever they wished. However, whatever Lifeson and Lee wished to do wasn't the same as Rutsey (whose brother had given the band their name), and after suffering from periods of ill-health due to diabetes, decided he wasn't up to the level of touring they would be required to do. With only two weeks left before a US tour with Aerosmith, Rutsey quit, leaving the band to find a suitable drummer with whom they could achieve their goals. Enter an unknown Canadian from the other side of town who, after a failed relocation to London to find fame and fortune had ended in him selling tourist trinkets in Carnaby Street, was to find the kind of people he was looking for on his own doorstep.
At this point on the 29th July 1974 (Geddy's 21st birthday) the influence he would become on the band's music was nowhere to be seen, they needed an adequate drummer and they needed one fast - so Neil Peart (real name: Neil Peart) was their man. Alex takes up the story:
"Neil was hired because he was a great drummer. The day that he auditioned was a very interesting time that we spent with him - he set up, we played some music - we chatted for a while - we played some more, jamming on songs we all knew. We talked about all kinds of things from literature, to music, to cars, to art."
It was immediately obvious they'd found someone who shared the same hopes and dreams that they did, Alex recalls.
"I think right from the beginning - although we were all a little uncomfortable at first - it was a little awkward as John Rutsey and I had formed the band in 1968 and we'd never had to audition a drummer before - but the more time we spent together the more we realized how alike we were. We just got along - there was no talk of him being a lyricist, that only came later - so that wasn't even an issue, it was all about his drumming. He was an intelligent guy who we thought would fit in to our world - and that was good enough for us at the time."
And now with twenty-two consecutive gold and platinum albums under their belts (recently beating Kiss' record. despite Gene Simmons' claims in the last issue). Lifeson still exudes a childlike wonder about it all.
"Yeah I know, it's unbelievable!" he laughs. "It seems to have gone by so quickly - but if I sit down and really think on it, it has been a while."
Their secret seems to have been to take things one step at a time, an extended career wasn't something they had been hanging their hopes on.
"Definitely not!" states the guitarist simply. ''We'd been together for six years already with John Rutsey. and we'd developed a pretty good following around the Toronto area, and about a 200 mile radius of High Schools and clubs. But when we got our recording deal and then Neil joined the band, we thought at the time that if we could get another five years out of it and make some records, then that would be a wonderful career. Here we are thirty years later."
Lifeson feels like the reasons they've endured so long are pretty obvious.
"Well. I guess it's a few things," he ponders. 'We've always been very uncompromising about our music and we've developed a following that's really grown with us - who kind of expect the same things from us that we expect from ourselves in terms of how we write and perform. That's really what's kept us alive - Rush fans have been probably the most important reason we've been able to continue for so long. Also we get along very, very well - we're really close friends - it's more like a brotherhood than anything else. We've always enjoyed working together and enjoy being together - we spend most of our time laughing like a bunch of teenagers - so it keeps us young in spirit I think -and looking forward to continuing working."
There have been rumours of dissent in the camp about musical direction over the years, particularly over the heavy use of keyboards on 'Signals', 'Power Windows', and 'Hold Your Fire', but the band have never had a falling out over personal matters.
"No, we really haven't" Alex says proudly. ''There have been times where we've been stressed out for different reasons individually - personal things, and in fact through most of those circumstances it's been the other guys who have been very helpful. When somebody's down you either give them some space and let them get through whatever it is - or you let them know that you're there for them if they need the help."
Obviously the biggest threat to their continued existence was when Neil lost his daughter Selena in a car crash, closely followed by his wife Jackie losing her fight with cancer.
"In the case of Neil's terrible tragedies seven years ago - nothing else mattered," he says with the pain of recollection in his voice. "The band didn't matter - as far as Geddy and I were concerned we couldn't care less about what happened with the band - it was all about trying to get Neil on his feet again, and trying to find some way for him to feel that he had the support to be able to continue with his life. It was that critical a situation - we never expected to get back together as a band - as things kept going it seemed less likely that we would ever work together again - it was such a devastating experience. But he came around and he realized that work was important to him, it was one thing that he had together in his life - one thing that was still available to him that gave him focus and strength - and that's what really got us back together. So, we try to help each other when we need to, and we try to stay out of each other's way when we need to, it's just like any other relationship - being sensitive to your partners and what they're going through."
The lowest point in the trio's lives conversely gave way to one of their biggest triumphs. Lifeson recalls enthusiastically "I tell you - standing on that stage in Hartford, Connecticut on the first date of the 'Vapor Trails' tour was probably one of the greatest highs of our whole career. The fact that we were actually there playing together as a band again, was enormously gratifying - there were points in that show where I had a lump in my throat. I'd look down at people in the audience who were crying because we were there. There were points in the show where Geddy and I would stand near the drumkit and we'd all look at each other and just shake our heads and smile. We'd make that eye contact and know that this was a really special thing we were doing, and we were really, realIy lucky to be able to pull it off again and get it back together in such a way that was so wonderful. I have to say that the way we felt when we came offstage and got back to the dressing room and just hugged each other - we couldn't believe that we were actually doing it again. For me that's the biggest high I've experienced in our career."
Sometimes the old adage that 'you don't know what you've got until it's gone' is obviously something that Alex has been pondering on of late. The guitarist explains"
"Often it takes such a terrible tragedy like that to remind you of the frailties of life and how transient everything is. Terrible things can happen in a split-second - believe me, I learned that in Florida this year - and it can change your life in such dramatic ways."
The subject of Lifeson's brush with the authorities on New Years Eve, and the forthcoming battery charge against him, wasn't something I was going to bring up - but despite the details being something he's legally unable to talk about, he did say a little and was patently incredulous that it happened at all.
"From my experience," he says cautiously, "as unexpected as those things can be - you have to kind of prepare yourself for them, but at the same time you can't let it rule your life - you can't live in fear of some terrible thing happening to you. You just have to go with the flow and be ready to expect, or accept, that certain things will happen to you at times, that are not planned."
The case has been put back several times and will now happen in the middle of the UK tour, something that he was hoping to avoid.
"Hopefully we can resolve this in the near future, and if not, we'll see how it goes." he says candidly. Alex did tell me more that we couldn't possibly print, but the effect on him and his family is clear.
"It eats away at me like crazy" he confesses. but after going through hell he's a little more upbeat about the situation. "Well I have to say that the last couple of months have actually been really good for me" says Lifeson. "January and February were really tough - I couldn't sleep - I was very upset by the whole thing, my whole family were, especially my wife - for a period she was very, very depressed. Then we got back into work and started focusing on the tour and a little project that we have coming out shortly - so I've felt really good. We're in rehearsal now and it's all going well - the ticket sales for the tour have been really brisk - up even on the success that we had on the 'Vapor Trails' tour."
And of course there's a European leg to this tour, something the fans have waited a long time to hear. Alex can't stress heavily enough what a priority this was to the tour happening at all.
"Coming back to Great Britain and Europe is really exciting for us," he announces emphatically. "We've felt such terrible guilt over not coming there for so many years. When we started planning this tour - I have to give Geddy credit, he said "If we're not going to Europe and Great Britain - I'm not going on tour", so we started with those dates and moved backwards to organize the North American tour."
With the large number of long-standing bands who continue to tour to pay the bills, Rush have managed to avoid becoming a nostalgia act, and are one of the few whose fans eagerly await new music. I wondered if Alex had a theory on why this is.
"I don't know," he admits, "I guess we take what we do very seriously and we're not interested in being a nostalgia band. I don't want it to sound like I'm being critical of those sort of bands - work is work -and I understand that for a lot of these older bands who've had a fair amount of success and kind of disappeared - for them to do the summer tour circuit and make quite a good living at it, there's nothing wrong with that. Everyone has to pay their bills. I guess with us we probably feel that we don't really need to do that - we've had continued success for many years and don't need to have to go out and make a living per se anymore, we don't need to worry about paying our bills. Obviously, having sold almost forty million records it stands to reason that we're all financially set, so really our motivation is different from those bands. We love playing -we love writing music together - there's actually a tangible spark that happens between us when we go into a studio, and it always amazes us that we can record another album and write more pieces of music that take it to yet another different place that we haven't been before."
2002's comeback album. 'Vapor Trails', was initially met with a little resistance from the Rush faithful. It was a different kind of album from what they'd done before, but one the guitarist is staunchly proud of.
"It was really a very satisfying record for us to make - it was tough - we'd come through an intense emotional experience - it was really exciting, we were writing in a different style - writing really from our gut. We wanted it to be as three-piece as possible -we were catching the spark as it happened and recording it - most of the album is just first takes. We didn't rerecord it, we didn't spend a whole lot of time fiddling around trying to get the best sounds possible - we were just trying to catch the spirit and we all feel we did that. I only really mention that because it was such a big departure from how we used to make records, and it just really re-sparked this whole excitement in our hearts and minds about working and recording together."
The 'Vapor Trails' approach is one they intend to carry on using into the future, and a recording technique they've re-used on the current 'Feedback' mini-album, recording some of the 60's songs they played in their very first groups. When I spoke to Alex the project hadn't yet been announced. However, his comments eased the fears many may have had that the Anniversary tour would mark the end of Rush.
"We've just finished doing a little recording project for something that's going to come out this summer," he concedes, "it was really a lot of fun to do, so all of us are fired up and really can't wait to get through this tour, take a little bit of a break, then start back in the studio writing the next record."
A new project eh? What could this be? Alex almost tells me but manages to hold back at the last minute. "Ahhh ... I don't know - the office may kill me," he laughs. "They want to keep it hush-hush - but we've done a recording and we hope it'll be coming out around the early part of the summer to coincide with the 30th anniversary, so I think they'd rather I didn't say anything about it -so I'd better not! It's a very fun project and it's our tribute to the music that inspired us."
When questioned further about 'Vapor Trails' his feelings about the whole project and Neil's return to work came flooding back in a wave of emotion.
"That record was ALL about feel," he says emphatically, "we were feeling so much. Neil drove from his place in the country in Quebec to Toronto - this was in January 2002 so you can imagine what the weather was like here. It was actually a mild winter we had that year but it was still cold and rainy and foreboding - and the closer he got to Toronto the darker the sky got - so you could imagine how he was feeling anyway. To get to Toronto and go through this whole period of walking softly, trying to get settled and trying to get comfortable with the whole idea of working and recording - and the whole idea of the responsibility and the commitment that it entails - it was all about how our hearts felt and how our guts worked. That's why it took us so long - fourteen months to make a record, in the old days we would have made three records in that time - but we needed to have the space and time and the lack of pressure, and be very open about what we were doing. We needed to be able to rewrite things at will and not just accept things because we wrote them, so when we were happy with a song it was recorded quickly and put to one side. A lot of that record represented so many resolutions in our spirit and how we viewed ourselves as people as well as musicians, and how we viewed ourselves as a band. It was a real turning point for us - and also we were reaching our late forties and being much more reflective about our positions in the universe and all of that."
So with this new-found spontaneous way of working, I take it nothing will be written for a new album until they reach the time set aside for it's creation?
"No, not yet." he agrees, "but it'll be spontaneous when we do - that's the way we prefer to work now -that's the way we enjoy it the most. We used to prepare everything, we used to record all our jams at soundchecks and catalogue it, and Geddy and I would spend weeks going through all these hour-long tapes and other bits and pieces. At the starting point of 'Vapor Trails' we realized that it's so much more fun to just turn up on the first day of writing - plug in and play and see where it goes, That's the rule that we have now, the whole process starts on that first day."
Before the last tour Alex and Geddy listened to all their records to try to put together the perfect set-list, dismissing anything that they thought was naïve or cheesy. Surely it'll be even harder this time.
"Well you know it's always hard, but I guess it hasn't been too bad this time" he states surprisingly. "We've been involved in rehearsals now for almost a week and a half and we're really flying through things. When we were preparing for the 'Vapor Trails' tour I think we only managed to get through two songs in the first week because we started with the songs we were going to play from 'Vapor Trails' - it really took a lot of work to get through the parts and the arrangements. This time we'd already gone through thirteen or fourteen songs before the first week was over -and that was basically just the 'Vapor Trails' songs and the songs from the past that are new to the set. Some of the songs we haven't played in a lot of years, and there are some songs that we've never played - but they came back to us very, very quickly. It's really funny how muscle memory works - you sit there for ages trying to figure out a piece that you'd written twenty years earlier, and you think "My God, how did I used to do this? I can't figure this out" Then after three or four plays - all of a sudden your hands go to the right positions and you realize how simple some of the parts are. So - getting this set-list together - basing it on what the set was for the last tour, and then trading out nine or ten songs I guess -it's been a little bit easier than it was for the last tour."
I wondered if Geddy had relented on some of the songs he'd previously said he didn't want to play, and if any of the ones they regularly play have ever become a chore to do?
"Well...we try to play stuff that we really want to play. I'm looking at the set-list now and there's not really anything there that I don't want to play" he says contentedly. "I know what you mean - sometimes you have to put in songs that are expected of you, but at the end of the day you've got to stand on that stage and really want to play that song for it to be convincing. This is what Geddy was getting at on the last tour - there were some songs that showed up on a website as fan favourites that people wanted to hear live. When we reviewed them they really weren't that interesting for us - at this point where we have so many other songs that seem more worthwhile to us to play. 'The Camera Eye' for example - that one shows up on a lot of lists and there are obviously a lot of fans who want to hear that live - including Andrew (MacNaughtan - Band photographer and creator of the Boys From Brazil documentary) - but we listened to it closely and for us it really hasn't stood up to the passage of time in terms of playing live - and it's a long song and takes up a lot of time that could be better used. The arrangement is very much a product of it's time - there are lots of other older songs that we brought back that are really exciting to play and sound really good in their new updated versions. I don't think there'll be any dissatisfaction or sense that we've missed anything out on this tour."
Another favourite on the Rush Interactive Network board is the side-long piece from 'Caress Of Steel' - 'Fountain Of Lamneth', "Yeah, like that's going to happen!" he laughs. "You know - that was important to us at the time and we were very proud of it. 'Caress Of Steel' was a transitional record - '21 12' wouldn't have happened without it. It was like a High School lesson - and now you're in University you don't really need to go back and revisit those things. Also it would take up such a huge chunk of the set -maybe if we do a seven hour set one day then we might try to fit it in."
On the subject of the new tour, I wondered if any of the old stage props would be making a re-appearance.
"We were thinking about bringing out the old robes," he says mischievously before breaking into a huge laugh, "but I don't think I'd fit into mine. Kimonos, slippers, scarves - oh my God! What were we thinking! It'll be a whole new fresh stage and lots of great stuff happening on the screen - we have quite a few little films that we've put together. I think we've approached the anniversary tour with a real sense of celebration - there's a lot of humour in most of the visual stuff we've done - we're hoping it'II be a blast for all the Rush fans who help us celebrate our 30th anniversary - especially the ones who've been with us for many years. I think it'll be a really special thing."
Having dispelled the latest rumour that they're splitting up after the tour, it seems like the band have never considered it an option, preferring instead to just let any negative feelings dissolve with time.
"No," Lifeson explains, "we never really plan that far ahead. There have certainly been a few points where exhaustion has temporarily painted a dark picture of what the future is. I do remember when we came back from Britain after the 'Hold Your Fire' tour - we were so exhausted - it was a long, grueling tour and almost as soon as we got home we started mixing the "A Show Of Hands' live album. That put us in the studio for about another six or seven weeks - we were so stressed out at that point that we ended up taking a whole seven months off after that. It was the first time that we'd taken such a big break, and I can clearly remember sitting in McClear studios - on the couch with Geddy and Neil, and we were all saying 'You know what? - I can't do this anymore', We were just so drained by this whole experience - we all said 'That's it for me'. So we all went home and agreed not to think about it - we all took some time off so we didn't make any hasty decisions about the band or anything - and we came out of it fine. It was just one of those moments - and I guess it's happened a few times since - but when we start planning a new record we all get excited by it - working together is still a fun experience, It's not like it's this incredibly big task that's looming - when we're talking about a doing a new record it's something that's still very exciting for us."
After the 'Different Stages' live triple-album, Lifeson was quoted as saying they'd had it with live recordings and would never do another one. With only one studio album since then they now have another one. 'Rush In Rio", on which Lifeson himself did the mixing.
"With 'Rush In Rio' we'd decided to do this DVD - that was the primary reason" explains the guitarist. "Atlantic Records originally didn't want to take the DVD - it was done for a different company - but I think in retrospect they felt that they were making a mistake and eventually wanted to be involved with the release. They'd had such great success with the Led Zeppelin package and maybe they didn't want to miss the boat. However they did ask if we would do a CD release of the set - which is basically the same mix - so the CD was a secondary thing that was something they wanted to do. We hadn't thought about doing a CD until they suggested it -we were more focused on the DVD, but the CD was no extra work as the mix had already been done."
The process wasn't without its problems though.
"The mixing was actually not that simple - it was a lot of work. James (Jimbo) Barton, with whom we'd worked on a couple of records before, engineered it - there were problems with conflicting schedules and some stuff not being ready in time - then we decided to work from the pictures. I wasn't really happy with what I was hearing in terms of the preliminary mixes - although I really didn't want to get too involved in it other than in a supervisory kind of way - but after popping in every two or three days to see how it was going, I kinda fell into being involved in it on a daily basis. We were in the studio every day from noon until 3am for about eight weeks. We had problems with the first studio we were in - we were there for about three weeks - it just wasn't sounding right so we canned it and moved to a different studio. We had to mix in 5.1. then we had to mix in stereo, then the documentary stuff needed some work - it was a real workload but in the end it was all satisfying. You work hard on something, and when it turns out right you're proud of the work that you've done."
Talking of the documentary, Rush have always been very private people - will they ever regret having done that? When someone mentions the soup for the 10,000th time or asks if Geddy found his shoes? Alex considers this carefully.
"If people mention it 10,000 times and they' re smiling each one of those times then it's not a big deal. I've watched it a couple of times - and yes, we are very private - we've always been that way - we've cherished our privacy and been very guarded about it. We're very lucky you know - we've got such a low profile for a band who've had as much success as we have - we don't have to go on tour with ten bodyguards - we don't have that kind of notoriety. We're three really normal people doing this crazy job that we do. I think it shows so much of our nature in that documentary. I think it shows us as the people we are - we like to laugh a lot - we like to have a good time - we care for each other - and I think all of that stuff comes through. I think it also comes out that we.re really rather regular guys and I think that's a good thing for people to know."
Also to coincide with the Anniversary, Mercury are finally releasing the 'Chronicles ' DVD, it's been out in North America for over two years, why did it take so long to come out here? Alex seems to think that maybe their profile had been too low.
"Well, I don't know. Maybe now there's a tour and there's some interest - I would speculate that they've been waiting for a tour or a release - something to raise our profile so that it'll sell better. I have no idea how things work over there these days - we haven't been there in a long time - and in fact the last time we came there was much indifference from Atlantic to us coming - we had very little support from the record company. Things have changed quite a bit now and we have a number of people at the company who are looking forward to us coming over - and who at least know our names," he laughs, "unlike the last time when it was, "Oh Eric, nice to see you Eric".
With the three of them each having been involved in CD's during down-time from Rush, the guitarist isn't too keen to get into doing another solo project like 'Victor' just yet. "Hmmm ... that was the perfect thing for me at that time." he explains, "it gave me a focus and gave me something to work on when the band weren't doing anything - Geddy wanted to take some time off - his daughter was just being born and he wanted to be home for at least a year. But I don't know ... at the moment I don't have the motivation to do one and I don't see the point in doing it just for the sake of doing it."
'Victor" was something he needed to get out of his system. "Yeah." he agrees, "I needed something that involved work and responsibility, away from Rush -and I learned a lot from that whole experience, I would love to work with some other musicians, and I have a studio, so it would be nice and casual and I could work whenever I feel like it I have hours and hours of material that I've roughly put together and had fun with - but as with Rush, the first day that you go in is when you feel is really your starting point - so until I'm actually driven to doing something like that. I'm not sure."
Alex sees outside work as being important to the continued future of Rush as both he and Geddy came back from the experience with new-found enthusiasm. "I think both albums played important roles - not so much 'Victor" because that was earlier when the band was still working together - even though we were having a break - but for Geddy I think it was really good for him to have done 'My Favourite Headache' when he did. He finished literally weeks before we started working on 'Vapor Trails' - and in that same period before we started. I produced a band from Pennsylvania called Lifer - and that was a perfect thing for me at the time too. It was a small budget project - it required a lot of work on my part, not only with regard to the music but to everything else to do with this young, angry band. The thing was, I needed to tune myself up before Rush went back into the studio in terms of how we approached arrangement and song-writing - and Geddy was the same, so we made a really good team when we met up at the studio."
Maybe working with a young and heavy band had something to do with the heavier direction of 'Vapor Trails'? Alex is doubtful.
"I don't know if it really did, or not - I think it just gave me confidence and tuned me up for it - I don't think I brought in anything I'd learned from them, the learning process was more on their part than mine. Possible the energy level and aggression of it -but Gedd and I knew well in advance what kind of record we were going to make because we'd already talked about it - it was always going to be more three-piece - it was going to be a little heavier, a little harder - those were the sort of qualities that we wanted in this record. We wanted it to really be about the three of us and our main instruments, not all the extra stuff - so we were always going to try to make a record that was harder and tougher. There are some really melodic moments on that album as well, but it's the most three-piece hard rock record we've made in a long time."
AIex has always had a great sense of humour, from his wacky equipment lists in the tour programmes, his endless stream or one liners in the documentary, to his now legendary off-the-cuff rants during 'La Villa Strangiato'. When Paul Gilbert famously had an accident with his Makita drill during Mr. Big's 'The Electric Drill Song', Alex helpfully drew a danger sign for their support band depicting a wide-eyed Paul with his hair caught in the drill, bearing the slogan 'This Is Not A Toy!' As the logical next step he has made his debut as an actor in an episode of the cult Canadian comedy 'The Trailer Park Boys'.
"Well. my wife Charlene turned me onto this show, she said I had to see it because it was exactly my kind of humour. She was right - I watched the second episode and totally fell in love with it. You know the premise of the show? It's about a trailer park in Nova Scotia - there are these crazy characters who all live in the trailer park and it's about their relationships. It's done in a mockumentary style where they have a camera crew following one of the characters and filming his life - of course it involves all the other characters and what they get up to on a daily basis. There's this one guy who's always trying to pull off a scam - and everyone has their own little peculiarities - the characters are so endearing and so funny, and sweet, and crazy. At the end of each episode there's a very tender moment - the whole episode is about the total insanity that's going on there, and it's all resolved in this sweet moment at the end. I thought it was a great idea for a show and it's done on a very, very low budget - so I fell in love with it and I let them know through a friend of mine, who knew the director, that I'd really enjoyed it. They got back to me and asked if I could do a cameo in an episode - so I said 'absolutely - I know every line of every episode'. So we corresponded - he then got back to me and suggested we base the whole episode around Rush coming to Halifax, and make it a bigger role. So after the first leg of the 'Vapor Trails' tour I went up to Halifax - we spent a couple of days with them and did my scenes, and finished it up in Toronto when we played here. The episode turned out great - I get kidnapped but it all turns out OK in the end - they're into their fourth season and just got American distribution on BBC America. It's very much a Canadian show but l'm sure it'll have a big cult following in the States - it's humour that anyone can get, although it's not so American. Canadian humour is more based on a lot of the shows we used to get from Britain - like Monty Python, which broke huge here years before it became popular in the US. Anyway - the characters are great - it's really well-written and kind of unique - you should check it out, I'm sure you'd really enjoy it."
Although we may never get to see it on British TV, the third season of The Trailer Park Boys is now available on DVD.
So with that I'll let Alex get back to rehearsing in a warehouse in Toronto, and wish him well for the tour and all the other things currently happening in his life.
---
Multimedia Review
RUSH - Chronicles DVD (Mercury)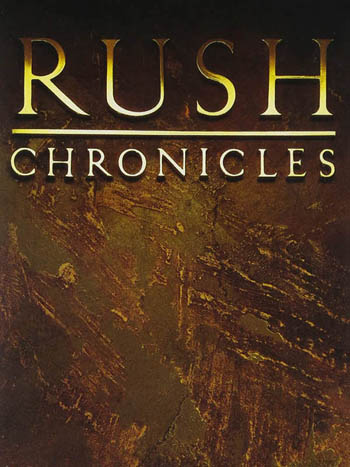 Originally released in 1990 on VHS Video, this collection of promo videos for songs such as 'Closer To The Heart,' 'The Trees,' 'Limelight,' 'Tom Sawyer,' 'Red Sector A,' 'Mystic Rhythms' and 'Time Stands Still' look very dated now. Dating from their pre MTV releases to their Mercury Records days in the late eighties, the main problem is that most of them follow the same format, namely a small snippet of film footage or graphics and then the band miming to the songs in a pseudo/live, live or studio setting. That applies to eight of the songs here. Things only start to get better with 'Mystic Rhythms' and 'Time Stand Still' where there is a little more to hold your attention, but it would have been nice to see the band without instruments in their hands for at least one song. And yes, I know it's from 1990, and that was how things were done then, but it's a bit of a paradox that the music has stood the test of time but the videos haven't. The special features don't give much away either, the only option being 'Select Audio Configuration,' (PCM or Dolby DigitaI 2:0), or 'Continuous Play, (On/Off). Not exactly stunning.
The only other feature on here that wasn't on the original video are two hidden tracks, promo's of 'The Enemy Within' and 'After Image.' And if you're like me you won't ever find 'em. There's no clues or indication as to where they are (yes, I know that's the whole point, they're hidden), and after days of looking I still haven't found the buggers. For those of us with less time/patience/savvy, please give us a clue.
So basically, not the best DVD I've seen as it could certainly have done with a few more extras. It's up to you. If you just want to update your format from VHS to DVD then get it. If you're not bothered, then don't. Andy B.