Charges Reduced In Trial Of Rush Guitarist's Son
By John Henderson, Naples Daily News, April 20, 2005
---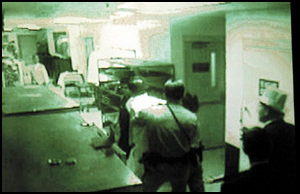 A judge on Wednesday reduced the charge that a jury is considering against the son of the guitarist for the rock group, Rush.
Justin Zivojinovich is now charged with a misdemeanor - resisting arrest without violence - instead of a felony.
Retired Senior Circuit Judge Charles T. Carlton's reduced the charge at the conclusion of the prosecution's case and instructed the jury to come back at 1 p.m. to continue with the defense case.
Defense attorney Michael McDonnell had argued Tuesday that deputies illegally charged Justin Zivojinovich on New Year's Eve 2003 with one count of resisting an officer with violence, a third-degree felony punishable by up to five years in prison.
That charge was reduced to a misdemeanor by Carlton, who left the case for the jury to decide, rather than dismissing it. Misdemeanors carry a sentence, upon conviction, of no more than a year in jail.
The defendant is the son of Rush guitarist Alex Zivojinovich, known professionally as Alex Lifeson.
McDonnell's argument was that when deputies took Justin into custody, at one point stretching his arms behind his back as they escorted him down the hallway of the Ritz-Carlton, Naples, Justin had committed no crime.
McDonnell also said that whatever had happened previously in the ballroom of the hotel wasn't witnessed by deputies, and under case law that had to occur before an arrest.
Justin Zivojinovich was accused of getting onto the house band stage at a New Year's Eve bash and being verbally abusive to Ritz-Carlton security, who called deputies.
Sheriff's deputies were among the witnesses to testify Wednesday morning.