Photos Dramatize 'Rhythm And Light'
By Scott Iwasaki, Salt Lake City's Desert News, June 17, 2005
---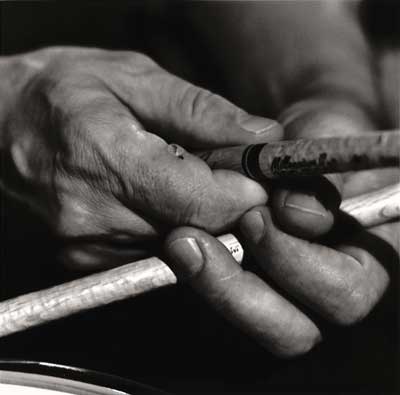 Carrie Nuttall created a book and exhibition of husband Neil Peart.
When photographer Carrie Nuttall met Rush drummer Neil Peart, she had never seen him at work.
They met while Peart was still healing from the death of his wife from cancer, and a few months later the death of his daughter in a automobile accident. [sic (webmaster note: the events happened in the reverse of the order stated here...) ] "We had a mutual friend who introduced us," Nuttall said by phone from Los Angeles. "I had no idea what he was like as a musician."
That changed in 2000, after Nuttall and Peart planned to get married. Peart, who felt he had mourned long enough, decided to give playing in the band another chance. And Nuttall, who was getting her professional career started, wanted to create a gallery of photos of her new husband.
That gallery exhibit eventually became the basis for Nuttall's black-and-white photo book "Rhythm & Light" (Rounder, 80 pages, $40).
Being a drummer myself, I've listened to Rush since I was kid. At one time I wanted to be Neil Peart. And my wife is an amateur photographer. So when the opportunity to interview Nuttall came up, I jumped at it.
Nuttall was the first "outsider" to actually witness and document the creation of a Rush album from lyrics to music to album design to touring. "I always knew he was focused," Nuttall said, "but I had never seen him in the role of drummer and lyricist before we got married. And I wasn't prepared for it. You hear stories, but until you've seen it firsthand, you have no idea. And that's what it was with me seeing Neil take on those roles."
Nuttall documented with photographs Peart's creative road back into Rush, which just happened to involve the creation of the band's 2002 comeback album, "Vapor Trails." "We had only been married a couple of years when the project emerged. We live in Los Angeles, and we both knew he'd be stuck in a recording studio in Toronto for months. So I got the idea to do an exhibit surrounding Neil's drumming."
As time went on, Nuttall realized that not only was she going to be able to form a photo exhibit, but she also had the makings of a book. "This whole thing basically evolved a little at a time. As the book project began to take shape, I had met Neil's drum teacher, Freddie Gruber."
Nuttall asked Gruber to write some comments about some of the photos. And they became the book's text. "Freddie is an enthralling man. And I wanted someone who knew what was going on in Neil's mind as he drummed, to give some depth to the book. When I asked Freddie, he was willing to do this."
She shot rolls and rolls of film for the project. "I'm an old-fashioned kind of photographer. I like using film and not digital camera. I like holding proofs in my hands. I like loading and unloading the camera.
"The hard part was trying to narrow down the photos to the ones that captured the intensity and beauty of what Neil was doing. I spent hours in the darkroom making the proofs and prints."
Nuttall laid out the photos for the exhibit and used them all for the book. "I wanted to make the book like a story and the exhibit photos worked well."
This was the first time Nuttall, who also photographs other musicians for publicity work, had used one subject over an extended period of time. "There were times when I thought I had exhausted all the angles for a shot, but then I'd wait and something would come up. I think this project helped us both see each other in a working environment. And I learned quite a bit about Neil.
"I'm proud of this book and it has brought us together in a way that we wouldn't have connected otherwise."