Neil Peart/RUSH Auction Raises Money For Charity
Rush.com Press Release, ~June 27, 2005
---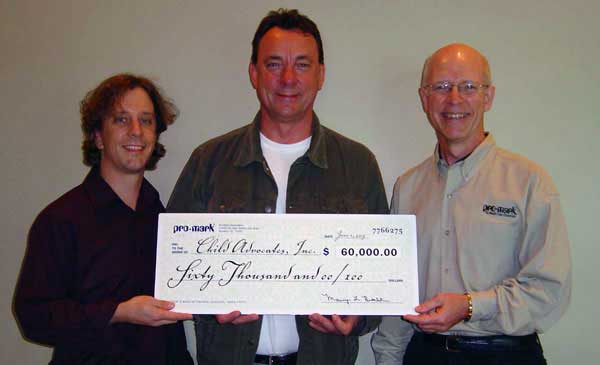 Pro-Mark Corporation, the world's largest manufacturer dedicated exclusively to the design, production, and distribution of drumsticks, mallets, and percussion accessories and legendary "RUSH" drummer, Neil Peart, joined forces and recently completed a promotion that raised $60,000.00 for a Houston-based charity.
The charity, Child Advocates, Inc., works with children by providing court-appointed advocates to be the voice for those who are victims of neglect and abuse.
Pro-Mark's Director of Sales and Marketing, Pat Brown, explained how the charity auction came about. "RUSH was celebrating its 30th Anniversary with a very high profile tour that recently concluded", Brown said. "Of course, RUSH is huge, and Neil Peart is one of our top endorsers, so we wanted to do something really special to celebrate such an important milestone."
He continued, "Initially, the idea was simply to produce a limited production run of Neil's Japanese oak 747 autograph model and make them available to the general public for a specific time period. But, the more we talked, the more we wanted to make it even more special, and we began to entertain the idea of a charity auction."
"We contacted Neil to pitch the idea, and he loved it", Brown explained, "but he left the choice of charity to us. Coincidentally, Mark Petrocelli, one of our key staffers here, had seen a report on television the night before that detailed the journey of Houston resident Derrick Davies. Derrick had reached a personal 'crossroad' and, in order to more clearly define his purpose in life, decided to hike the entire 2650-mile-long Pacific Crest Trail from Mexico to Canada. As word spread, Derrick saw the publicity as an opportunity to help people in need, and so began soliciting contributions on behalf of Child Advocates. Petrocelli sensed a connection, contacted Child Advocates and, with that, everything fell into place."
Brown continued, "To create a very special imprint, incorporating our logo and the RUSH 30th Anniversary logo, Jenifer Tooke, our Artist/Customer Service Rep collaborated with Neil, and Johnny Douglas...a Houston-based artist who is well-known in his own right. We chose a special ink, and mixed with it an additive actually used to print Japanese money-it makes the ink appear to change color as you look at it-and imprinted just 30 'Limited Edition' pairs. Those 30 pairs were shipped to Neil. He played with each pair during the tour, and returned them to us. Then he, along with Pro-Mark president Maury Brochstein, each signed 30 Certificates of Authenticity with original signatures."
"Mark, Kevin Radomski our Director of Artist Relations, and I, met to formulate the 'rules' of the auction. We then met with our web master and our advertising agency to create the web page and supporting print ads", Brown recalls. "All during this process, we speculated at how much money we'd raise. We all agreed that, with luck, we might raise $15,000.00. None of us expected what happened next. Within about a week, we were already at $15,000.00 and growing! When the auction finally concluded, the total was $60,000.00."
"When it was over", Brown said, "we were stunned, and Neil was nearly speechless. The fact that this is one of the highest single donations that Child Advocates ever received is particularly satisfying."
He noted, "The highest single bid was for $5000.00. That bidder received a shadow-boxed frame containing the sticks, a velvet bag made for the sticks, an exclusive photo of Neil, the #1 Certificate of Authenticity, and a drumhead played by Neil during one of the shows."
"There are so many people to thank who made this possible" Brown said, "from Pegi Cecconi and the staff at the RUSH management office, to our factory personnel, to Neil's tech Lorne Wheaton. Without them, none of this could have happened."
To make a donation, please visit www.childadvocates.org. For more information, please contact Pro-Mark Corporation, 11550 Old Main Street Loop Road, Houston, TX 77025
Tel: 713.314.1100
Fax: 713.669.8000
Toll Free: 877.PRO.MARK
E-mail: info@promark.com
Web: www.promark.com