All The World's A Stage
By Paul Elliott, Q Classic's Pink Floyd & The Story Of Prog Rock, July 2005, transcribed by pwrwindows
---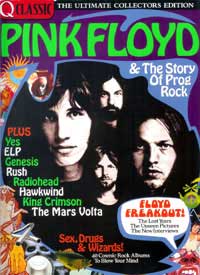 Well into their fourth decade, stadium-filling, egg-headed power trio RUSH are still rock's biggest cult band. Paul Elliott returns to a bygone age of sci-fi concept albums, silk robes and fluffy carpet slippers.
ON 17 APRIL 1976, a funny thing happened to Thin Lizzy's Scott Gorham: his initiation into the strange world of Rush. The location was Pekin, Illinois, a small town 130 miles from Chicago. Rush were headlining a show at the Memorial Arena, with Lizzy as one of the supports.
Gorham figured he knew what to expect. Rush were a terribly serious band. They played complex virtuoso rock, wore silk robes on stage and had an almost professorial air. Their new album, 2112, a socio-political sci-fi epic, was on a different cerebral plane to the drinking and fighting songs on Thin Lizzy's latest record, Jailbreak. "We were street rock and they were on the progressive side," offers Gorham. "I thought they'd be these really introverted, geeky guys."
He was in for a surprise. The laid-back Californian had witnessed some shocking sights during his tenure in Thin Lizzy. Some of it, he says, "went beyond human boundaries". But what Rush had in store for him was simply weird. It was a couple of hours after the show had ended when Gorham heard a knock at the door of his hotel room. Loaded on booze and weed, and busy entertaining two local girls, he cautiously opened the door and peered out. When Gorham saw the three figures standing outside, he nearly dropped his spliff.
Rush were dressed as characters from the late-'50s American sitcom Leave It To Beaver: guitarist Alex Lifeson as dad Ward Cleaver, his long hair slicked back, wearing a smoking jacket; bassist/vocalist Geddy Lee as mom June Cleaver, hair in pigtails, wearing a floral-print night dress; and drummer Neil Peart as son 'Beaver' Cleaver, in school uniform.
Gorham invited them into the room, where the trio began to act out scenes from the TV show, to the bewilderment of the two girls sitting on the bed." At first we were all totally confused," recalls the Lizzy axeman. "We were stoned, and this was just so bizarre." By Gorham's reckoning, the act went on for 45 minutes, by which time he was laughing so hard there were tears rolling down his lace. "Talk about an ice-breaker. I thought, Oh, that's what they're really like."
&nbsp
GORHAM WASN'T THE first - or the last - to have trouble figuring out Rush. In a career spanning more than 30 years, the Canadian three-piece have been routinely misunderstood: by critics, their record label, even their own fans. Rush have never fitted in: to some they're just another heavy metal band with a squeaky-voiced singer; to others they're too clever by half, not rock'n'roll enough. In reality, Rush have always stood alone; always evolving, and the very definition of a progressive rock band.
"Sometimes we're proggy, sometimes we're metally," says Geddy Lee. "It's kinda hard to put us in a category." Or, as Neil Peart once noted, "You either love Rush or hate us."
The Rush story began in earnest in 1968, when Lifeson and Lee first played in a band together in their hometown of Willowdale, Ontario. Both were 15 years old. Lifeson's parents were Yugoslavian, named Zivojinovich; Lee's were Polish Jews who fled to Canada after the war. His parents were survivors of the Nazi concentration camps at Dachau and Bergen-Belsen. Lee was born Gary Lee Weinrib but was nicknamed Geddy from the age of 12. "My mom had a very strong accent, and when she called to me, the kids in the neighbourhood thought it sounded like 'Geddy', and it stuck."
In late '68 Lee and Lifeson formed Rush with drummer John Rutsey, and after three years of diligent gigging the group had become a top draw in clubs around Toronto, playing covers of songs by Cream, The Who and Led Zeppelin. In 1973 they made their recording debut with an independently released single: a version of Buddy Holly's Not Fade Away backed by a band original, You Can't Fight It. By the end of the year, they'd cut their first album, initially released on their own Moon Records imprint, and later picked up by major label Mercury after the album's most powerful song, Working Man, became a radio hit in Cleveland. Mixed by Englishman Terry Brown - who would work on every Rush album for the next 10 years - the debut buzzed with youthful energy but was very obviously the work of major Led Zeppelin fans. Lee's high-register yelp, for one, owed much to Robert Plant, and after first playing Working Man on air, Cleveland radio station WMMS-FM was inundated with calls from listeners eager to know when the "new Zep" album was coming out.
Rush scored some high-profile local gigs supporting ZZ Top and the New York Dolls, but by July '74, John Rutsey, suffering from ill health, wanted out. His replacement, Neil Peart, had just returned to his native Hamilton, Ontario following a spell in London, where he had hoped to join an English band. Peart: "English rock, that whole progressive scene, was a big inspiration to me." At first, Lifeson felt intimidated by the new drummer's sheer drive and fierce intellectualism, but once accepted, Neil helped transform Rush into a truly progressive rock act. Peart was both a technically brilliant player and an aspiring lyricist with grand ideas. For Rush, a whole new range of possibilities was opening up.
The group toured for the best part of six months, playing 85 shows, supporting the likes of Kiss and Uriah Heep, and setting a precedent for the relentless gigging of years to come. They released their second album, Fly By Night, in February 1975 - it was a quantum leap forward. Admittedly, the owl on the cover looked not so much menacing as just plain silly, but the powerful opening track Anthem - its frantic riffing driven by the agile Peart - showed that Rush had upped their game. The album's key track, though, was By-Tor And The Snow Dog. This wasn't the first lengthy song Rush had recorded, but where the seven-minute Working Man was as simple lyrically as its title suggested, and elongated by an instrumental section rooted in late-'60s blues-rock, By-Tor... was more ambitious by far. It was a classic tale of Good versus Evil - with By-Tor, "knight of darkness", in the black corner and the Snow Dog in the white corner. The drama unfolded over eight minutes and 37 seconds; the battle played out as a duel between Lifeson's wailing guitar and Lee's growling bass effects. Peart's lyrics were similarly fantastical, far removed from the prosaic scuff Lee had written for the first album. Although Lee now admits chat, even having sung By-Tor... for 30 years, he still doesn't fully understand its opening Line: "The Tobes of Hades..."
"I really have no idea what 'tobes' are," he admits. "I guess it's a little late in the day, but maybe I should ask Neil... You know, By-Tor was actually very tongue-in-cheek. We were just goofing around. But it's a very significant song. We needed a concept to fit the musical style we were going for. We dug it so much, it sent us into that whole area of science-fiction or science-fantasy rock."
It was an area that would inspire much of the most well-loved music of Rush's career - but not before nearly ending it. The band's third album, Caress Of Steel, saw them expand upon the epic fantasy theme with two overblown tracks, The Necromancer and The Fountain Of Lamneth. Both were heavily inspired by Yes and Genesis - described by Lee as "inspirational, more like teachers than rivals" - and by the writing of JRR Tolkien, previously referenced by Peart on Fly By Night's Rivendell. The Fountain Of Lamneth was 20 minutes long and took up the entire second side of the album. Unfortunately, though, it just wasn't very good.
"Caress Of Steel was a pretty big flop," concedes Geddy Lee. "We really put a lot in to it. You can almost smell the hash oil. When we delivered the album to the record company there was just this blank look, like, What the hell is this?"
There were accessible tracks on Caress Of Steel - the rattling Bastille Day, the sweetly nostalgic Lakeside Park - but as a whole the album was impenetrable, even dull. Producer Terry Brown admitted as much at the time: "From an outsiders' point of view, it is very difficult to get into Caress Of Steel," he conceded, "but there are some great tunes on it."
Mercury Records didn't agree. There was even talk of dropping Rush. "We felt the pressure," says Geddy. "Let's just say we weren't being encouraged. We were musos first and songwriters second. But the record company was saying to us, Why can't you be more like Bad Company? It was quite a big difference from Working Man to The Necromancer. They made it clear that this wasn't why they signed us."
That wasn't all: attendances at Rush gigs were so poor that the band dubbed their next jaunt, only half-jokingly, the Going Down The Tubes tour. Lee: "We can laugh now, but at the time it wasn't funny." At the end of the tour, Rush were reportedly in debt to the tune of $350,000. There was only one option.
Recalls Geddy: "We had one more record on our deal, and we decided that if we were going down the drain, we may as well do what we wanted."
The result was 2112, the most unlikely career-saver imaginable. It was, quite emphatically, not a Bad Company album. "The lack of support we received for Caress Of Steel really pissed us off," said Lifeson. "And that anger helped fuel 2112." According to Lee, "2112 was our way of saying to the record company, This is us. Leave us alone." The album's title track, another 20-minute behemoth, was in a different league to The Fountain Of Lamneth, both musically and lyrically. Combining progressive-rock complexity, heavy metal power and a memorable tune, Rush had finally defined their sound. "We found our personality," says Lee. In addition, the song's storyline, a science-fiction adventure, carried a bold and ultimately controversial political statement."
Peart based the narrative on the 1937 novel Anthem, written by philosopher Ayn Rand, a self-proclaimed "advocate of reason, egoism and capitalism". In 2112, the anonymous hero challenges, and is eventually crushed by, an authoritarian regime. The album artwork featured the emblematic image of a naked man facing a red star, which for Peart represented "the abstract man against the masses. The red star symbolises any collectivist mentality." In March 1978, nearly two years after the album's release, the NME (belatedly acknowledging Rush's existence) cited 2112 as evidence that the band were crypto-fascists. For Geddy Lee, who suffered nightmares as a child after his mother told him of her experiences during the Holocaust, the accusation remains both mystifying and insulting.
"I was an innocent bystander when that interview happened," he recalls. "This guy from the NME and Neil really went at each other. They were talking about socialism versus laissez-faire capitalism, and in print the guy made out that Neil was some kind of capitalist propagandist. It was outrageous, shabby journalism. It made my blood boil."
Not all press reaction was as hostile. Sounds, the first UK music paper to pick up on the group, heralded 2112 as "the ultimate concept album". Better still, it sold 200,000 copies in its first six months, soothing Mercury's anxieties. Even Scott Gorham was "blown away" when he watched Rush playing the material live. "The musicianship was incredible," he remembers. "All that musicality, all the intricacies, and all that power from just three guys. This wasn't like all the pansy shit you'd hear from some progressive bands - they really powered down on it. We respected the hell out of them."
According to Lee, "2112 was the first successful Rush album. To me, it was effectively the first Rush album." And it retains a special place in his heart, even if the band photo on the inside cover - girl's hair, lip-gloss, silk kimonos and tight, tight pants - raised a few questions about their sexual orientation. "We were musicians searching for an identity," he pleads. "It was a desperate search. We tried all kinds of onstage apparel. That's when we entered into our absurdly prophetic robes period.
The hard-won success of 2112 set Rush on a roll. They ended '76 with the release of a double live album, de rigueur for hard rock acts in the '70s. It was titled - with a Shakespearean flourish - All The World's A Stage. After further touring in North America alongside Aerosmith and T.Rex among many others - they made their first visit to the UK in June 1977, playing a handful of gigs before pitching up in Monmouth, South Wales, to record at Rockfield Studios, a converted farm surrounded by green fields.
"We were very enamoured with British prog- rock bands," explains Geddy, "so I guess the studios over there held a certain mystery for us. We thought it would be a gas to make a record there. We were absorbing good vibes. It was a beautiful place, jolly women cooked us hearty meals..."
THE SETTING HELPED inspire what many believe to be Rush's greatest work of the '70s: A Farewell To Kings. The album's centrepiece was the 11-minute epic Xanadu. It wasn't all their own work - Peart's lyrics were lifted almost verbatim from Samuel Taylor Coleridge's visionary 1798 poem Kubla Khan - but it was, undoubtedly, the most spectacular piece that Rush had ever created. It also found the drummer deploying a ridiculous array of percussive instruments (including four kinds of bells) for full dramatic effect." It's unbelievable what Neil had going on back then," laughs Geddy. "He had drums we'd never heard of. We recorded a lot of those percussion things at four in the morning, out in the courtyard. That's why you can hear birdsong in the in intro..."
However, while Rush were holed up at Rockfield, crafting intricate songs about black holes (Cygnus X-1) and "drinking the milk of paradise" (Xanadu), elsewhere in the UK the punk revolution was in full swing. In the week that Rush arrived, the Sex Pistols' God Save The Queen was at Number 2 on the chart. War had been declared on rock's old guard. But if Rush were in the firing line, they weren't concerned. Neil Peart: "Punk didn't take anything away from me. It didn't hurt me. I thought the Sex Pistols were excellent. Johnny Rotten was tremendous, the guy had charisma."
"Punk legitimised us immediately," Geddy says."We were adept and competent musicians. Punk threw us to the top of the pile. Seriously, punk had a wonderful attitude that we admired. Why worry? There was no way we were ever going to be considered hip." For all their seriousness, though, there was still a collective streak of self-awareness and even self-deprecation running through the group: an ability to step back and appreciate life's little absurdities, their own included. This much was evident when Rush toured the US in '77 in support of A Farewell To Kings with infamous boozy Brit rockers UFO in tow. UFO may not have shared Rush's loftier sensibilities, but the two groups hit it off, with their waggish bass player Pete Way taking great delight in sending up the lyrics to Xanadu.
"Pete used to call me 'Glee'," says Geddy. "He'd say to me [affects cockney accent], Glee, are you still drinking the milk of paradise? Still breaking your fast on honeydew? It was hilarious. They loved to point out the absurdity of our music."
"We all liked a drink and a bit of the white powder," admits Pete Way now. "Rush's music was very different from what we were doing. I don't think I'd have been able to concentrate for that long [laughs]. Offstage, though, we all got up to loads of mischief. I'd love to say it was the spirit of rock 'n' roll, but it was more the spirit of the school playground."
The mischief reached a peak the night Geddy walked out on stage across the white shag-pile carpet Rush had spread across the boards, to see a pair of fluffy slippers next to his mic stand; the work of UFO's road crew. "They were nailed to the stage," grins Lee. "I couldn't believe it."
"Oh yeah, the slippers," recalls Way with a laugh. "We also stuck a kids' Mickey Mouse drum kit in front of Neil's kit before one show. Very juvenile."
Inevitably, booze was integral to the bonding process. In 1979 Peart claimed, "We don't rage out every night, because playing well is important to us." But as Geddy now admits, "You couldn't hang out with a band like UFO for 10 minutes without having a drink. And being good old Canadian boys, we could take our liquour." Scott Gorham concurs: "The guys in Rush had some hollow legs." As Geddy once noted of Alex Lifeson, "A coupla martinis and the guy would do anything." It's a comment that has acquired particular resonance since the guitarist's arrest in Naples, Florida on New Year's Eve 2004 after a drunken fracas with police; all incident for which he received a year's probation.
If Rush liked a drink, it was hardly surprising, given a touring schedule so grueling that one trek was dubbed the Drive Till You Die Tour. There was also pressure to deliver albums quickly, and Hemispheres, the band's sixth studio set in four years, suffered as a consequence. The lengthy conceptual track Cygnus X-1 Book II: Hemispheres was as convoluted as its title: the narrative muddled, the music stilted. There were better songs on the record (notably, the mad-genius instrumental La Villa Strangiato), but on Cygnus..., the big number, Rush sounded trapped. Shortly after the album's release, Lifeson confessed, "We've taken the concept piece as far as we can."
"That was the turning point," admitted Peart, some years later, "We felt like machines, and all of us were crippled by that."
"Hemispheres was very...dense," concedes Geddy. "We kept expanding the music, making it more complex, and we burned ourselves out on the concept. The music was becoming slave to the concept, instead of being lifted by it. We were suffocating, becoming formulaic. It was time to break the mould. We thought, Let's start writing smaller movies..."
A NEW RUSH ERA began with a new decade. January 1980's Permanent Waves introduced a more streamlined, modern incarnation of the band. "We wanted something more succinct," offers Geddy. One song, The Spirit Of Radio, was the prime example of this fresh approach. Distilling the essence of Rush in to just three minutes, it gave the band its first hit single: Number 13 in the UK. The new era was up and running, the trio's long-term future secured.
The follow-up album, 1981's Moving Pictures, further refined Rush's new wave-influenced hard rock sound and was widely acclaimed as their best yet, going on to become their biggest seller to date (Lee: "There was a sort of permanency and legitimacy that came along with the success of Moving Pictures"). Since then, Rush have continued to make challenging, progressive music. They weathered countless musical storms throughout the late '80s and '90s, but in truth the only serious threat to their continued existence came after Neil Peart suffered a double tragedy: his 19-year-old daughter Selena dying in a car crash in 1997, and his wife Jackie succumbing to cancer just a year later. Speaking to The Calgary Sun in 1998, Alex Lifeson said of Neil: "I don't think he will be the person he was, but hopefully, eventually, he'll be able to find joy in all the things he did in life before."
Lifeson's instincts were right. When Peart felt ready, Rush regrouped to record 2002's Vapor Trails. It was, says Lee, "a very difficult album to make, for Neil especially. But Neil's moved on with his life, as much as any person can."
In September 2004, Rush played their first British gigs in 12 years as part of their 30th anniversary tour. "It was really satisfying for a number of reasons, a lot of them personal," Lee says. "To be back after a sad period, to go through all that and then be back playing again, that was a wonderful feeling. We felt that our music still had something to say."
For Lee, looking out at the ecstatic and, on occasion, air-drumming audiences at those 2004 shows was a heart-warming experience." I couldn't help but smile. That joy they're feeling comes right back to us." But there is another reason for Lee to be proud. Recently, he and his 10-year-old daughter watched the movie School Of Rock. In the scene where teacher Dewey Finn, played by Jack Black, hands out CDs for his pupils' rock history homework, the schoolgirl drummer is given a copy of 2112: the bloody-minded, prog-metal masterpiece that saved Rush's career all those years ago.
Geddy laughs: "At last, after seeing that movie, my kid finally thinks her dad rocks."
---
Prog Fan: Nicky Wire
Manic Street Preachers' old-school-metal loving bassist salutes "the free masons of rock"
"My older brother Patrick went to see Rush at Stafford Bingley Hall in 1981, on the Exit...Stage Left tour. I was too young to go, so I was very jealous. I got into Rush because all the older boys liked them. I was into Whitesnake - proper Whitesnake, Live In The Heart Of The City - UFO, Gillian...all this stuff I heard on Tommy Vance's radio show.
"Their music draws you into another world. Rush are like a secret society. They're the Freemasons of the rock world - like a rock version of Radiohead. They've never sold out to anyone, yet they can still play gigs all over the world to 50,000 people. Rush are the greatest and biggest cult band of all time. "My favourite album of theirs is A Farewell To Kings. It was recorded in Wales, which made it feel that little bit more special - and that track Xanadu is amazing. Geddy Lee plays bass on that song like a lead instrument. If I had a millionth of Geddy's ability...
"And then you've got Alex, whose playing is a little rougher - he gave them that punk edge. Check out Lakeside Park. I think Mick Jones nicked Alex's flange effect for some of The Clash's London Calling album. Listen to Lost In The Supermarket if you don't believe me.
"The rest of the Manics are also into Rush. We had the lyrics from The Spirit Of Radio printed at the bottom of our setlist on the last tour. Having gone through the process of being in a band, I think they're some of the greatest lyrics ever."
---
Quantum Leap
Jump into the void with these 10 stratospheric Rush moments

Working Man
Deeply in debt to Led Zeppelin and Cream, but still a mighty blue-collar anthem and a model of elemental rock power. Hear it on Rush (1974)

By-Tor And The Snow Dog
The first of many epics, proving Rush were far more than just Zeppelin sound-alikes. The 'battle' section has all the knockabout fun of '70s pro wrestling. Hear it on Fly By Night (1975)

2112
An existentialist sci-fi drama, the longest song in the Rush catalogue, and also the most celebrated: 20 mins 33 secs from busy Overture to cataclysmic Grand Finale. Hear it on 2112 (1976)

Xanadu
Coleridge's classic verse reborn 160 years later as a pomp-rock masterpiece. Contains some of the most fastidious percussion in rock history. Anyone for vibraslap, temple blocks and bell tree? Hear it on A Farewell To Kings (1977)
Cygnus X-1
A terrifying journey into the black hole of Cygnus X-1 - and a song that rocks harder than the bridge of the Starship Enterprise during a meteor storm. Hear it on A Farewell To Kings (1977)

La Villa Strangiato
Bizarre, jagged instrumental inspired by the weird dreams of Alex Lifeson. "The title," says Geddy, "is a bastardisation of Spanish and Italian. It refers to an imaginary place." Hear it on Hemispheres (1978)

The Spirit Of Radio
A Top 20 UK hit in March 1980 that defined the modern Rush and became one of the greatest rock singles of all time. Even that surprise reggae breakdown works. Hear it on Permanent Waves (1980)

Tom Sawyer
The ultimate expression of Rush's clinical power. One rock critic recently called Dave Grohl "the world's greatest living drummer". That person clearly hasn't heard Tom Sawyer. Hear it on Moving Pictures (1981)
YYZ
Named after the three-letter code for Toronto airport, this tricksy, King Crimson-like instrumental has Rush showing off their chops. No other band can play quite like this. Except, perhaps, King Crimson. Hear it on Moving Pictures (1981)

Secret Touch
Geddy Lee's personal favourite. "I love the sentiment in the lyrics, and it has a relentless quality. Musically, it really rocks." Hear it on Vapor Trails (2002)
---
[Excerpt] 40 Cosmic Rock Albums: Your Essential Guide To The World Of Mind-Blowing Music Adventures - From The '60s To The Present Day
By Mark Blake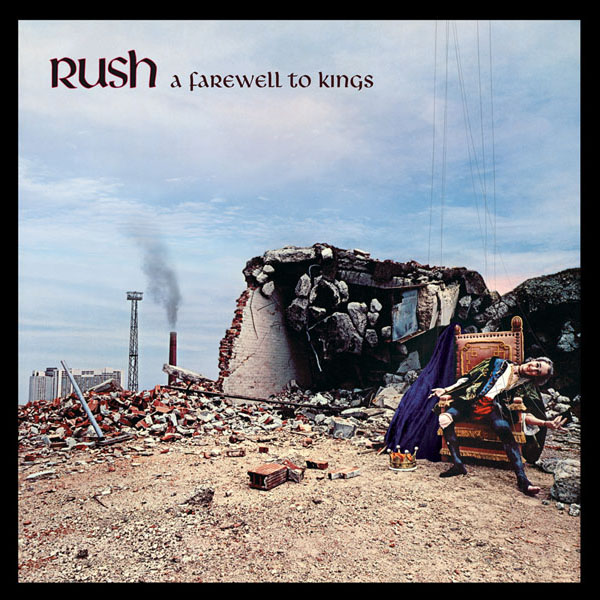 Notes
Label Mercury
Released (1977)
Personnel Neil Peart (drums, orchestra bells. tubular bells. temple blocks, cowbells, wind chimes, bell tree, triangle); Geddy Lee (bass and 12-string guitar, Mini Moog, bass-pedal synthesizer, vocals); Alex Lifeson (six- and 12-string electric and acoustic guitar, classical guitar bass-pedal synth)
Further Listening 2112 (1976)
#6 A Farewell To Kings
Prog rock with riffs; heavy metal with brains.
IN THE 1970s, the parallels between prog rock and heavy metal were numerous: the pomp and ceremony, the elaborate hair, the even more elaborate logos. Few bands straddled both camps as ably as Rush. Once the UK had sold its most bombastic groups to North America. the continent began breeding its own in their image. With many of those pioneers orbiting the stadium circuit, it fell to copycat bands to fill the void of theatre and university gigs. Step forward Canadian three-piece Rush.
While its predecessor, 2112 was their breakthrough album, this fifth studio set, crafted in Monmouthshire's isolated Rockfield Studios while punk raged away in the outside world, fine-tuned its approach. A Farewell To Kings had all the customary reference points: a sci-fi concept and bravura musicianship inspired by Brit heroes such as Yes, welded together with Rush's passion for jagged, splintering heavy rock.
The centrepieces are usually accepted to be the tumultous, space-tripping Cygnus X-1 and Xanadu, an 11.06-minute interpretation of opium-guzzling 19th century poet Samuel Coleridge's most famous verse. But the now-forgotten title track does all of the above in marginally less time, with Neil Peart presiding overtime signatures that would break a lesser drummers wrists, and guitarist Alex Lifeson dispensing volley upon volley of head-splitting riffs. The effect is brutal but clinically precise: like being mugged by a trio of brain surgeons.
The '80s saw Rush evolve into a lighter, but no less cerebral, musical group. But this earlier deployment of hard-rock noise and scientific precision lives on in smart-alecky modern rock trios such as Placebo and Muse. As a memento of Rush's silly golden age it just doesn't get any better.
Geddy Lee, Rush's resident yodeller and reluctant poetry fan goes back through time and space.
What do you remember about making A Farewell To Kings?
We did it at Rockfield Studios in Monmouth, Wales, and we started off working normal hours, but by the time we finished we were beginning after dinner and working all the way through the night. I still like it as an album. For us, it was a breakthrough. We had a new angle to work with, so it was fun to write. It finally felt like we were moving forward.
Caress Of Steel, 2112, A Farewell To Kings...How do you regard that sword 'n' sorcery era of Rush now?
Would I go back there? No. But at the time it felt very natural and honest. We genuinely liked that stuff.
Sadly, nowadays, rock songs based on the poetry of Samuel Taylor Coleridge appear to be a thing of the past. What did you think when first given the lyrics to Xanadu?
Xanadu was the real big track of that era, but I had a hard time identifying with it - even when we were rehearsing it for the album. The lyrics were Neil [Peart's] creation and I felt very far away from that song, particularly the lyrics.
I'm a major film nut though, and the Coleridge poem and Citizen Kane are very much alike. We always said we were writing fantasy sound tracks. The more we played it the more I liked it, but it's still a bit much for me even now. And there were all the drums Neil used on that song... When we were rehearsing it again for the last tour, we were wondering, "Is Neil going to bring out the bells?"
What's next for Rush?
I'm not really sure. We're in a good headspace right now. Our 30th anniversary tour pooped us out. We're great ones for making fun of these occasions, but to stick together as we have done - and then to have so many people come to see us - was great. But we've how had seven months off, and that's enough for anyone to get rejuvenated. We plan to start writing again. But it all depends on what we come up with. Is it any damn good or not?