Rush Marks Career Milestone
Band to celebrate 30th anniversary with the definitive double DVD / double CD extravaganza RUSH - R30, Set for US release November 22 on Zoe Vision / Rounder Records
Zoe Vision/Rounder press release, October 18, 2005, transcribed by pwrwindows
---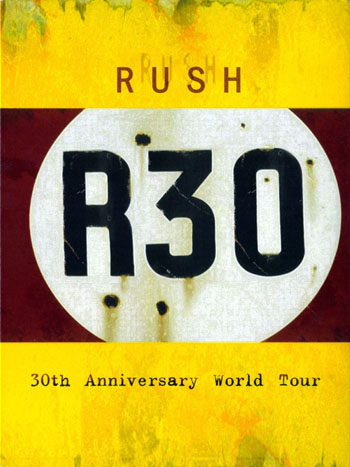 Not many popular rock bands last 30 years and even fewer can still make viable music that far into their career. But Canadian power trio sensation, Rush, continues to defy convention, recording new material and releasing the kind of groundbreaking albums that have defined them since their self titled debut in 1974.
Since then, bassist and vocalist Geddy Lee, guitarist Alex Lifeson and drummer Neil Peart have been through numerous evolutions, each of which helped them blaze new, revolutionary trails for music and musicianship. They were at the forefront of the heavy metal and progressive rock explosions, played synthesizer-fueled rock long before its heyday and addressed philosophical and literary topics in their lyrics that were virtually unprecedented.
They also have compiled a string of unparalleled concert albums that illustrate why they have long been considered one of the best live bands in the history of rock. To celebrate Rush's 30th Anniversary, Anthem Film & Television and Zoe Vision/Rounder will release the multi-CD and DVD package Rush-R30 on November 22, 2005 (US & Canada/ November 28 UK & Europe).
The first DVD captures the band's $21-million grossing, sell-out 30th Anniversary World Tour and was filmed with 14 hi-definition cameras in 16x9 widescreen format at the Festhalle, Frankfurt Germany on September 24, 2004.
The set list spans the band's diverse 30-year career, and includes fan favorites "Xanadu," "The Spirit of Radio," "Working Man," "Tom Sawyer," "Subdivisions," "Earthshine," "2112," "Limelight," "Between the Wheels," which hasn't been performed live in 20 years as well as tracks from 2004's covers EP Feedback, including "Summertime Blues" and "Crossroads." Most of all eighteen studio albums are well represented through a non-stop energetic set of 22 electrifying songs.
The second DVD is a historical retrospective that features rare and classic performance footage dating from the 1970's to their recent 2005 Tsunami relief benefit concert. The disc also includes interview footage culled from the past three decades. A Deluxe Edition of Rush-R30 will also feature two CDs with the complete soundtrack from the Frankfurt concert DVD, two limited edition Rush guitar picks and a souvenir backstage pass. Additionally, the standard and deluxe edition DVDs ($24.98/$39.98) feature collector's quality packaging and a choice of Dolby Digital 5.1 Surround Sound or PCM Stereo for a superior audio experience. The audio portion (only) of the set will be available for download from iTunes and other digital services.
Celebrated, critically acclaimed and respected worldwide, Rush are the most successful Canadian rock band of all time. To date, the band has sold more than 40 million albums worldwide and remains one of the biggest grossing arena rock bands ever. The 30th Anniversary Tour gave North American and European fans an unforgettable chance to experience the band in some of the most exciting arenas around the world.
Not only was the 30th Anniversary Tour the band's first live dates since their successful Vapor Trails tour in 2002, it followed on from 2002's Rush in Rio Brazilian concerts where the band performed to over 60,000 ecstatic fans. In November of 2003, the band released their triple live CD album Rush in Rio, followed by the Rush in Rio double live DVD concert video, the latter which sold over a quarter of a million copies in North America, making it the second biggest selling music DVD that year (the DVD went Gold in the UK, Diamond in Canada and is currently 5 times platinum in the US). In 2004, RUSH were nominated for 'Best Rock Instrumental Performance' Grammy Award for the track O Baterista from the RUSH in Rio album.
The wait is over. Celebrate the band's 30th Anniversary in the privacy of your own home with over four and a half hours of music in stunning 5.1 Surround Sound. Turn it up, RUSH are back and more powerful than ever before.
DVD Disc 1 - The Concert:
Disc one features the sold out concert that Rush performed in Frankfurt, Germany on September, 24 2004, during their 30th Anniversary World Tour.
Track listing is as follows:
1. R30 Overture -
(Finding My Way, Anthem, Bastille Day, A Passage to Bangkok, Cygnus X-1, Hemispheres)
2. The Spirit of Radio
3. Force Ten
4. Animate
5. Subdivisions
6. Earthshine
7. Red Barchetta
8. Roll The Bones
9. The Seeker
10. Tom Sawyer
11. Dreamline
12. Between the Wheels
13. Mystic Rhythms
14. Der Trommler
15. Resist
16. Heart Full of Soul
17. 2112
18. Xanadu
19. Working Man
20. Summertime Blues
21. Crossroads
22. Limelight
DVD Disc 2 - Special Features:
This disc includes bonus features including the following RUSH rarities:
ARCHIVE PERFORMANCE FOOTAGE:
* Fly By Night - Church Session Video (1975)
* Finding My Way - mpeg1 from Rock Concert
* In The Mood - mpeg1 from Rock Concert
* Circumstances
* La Villa Strangiato
* A Farewell to Kings - Seneca College Theatre (1977)
* Xanadu - Seneca College Theatre (1977)
* Soundcheck: Various Songs - Ivor Wynne Stadium (1977)
* Freewill - Toronto Rocks / Rolling Stones Concert (2003)
* Closer to the Heart - Canadian Tsunami Disaster Fund charity telethon performance on CBC television (2005)
INTERVIEW FOOTAGE:
* Interview Footage - Interview with Rush at Ivor Wynne Stadium (1979)- A Farewell to Kings Tour
* Interview Footage (1981) - Studio interview at Le Studio, Montreal while recording the album Signals (released 1982)
* Interview Footage (1990) Artist of the Decade (1980s) featuring all 3 members
* Interview for release of the album Vapor Trails (2004)
* CBC Television: Juno Award news report - RUSH induction into the Canadian Music Hall of Fame (1994)
R30 - Rush 30th Anniversary Tour: 2 CD Soundtrack CD # 1
15 R30 Overture - (Finding My Way, Bastille Day, Anthem, A Passage to Bangkok, Cygnus X-1, Hemispheres)
16 The Spirit of Radio
17 Force Ten
18 Animate
19 Subdivisions
20 Earthshine
21 Red Barchetta
22 Roll The Bones
23 The Seeker
24 Tom Sawyer
25 Dreamline
CD # 2
26 Between the Wheels
27 Mystic Rhythms
28 Der Trommler
29 Resist
30 Heart Full of Soul
31 2112
32 Xanadu
33 Working Man
34 Summertime Blues
35 Crossroads
36 Limelight