R30 And Beyond
An Interview With Alex Lifeson
By Ken Kucharic, Long & McQuade (info@long-mcquade.com magazine), Issue 7 (November 2005), transcribed by John Patuto
---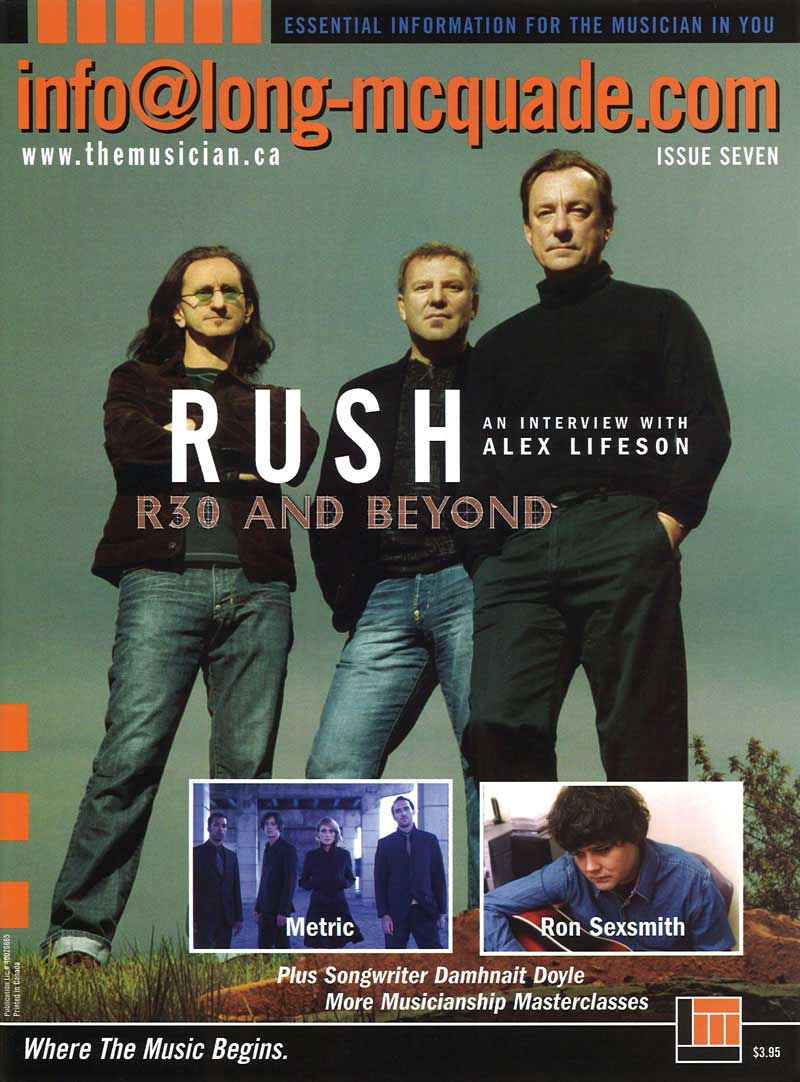 It has been over a year since RUSH's 30th Anniversary tour wound its way down, however, the band has not been idle. Alex Lifeson and Geddy Lee have spent over a year finalizing R30 (live from Frankfurt, Germany), there are plans to release three DVD concerts from the 1980's, and there is talk of a new album. Lifeson has just signed off on the CD and 5.1 mix of R30, and Lee has been finishing work on the accompanying DVD. Both CD and DVD are due for release in November.
R30 documents an extraordinary and rather exclusive musical relationship. Over the course of 30 years there have been virtually no guest artists on a Rush recording and precious few side projects. It is truly astonishing how the artistic goals of three highly creative and motivated individuals can be so closely aligned for such a sustained period of time.
Reflecting on this Lifeson explains, "We have always been satisfied individually with what RUSH has provided for us over the years. If there is extra work to do it's always RUSH related."
When asked to evaluate the last thirty years, Lifeson states, "It's not like it's Everest. It's more like a mountain range ... peaks." With those peaks come valleys. There have been several instances over their career where the band almost ceased to exist. Lifeson remembers one harsh time early on in 1975 when the future wasn't so certain. Their third album Caress of Steel was not performing well and the tour was less than inspiring. They were under an enormous amount of pressure to recreate their first album and their support systems were failing. They decided to ignore everyone and pursue their vision.
The result was one of the most visceral and vibrant albums in the bands history: 2112:
"We decided, 'Let's do the next record. Whatever we do let's live by it. If it bombs, if it dies, if everybody hates it then so be it. At least we did it our way'.
2112 became one of our strongest records. It was our ticket to freedom. It allowed us to do whatever we wanted after that. To date we have never had anybody from the record company in the studio when we have been working. Even our manager Ray (Danniels) - I think the last record was the first time he had ever come into the studio because it was our special place and we sort of earned our right to do things the way we felt they should be done."
Given that the band had not established their unshakable fan base and was lacking the financial security that would come later, the decision to follow their instincts against all advice to the contrary was a tremendous gamble. Thankfully it paid off and produced an early benchmark in the band's history.
Another valley presented itself much more recently with the death of Neil Peart's wife and daughter within the course of a year. Once again the future of RUSH was up in the air as Peart embarked on a journey of healing detailed in his book Ghost Rider: Travels on the Healing Road. Lifeson and Lee were determined not to pressure their friend in any way and had quietly resigned themselves to the fact that they may never again record as RUSH.
Eventually, several years later, Peart was slowly able to come back to music. Though the future was tentative they began work on what was to become RUSH's 17th studio release, Vapor Trails.
"There was a lot of pressure doing Vapor Trails. We were rebounding after this terrible time in Neil's life and our history. We hadn't been together for four years doing any kind of writing or playing or anything. So it was very, very fragile going into that one. That's why that record took 14 months. Vapor Trails was a real high point for me. We really came back from a lot to do that record. There is so much emotion on that record. I don't think that it's the best sounding record we've ever made, but I think the energy and spirit that's in that record is unlike any other record that we have made. I'm really proud of the way we all played on that."
This tenacity and overwhelming desire to play and play well has garnered RUSH one of the most fiercely loyal fan bases in music. There are countless RUSH related web sites and chat rooms, not to mention an annual gathering of fans in the band's hometown of Toronto called RUSHCON where the most die hard followers get together and celebrate all things RUSH. Given this dedication it only seemed fitting that the band consulted fan-based websites like rushpetition.com, which runs poles (sic) of what songs the fans would love to see played in concert, when they began the task of putting together a set list for their 30th Anniversary tour.
"We referred to it ... I don't think we played all of the songs that were in the top ten of that list."
Lifeson admits that playing some of the earliest material every night would be a bit of stretch for them now:
"With the R30 tour we opened with a medley of some of those older songs that really work great with a medley. It's fun to play and you get a taste of all of that old material but you are not locked into having to play those songs every night. It's 28 or 30 years later and you're moved by some of the more difficult pieces and more current stuff. Sitting down and going through the set list trying to get a balanced representation of the last 30 years was not an easy thing to do. It never is. You always try to find the kind of music that you want to play every night as well as what people want to hear. It's always difficult to get that balance right. You really have to feel inspired every night to playa hundred and ten percent. I think with this last tour that we really did nail it."
That being said, there is some fan consternation over the inclusion of too many covers from the bands EP Feedback in which they pay homage to the music that inspired them to pick up instruments. Though the show ran three hours with two intermissions and was comprised of 30 songs, every second of music was invaluable real estate. For some, the omission of their "favorite" RUSH classic in favor of a cover song was a little disheartening. However, Lifeson does not regret the decision.
"I think because this was our 30th anniversary we wanted to give the fans a sense of where the band members are coming from, what type of music influenced us when we were kids. It was just a lot of fun to play those songs live. I think in retrospect we could have gotten away with doing a couple of them rather than doing as many as we did, but still it was a lot of fun and it added a different feel to the show. However, I'll bet you that a lot of RUSH fans will argue that that was excessive and it would have been better to do just one or two ... just to tip your hat to the idea ... and then fill it in with 'The Camera Eye' or something like that."
In hindsight, the Feedback EP may prove to be more valuable to the future of the band than its nostalgic premise would indicate. It reintroduced the band to live off the floor recording.
"Once we got into the studio we recorded live off the floor, with no click track, and it really worked out well. We found that very inspiring for the next time we do a RUSH record."
This rediscovery of live studio energy led Lifeson to reevaluate other entrenched aspects of the band's writing and recording processes.
"For the last number of records we have written with Logic Audio. In the old days we used to write those albums with a couple of acoustic guitars and a cassette player and sometimes that magic has a hard time coming out because you get so caught up not being so much a writer as you are an editor. It really draws you. It's great on the one hand that you can create a whole song right there but at the same time it takes away the essence of that whole process and where it comes from. I'm starting to wonder about that thing."
This wary eye towards technology obviously has more fans inside the band than just Lifeson. The band's reliance on keyboards as a writing and atmospheric tool has been ebbing slowly with the last few studio releases. In fact, Vapor Tails is tile first Rush album in a very long time without any keyboards at all.
"I'm very happy with the freedom that I had (on Vapor Trails) to develop guitar parts that in the past keyboards would have done. I really enjoyed that freedom. Going back over the years ... I struggled with the amount of keyboards we were using. I had a difficult time with Power Windows and Hold Your Fire but now they are some of the most memorable records. They have a sound to them that's unlike anything we've ever done. I know where it was coming from and where it was going. We were reaching that stage at the end of the 80's where we'd really gotten into developing keyboard parts and that whole element to make our music more cinematic. But as a guitarist it was really hard to fit in there. Everything sounded cool and interesting but it wasn't really what the band was about."
Thirty years is a good time to take stock. They made it back again from the edge. The tenuous steps of Vapor Trails have fallen on solid ground; the experience of Feedback has reintroduced them to the live energy of the studio floor; the 30th Anniversary tour finished to resounding success and now it is time to move forward.
The motion is concerted; the direction, as always, is wide open. In a career based upon change, it is precisely this ambiguity that both band and their patiently waiting audience look forward to.
"We never know where we are pointing. That's kind of the joy and the terror of it. You don't want to repeat yourself. You don't want to do the same old thing. You think, 'My God there are only twelve notes. How can I change those around again?', but that's not where music comes from. It doesn't come from those twelve notes. It comes from a much deeper place and if you allow yourself to just be open and free to it, it will come out on its own. The more you stand out of the way the better."