Rush Out And Get It
Classic Rock, January 2006, transcribed by pwrwindows
---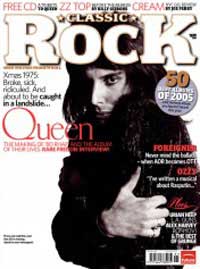 Last year's tour plus archive material add up to an exhaustive package.
RUSH R30
Sanctuary
At times longer than an Arctic expedition, R30, Rush's latest live DVD, recalls a world tour last year that surprised and enthralled an audience who might only dimly remember Rush for their star man logo and songs about warring forests. Geddy Lee might have ditched his kimono and enormous glasses, but really he hasn't changed a bit. You could never see Neil Peart behind his wall of drums, so who knows if age has withered him? So it's down to Alex Lifeson to remind us that time marches on - at quite a clip, too, judging by his kindly uncle-like mien.
Happily, the years have barely made a dent in Rush's catalogue, as a jam-packed Festhalle in Frankfurt will attest. Say what you like about the Germans, but they know how to respond to a band as assuredly ripe and enigmatic as Rush at full tilt.
Post-tour, Rush nurse wounds like aging footballers settling for life in the lower leagues; Peart, especially, is a mass of aches and sprains once the adrenalin has flushed from his system. But to watch them thunder with such Úlan is to be mesmerised by what sounds and feels like a gang of very expert 20-year-olds with a point to prove.
Of course, Rush live DVDs are commonplace, so the second disc is where you are drawn in with archive material: exclusive rehearsal footage, baby-faced interviews from the 70s, an amazing 30-year-old rendering of Fly By Night...it's improbably exquisite stuff. There's also a special edition of R30 complete with the live soundtrack. Overall, it's wonderfully exhaustive stuff.
---
Q&A With Alex Lifeson
By Philip Wilding
How does Rush - R30, which was shot on last year's European tour, compare with Rush In Rio?
It has a whole different feel. It's more about the performance, the lighting and visual stuff that was going on than Rush In Rio. This one's shot in high-definition, so you can see all the sweat spreading across our wrinkly faces.
Rush In Rio surfaced as recently as late 2003. Were you at all nervous about releasing another DVD quite so soon afterwards?
Oh, we all were. Rush In Rio was our first concert DVD, and purely because of the event's size it ended up being about the audience. Their enthusiasm was what made that DVD so compelling. We knew we wanted something to commemorate the 30th anniversary tour, but as the project took on a life of its own it became more than just a document of a live show.
Besides the interviews and archive footage on disc two of R30, a Deluxe Edition includes audio CDs of the show, plus guitar picks and a backstage pass.
At the start we made a conscious decision to not include the whole show on the audio discs, because that would've been overkill. But it came in at under two hours long, and of course we realised that we were being precious. Rush fans love overkill.