Making Memories
By Jeff Hudson, Guitarist, January 2006, transcribed by pwrwindows
---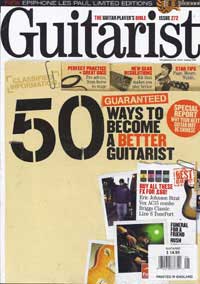 To celebrate 30 years of Rush, Guitarist buckles up and journeys with Alex Lifeson and Geddy Lee they as give us fresh insights into their incredible career...
It was 1974 when a roughhouse album by a band called Rush found its way into import record stores the world over, despite just being released on a small independent Canadian label. The Led Zeppelin sounds were nothing that a dozen other bands weren't already doing, but there was a spirit about the live-sounding arrangements that earned the newcomers a major label contract. Thirty years later, drummer Neil Peart, bassist Geddy Lee and guitarist Alex Lifeson are celebrating their career with R30, a deluxe live DVD/CD box set that captures the band's anniversary tour one night in Germany, 2004. Guitarist spoke to the band's string-players to discuss three decades as Canada's finest export (sorry, Celine) and the three very distinct phases, and faces, of Rush.
Phase one: Zeppelin, Snow Dogs & the Welsh wilderness
From humble three-chord beginnings, Rush soon found their progressive rock niche on their second album with the near nine-minute By Tor And The Snow Dog, an epic concept split into four parts, Caress Of Steel's The Fountain Of Lamneth and the title suite from 2112 went further, filling entire sides (on vinyl). With lyrics inspired by Lord Of The Rings (way before it was fashionable) and ancient myth, it was all a far cry from 1974's debut album Rush, often said to sound fairly like Led Zeppelin.
ALEX LIFESON: "Fairly! We wore our influences on our sleeve, we were just happy to be in a studio. We were basically a bar band playing the pubs within a 100-mile radius of Toronto. Although we've always played a lot of original material, playing in a bar, you do covers. Jimmy Page was my absolute idol. I wanted to play like him, to look like him, to drink like him...Certainly that's the way the record sounds."
GEDDY LEE: "I think every young band is guilty of trying too hard to sound like the bands that influenced them. Working Man is an interesting song from the first album. We had been scared of playing that song for years, then in 2002 when we started playing it as an encore, there was a three-man jam that happened in the middle section that we really enjoyed, and I think it transmitted to the audience. Now it's almost our favourite part of the night. Having gone through all the heavily structured pieces we get to Working Man and just get our ya yas out."
AL: "By Fly By Night (1975) things had changed. A lot of it was down to Neil joining the band. His drumming style was different to John Rutsey's and we went from being a Zeppelin copy band to developing our own style."
GL: "Even before we toured the first album Neil had joined and we were already jamming more progressive ideas."
AL: "Our influences were now Genesis, Yes, Pink Floyd and that whole progressive movement. We wanted to develop songs that were longer and arrangements that were pretty complex. The third record, Caress Of Steel (also 1975), was probably a better indicator of where we were going because that was certainly not a commercial success. There was concern from the record company and from the management, everybody was wondering what we were doing and asking, Why don't they go back and make that first album again? But it was an important learning curve for us. It started off with By Tor as one long song, then Fountain Of Lamneth which was a whole side and that took us to 2112 (1976), which was really a response to that pessimistic concern from everybody around us."
GL: "I look on those epic songs like By Tor and Lamneth as a lot of fun. There's a lot more humour in there than people realise. By Tor And The Snow Dog was a total joke song but it was taken very seriously, I guess because we had a dour image at the time. It's one of those songs that is very refreshing to play now. We went through a period of thinking those songs were naïve. Then we got over ourselves!"
AL: "I think by Hemispheres (1978) it was the end of the whole opus era. We spent a month writing at Rockfield in Wales in this little farmhouse, then five or six weeks rehearsing and working every day. In retrospect, we were trying to squeeze the last drop out of that style. We mixed at Advision and didn't like the way it was sounding at all, so we came home for a week, then we went back and started mixing again..."
GL: "Hemispheres was a very difficult record to make. There was something about it that was just tedious. The concept in hindsight was secondary to the playing. We were trying to write in very difficult time signatures, trying to be the musicians' musicians. But the main problem for me was we'd recorded all the music before I'd sung out the lyrics. We'd sketched them out and knew they would work, but when it came to recording the vocals it was extremely difficult because it was in a key that was very high for me. It was one of the most painful recording sessions I've ever had to endure because I was literally singing in the wrong key for the whole album. I still do sing it like that live, but it's a painful reminder!"
Shapes Of Strings
AL: "On Rush I had a 1968 Gibson ES-335, then-when we got our deal with the American release I bought a Les Paul Deluxe so I had two guitars for the road. Then I traded up to a Les Paul Standard for 2112. I picked up a Strat in 1978, fitted some hum buckers, and used it during the Permanent Waves period. That became my backup and the 335 was retired after one of the PA speakers fell on it and cracked the neck. I have a reissue '58 Tele that I bought around 1982: that's my main writing and recording guitar. For all my vibrato stuff I use the PRSs. But I'm moving more towards Gibsons because I love the tonality of them, especially with the Hughes & Kettner amps I use..."
GL: "On the first album I used a late sixties Fender Precision. When we got a recording contract the first thing I did was buy a Rickenbacker 2001 which I used until Moving Pictures. On that album I started using a Fender Jazz - Tom Sawyer was the first song I used it on - then the Ricky for Signals. I started experimenting with Steinbergers, Wal basses from England. By Counterparts I wanted a beefier sound so I went back to the Jazz, and I've used it ever since."
Phase two: Moving Pictures, white reggae & the sound of synths
Unless you're a serious fan, the chances are that if you know a Rush song, it would probably have originated on one of the band's eighties album releases. The Spirit Of Radio, from Permanent Waves (1980), was the closest the band came to having a worldwide hit single, while even their albums started to make an impression on international charts. Add Moving Pictures (1981) and Signals (1982) and you have a lot of people's idea of 'classic Rush'. It was no coincidence that Geddy Lee had found the box marked 'synthesiser' and Alex Lifeson was playing in a very Police-inspired reggae style.
GL: "The Spirit Of Radio was the closest thing we got to a hit. That record was a conscious decision to do something different. We decided we would stop being a slave to the concept - to make concept albums that don't feel like concepts, and to do five-or seven-minute songs. And we had different influences."
AL: "Although even Permanent Waves has Natural Science, so we were still writing lengthy pieces, they just felt different."
GL: "Alex's parts were choppier, more white reggae in their style, but we all changed the way we played. All those records reflect what we've been listening to and the artists impressing us. Whenever there's a new impressive piece of gear, that usually finds its way on to the record. Synths started leaking in on Hemispheres, although there were Moogs on Xanadu (from 1977's A Farewell To Kings), but in the eighties we started using them for more textural sounds like string washes and orchestrating. Then we hit Power Windows (1985) and took a different approach and made keyboards a full dynamic member of the band."
AL: "Our fan base was increasing through the late seventies, but Moving Pictures raced up the charts and debuted at number three on Billboard - that was a big deal for us. Here was a band that gets no airplay, you kind of love them or hate them, and suddenly we had commercial success. That's when we started to headline arenas. There are three songs from that album - Tom Sawyer, Red Barchetta and Limelight - on R30."
GL: "I loved making Moving Pictures. It was the first record we made totally at Morin Heights in Quebec, although we did a little bit of writing for Permanent Waves there. We were holed up in the snow for ages and it was the first time we used automated mixing consoles. In fact, it's one of the first digitally mixed-down albums of that period. The songs were very spontaneous, very cinematic, like little films, little stories, hence the record title. I remember when we were creating the background noises for Witch Hunt, we had the whole crew outside freezing around a microphone trying to create the atmosphere of a vigilante mob scene from the southern states. It was great fun."
Phase three: On guitar, Mr Alex Lifeson...
After experimentation with - some would say overdosing on - keyboards, the fuller sound of Alex Lifeson's playing returned to dominate nineties Rush albums like Counterparts (1993). Feedback, a collection of eight covers, was released to celebrate their 30 years and an anniversary tour undertaken. Away from the spotlight, Neil Peart's life was torn apart by first the death of his daughter, then of his wife. Alex, meanwhile is pursuing a case against the Florida police for allegedly attacking him and his family during a New Year's Eve celebration ("We were brutalised," is his taut summary).
AL: "We'd certainly had our fill of keyboards by the end of the 1980's. We'd started to move away from that with Presto (1989) and then with Roll The Bones (1991), but it wasn't until Counterparts (1993) that we really changed."
GL: "Roll The Bones is one of our most accomplished songwriting albums. The title track was a song Alex and I wrote together. We decided on a rhythm we hadn't used for a while, slowed things down a bit, did a backbeat and put this funky kind of verse together. I always have Neil's lyrics around me while we're jamming so when we got to this really cool rap section he'd written, we just threw it into the middle of the song. Alex and I had a riot. Both of us were playing keyboards at the time, jamming on synthesisers, and I started doing this pentameter and it really worked out. I remember that I was playing my Fender Jazz on that album."
AL: "I think that Geddy knew that I wasn't completely satisfied and I thought that the guitar was the stronger instrument to come up with those ideas that we were using keyboards for. He was very open to it. He said, Let's not make any rules but let's get back into our core three-piece, and see what develops."
GL: "The change in guitar sounds was down to Alex getting restless. He's unhappy with every album after we finish them, so he's convinced that he has to change all the time. We have to work hard to get him to do the same thing twice! He's a bit of a reactionary so his guitar sound is constantly changing."
AL: "When we went back to work on Vapor Trails (2002) we were coming off such a difficult period. What Neil went through was a horrible nightmare. I think we just needed to make that record for ourselves. Before the Vapor Trails tour we were very nervous. We'd been out of the picture between 1997 and 2001 and a lot had changed in those four years. We were crazy to think like that, because Rush fans are the most loyal fans in the world. They take it very personally."
GL: "For One Little Victory on that album, I remember throwing some ideas around with Alex during the day, we had some ideas on tape, and then about five o'clock I left to have dinner with my family. I'm not a night person, but that's sometimes when Alex comes alive. He starts jamming with himself, I come in the next morning and there's all this bizarrely fantastic guitar stuff spread out across these different tracks. I had these lyrics from Neil that I hadn't found a home for, so using the computer I started cutting and pasting a song out of Alex's random ideas, then I threw in some bass parts and tempo changes and came up with what was a rough version of One Little Victory."
AL: "When it came to celebrating our 30th anniversary, we weren't sure if we wanted to."
GL: "Well, ageing is not fun! There's always that negative thing of looking back at your life's work and seeing the bad glasses and bad haircuts."
AL: "So we thought rather than make it a big deal about us, let's celebrate the music we loved. So we did the covers album Feedback - all the songs we used to play in high school gymnasiums and bars. It was great to do. There's no pressure, you work on the arrangements, it's fun, fun, fun. We went into the studio and recorded it straight off the floor with no click tracks. Basically, we finished recording one day, and started rehearsing for the tour the next."
GL: "For R30 we wanted to cover a lot of ground and cover as many albums as we could. We all wanted to take the attitude of it being a retrospective - the original set list for that tour was over four hours long. We cut it down to three hours, but that's always a difficult decision because you don't know if you're cutting someone's favourite song."
AL: "We included three or four Feedback songs in the set but that was more for our entertainment really. I think a lot of Rush fans would have preferred us to play five other Rush songs rather than The Seeker, Heart Full Of Soul, Summertime Blues and Crossroads - or maybe just one long Rush song!"