Alex Lifeson Of Rush
By Don Sikorski, Sound Waves Volume 16 Issue 4, January 2006
---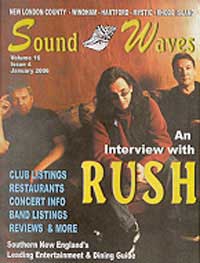 30 years is a long time. But it was that long ago when a Canadian power trio of talented musicians, simply called "Rush", released their self titled debut effort. Since that time, vocalist/bassist Geddy Lee, guitarist Alex Lifeson, and percussionist Neil Peart have gone on to forge new paths of musical excellence. The band's music is defined by periods in time, beginning with their early Zepplinesque sound moving to a British progressive group era, then into a classic rock sound followed by the inclusion of keyboards and evolution into a complete rock and roll band. The lineup has remained the same since Peart replaced original drummer John Rutsey following that first album. They haven't looked back since, at least not until now, with the release of "Rush - R30", a two DVD/two CD collection on Zoe Vision/Rounder Records celebrating the band's 30th anniversary. The tour was the band's first since the recent success of the "Vapor Trails Tour" in 2002. That tour subsequently produced the "Rush in Rio" concert DVD, released in 2003. Now "Rush - R30" takes Rush fans a complete step further, offering a comprehensive package of the band's music and career, shot in high definition with 5.1 surround sound. The set includes the band's classic material, including the familiar sounds of "The Spirit of Radio", "Tom Sawyer", "Subdivisions", and "Limelight". There's plenty more, ranging from covers of "Crossroads" and "Heart Full of Soul" (from the band's recent cover EP "Feedback") all the way back to uncovered fan favorites from the vault like "2112", "Working Man", and "Xanadu". The second DVD is a historical compilation of rare and classic performances, and well as a number of interview footages from various stages of the band's career. The sound quality, picture, and packaging are outstanding; there's even two limited edition Rush guitar picks and a souvenir backstage pass included to make the live Rush experience complete.
Rush has clearly established themselves as the most successful Canadian rock band of all time, with 17 studio albums and over 40 million album sales to their credit. Sound Waves magazine recently caught up with guitarist Alex Lifeson to discuss the band's 30th Anniversary project.
The new DVD and CD ("Rush - R30") that you have just released is terrific. Myself and all of the Rush fans out there have been looking forward to it. Can you tell me about the project and how the concept of the DVD and CD arrived?
Well, you know, we had such great success with "Rush in Rio" (the band previous CD/DVD release from 2003). When I think about it, Rush has always been such a live band. It was really great to finally get to that stage with "Rio", where we did something that had the whole show and expressed what the band is all about live. And to capture that excitement of a live show, particularly that event, because it was a unique thing for us to play to such a big crowd like that (45,000 people in Brazil). We wanted to have a record of this last tour (the R30 Tour) being our 30th anniversary. The Rio DVD was doing so well, so I don't think we put that much emphasis on this, actually. We decided that we would record it later in the tour; we had a couple of days off before so the crew could get in early and have the benefit of a good line check and to make sure everything was working, and we shot it in high definition.
What was special about that show?
We knew the hall because we had played there a number of times over the last 20 years. That was really important. You know, we learned a lot of things about the Rio show. We were so unprepared for that. We only recorded the one day, and we didn't get on stage until after 10:00. We had so many problems with power and with gear getting there late. We didn't have a sound check; there was nothing. We just went on cold. But we managed to pull it off.
I didn't know that those things happened to bands at your level. As a fan, we always sit there and think that everything is going smoothly and that those things only happen to bar bands or to the opening acts.
Yeah, you would think that we would have been a little more prepared. I guess at the time, we were thinking about the tour itself. So with this, we wanted to do it under proper conditions, and I think we definitely achieved that. I think this DVD looks really great with the high-def; it has a crispness and the saturation to the color and depth that's pretty unique. And there's some really good editing and some great angles that has more to do with the show itself and the band's performance that the "Rio" DVD, which was more about the audience.
I agree. Rio, because of the venue, seems to focus on the crowd because of the great attendance (60,000+), while this DVD seems to focus more on the band. With 30 years under your belt, how do you go about choosing the material to go on the DVD?
Yeah, that was the other thing. The Rio DVD is 3 hours long and comprises the whole show. I think we felt a little unsure about doing that again with only about 8-10 switches in songs between the two tours. We were just a little cautious I guess about wanting to put something out that was over 3 hours long again. You know, to be honest with you, in retrospect I think that maybe we could have done that, because I think Rush fans know "the more, the better".
I was going to ask you about that; the loyalty of your fans and how you're remained current. It seems like it's less about marketing and more about the band. Other people might think that you shouldn't put out two DVD's so close together, but I don't think that's an issue with Rush.
Yeah, I agree with you, and I think that was kind of how we felt. Are we crowding the "Rio" DVD or are we going to take away from that or take away from this one by having the two? But at the end of the day, Rush fans are different. They want more of the band. I'm really happy with the way this turned out. I think it sounds really great. It has a really nice, bright dense sound and it was a good performance that night.
I can't believe it's been 30 years. In looking back now, how has the whole process of touring and performing changed for you and the band now versus 20 or 25 years ago?
Well first of all, back in those days, we were playing 250 shows a year and recording two albums. But, we were 20 years old, so that certainly makes a big, big difference. I think at this stage, we probably do somewhere between 60 and 75 show on a tour, and we don't tour every year. And I think we've learned to tour in a more efficient and healthier manner. I really enjoy touring now. It's great to play; that's always the bonus. But your time is spend idly waiting for those few hours that you're going to play, and it can really get quite tedious and lonely. Now, I've developed this addiction to golf. It kills four or five hours of the day and you get to meet nice people and you're outdoors. It really helps a lot. I'm generally an early riser, so on the last tour, I would get up early and do yoga practice in the morning and then go play golf, or maybe go to the gym or hit some tennis balls with Geddy. And it was really healthy.
So things have changed. I'm sure it wasn't like that in the early days.
It wasn't.
I know you guys are big sports fans.
Yeah, Geddy is still a very robust baseball fan. I can see him one day being an owner of a baseball team. He plays in a rotisserie league and has won for the last eight years, so he knows his stuff.
In looking back over 30 years, if you could go back in time, is there anything that you would have done differently?
You know, I don't think so. I think everybody feels if they had a second chance to do something, they would do things differently. But when you really think about it, so much happens between that point and this point. I'm pretty happy with the way that everything turned out. Of course, I would change a song here or there or take the opportunity to remix something, but those were all statements from a time and all important stepping stones in this path. I don't think I would change anything. I would take all the bad stuff that has happened and all the mistakes; I think I'm a better person for it.
I would classify Rush as "musician's musicians". A lot of people who play musical instruments love Rush, and even the people who don't admire you for being virtuosos. Yet its music that people can relate to. You've survived trends like disco and grunge, and even though you've changed your style slightly, you're still Rush and everyone recognizes that. What do you attribute that success to?
Yeah, we're very fortunate. This is a time for a lot of a lot of classic rock and nostalgia tours. I guess we've always tried to play the best we could and we really devote a lot of time to our songwriting and trying to make sure that we are completely into what we're doing. Having a fan base like we do makes it a lot easier. We've had such great support from our fans over the years that we know that they're there and that they'll stay open to what we're doing. We make that commitment and they understand that. I think they appreciate that in us and we respect that our audience.
Rush doesn't sound like anybody else, and nobody else out there really sounds like Rush. Who were your musical influences starting off?
I had quite a few in the very early days when I first started playing at 12 or 13. I was a Beach Boys fan, the Rolling Stones, and that first wave of early British music that came in the early mid-sixties. And then I got into The Who and then of course Hendrix hit, and then Cream and Zeppelin followed. Jimmy Page was an enormous influence on my guitar playing. I guess that was our influence more than anything; that blues-based, British music.
You talked earlier about songwriting. Can you tell me a little more about the songwriting process of the band?
We're at a stage now where Geddy and I like to just play when we're writing and we'll jam for hours. He may pull out one of Neil's lyrics to see if it fits, but if not, we'll just continue building the song up. Having said that, we usually go into writing for a new record with no music pre-written. It starts on the first day. We really like doing that; it's really exiting. It's a new page and really a lot of fun. Neil always comes in with a couple of things that he's been working on, so we do have a starting point of we wish to go to it, but usually I like just playing for a bit and then we kind of catalog some of the ideas.
That being said, once you have your songs and are going on tour, how do you go about deciding on a set list? Are there certain songs that you enjoy performing more than others?
Yeah, that's always a very difficult one. Everybody contributes their own ideas of the set list, and then there's the given songs. But usually the set list ends up being about five hours (laughs). One the last tour, Geddy and I spent a lot of time going over a lot of the old stuff because we needed to cover a lot of ground. It was interesting, but it was very difficult to include everything fans want to hear as well as stuff you want to play. We try to find a balance. I think we did a pretty good job on the R-30 Tour. It was always a joy to play every song on every night.
Being a trio, I'm sure there are a lot of challenges there. Being in the studio is one thing, but now there's only three of you on stage. How is that as a guitar player?
Absolutely it's challenging, and that's the fun part, if you can rise up to the challenge. And from what I hear, I think we do. Going back to what I said earlier about our connection with our fans and what they expect from us, at a time we thought about adding another member on tour with us, a utility player to play keyboards or some guitar, but we thought that would really wreck everything. Coming off stage after a really good show where we know we played really well, it's an amazing feeling.
Before this, one of the projects that you did was your EP "Feedback". Can you tell me a little about what it was like for you to go back and play cover songs?
Yeah, it was very enjoyable. In a very casual way, we put together the arrangements of these songs that we had played when we were very young and in the early stages of our careers in basement bands. When you're doing other people's material, it's so much easier. It was really, really a lot of fun to do that. When we got to the point where we were going to record, (Producer) David Leonard had some really great ideas about how to approach the recording of it. A lot of the material we just played straight through with all three of us in the studio, and we don't really work that way anymore.
I see you've included some of the tracks on the new DVD as well.
Yeah. We wanted to pay tribute to some of the music that we grew up with rather than making it a big deal about us.
What keeps you inspired as a musician? You've been doing it for 30 years and you sound like you really enjoy what you're doing.
I think maybe it's a curse (laughs). It's a funny thing. I'm at a stage in my life where my priorities have shifted a little bit. I had children when I was 17, and I have a grandson who is 2 years old now. I've had the greatest time just hanging out with this young person. I play guitar for him almost every day.
What do your children think about Rush?
Even though they're grown up, they love coming out on the road. My younger son who is 28 now started playing guitar when he was 16, and he's been recording his own music over the last 10 years. We've done some projects together; he's had me play on his stuff, and it's such a riot to do that because I'm just strictly a musician playing on a session.
What's next for you and the band? Are you working on new material and do you have a tour planned to support this project?
We'll sit down and start working in the new year, and the plan is to get something finished hopefully by summer, with a release in the fall and then a follow-up tour.
Thank you very much your time. I'm looking forward to seeing the band again.
Thank you. We're looking forward to getting out there.
Check out www.rush.com or www.rounder.com for more on Alex and the band's latest DVD/CD release "Rush - R30" celebrating Rush's 30th Anniversary.