Alex Lifeson: Three At 30
By Willie G. Moseley, Vintage Guitar, April 2006
---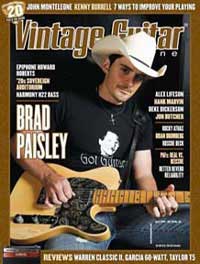 The legendary Canadian rock trio Rush certainly knows how to market a birthday celebration for its fans. The deluxe version of R30 is not only a musical and visual tour de force (a DVD and a CD of a concert recorded in Frankfurt, Germany), but the box set also includes a booklet of historical photos, a replica backstage pass, and limited-edition Alex Lifeson and Geddy Lee guitar picks – the kind of goodies that often accompanied record albums in the 1970s and have come full circle given that Rush got its start in '74.
Guitarist Lifeson, bassist Lee, and drummer Neil Peart still put on an impressive show, and we recently spoke with Lifeson to discuss the new release and the guitars he used on it. While Lee's portion of the stage is taken up with two clothes dryers and a retail carousel (he runs direct onstage), Lifeson's side is filled with Hughes & Kettner amps and cabs.
"We're in-ear, so we don't split cabs," the guitarist said, explaining the band's monitor system. "He's direct, and my stage sound is actually quite low; the drums are way louder onstage than the amps. In-ear really enables you to control your stage volume."
The concert kicks off with a mindblowing instrumental medley that interpolates portions of Rush favorites. As for the arrangement, Lifeson recalled, "Once we got the gist of it, it came very quickly. I don't think we even sat down to listen to any of those songs; we just started rehearsing and worked our way into it. But if you haven't played a song for 20 years, it's not easy to remember, I don't care how simple it is!"
At the outset, Lifeson is shown with a black Paul Reed Smith CE that he uses more than any other instrument during the show.
"It's pretty much stock," he noted. "PRS pays attention to detail, and they're proud of their work. It's the best guitar to take right out of a case and start playing."
On the tracks "Subdivisions" and "Earthshine," Lifeson brandishes a Gibson Les Paul goldtop, which was new on the 2004 tour. The guitar, he noted, "...has a real nice density to it. The wood is really tight, it's got great sustain, and a really good top-end to it. I've got a black Les Paul Custom that feels like it weighs 97,000 pounds, and it's still sustaining from the last note I played on it last summer! But the goldtop really has a nice, smooth tone."
A reissue of an early-'60s Gibson SG Standard appears on "Roll the Bones" and a cover of the Who's "The Seeker."
"That was on the previous tour," Lifeson noted. "It's nice because it's so different, with that long neck. The last couple of tours, I brought a bunch of guitars, and had fun with them. It keeps your interest."
A different Les Paul appears on "Tom Sawyer," and Lifeson noted its "different density, different weight, and different characteristics."
A red PRS hollowbody appears on "Mystic Rhythms," after which Lifeson and Lee switch to acoustic, Lee on a Taylor, Lifeson on an Epiphone Masterbilt.
The guitarist has his work especially cut out for him during a medley of "2112," "Xanadu," and "Working Man," where he uses a different guitar on each song. He starts on the Les Paul Custom, switches to a white Gibson doubleneck, then dons a white '76 ES-355 with gold hardware.
"I ordered that [355] from Gibson," he said. "And when they called me to pick it up, I was so excited, even though I could barely afford it. It's stereo and has a cutaway switch, so I can bypass the selector. It's a beautiful guitar I use in the studio and have brought it back out the last couple of tours."
The DVD winds up with covers of "Summertime Blues," mixing a Blue Cheer-style intro with a Who-style body of the song. "Crossroads" gets a nod, as well. The second DVD includes vintage interviews and videos, including soundcheck footage.
Summing up R30, Lifeson said, "I'm really happy to hear from people who say it's a nice package and they think it's a really good deal. And it kind of changes everything; we'd always worked in a cycle of four studio albums then a live record. The industry has changed, too, and it's great to be able to do something in a visual format as well as audio. I think it sounds really great."
R30 debuted at #2 on Billboard-s video chart, and was triple-platinum by early January.