Rounder Picks Up The Beat
By Judith Rosen, Publishers Weekly, May 8, 2006
---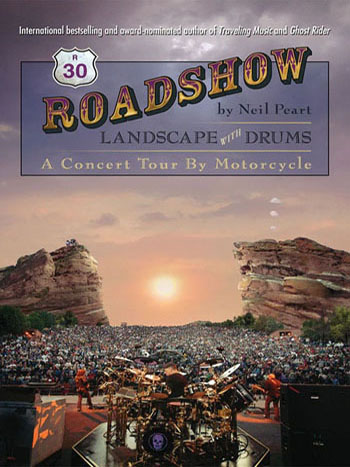 After two years in the book business publishing a list heavily weighted toward sports books, Rounder Records has begun to build stronger ties between its music and book operations. In September, Rounder Books will publish a behind-the-scenes look at a rock tour coupled with a motorcycle travelogue/memoir across nine countries, Roadshow: Landscape with Drums-A Concert Tour by Motorcycle by Rush drummer Neil Peart. Rounder was invited to take a look at the book after it successfully released two Rush music DVDs-Rush in Rio (Oct. 2003), which has sold 250,000 copies to date, and R30 (Nov. 2005), based on Rush's 30th anniversary tour, which has sold 150,000 copies.
"I was thinking the book business was kind of parallel with the music business," said Peart. "It's hard to build a career on a midlevel sustainable basis, which my band has done for 30 years. It doesn't look well on the quarterly reports. This will be my fourth book, and it's pretty much the same thing. I was getting snobbish resistance from some big houses: 'You wouldn't buy a record from John Updike.' Rounder Books is an easier fit." In addition, Rounder previously did Rhythm and Light, a coffee-table book documenting Peart's drumming by his wife, photographer Carrie Nuttall.
Roadshow is only one of several book-and-music works being prepared. Rounder just signed with the Rock and Roll Hall of Fame and Museum in Cleveland to do a series of books based on its American Musical Masters series, produced in conjunction with Case Western Reserve University. The first book, to be published next spring, will be Waiting for a Train: Jimmie Rodgers' America, a collection of essays on the "father of country music." Other books in the series will focus on folk and blues singer Leadbelly and pioneer rocker Buddy Holly.
Rounder CEO John Virant noted that while Rounder isn't as well known in book publishing as in music, its name still allows the company to get an introduction to new accounts. Its reputation in music also makes it easier to cross-promote products with outlets that sell books and music, as well as to set up promotions with radio stations. Virant is currently working out the details for a Roadshow promotion with rock stations across the country.