What A Rush
By Robert Thompson, Ontario Golf, Early Summer 2006, transcribed by pwrwindows
---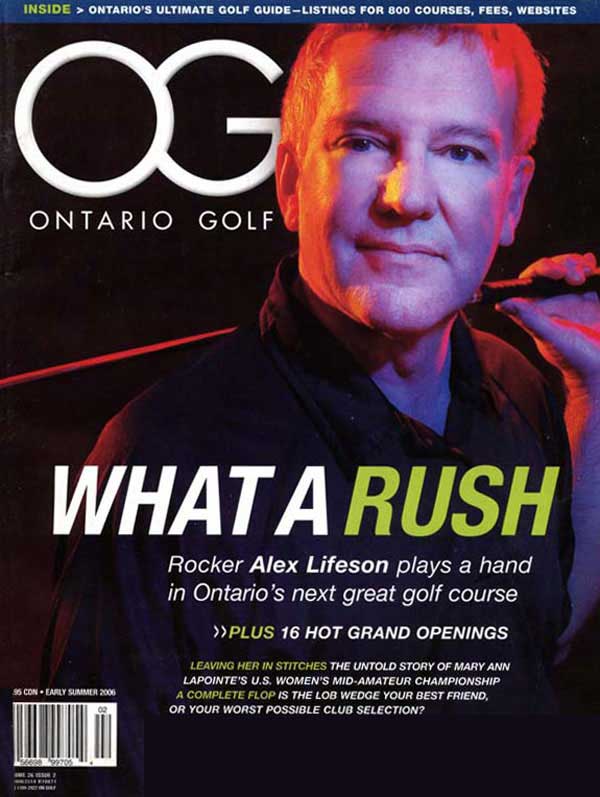 Alex Lifeson
Born (Alexander Zivojinovlch) Aug. 27, 1953

Birthplace Fernie, B.C.

Married Charlene Zivojinovich

Children Justin (1970); Adrian (1977)
In The Bag
Driver Taylormade R7

Woods Callaway 3 & 7

Irons Callaway X16

Wedges Callaway 54 Degree And 58 Degree

Putter Scotty Cameron
A touring pro in his own right, celebrated guitarist Alex Lifeson continues to embrace life as much as ever
Arguably Canada's most successful rock guitarist and one of the founding members of the supergroup Rush, Alex Lifeson has experienced more longevity and success than most musicians could ever dream about over the past three decades.
Though he still rocks as hard as ever-as Rush's three-hour live shows demonstrate-these days you're as likely to find Lifeson on a fairway as on a stage. He's a full-time golf nut, so much so that when, in 2004, he was offered the chance to participate in an ownership group developing a new course called Coppinwood in Uxbridge, Lifeson jumped at the chance.
In truth, the opulent private oasis of Coppinwood must seem a lifetime away from the small city of Willowdale, where Lifeson and singer/bassist Geddy Lee formed Rush in 1968. Renowned drummer and lyricist Neil Peart joined in 1974, creating a power trio that is still regarded as among the best live acts in the world. Though initially similar in sound to Led Zeppelin, by 1975's Fly By Night the band was demonstrating an increasing interest in progressive, complex music that showcased its remarkable ability as musicians. Rush would go on to create a wide range of music, in turn helping define progressive rock, while also making the group a favourite not only in Canada, but in the U.S. and Europe as well. Songs like "Spirit of the Radio," "Tom Sawyer" and "New World Man" have become anthems that few bands can top. In 2003, Rush was asked to join the SARS benefit concert, a show that drew an estimated 500,000 fans and saw the group play alongside AC/DC and the Rolling Stones.
By comparison, golf would seem positively un-hip. But it has proven a good match for Lifeson's soft-spoken and articulate nature, not to mention his focus and drive to continually challenge himself. But Lifeson doesn't like to do things by halves, and golf is no exception. First entranced by the game in 1990, he's now a full-blown range rat who uses golf as an outlet from the stress of Rush's demanding live performances. Most mornings when the band is on tour, Lifeson can be found on the fairways of some of the world's best-known golf courses.
His love of the game has led Lifeson in interesting directions. He's become tight friends with several PGA Tour pros, including Rocco Mediate, with whom he has a regular game when in Florida.
Lifeson is now back in the studio with Rush, preparing the band's next album, which should be finished in the fall and out next year. In the interim, there's that new golf club to open. Beyond that, there's still a world of opportunities, he figures.
It's an endearing quality, really, that an amazing 38 years after founding his band, life is still a rush for Alex Lifeson.
For a long time, rock 'n' roll stars wouldn't be caught dead at a golf course for fear of being deemed too conservative or uncool. But you took up the game without any fear of your fans' perception.
I started playing in 1999. I can't believe I never considered playing before then because it is such a great game. I'd knocked the ball around with my dad when I was a kid, but when we played I wasn't into it. When I finally started playing I became completely addicted to it. After a few weeks I played all the time and I would lie in bed thinking about my swing.
Was it this new interest in the game that led you to join King Valley Golf Club?
I joined King Valley the first year it opened-I was the 23rd member to join. I'd only started to play golf, but it was everything I wanted in a golf course. It was considered one of the best in Canada at the time. When I joined, the little farmhouse at the front of the property was the clubhouse. It was charming; the meals were served outside and there was a real community feeling about the club. But when the economy tanked, it was clear the club would change. For a while it was almost like a public course, with two tournaments a year. When ClubLink came in there was a lot of promise. But it is a public company and it needs to make money. And I think that is in conflict with what makes a great private club.
You've since left that club.
I joined Scarboro Golf and Country Club two years ago and left King Valley last year. It is a great setting and I love the golf course. It has character and atmosphere, and it is so much fun to play. Every time we're done, I feel sad that it is over. But you get to sit on that beautiful veranda and it's wonderful. And all the members are super people and they just love the golf course.
Given Rush's success, it isn't surprising that you've got some fans on the PGA Tour.
I've become really good friends with a couple of the guys, including Rocco Mediate. I met Rocco in 1992. I'd just started playing. He was at the PGA Championship at Bellerive Country Club in St. Louis. He heard we were in town and was a big fan, so he called our management and told them that if any of the band were golfers, he'd be happy to take us golfing and that he'd love to come see the show. We played Bellerive and it was so hard. I shot a huge number. I wasn't a good player and was hitting six- and seven-iron off the tee. BUI il turned out he was a huge Rush fan. He had memorabilia. He came to the show and we hooked up at the Canadian Open, where he introduced me to Lee Janzen. I took them out to play King Valley. They played from the back tee, but it was really casual. They had a couple of beers and were goofing around, but Rocco still finished one-under and Lee was even. It is amazing to stand on the tee with those guys and feel their energy and how positive they are. Their swings are smooth and effortless, and you realize how difficult it is to do over and over again.
Is it kind of like playing guitar?
Exactly. Rocco said that. He says if I could apply the way I think about my guitar playing to golf, I'd improve immensely. It is just a question of how you clear your head. That's my problem-I have so many swing thoughts before I even take the club back.
Although you've played music in front of some of the biggest crowds in history, you still get nervous on the first tee.
Sure I do. I played at an amateur tournament at Islington with Tom Cochrane and Gil Moore (Triumph) in my group. We were on the first tee and there was a group of about 20 people standing around. Gil is a great golfer and Tom is awesome. On our first shots, Gil hit a big slice into another fairway, and Tom hit it into the trees. I duckhooked it. But it was amazing that all of us have played in front of huge crowds and here we were shaking in front of 20 people. I think I'm always trying too hard. It makes you tight. T now try to keep relaxed. Lee wants me to start thinking about big positions-just turning your whole body. When I started doing this, I started hitting big, high, soft draws off the tee. It was amazing. This year I've made good strides. I moved from a 13 handicap to a 10.5. It would be great to improve it even more and shoot the odd round in the high 70s.
Toronto businessman and Coppin wood co-owner Syd Menashy has had a big impact on you. How did you meet?
We met 12 years ago at King Valley. We were both supposed to be playing on our own but got paired up. Sometimes you Just want to walk and play and not have to worry about having a conversation. We played and didn't say much, but we played again and became good friends. In many ways he's become a mentor to me. He has a great sense of honour about him. He's very old-school. I don't think he had any idea who I was and he didn't know anything about Rush until he went in to the office and told people about this guy he'd played golf with. We played two or three times a week after that. We had an on-running game and at the end of the year the one who had the most points had dinner cooked for him by the other. One year I lost and made this fantastic Japanese dinner for Syd and his wife. The next year I won and he made this mind-blowing Indian meal. It has been great fun and is just another example of the great energy surrounding golf.
What led to the creation of Coppin wood?
King Valley's a great course, but it wasn't providing us with the golf experience we were hoping for, so Syd and I began talking about how nice it would be to own our own golf club. He got Paul Mclean involved and Al Chud (a partner at Wooden Sticks) and Tom Fazio as a designer. Syd came to me and said, "Al, we're building this Tom Fazio course and it'll be the best in Canada." And I said, "Where do I sign up?" He wasn't looking for investors-there were no openings at the time-but he sold me half of one of his shares. I was really excited about working with Syd and being involved in such an exciting golf course. When the hockey strike occurred, an investor got cold feet, so a full share came up and I bought it.
Why use Tom Fazio to design the golf course?
Fazio is one of the greatest course designers. He's an artist in his own right. Everything is so detailed. He looks at the grasses and the blend of the trees. These are things you never notice until you get involved in a course like Coppinwood. But there are so many different things that go into it. It is exciting to watch the process-a dream come true. But it is expensive to build a golf course, especially one by Tom Fazio. But I think you get what you pay for. The course is beautiful and the land is great. We're looking for 300 members-and I think once people see the course, it'll be easy for them to make up their mind.
Back to music. What is an average day for you on tour?
My days start early, often around 6:30 am. I do about an hour or so of yoga, get a nice stretch and then go 10 the golf course. Since they're largely private courses, they lend to be very quiet. I'm usually done by 11 a.m. I head back to the hotel, have a light lunch, go for a workout or a swim, then head to the gig for sound check at 5 p.m. for an hour, and then have a light meal. Then we do the show, which is over three hours. I have some quiet time with Geddy after the show with a nice bottle of wine in the dressing room. We also have a chef on the road with us and he'll make us something to eat.
It doesn't sound very rock 'n' roll. It sounds very professional.
It is. You have to travel professionally at this stage. It's very intense and you need to stay in shape. All three of us train regularly when we go on the road for two or three months. There's not as much structure there, so you've got 10 make time. Our chef helps by making things that are fresh and organic. It's very civilized. And you have a wonderful 20 minutes or so after the show where it's just the band, sitting around in our underwear with a nice glass of wine. Touring like we do now is pretty good. But jumping onto a bus after a show, like we used to do, and getting into the hotel at 6 a.m. and having no life once you were on the road that wasn't great. For the last couple of tours we've chartered planes and fly everywhere. It's made things much easier.
But Neil doesn't fly, does he?
No, he's not crazy about flying, so he'll take his motorcycle and he and our security guy will ride together. On the last tour he rode 25,000 miles across America.
You must get access to some interesting golf courses while on tour.
When I'm on tour, I play every day. The guys at (promoter) Clear Channel help set it up. There's a guy there named Gerry Barad, who is a golf nut. He's always calling, telling me things like, "Ever heard of Chicago Golf Club? No? Well, you are going to love it." And he's right. He's helped me play places like Philadelphia Cricket Club and Olympic in San Francisco a few times.
Rush has had so much success in the past few years with the 30th anniversary tour, a book that chronicled the history of the band and a DVD. But many felt you'd never get back together after the death of Neil's daughter, Selena (who was killed in a car accident in 1997) and his wife's death from cancer a year later.
It was so devastating when that happened that we didn't even worry about the band. It was about helping Neil. When Jackie died, it was almost too much. He needed people with him for a bit, and then he needed people to leave him alone for a bit. Eventually he decided if he stayed, he'd wither away to nothing. He had to leave, which is what his book, Ghost Rider, is about. He took his motorcycle and just left to find whatever it was he needed to find. It was a ballsy, great thing to do. He just drove and thought. He just saw the road ahead of him, and that kept him distracted until he got to whatever town he hit that night. He'd go to bed and wake up every hour, night after night. Finally he met his new wife, Carrie. Eventually, we thought about reconvening the band. We didn't want to push it, but we called Neil and asked if he'd consider it. He said he didn't know whether he could, but he'd try. Geddy and I were pretty convinced that the band was over. We started to think about addressing our equipment issue, which had been in storage the whole time. We wondered if we needed to wind things down. But Neil wanted to give it a try and we ended up spending 14 months making Vapor Trails, as opposed to the four or five months it usually takes us.
And now Rush is back in the studio recording yet another record. Has the process of writing and recording changed over the years?
We sometimes write some material on our own, but it is way more fun showing up on that first day and seeing what happens. You don't know where the music is going to go, and I'll grab a guitar I haven't played in five or six years. It is really exciting. We're like kids again.
---
Between A Rock (Star) And A Hard Place
New Year's Eve 2003 is a night Alex Lifeson would rather forget.
That night he was out at the high-end Ritz Carlton hotel in Naples, Florida, for a celebratory dinner. But soon after his son, Justin, jokingly stepped up on the stage where the house band had been playing, to sing a song to his wife, Michelle, several police officers arrived to arrest him. That's when all hell broke loose.
According to Lifeson, the police escorted his son out a back entrance and into a stairwell without telling anyone why they were detaining him. At one point, they took Justin down the stairs with his arms behind his back. He struggled to get free due to the pain, which led to one of the police accidentally falling down the flight of stairs. The situation became more frantic, with Justin being hit with a taser gun four times. According to Lifeson, he protested the violence being committed against his son and had his nose broken by one of the officers for his comments. He was also at the receiving end of several taser shots.
By the time it was all over, Lifeson and his son were arrested and mug shots of the bloodied rock star, still wearing his tuxedo shirt, were paraded throughout the international media. Headlines trumpeted the fact that police alleged Lifeson had spat blood on one officer.
Lifeson says he was hurt by the comments that accused him of being drunk and belligerent. In fact, he never intended to go out for New Year's, he says, and only attended the event because of friends. Still, the celebration was kept to a minimum after all, Lifeson had an early morning golf game scheduled the next day with his friend and PGA Tour player, Rocco Mediate. And he never spat blood on anyone, he maintains. But after his nose was broken, Lifeson relates, he had great difficulty breathing, which led to blood spraying as he attempted to catch his breath.
The charges against Lifeson were serious, including four felonies-namely, resisting an officer with violence, which could have resulted in five years in prison.
The case against Lifeson came apart in the months following his arrest. A Ritz Carlton employee came forward to dispute the police account of what had happened in the stairwell, and the prosecutor lost much of his appetite for pursuing the high profile case.
In the end, all but two charges remained against Lifeson and his son, and since neither were felonies with jail time attached, the guitarist was advised to take a deal which would see him face 12 months of probation and plead "no contest" to the remaining charges. Lifeson and his management company have since launched a lawsuit against the Ritz Carlton and three of the Police officers for brutality.
Even now, two-and-a-half years after the incident, the memories are intense.
"Some of the headlines in Canada said it was a 'rock 'em, sock 'em night,' which was really insulting since they had no idea what actually happened," Lifeson says, noting he struggled with depression and was deeply wounded by some of the post-arrest coverage. "But it is behind me now."