Burrows Joins Rush On Film Soundtrack
Jeff Burrows is still pumped about getting the chance to play drums with Alex Lifeson and Geddy Lee of Rush
Windsor Star, September 8, 2006
---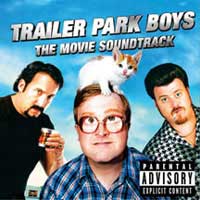 In a word, it was a Rush.
Jeff Burrows is still pumped about getting the chance to play drums with Alex Lifeson and Geddy Lee of Rush.
Last month, the ex-Tea Party drummer joined Lifeson and Lee to record a song for the new Trailer Park Boys movie, The Big Dirty.
"When they called me about it, I was in Vancouver working on my new band," said Burrows, 38. "How could I say no?"
Rush is a Canadian rock icon and a primary source of inspiration to Burrows growing up in Windsor and LaSalle. "That was the band that convinced me I wanted to be a rock musician," he said.
The song they did was the often-covered I Fought The Law, by the Bobby Fuller Four. What could Burrows and two-thirds of Rush bring to it that others like The Clash and Green Day couldn't?
"It's got a real Rush feel to it because of Lifeson's guitar," he said.
Burrows was asked to play because Neil Peart was unavailable. Also called in to help were Adam Gantier of Three Days Grace, Ian Thornley, and singer Care Failure, of Toronto thrash band Die Mannequin. The band calls itself The Big Dirty Band after the title of the movie, and there will be select live dates after the CD is released in October.
The single is coming out in the next week, said Burrows.
Peart is one of Burrows's idols, so filling in for him was a daunting task, he said.
"He's admired by a lot of drummers," said Burrows. "There's nothing flashy in what he does but it's very distinctive, very straightforward. He's called the professor, a mathematician on drums."
Burrows has been racking up the air miles between Windsor and Vancouver putting together a new band with ex-Tea Party bassist and keyboard player, Stuart Chatwood.
"We've written 26 songs and recorded 12 of them at Factory Studios," said Burrows. "There are a couple of other guys involved, but I don't want to say who right now until everything's firm."
He hopes to release at least a mini-album before Christmas.
Meanwhile, Burrows and some local friends - Daren Dobsky, Dave Cyrenne and Nick Belulis - will rock tonight at the Avalon Front, 300 Ouellette Ave.
You can check up on the latest news on a MySpace site set up by a fan, www.jeffburrows.ca.