Neil Peart Visits "The Bower Show"
Sirius.com, September 20, 2006
---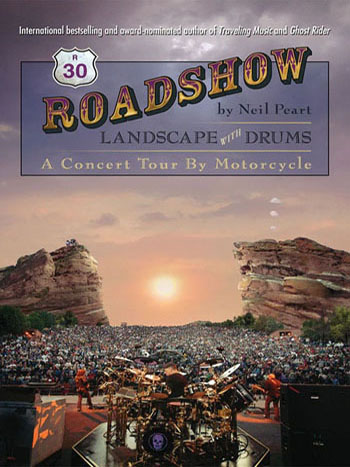 Rush drummer Neil Peart rarely does interviews. Luckily for us, he happened to be in the mood for inane-ness the other day, so he rightfully stopped by The Bower Show. Neil's also an author - and he was plugging his latest book (his 4th!), Roadshow: Landscape With Drums - A Concert Tour By Motorcycle. He talked about, well, motorcycles, told his favorite drummer jokes and talked about sharing the stage with Jack Black. Scooter and Laura tried to contain themselves during the interview... and almost pulled it off.
BOWER: So, I was gonna introduce you as "Rush drummer Neil Peart," but screw that, Neil, I'm going with "acclaimed author"!
NEIL: It's funny, though, I was writing to a friend the other day, and I said "It seems to me that 'drummer/author' is as newsworthy as 'man bites dog.'"
BOWER: Let's be honest: drummers... they're not the brightest guys, usually.
NEIL: I collected all the jokes and used them in the book because they are so entertaining. "How can you tell if the stage is level? The drool comes out of both sides of the drummer's mouth!"
LAURA: I'd thought that they only had jokes like that for blondes until I read the book.
NEIL: There are even more jokes about drummers than there are about blondes. "How do you get the drummer off your porch? Pay for the pizza!"
BOWER: Wow. Now when Rush is on tour, you travel from gig to gig on your motorcycle, right?
NEIL: I started doing this in the '80s, traveling by bicycle. I found that it was so liberating to get out of that tight circle of arenas, hotels and tour buses. So, they'd leave me behind to find my way to the next gig on bicycle. Even on the day of a show, I'd ride my bicycle around the city and go to a museum, or ride out in the country and see some real people. It just expanded my world so much, the sense of adventure was great. I'd be looking at the map, asking myself "where will I ride tomorrow?" Riding a motorcycle has just expanded that, I cover more ground. I tell a story in the book where I went searching for all of the national parks on the east coast. From Florida to Maine, and that became my mission through the whole east coast run. So, despite the fact that I've toured the United States for 30 years, by bicycle and motorcycle, I've ridden all the good roads, this was a way to make it an adventure. In one case, I rode almost 900 miles in two days, just to get to the Great Smokey Mountain National Park, and Mammoth Cave National Park in Shenandoah, because I had to add them to my list.
BOWER: So, you're in a band, but you consider yourself a loner, don't you?
NEIL: I'm comfortable with my own company. I think it's an important asset in life to be comfortable with your own company. I do take the precaution when we're touring to take a riding partner with me, so if something goes wrong with my motorcycle, I can say, "Can you give me your bike? I gotta get to the show. Bye!" I tell this story in the book: I met the drummer from Little Feat years ago, he told me that he was on tour, he was riding his Harley through Texas, and he got run off the road by a pickup truck. The two guys got out of the pickup truck, took his motorcycle, put it in the truck and left him there in the ditch with two broken legs. So bad things can happen to you. He was alone.
SCOOTER: How does that affect the chemistry of the band - the fact that you travel seperately?
NEIL: In fact, it makes it more interesting. We do different things on our days off, and on the day of the show, when we get together - we have dinner together every night before the show - we have something new to talk about, because we haven't all done the same things.
LAURA: In the book, you refer to the tour as "The Vortex." It sucks you in. And by the end, you're exhausted. It made me wonder, why do you keep doing it?
NEIL: I've called it "soul destroying" before, but I have found ways to make it adventurous. And it's my job. The first time I said "I'm not touring anymore" was 1989, I'm still saying that.
LAURA: Even in the book, you said, "this is the last time I'm going to play this song."
NEIL: I know enough now never to say "never," and also I think that a band plays live, it's part of what makes a band a band. And of course, when you make a new album, you want people to hear it. For us, the only way to really get heard is to go out and play live. Those have always been the motivations. No one is gonna hear the music that we've just created, that we love, if we don't go out and play it. A lot of times our motivation is as genuine as that.
BOWER: I'm guessing that, as much as all of us dream of being a rock star, and we think that it's the coolest thing ever... there's a point for a rock star where it's out of control, and you're like, "I'm done with it," and then you've got to get yourself together and do the next show.
NEIL: I love preparing for the tour, I love playing, I love rehearsing, I love working with the guys towards that higher level of performance, all of that is great, and satisfying and enjoyable. And the first show is always so exciting, and such an adventure. But all you're doing after that, let's face it, is try to do that again. And again and again. So it's necessary for me, anyway, to find other things to stimulate, so that it doesn't become stale.
BOWER: What are your favorite and least favorite Rush songs?
NEIL: That's a good question... we write songs that we really like to play. Sometimes we make them hard to play, so that when we play it for the 5000th time, it'll still be a challenge. "Tom Sawyer" is certainly one of our best known songs, but it's always hard to play. It's always a challenge, so how can that be boring? There's still an exciting thing about playing "Red Barechetta." There's still elements of that song where you feel the audience elevate. There are those genuine dynamic peaks and those genuine organic responses. We were playing the Yardbirds' "Heart Full Of Soul" on our last tour, and the audience started chiming in on the background vocals, spontaneously. It sounded great, musically, but to have that level of response was a cool thing, it happened every night.
BOWER: In the book, how many dates did you cover?
NEIL: The tour covered 57 shows in 9 countries. But on the motorcycle, I covered 19 countries, because on a day off I'd say, "I'm gonna go to Poland and Lichtenstein."
SCOOTER: Can you tell us the Jack Black story?
NEIL: We opened our show through the last tour with a film, it was a dream sequence, and at the end, Jerry Stiller wakes up, and says, "Whoa! Did I miss the show?" And then he calls us to the stage. We originally wanted Jack Black to do that. We called his people, and they said he wasn't available. When I met Jack he said, "I never heard about that! I would have done it, I'm at your service!" So when we played in Irvine Meadows in Southern California, he came to the show. I told him, well, we keep these dryers on stage, we have t-shirts in them, and at the end of the show, Geddy and Alex pass the shirts out to the audience. So we asked him to come out and do that, and he said, "Oh, yeah!" Well, it turned into performance art. While we're playing "2112," he somersaults onto the stage, striking rock poses in front of Geddy on stage, he climbs up on the dryer, he starts stripping, he's down to his boxers with the "plumber's crack," he immerses himself in posing, then he sommersaults off stage, and we're looking at each other going "What just happened?"
BOWER: Has there ever been something that happened at a show that really threw you?
NEIL: Quite a few years ago, someone threw a lighter and it hit Geddy in the forehead, but he kept playing. Anything that would "throw" me would be something bad. Something funny, I just play through it. Plus, we have the funniest man in the world in our band, Alex Lifeson. Sometimes Geddy and I just look away from him, when you laugh, especially when you're playing drums, you get weak, that's the last thing you want.
SCOOTER: You love riding, you love playing drums, if you had to give up one, could you do it?
NEIL: No, they go together so well. But, since I was 13, drumming has been the major thread in my life, that'd be a little harder to put down.
BOWER: You consider yourself to be a perfectionist.
NEIL: No question.
BOWER: Are you hard on yourself?
NEIL: Definitely, but there are always five or six shows over a tour that are what I call magic shows, you just get swept up in the music. Which is great: except that you think it won't be as good tomorrow.