Neil's Letter of Thanks
Modern Drummer, October 2006
---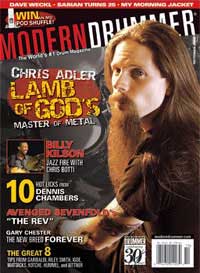 When I first heard that the Modern Drummer Readers Poll had awarded me with triple honors for rock drummer, recorded performance, and educational DVD, I felt a heady mix of emotions. Pleasure, foremost, and certainly surprise, mixed with a little unworthiness. In time, that combination of reactions added up to a pure sense of gratitude at having my work be so appreciated by people, especially other drummers. "The praise of the praiseworthy," I call it.
If anyone thinks a person ever gets 'used to' being honored, or winning awards, and doesn't really care too much, I'm here to tell you that it's not so. There are few feelings in life that equal being appreciated, and you can never get enough of it. Plus, genuine appreciation has the quality to endure, and I still feel a warm glow when I think about those three honors.
To all those who voted for me, thank you most sincerely."
Neil Peart