The Movie Soundtrack: Contemporary Can-Rock Acolytes
By Ben Rayner, Toronto Star, October 1, 2006, transcribed by pwrwindows
---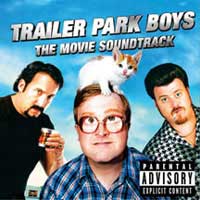 Listen, boys, if it all worked out perfectly and it wasn't a little half-assed and everybody walked away happy, it wouldn't be The Trailer Park Boys, now, would it?
The affable soundtrack to Trailer Park Boys The Movie, bodes well for the flick.
For starters, former guest stars Rush didn't just sign off on the inclusion of "Spirit On The Radio," they agreed to put the whole CD out on their own freakin' label while Geddy Lee and Alex Lifeson hit the studio with contemporary Can-rock acolytes from the Tea Party, Three Days Grace, Thornley, and Die Mannequin to grind out an exclusive version of "I Fought The Law" as the Big Dirty Band. Lifeson also appears (alongside Blackie and the Rodeo Kings' Tom Wilson) as a member of Bubbles' band the Shit Rockers on "Liquor & Whores." Awesomely, it's the better of the two tunes.
St. Catharines youngsters Alexisonfire confirm their coolness and sense of humour with an acidic cover of Black Sabbath's "Sweet Leaf," leaving the "novelty" content to resident Sunnyvale wigga J-Roc's "Trailer Park Life."
Had the soundtrack's curators shored the latter up with a track from Halifax's original Trailer Park Hip Hop crew, Hip Club Groove - of which Cory (Bowles) was a part, and whose "Rugged Operator" would fit smashingly - they'd have scored a total coup.
The interstitial dialogue excerpts from the film, too, are pretty hysterical, particularly a bit where Cory and Trevor admit to pretending they're Ricky when they're alone. A cool souvenir, anyway, even if you never play it.