Snakes Alive!
Classic Rock, March 2007, transcribed by pwrwindows
---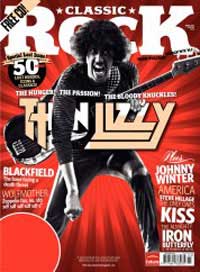 Rush in a rush over new studio album.
Long-running Canadian rockers Rush are adding the final touches to their 18th full-length studio album, which will be titled either Snakes And Arrows or Snakes And Ladders when it is released via Atlantic Records in late April/early May.
Co-produced with Nick Raskulinecz (who has previously worked with Foo Fighters, Tenacious D and Stone Sour), Rush recorded the album in 30 days flat - their speediest finish since A Farewell To Kings in 1977. A 'making of' DVD is also likely to be released.
Drummer Neil Peart recently said that some of the album's lyrics were inspired by his motorbike trips across America, stories later captured in literary form in a book called Roadshow: Landscape With Drums.
The trio expect to spend most of the year on the road, and undertake a lengthy North American tour kicking off in mid-June; European and South American shows are pencilled in for early 2008.
Now into their 33rd year as recording artists, Rush were once again overlooked by the Rock And Roll Hall Of Fame. "I couldn't care less. Look who's up for induction. It's a joke," guitarist Alex Lifeson said of the snub.
To hear a different side of Alex Lifeson, check out track 3 on our cover CD.