Closer To The Heart
On Their First New CD In Five Years, RUSH Rediscover Their Love Of Laying It Down Live
By Dan Epstein, Revolver, April 2007, transcribed by Chris Milmerstadt
---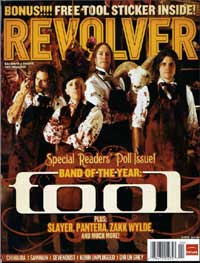 "It's hard to describe," said Lee. "It's big, it's bold, and I think it's some of the best work we've done in years. I'm really pleased with the quality of the songs, and there's lots of playing on it."
The upcoming CD promises to be the most organic-sounding RUSH effort in decades, having been influenced by their experience of making "Feedback", the band's 2004 EP of classic-rock covers.
"Playing those songs that we loved and grew up on, I think it helped us remember how sometimes it's the simplicity or the directness of an arrangement that really makes a great song," said Lee. "And the other thing is, we played all together in the studio for a lot of the 'Feedback' stuff. That's something that a lot of producers had been pushing us to do for a while but which we hadn't done in years. It was great to turn off the click and just play - you know, not worry so much about being so, quote, metronomic - and that definitely carried over into this record."
"... We wanted the bed tracks to have that sort of live attitude to them, and that totally went with Nick's thinking, as well".
In Rasculinecz, the band found not only an enthusiastic collaborator but also a serious taskmaster who wasn't at all intimidated by the musician's formidable chops. "Nick really pushed us-he was constantly saying things like, 'Make it more complicated!' Lee laughs.
"There's no point in hiring a producer who's not going to speak his mind, but it's a tall order to find someone who can hear Neil's playing, amazing as it is, and still say, 'Maybe you should try going in this direction...' It was a pleasure to be challenged. That's really what a band like us needs."
Rush and Rasulinecz are currently mixing the new album at L.A.'s Ocean Way Studios, but most of the tracking was done at Allaire Studios in New York's Catskill Mountains.
"It's an old manor house that was originally built by the Pitcairn family, who owned the Pittsburgh Plate Glass Company," Lee explains. "It's on the top of this mountain with just breathtaking views of the Hudson Valley. Our original intention was only to spend about 12 days there, doing drums. But it's so beautiful there, and the rooms sounded so great, and they didn't have anyone coming in after us, so Nick was like, 'Hey, let's keep goin'!'"
Though Rush recorded at a number of residential studios during the Seventies and Eighties, these were the first "sleepover sessions" for the band in nearly two decades, and Lee admits he initially wasn't entirely keen on the idea. In fact, "I approached it with great trepidation," he laughs. "I love those guys dearly, but 24 hours a day with anybody is a bit much. But to be honest, we had a blast. We got so much accomplished in our five and a half weeks there, and I have to say that I can't remember a recording session that's been as enjoyable and as refreshingly creative as these sessions. There was just a vibe with this record were everyone wanted to be there all the time."