Backstage On The R30 Tour
Riding With The Ghost Rider, Redux
By Brian Catterson, Motor Cyclist, May 2007, transcribed by pwrwindows
---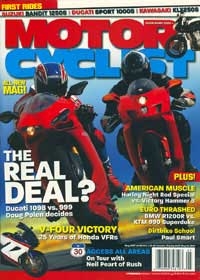 Like many musicians and wannabe musicians, I'm a Rush fan, and have been since my hard-rockin' youth. So when Neil Peart started riding motorcycles and documenting his experiences in novels I naturally had to write a story about him, which I did during the 2002 Vapor Trails tour. We've kept in touch and gotten together several times since, as documented by my cameos in Roadshow.
It's always interesting to read someone else's perception of a shared experience, and so it was with Neil's latest book. But now it's my turn to tell two stories about the R30 tour from my perspective...
First was when Neil and Michael joined me at the Laguna Seca World Superbike races in July of 2004. The band had played in Concord on Saturday night and conveniently had Sunday off, so as neil wrote in Roadshow, I led them around the giant "rock festival" of the racetrack. This was something of a role reversal from when I'd been to Rush shows, because now I was more likely to be recognized - though I assuredly wouldn't be mobbed like Neil would lf he strolled through the audience at a concert. Sure enough, we made it all the way to the Corkscrew and back without him being detected, despite walking past a number of fans wearing Rush shirts they'd presumably bought the night before.
Second, after our ride together from Texas to Colorado, Neil went to stay with a friend in Colorado Springs while Michael and I rode on to Denver. The next day Michael went to work at the Red Rocks Amphitheater, and I washed the spare BMW R1150GS I'd borrowed from Neil, then had my brother Paul follow me to the venue in his truck so I could return it. Failing to find any sort of backstage artists entrance, we headed for the main gate, where the limousines ferrying Alex, Geddy, et al to the show were just arriving. I slotted in behind them and was startled to see hordes of fans begin running toward me, thinking I was Neil! He'd arrived hours earlier, of course, as he always does, to avoid just this sort of confrontation.
And that's the great irony in Neil's writing. Where he's guarded with fans and the press, eschewing Meet & Greets and interviews, he bares his soul in his books. Rarer even than a drummer who can spell, Neil Peart is a rock star who doesn't just think he's deep.