Rush Hour
Trio Returns After Five Years, But Band Has Kept Busy
By Gary Graff, Billboard, May 5, 2007, transcribed by pwrwindows
---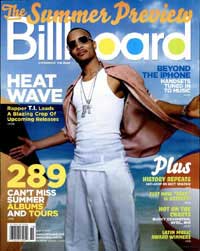 Thirty-three years into its recording career, Canadian hard-rock trio Rush is finding it easier to make music together.
"You can argue that we don't have much to prove at this point," guitarist Alex Lifeson says. "We're in our 50s now. Geddy [Lee] and I have been doing it 40 years, as a band with Neil Peart for 33 years.
"But this was maybe the most fun record I think we've ever made. It just feels different somehow. It's very positive, very forward, all fresh and new to us for some reason."
He's referring to "Snakes & Arrows" which comes out May 1 on Anthem/Atlantic and as an expanded set with a 43-minute video on June 5. It's Rush's first set of all-new material since 2002's "Vapor Trails." But unlike the six-year hiatus before that album, the trio has been busy in the intervening years. It has toured twice, released a covers EP, "Feedback," a live album and two concert DVDs-"Rush in Rio" and "R30."
"At no time do we feel like we're retired or not functioning," singer/bassist/keyboardist Lee says. "We were just waiting for the right moment to get back together and write."
lt also appears to be the right moment for Rush to come back into the marketplace, according to Atlantic VP of marketing David Burrier. First single "Far Cry" is already a No. 3 hit on Radio & Records' Rock chart, the band's fourth top five in the past five years. Burrier says, "Where a couple years ago a lot of programmers were saying, 'Rush? Enough already!,' this time around, when word started leaking about the record they were asking ahead of time, 'When am getting it?'"
The promotion campaign includes extensive press and ads on not just music but also talk and sports broadcast and Internet outlets. Lee, an avid baseball fan. is also featured in a TV ad for ESPN's fantasy leagues.
Rush started work on "Snakes & Arrows" in early 2006, when Lee and Lifeson, who reside two blocks away from each other in Toronto, began working on new music at Lee's house, with lyrics supplied by Peart from California. The spirit of the project, Lee says, was inspired by "Feedback," which "put us in touch with being kids again. I think we carne into ["Snakes St Arrows"] with a real nice mental attitude."
Lee and Lifeson had five new songs sketched out when they convened with Peart at a home the drummer owns in Quebec, and the trio continued to develop material in May and September in Toronto-bringing in Nick Raskulinecz (Foo Fighters. Velvet Revolver), Rush's first American-born producer, for the latter session.
In November, the group then repaired to Allaire Studios in New York's Catskill Mountains for five weeks ("We finally got a borscht belt gig," Lifeson cracks), whose residential setting allowed for such spontaneous creations as the instrumentals "Hope" and "Malignant Narcissism."
"There's a lot of playing on this record," Lifeson says. "To me it's got our whole history in it, somehow. It's got little bits of the way we wrote songs in the past, the kind of chords we might have used, but not in a nostalgic kind of way."
In fact, Lifeson and Lee agree that many of the new songs hew back to the intricate, prog-rock stylings on which Rush staked its reputation in the '70s-and in turn have inspired more recent rock bands whose work and sound techniques interest Rush.
"We like to feel we're current." Lee says. "We listen to a lot of younger bands, especially Alex. A lot of those bands cite us as an influence. It's ironic that bands that have been influenced by our playing or our past have some instruction for us, too. They help us grow."
That pattern has helped Rush become a kind of rite of passage band, handed down from one generation of fans to the next. The trio maintain a particularly strong live following, so expectations are high for a 42-show North American tour that begins June 13 in Atlanta and will be followed by dates around the world, perhaps returning to these shores in 2008.