Snakes Alive!
By Geoff Barton, Classic Rock, June 2007, transcribed by pwrwindows
---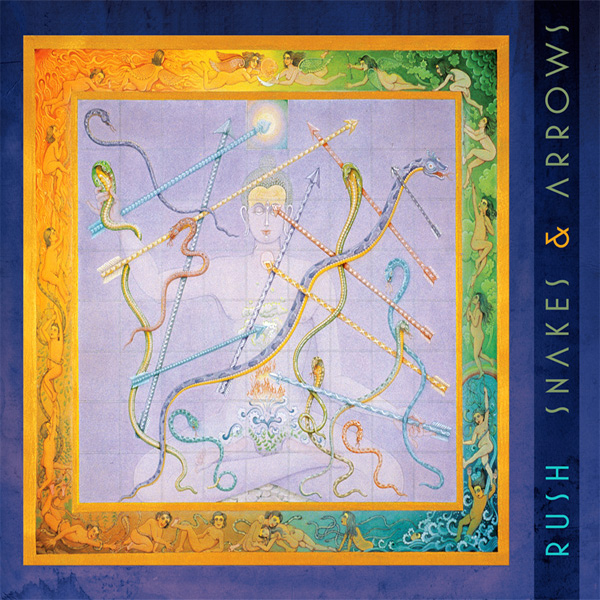 With a new album in the can and a world tour in the offing, Classic Rock collars all three Rush men to get the low-down.
The Canadian progressive rock legends are back - and how.
RUSH
Snakes & Arrows
Atlantic
The year 2007 - better watch out, there are only another 105 to go - finds the veteran Canadian prog trio Rush in fine fettle. After the stopgap distraction of the Feedback album of cover versions, Snakes & Arrows is their first collection of all-new material since 2002's Vapor Trails.
Of course a hell of a lot of - mostly bad - things have happened across the globe since then. A Rush album's ambience is always determined by drummer/lyricist Neil Peart's world-view - plus his, at times controversial, political outlook - and this one doesn't buck that trend. When, on Rush's 2004 30th anniversary tour, Peart eschewed luxury travel to ride his BMW chopper across the States (chronicled in his book Roadshow: Landscape With Drums, A Concert Tour By Motorcycle) he was struck by the number of religious billboards and God-fearing paraphernalia cluttering the roadside. America, he noticed, was becoming ever more evangelical. And beyond its shores, fundamentalist fanaticism was on the rise.
Peart's reflections on such matters fuel several of the songs here, notably Armor & Sword and Faithless. On the former he appears to advocate religion as a comfort blanket but not as an outlet for aggression, while adding the wry proviso: 'No one gets to their heaven without a fight.' On the latter he states plainly: 'I don't have faith in faith' but later explains: 'I still cling to hope/And I believe in love/And that's faith enough for me.'
The great thing about Peart's ramblings is that they work both ways. If you concur with his thoughts, they form a vital part of Rush's music. But if his opinions jar, they give the band an edge they might otherwise lack. It's a double-whammy. Whichever side of the fence you are on, Peart provides tasty points of discussion. Without him, Rush wouldn't be Rush.
Snakes & Arrows begins in superb style with Far Cry, the first single, all solid riffs and subtle subversion. It's archetypal Rush: like on Subdivisions or Tom Sawyer, bassist Geddy Lee's shrill, deceptively lazy, half-spoken vocals add a light touch that disguises - almost, but not quite - the insidious nature of the song.
With co-producer Nick Raskulinecz (Foo Fighters, Velvet Revolver) masterminding a sound that's thick and mysterious, 12 varied tracks follow - including three instrumentals. Of those, The Main Monkey Business is closest in spirit to La Villa Strangiato (the nonvocal offering on 1978's Hemispheres) with its elaborate-but-heavyweight approach. Malignant Narcissism has some great grumbling bass work from Lee, while Hope is very Celtic, very Led Zeppelin III, with a sly nod from guitarist Alex Lifeson to that throwaway stuff Tony Iommi used to put on Black Sabbath albums.
But the real meat and potatoes is on fullblown tracks such as Workin' Them Angels and The Larger Bowl, where snaking rhythms soothe and jar simultaneously, Lee's singing nags and jostles, and melodic patterns ebb and flow unexpectedly. Rush at the top of their game.
One of our favourites is Spindrift, the title of which refers to a plume of spray that's blown along the surface of the sea. (Although fans of the cult TV series Land Of The Giants might tell you different.) Rush conjure up a tense atmosphere of tangible menace before stepping off the gas and transforming the track into a love song - or 'relationship song', as Peart would have it. Evocative stuff.
The Way The Wind Blows follows a similar theme and contains the best lyric in the entire album: 'Like a solitary pine on a bare, wind-blasted shore,' enunciated to perfection by Lee. However, listeners of a rebellious persuasion may be bemused by the song's submissive theme and the words: 'We can only bow to the here and now/ Or be broken down blow by blow.' Despite this and the single disappointing track (the impenetrable Good News First) it's hard to disagree with Geddy Lee's recent comment about Snakes & Arrows: "It's big, it's bold, and I think it's some of the best work we've done in years." The masters are back. They have assumed control.