Alex Lifeson Interview
Rush multi-instrumentalist Alex Lifeson talks about studio amps, being mistaken for a Greek and exactly where the band has been for the past five years
Guitarist, August 2007, transcribed by pwrwindows
---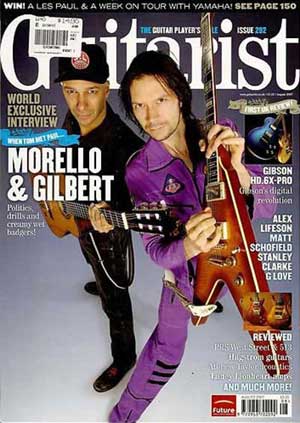 Essentials
Born: 27 August 1953, Fernie, BC, Canada.

Bands: Rush.

Guitars: Gibson ES-355, Signature Custom, PRS Singlecut, Fender Telecaster, Gibson Les Paul, Gibson ES-1275, Garrison and Gibson acoustics.

Did you know? Named Aleksandar Zivojinovic, Big AI is Serbian by birth.

Classic Albums: Rush finally tasted success on the back of the concept album 2112 (1976), but we'd suggest that Moving Pictures (1980) is at the summit of the band's output. AI's guitar has rarely been heavier than on Vapor Trails (2002), while Snakes & Arrows (2007) is arguably the band's best album for 25 years.
It's official: Rush still rules. Snakes & Arrows, the band's first original material since 2002's brooding but patchy Vapor Trails, has stormed into the top five in the US album charts, peaking at an impressive number three and thus proving that reports of the band's demise have been widely exaggerated.
Arguably, only Queen can rival Canada's most famous rock trio in the musical versatility stakes, with styles ranging from Zep-flavoured swords 'n' sorcery rock-out epics and a dalliance with the keyboard-driven new romantic fashion (during which Alex sported a terrible blonde wedge) all the way to the current album, full of beautifully crafted music. Along the way, the band cemented their reputation, earned by the phenomenal success of 1976's 2112 opus, with two back-to-back classics: 1980'S Permanent Waves and Moving Pictures, which hit a year later, still remain most fans' favourites.
Many of the facets and trademarks that still attract listeners to those two releases are evident throughout Snakes & Arrows, something perhaps down to the palpable release of creative juices afforded by actually being back in a studio.
"Yes, it was very nice [to be back]!" affirms Lifeson, chatting in his customarily affable style from his hometown of Toronto. "The last five years or so after Vapor Trails have been very busy. We've done a couple of tours, released a couple of live DVDs, a compilation...it's been very hectic actually."
The new album wasn't simply an act of getting some gear together, knocking out a few tunes, finding someone to press the red button and then getting on with it. The Rush writing ethic has stood virtually unchanged since drummer Neil Peart joined in time for 1975's Fly By Night album, with the talented tub-thumper taking care of the lyrics almost exclusively, while Lifeson and bassist/vocalist Geddy Lee work on the music.
"Geddy lives not five minutes from me - can you believe that after 40 years? - and we wanted to take a really casual, easy approach to working on this record," Alex explains. "We sat down together in this cosy little writing room he has in his house and we worked a few days a week for about five or six hours a day, and it was a really nice change from the normal machine starting up, being sucked into that vortex, going away to a studio and working all week..."
He laughs before continuing: "That eventually came up, of course, but it was nice to get started on a project like this in a very relaxed way. Making the decision to write acoustically I think was an important one; it's really given the record its flavour."
The humble acoustic is certainly one of the main themes throughout the album and there's no doubt that Alex's use of Garrison and Gibson hollowbodies is little short of inspired, thickening up various electric parts and certainly adding dollops of rhythm to proceedings.
"I'd been playing a lot of acoustic at home before we started working and it was just feeling really comfortable. I was playing with some alternate tunings and it just seemed to be the way to go. It was very natural and organic, Geddy felt the same way, and the songwriting took a very melodic, almost folkish turn in terms of the chord progressions and things like that. It was always in our minds that it would ultimately be replaced with electrics, or at least the electrics would be the prominent guitars, but the acoustic takes a very rhythmic role in a lot of cases."
So struck were the old friends by the feel afforded by these instruments that Alex was actively encouraged to record an acoustic solo piece entitled Hope, but his dabbling didn't end with traditional six- and 12-string guitars. Additional flavours come from his use of the mandolin, most notably during "Workin' Them Angels", and even a bouzouki. Surely it took him some time to get his chops up to scratch?
"Well they're all stringed instruments and I think that if you can play one it's a little easier to get into others," he says. "I started on viola in Junior High School and over the years I'd picked up a mandolin or mandola and kinda learned my way around." Another chuckle comes down the line: Alex is noticeably winding up into 'storytelling' mode. "The bouzouki was really kinda cool," he begins. "I was visiting a friend in Mykonos last summer and he has a really beautiful place on the edge of a cliff. I'm an early riser, so I'd get up, make a cup of coffee and go and sit on the wall overlooking the Aegean. So I'd be just sitting there playing this bouzouki, feeling my way around it and, I swear to you, these little fishing boats would go by and they'd wave at me and it was like (affects Harry Enfield-style Mediterranean accent): 'That's a good Greek boy up there!' If they only knew!"
However, Alex is hardly shying away from the employment of electric guitars and amps and his use of myriad tones during songs such as "The Way The Wind Blows" captures the imagination.
"Actually, we had quite an elaborate system," he explains. "We had our amp condo in the control room stacked up two or three heads high. I had all kinds of things: some Marshall 100s, some Marshall 20- and 50-watt combos, the Hughes & Kettner stuff, a Rivera, a Budda, a really nice 1966 [Vox] AC30, an old [Roland] JC120, a couple of old Marshall and Hughes & Kettner cabs loaded with Greenbacks, a Bognor cab that we generally used with the more powerful amps, an old Orange amp..."
He pauses for breath before continuing: "So we really had quite a variety of amps and everything was set up in its own little area, so it was just a matter of patching it in for that particular arrangement and away we went. It was a lot of fun to explore different tonalities and sounds, particularly with a more traditional approach to those sounds."
It's a more straightforward arrangement when talking about his amp rig for the upcoming Rush world tour.
"I'm going to use the Hughes & Kettner TriAmp and I've changed the zenTeras for a couple of Switchblades, so that'll be my main amp set-up," he says, the excitement audible in his voice. "The Switchblades are really great for effects too. I especially like the onboard effects on that."
Given the band's experience, they know exactly what to expect from a full-blown world tour. As our time draws to a close, we brashly ask if Alex is ready to rock... "Well, we have two more weeks of full production rehearsal to go, so we're a little worn out by it all but it's really starting to come together. The new material is really starting to feel like old material, so I think by the time we get out there it's going to be pretty powerful!"