The Drums Of Snakes & Arrows
What Went Into What Came Out
by Neil Peart, Modern Drummer, August 2007, transcribed by John Patuto
---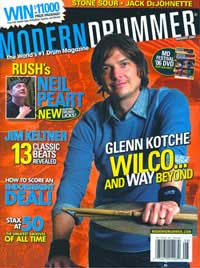 In early 2006, after working together for almost thirty-two years, Alex, Geddy, and I started writing songs for a new studio album. It would be our nineteenth, I read somewhere, and like every one of those other albums had been, this one was a daunting challenge to face - the great nothingness.
At least this time we had been allowed a generous amount of time to refill our creative wells. In the early years we were expected to produce a new album every six months, in two weeks, then go straight back on the road. That was crazy. Later we stretched that interval to a whole year, and then two years - sometimes longer, if the 'snakes and arrows' of life had bitten too deep.
After releasing Vapor Trails in 2002, we had about four years of work and play to refresh and "recreate' us. Time alone is an important factor, in both senses, but we hadn't exactly been lying around waiting for the muse. As Pablo Picasso once said, "There is such a thing as inspiration, but it tends to find us when we are at work."
And 'at work' we certainly were. In 2002 Rush did a long tour of the US, Canada, Mexico, and Brazil. In 2003, we released the Rush In Rio DVD and CD collections, and I started writing my third book, Traveling Music: Soundtrack To My Life And Times. In early 2004, we recorded an "EP" Feedback, of covers from the bands we had been inspired by in our youth, like The Who, The Yardbirds, Cream, and Buffalo Springfield. For the rest of that year, we were on the road again, in North America and Europe, for our 30th-anniversary tour. We released the R30 concert DVD in 2005, and I started writing a book about that tour, Roadshow: Landscape With Drums: A Concert Tour By Motorcycle, and also made an instructional DVD, Anatomy Of A Drum Solo.
So, during those four years, our musical muscles had been buffed by the rigors of two long tours-by what I can only describe as the ultimate practice. Performing night after night is like working out at the gym of musical fitness, worshiping at its temple, and messing around in its laboratory, all at the same time. If creating new music is the highest aspiration, then performing for an audience remains the greatest test (well over a hundred tests, on those two tours). All of that performance "working out" was offset by the low-pressure fun of recording Feedback (Geddy remarked during those sessions how nice it was not to have to worry about the actual song- just play it, like a sideman), and by the three of us stepping away to other interests, too.
My prose writing, for example, so often feeds into my lyric writing. And all the richness of everyday experience- of work, personal and family travels, and the enduring novelty of sustained domestic life (for musicians, at least)- all had an effect on these songs. When we embarked on this project, I was feeling creatively refreshed, and in the right "spirit" for lyric writing and drumming. Inspiration may come with work, but a break doesn't hurt either.
I had been inspired by a lot of other music around then, too, especially drumming. On the day I made the six-hour drive from Quebec to Toronto to start work, I was listening to some of my longtime favorites, like Buddy Rich, Steve Smith, and Dave Weckl, and some new favorites, like Gavin Harrison of Porcupine Tree and Ian Wallace with The Crimson Jazz Trio. (Both Gavin and Ian became friends of mine, too, but alas, we lost Ian early this year. Just when he had reached the peak of his musicianship, playing so beautifully and poised on the threshold of new success with the CJ3 in his beloved style of jazz, he was struck down by stupid cancer. That's the kind of fate that just makes me mad. Ian is missed as both a lovely man and a fine musician.)
I had also listened to Terry Bozzio's remarkable, incredibly virtuosic Chamber Works, and the word for my admiration of Terry and his art is "delighted" - with the unique sophistication of the work itself, and by the fact that he's able to get such work made. In these dark days of soulless multinational suits trying to market increasingly formulaic music (and unthinking, or uncaring, consumers content to steal it), the odd little beam of hope and inspiration, like Terry, shines through. I remember a relevant quote (though I can't find its source-probably some drummer), "Art is that which cannot be suppressed."
During a visit to the DW factory last year (to check out the drums I would play on this album), I saw one of Terry's massively intricate drumsets under construction. When I sat behind it, with all those chromatically tuned drums, the fantastic array of unique cymbals, and multiple pedals (eleven, I think), I looked around and up and down at that dizzyingly complex instrument and thought, "This is the guy's mind I'm looking at." When Terry and I finally met during a recent DW visit, I expanded that description of his kit: "This is your brain on drums!"
I spent an enjoyable day with another virtuoso drummer, Gregg Bissonette, playing "drum duets" on the two drumsets he has facing each other in his home studio. Gregg has enormous talent, technique, and know/edge of the instrument, and while I banged away, I would hear and see him play something wonderful and think, "I want to learn that." Later, Gregg and I puttered around a little lake in his pontoon boat, eating take-out subs and talking about life and work. Doane Perry and I get together like that, too-for Indian food, and to talk about drumming sometimes times, but mostly about everything else in our lives. My teacher, Freddie Gruber, remains a close friend and lifelong mentor, and a "lesson" can occur any time I'm at his house; all it takes is an old song on the radio, and the handy pair of sticks and practice pad on his coffee table.
During the previous few years I had attended some brilliant live performances too, appreciating a couple of younger drummers, Joey Heredia and Keith Carlock; two in my time of life, Steve Smith and Danny Gottlieb with Jeff Berlin; and a much older drummer, Roy Haynes. I attended Roy's performance with Freddie Gruber, Jim Keltner, Ian Wallace, and Joey Heredia, and between sets we all met with Roy and Ndugu Chancler backstage - quite a "drum summit!" But seeing Roy play with such joy and musicality at the age of eighty was plenty inspiring, especially to someone almost thirty years younger than him-a mere beginner!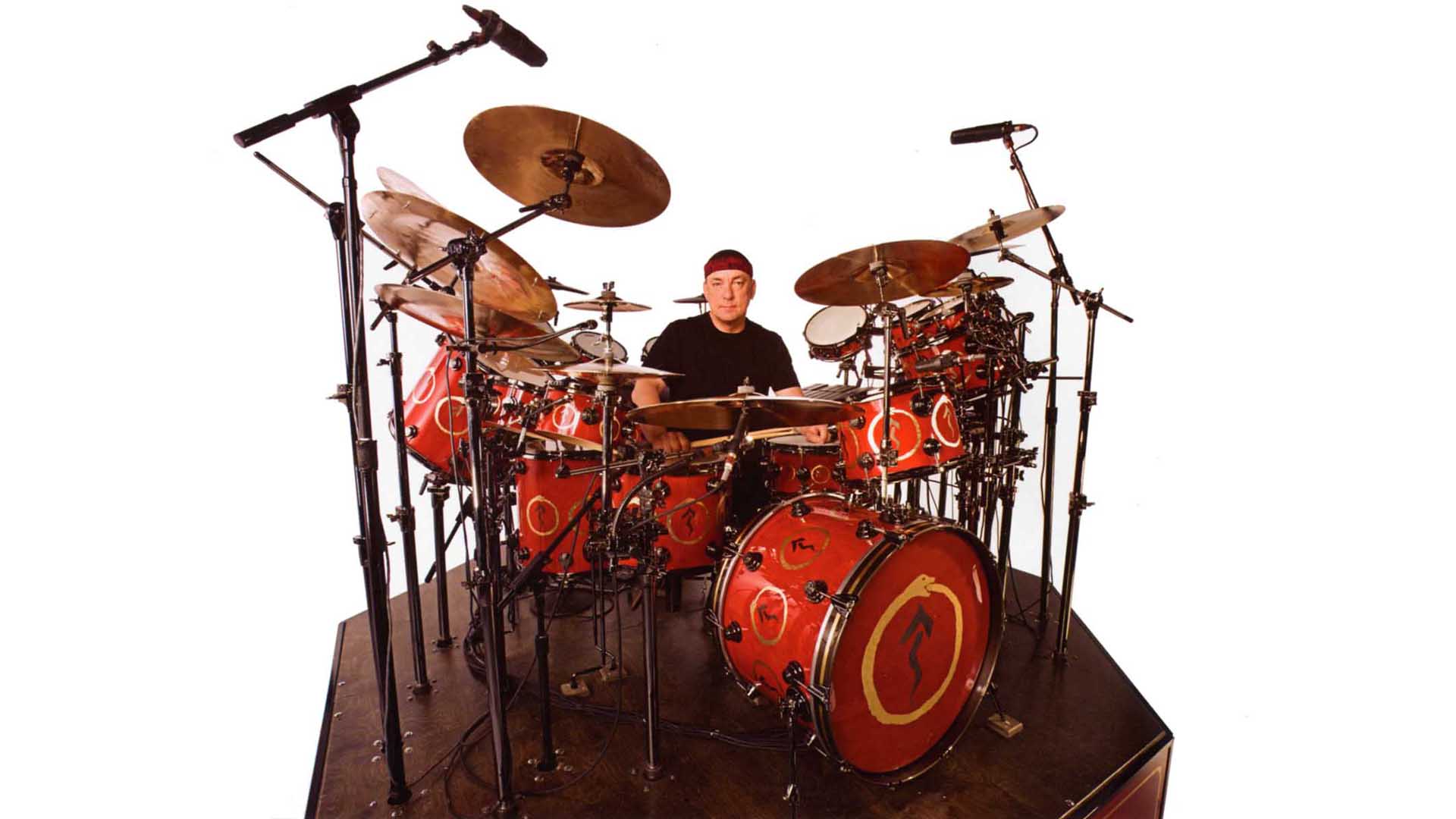 It will be understood, I hope, that the idea of being inspired by other drummers like that isn't to "get ideas." It's more about listening to great players and thinking to yourself, "That's how good I want to be." You get fired up to try to raise your game, and that's the spirit in which I showed up at the studio to start working on what would become Rush's nineteenth studio album, Snakes And Arrows.
I also showed up equipped with the finest tools of my trade. Early in 2006, DW had built me a "West Coast kit," intended for some recording work with my friend Matt Scannell, in California. Designed as a pure musical instrument, not so much for "show," the finish was tastefully subdued in tobacco sunburst with chrome hardware. When I used that kit to record three songs with Matt in June of that year, I knew it wasn't just the West Coast kit anymore-it was my kit. The individual drums sounded so great. and married so perfectly as a set la tribute to the hands and ears of the "Wood Whisperer," John Good, at OW), that I had them shipped to Toronto for the preproduction work in September and October.
Those drums represented some of John Good's experiments with VLT (Vertical Low Timbre), where one or more of the wood laminates would be laid vertically to the shell, rather than around the circumference. John had demonstrated the principle to me by holding up two 13" shells of bare, unfinished wood, and tapping them with the side of his hand. The VLT shell was a full tone deeper.
John and I have always agreed that a drum shell has a fundamental note (one of the insights that attracted me to working with John and DW- that and sitting in a recording studio beside Joe Morello while he made his DW drums sing). Consequently, these VLT shells, even fitted with hardware and heads, are able to resonate more fully at a lower pitch, and that is great for the bass drum, the floor toms, and- unexpectedly-the snare drum.
In past years, I've tended to bring quite an arsenal of snare drums into the studio. Certain songs might require, say, the depth and presence of the DW Edge, or the bright crack of a bamboo shell. My drum tech, Lorne "Gump" Wheaton, would often consult with me on that, listening from the control room and suggesting alternatives.
This time we had that same arsenal to choose from, but once I started playing these songs with that VLT snare drum, I never touched another. For one thing, it was wonderful to play, that subjective quality of responsiveness to delicate rudiments or full-out "woodchopper's ball" backbeats, and objectively, it was wonderful to listen back to. Whatever song I happened to be working on, the snare sound was always simply right. Neither Gump nor I ever thought, "maybe something brighter," or "maybe something darker"- the VLT was the perfect drum for the job on every song, and that is something of a miracle (a drummer's version, anyway).
On Day One of working on a new project, I tend to walk around my drums and look at the setup, wondering if I can change anything move some toms around; change the cymbal array, whatever- just to shake things up. After more than forty years, I have pretty much evolved a layout for the instrument that works best for me (a drum set is like a personal "orrery" - one of those models of the solar system with the planets in their correct orbits, but that doesn't mean it shouldn't be reexamined at a time like that, when the slate is clean.
This time I didn't come up with any big changes, but a few of the songs made me start imagining some different cymbal textures I might be able to use. When I was a teenager, just starting to play drums, I bought a length of chain from the hardware store to hang on my ride cymbal, to emulate the sound of the riveted cymbals I couldn't afford. I shared that memory with Mark Love at Sabian, and told him I was thinking about reintroducing a riveted cymbal, maybe a China-type. Mark sent me a few prototypes like that, and also some more "adventurous" variations, with holes in them, or- the most successful one- a China cymbal with a gentle attack and soft swell, and tambourine jingles alternating with the rivets. That proved to be a magic combination, and I used it a lot.
(When Sabian introduces that model as part of our Paragon line, I want them to call it the Diamondback, or the Sidewinder. Because it "rattles," of course. There are snakes in the album title, too, now that I think of it. I wonder if Sabian would go for bad jokes as product names .. . like this other idea I have for a new line of cymbals based on drummer jokes: There would be a thick, dull crash called the Slackjaw; one with long, dangling rivets called the Drooler; a Daliesque iron plate crudely hammered with stones, called the Troglodyte...)
Anyway, back on Planet Drum- the heads were another DW invention, or at least variation, called "Coated Clear." (Okay: names again. I complained to John Good about that unimaginative title for such an innovative musical accessory, but he just smiled. I couldn't help noticing that he didn't ask me for suggestions. But really, what about something to complement that cymbal line, but the opposite- like the new Mensa line of heads? [Mensa "heads"- come on! That's genius!] And just think of the endorser quotes: "The new Einstein heads are brilliant!" "My Michelangelos totally rock!" "Man, these Aristotles are, like, the Golden Mean!") Sorry, cracking myself up again.
For now, alas, those heads are humbly known as Coated Clear. They consist of a clear plastic surface circled by a thin white ring, but with brief "interruptions" at three, six, nine, and twelve o'clock. Apart from helping us drummers learn to tell time- as earlier batter heads with numbers at each lug helped us learn to count-they offer a perfect combination of resonance and warmth.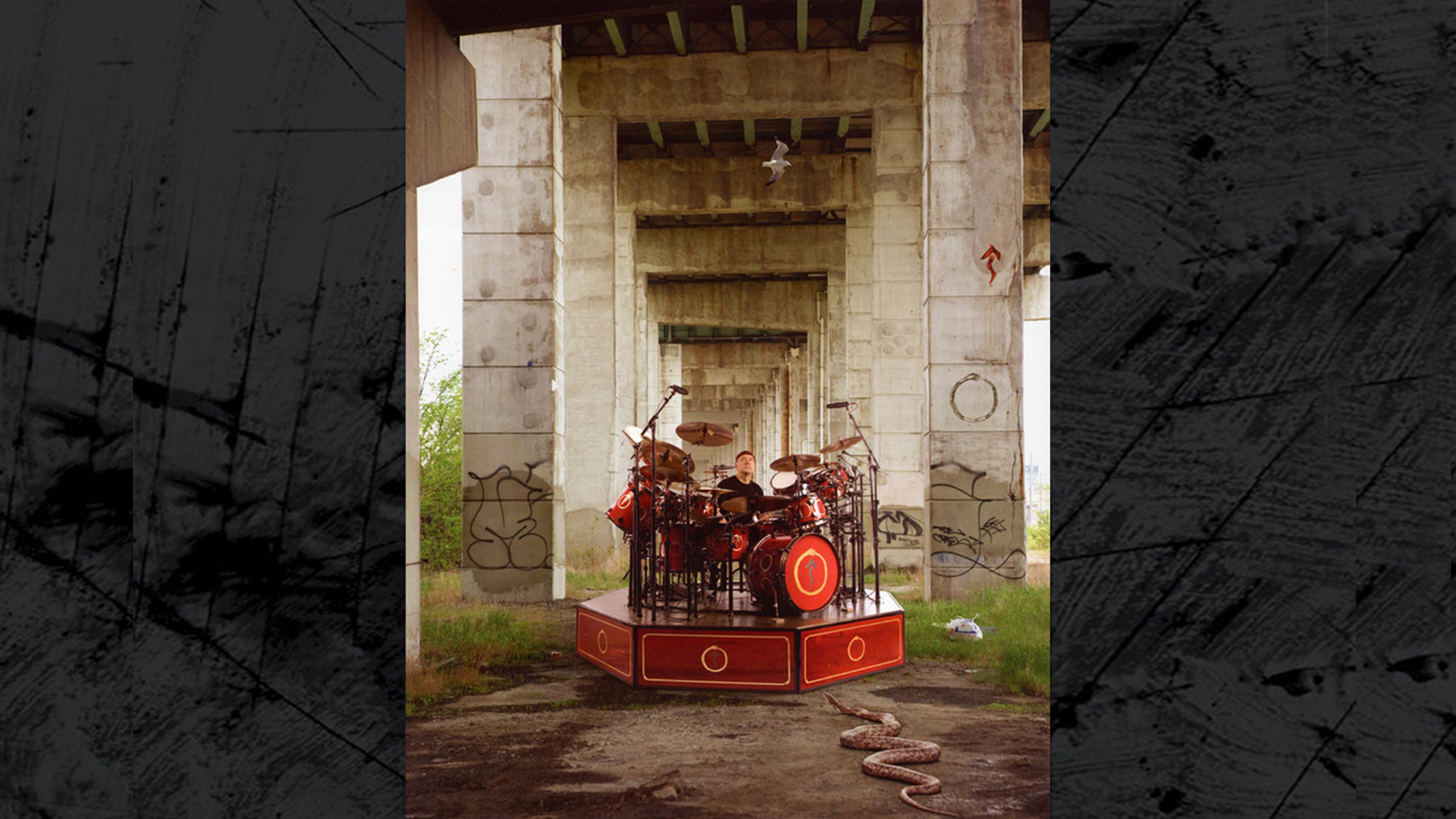 While I rehearsed and recorded, a drift of sawdust and kindling gathered around my feet, the remains of what had once been ProMark "signature" 747 sticks. (Like my drums and cymbals, I love them-so I have to kill them.)
The songwriting sessions are always a great time to try out new gear, and I experimented with the new- generation Roland V-Drums, the TD-20. I asked Gump to surprise me with a different preset every day, so when I put on the headphones and sat down to play them, I wouldn't know what was going to come out-symphonic percussion, tablas, or techno noises. That kept things interesting, and for the first time in many years I used a few electronic pads and triggers while recording sampled tambourine and ethnic percussion in "The Main Monkey Business," and a sheet-metal sample I've had since the '80s, called "Metasmack" (used on "Time Stand Still" and "Mission," for example), in "Armor And Sword."
Our recording engineer, Rich Chycki, had worked with Alex on the mixes for our R30 DVD, and we'd been impressed by his translation of our live sound. Rich also recorded us once in a Toronto studio for a Tsunami Benefit version of "Closer To The Heart," with Ed Robertson from Barenaked Ladies and "Bubbles" from the Trailer Park Boys. I was really impressed with Rich that day, because once Gump had assisted him with the mic check ("bang-bang-bang, boom-boom-boom, ting-ting-ting"), I just sat down and played. No messing around, no soul-destroying repetitive hits on each drum (I always make Gump do that, so I don't get worn down before I even start playing); I just had to play my drums with the band, while Rich recorded them exactly as they sounded.
That sounds so simple. Of course, recording a drumset is a massively complex challenge, especially one like mine, with so many drums and cymbals. Given Gump's expert setup, care, and ear for the tuning I like, plus Rich's meticulous mic placing and knob twiddling, all I had to worry about was playing well (and that's plenty). In my opinion, the combination of that wonderful room at Allaire, those great-sounding DW drums and Paragon cymbals, and Rich's discriminating ears, gave me the best drum sound I've ever had. The day we finished my drum tracks, I said to Rich and our co-producer, Nick Raskulinecz, "I have never enjoyed the recording process so much, nor been so satisfied with the results."
After these many years, and these many recordings, that is saying a lot.
As for our method of recording, here's how I described it in a story written to accompany the release of Snakes And Arrows. 'After more than thirty years of recording together, the three of us felt we achieved our best results by concentrating on one performance at a time. Even if we were playing alone to a recorded guide track, it was still us, and we 'meshed' automatically. Still, we remained open to other methods, and at Nick's direction, sometimes I recorded the drum track to the guide by myself; sometimes Geddy and I played together; and sometimes Nick wanted all three of us out there. Once he was satisfied that we were getting the most from each part of every song, we concentrated on getting the best drum performances. Then Geddy could take a similarly focused approach to rerecording his bass parts to them."
The guide track is recorded on computer, and driven by a click track, but I no longer consider that a limitation- more another kind of "guide." In my first instructional DVD, A Work In Progress, I talked about the "elasticity" of time, how with experience and understanding I've learned to work within metronomic time and make it seem to pull back, or push forward, or even pause for a millisecond, while still remaining in sync with the click.
When I'm rehearsing for live performance, I like ,to have a blinking-light type of metronome nearby, so I can glance over once in while to "check in." That wouldn't work so well in recording, when the constant click is needed to facilitate overdubs and such. But in the studio, I mix the click track with the other instruments and vocals in my headphones, and I play to them all.
As another drummer once remarked about recording to a click, "If you can't hear it. you know you're in." Your accurate beats will mask that sound, and the apparent "absence" can be comfortable and reassuring. In fact. you might say, "absence makes the part grow stronger."
Or, you might not ...
Track by Track
Neil Peart's drumming on Rush's new CD, Snakes & Arrows is some of his most inspired playing in years. What follows is his description of each track.
"Far Cry"
Right off the bat, the staccato, syncopated intro presents several concepts worth considering. For one, I have stated before that when I set out to learn a part in "uncommon time," I don't try to count it. Instead, I play along with the piece until I can sing it-until it becomes a rhythmic melody. In this case, in my initial, exploratory ramblings through "Far Cry," while I tried various approaches to the verses, bridges, and choruses, I learned that staccato section and tried a couple of different ways of playing it, with snare and floor tom, and with bass drum and crash cymbals.
Our co-producer, Nick, was listening to those early demos with me, and when we got to the final statement of that part at the end of the song, he turned to me and said, "Do you think you could solo over that part?"
I could only laugh. Well, of course I could solo over that part; I'd love to solo over that part- but I would never suggest such a thing myself! This is a good example of why it's valuable for us to have a co-producer: to push us beyond our "safety zone," in our playing, our arrangements, and, perhaps, our personalities, too. For me, my natural exuberance is sometimes restrained by my equally characteristic reserve, and Nick liked to break that down.
On the other hand, I confess that it was me who suggested the dropped beat in the middle of the "riff" section. If you'd like to count it, the section is three bars of 4/4, one of 3/4, and then four bars of 4/4, which repeats. What's particularly tricky about this is all of the upbeat accents, which makes it sound "odder" than it actually is.
I have to tell the story of how Nick got his, um, "nick" name, as I think drummers will appreciate it. While we were listening to those demos in the control room, Nick would illustrate his ideas for drum parts to me with flailing arms and vocalizations like, "Bloppida-bloppida-batu-batu-whirrrrr-blop-booujze."
"Booujze" represented the bass drum and cymbal crash at the end of that incredible air-drumming fill (of course), and it soon became his nickname. (Though deciding on the proper spelling required considerable discussion.)
So, it was Booujze who suggested I solo over that end section, and it was Booujze who suggested I use my "typical" syncopated bell pattern for the choruses. He knew I was determined to make my playing as fresh as possible, with as many new approaches and different fills as I could come up with, but he felt nothing could beat that rhythm for those parts. Well, fine-why avoid what works best just because you've used it a few times before? As Oscar Wilde said, "Self-plagiarism is style."
Elsewhere in "Far Cry," the riff sections cried out for your basic John Bonham sloshy hi-hat and heavy, syncopated snare and bass drum (a style Andy Parker from UFO used to call "baseball bats and diving boots"). As Count Basie remarked after hearing a playback of an Ellington-Sinatra collaboration (with Sam Woodyard's elegant drumming), "Always glad to hear about that kind of carryin' on!" The verses balance propulsion and accompaniment with a 16th-note hi-hat pattern and cymbal/bass drum punches-with an odd-numbered one at the end, to keep me alert.
My bandmates have a habit of adding or dropping beats in ways that seem sensible to them ("it felt a bit too long," or "it felt a bit too short"), or just for variety. I suppose it's a vote of confidence that they take for granted I'll be able to "handle" those anomalies. As Booujze often said to me when he suggested something, "Hey, I wouldn't ask if I didn't know you could do it!" Again, like the intro, I never count out those little "surprises," but just learn them as part of the song.
In the bridge, or pre-chorus, sections, I'm playing on the ride with the "x-hat" on the upbeats (the Billy Cobham revelation from the 70s, which he told me he first heard played by a guy in some bar), interspersed with rising double-bass-pedal triplets (thank you Tommy Aldridge) and China accents (that new "rattler") with the snare.
The fills in the middle of the choruses follow a sequence from an initial experiment of starting with a quick burst on the 13" tom and pulling back onto the snare. The one in the second chorus, two flurries on 12" and 13" toms, is a little "mini-tribute" to the late Mark Craney-the kind of intricate, dynamic tom fills he played. In fact. there are a few such tributes to other drummers, living and not. sprinkled here and there. Hearing those references gives me a "private smile," but musically, they also allowed me to briefly express different" characters" in my playing.
"Armor and Sword"
And speaking of tributes, this opening rhythm derives from Buddy Rich's "Mercy, Mercy, Mercy," via Dave Weckl's version on our tribute, Burning For Buddy, and my own previous use of it in "Test For Echo." I added some additional spices, with China cymbals and double-bass pedal figures, and found that a pattern like that could be so rigorous. The time sense has to be absolutely right-nailed would be the word and once you're committed to hacking out quarter notes on that loud, harsh China cymbal, you dare not get off it. even for a single crash, or the momentum is lost.
This song is full of that "elasticity of time" kind of action, pushing and pulling at the click deliberately. The choruses were particularly demanding, laying back after the intro or the driving chordal bridge sections (Bonham-like, again, but with one new figure that pleased me to run across-a jagged pair of double-bass triplet phrasings, separated by a one-beat rest, after "the solace we seek"). Making that transition, "jumping that fence" between bridge and chorus, required a careful setup before it, and a delicate hand on the reins to pull the feel back smoothly.
The sequence of fills I used to make that transition each time have a story, too. A brief crescendo of crash cymbals does the job the first time, and the next one is also a simple swell on the crashes, a rising 8th-note wash across four cymbals in increasing sizes, from 16" to 20". The third time, I accelerate to triplet feel, and add a double-bass roll under the crashes. The fourth one is longer, and begins with a quick triplet-feel roundhouse from snare to toms, straight into the bass drum pedals and crashes.
That's the kind of stuff I find exciting to play and to listen to, and this series came out of another example of a producer's influence. When I was recording with Matt Scannell, he steered me in that direction on one of his songs by asking me to give him a fill like the one I played near the end of our old song "Vital Signs," on double bass drums and cymbals. He described it to me, and I gave it a new twist for him by coming off a triplet-feel snare roll to the bass pedals and cymbals in that feel.
In the "Armor And Sword" choruses, I use several variations of fills that launch from the 15" floor tom on my left. I got that idea from Dave Weckl many years ago, and I still keep finding new ways to build fills and rhythms that way, as in these choruses, and the rolling tom sections in the middle. The other mid-chorus fills use variations on a typical Keith Moon phrase, leading with an accent on the upbeat (three and) that implies a hesitation, then following with a roll to the downbeat of the next bar. In the final chorus, I break it down, first loosening the time with snare accents and the ride bell on the upbeats, then falling into the tom section from the middle instrumental passage, transposed to a different, less urgent feel.
The verses are in 3/4, which became a kind of thematic time signature throughout this album. So many of these songs, and even Alex's solo guitar piece, "Hope," find us rocking away in waltz time.
I have written and spoken many times before about my endless experiments in 3/4 time, carried out in my practicing and in my solo. I used to say that I considered those more as mental and technical exercises, and that I didn't expect to find a musical use for solving those puzzles. But as an English doctor once said to me (worryingly). "I have been wrong before."
After all those hours-hundreds of hours-of playing variations on Max Roach's "The Drum Also Waltzes," I used that knowledge all over the place on this album, song after song. And when I needed a rudimental snare passage, a delicate ride pattern over a bass drum and hi-hat ostinato, or a rolling tom rhythm that could flow over that 3/4 time, it was wonderful to feel so comfortable with it.
More than anything, it's gratifying to see how all that work paid off in unexpected ways. I don't mind saying, "I have been wrong before," when it's such a nice way to be wrong!
"Workin' Them Angels"
This song, for example, shifts between 3/4 and 4/4 several times. Early on in the arranging, it was my suggestion to change the choruses to 4/4, to take the "lilt" out of the song for a minute. However, once we did that. I found it surprisingly difficult to feel the transition sometimes.
The point where Alex and Geddy chose to make the shift from four to three, for example, sometimes made sense structurally, but could be a real head-breaker for me. Still, it forced me to come up with some creative ways to bridge that change, jump that fence-like at the end of the instrumental passage, after the one-handed snare figure with tom flams on the triplets (inspired by a fill Matt Johnson played in "Last Goodbye," from Jeff Buckley's enduringly brilliant Grace). I resorted to calling a "time out" by throwing in a pair of rumbling quadruplets with double bass and floor toms, rising to a snare flam to kick into the last verse. When Geddy heard me pulling off stuff like that. he would shake his head and say, "Now that comedy!"
And all this time, Booujze was always encouraging both Geddy and me to "get crazy," until we decided we were "the world's funniest rhythm section." We began to think this album ought to be called Don't Try This At Home.
Otherwise, this song is all about feel - the right looseness for the verses and a relentless drive for the choruses, then a gentler groove for the instrumental passage (with 16th-note interjections inspired by the guitar strumming). The deep, rolling tom patterns in the bridges channel Gene Krupa and "Sing, Sing, Sing," of course, and I used flamadiddles to make the sticking work for the voices I wanted to hear in the cyclical, 3/4 rhythm. (And how deep those VLT toms are!)
Another little device I've been working on for a while appears in the last chorus, then again, in a different phrasing, in the rideout. The jagged, angular approach comes out of Tony Williams via Billy Cobham and Steve Gadd, I suppose, in a kind of triplet, or open flam and bass drum/cymbal crash, stabbing across the time.
That's another idea I first worked out for one of Matt Scannell's songs, then was able to develop further in this one, and try another variation later, in "Good News First."
"The Larger Bowl"
This one is a veritable feast for the drummer-or perhaps a selection of tasty hors d'oeuvres delivered on a series of silver platters (or, better yet, ever larger bowls). Nearly every section of the song is different, from laying out completely, to simple accompaniment in a '60s mode (cue Hal Blaine), to wildly syncopated fills. I had a rare opportunity to play tambourine, both sampled and real, and the "Diamondback" Paragon, with its tambourine jingles, can be heard clearly here during the long, gradual build-up section under the fifth verse. (Our longtime co-producer, Peter Collins, always called that sort of pumping, 8th-note build a "flying brick." This variation, gradually rising through the whole verse, was Booujze's excellent idea.) That serpentine cymbal also appears as an accent in a couple of choruses and the guitar solo.
The instrumental bridges offered tempting little gaps for drum fills, naturally, and once again, Booujze encouraged me to go crazy. So I did. (A little Manu Katche and Joey Heredia in there, I think. And a little of my own more passive-aggressive approach.)
From the beginning, I tried to convince Booujze I was more of a compositional drummer than an improviser, but he kept trying to push me "into the wilderness" in parts like that. Once we had recorded a good, solid take, he would ask me to go out and try it once more, and "go crazy." Gamely, I would try to lose my sanity, while still keeping time. Once in a while, I would pull off something special (even if only just!, and Booujze would give a devilish smile (while air-drumming along with the playback), and add that moment to the master drum take, rimshots and all.
In the early years, I was fussy about wanting to record a single performance, or-in the days of analog tape and razor blades-use minimal editing, without changing or fixing anything artificially. However, there was certainly nothing artificial about those events-they were, after all, insane-and I couldn't deny the excitement in those one-off moments, something edgy, daring, and dangerous. I think the listener must sense that the poor guy has never played that figure before, and just barely pulled it off and got back to "1." That might give a little thrill to the listener-as it certainly does to the drummer.
These days I know I am capable of playing the entire song in one pass, and maybe even getting it reasonably "right." However, to whatever degree, that goal requires a safe, conservative approach. Like playing in front of an audience, you don't take ridiculous chances (unless you're a gifted improviser, of course-apparently some guys are!). For me, once I've captured that "accurate" take, there's nothing wrong with trying to capture a few moments of ... if not "sublime inspiration," at least "sublime desperation."
"Spindrift"
Once again, lots of "feel" work in this song. Beginning with the punches and rolling hi-hat, it steps through several different movements, and the parts are deceptively simple. Detail is the god here. The first verse, for example, uses only 8th-note bass-drum accents, while the second one introduces 16th notes, to kick it up a little.
The whole song is a "muscular" performance, and I had to concentrate hard on laying it down, and on locking in with the vocals. That is sometimes an underrated part of drumming, and of being an accompanist, but if you're playing a song, with words and music, the singing is often considered ... oh, let's say, "important." For that reason, and perhaps because I write the lyrics, I give a lot of attention to the vocals, trying to frame them effectively and unobtrusively, while punching them up rhythmically when I can.
Years ago I saw a documentary on the making of Who's Next, and Roger Daltrey was talking about how much Keith Moon, for all the apparent wildness of his drumming, was actually very sensitive to the vocals. Daltrey demonstrated that quality by playing a bit of the multi-track tape of "Behind Blue Eyes," soloing the drums and then adding the vocals. Keith was clearly doing what I describe - framing the vocals, punching them up with accents - even though in his case it might have been his natural, instinctive musicality rather than my studied approach. (And even that might well be a subtle, enduring influence from my youthful enthusiasm for Keith Moon's drumming.)
Between vocal lines in the choruses, I was able to come up with more of those fills launching from the left floor tom (even deliberately repeating one-to Booujze's shock but hey, sometimes repetition can be effective). Toward the end of the song I round those off with a descending fill of alternating 16ths and 18ths across the bar line, like early Michael Giles-another affectionate tribute.
It was Booujze's idea to reprise the intro after a false ending, and once again he urged me to go crazy in it So I did. We rarely use fadeouts these days, but this one seemed inevitable, and I was pleased to find that Booujze was amused, as I have always been, by the notion of putting a "comedic" fill right at the bottom of a fade.
"The Main Monkey Business"
Where to begin with this one? A long, complicated instrumental, this was a tour-de-force to write, arrange, and perform, requiring far more time in each of those capacities than any of the other songs (or several of them put together). Drumwise, it took me about three days just to learn it, and countless times through to compose and refine the drum part.
The verses are an intricate, African-style pattern of toms (plenty more "flamadiddies"), China cymbal, x-hat, and snares-off snare, augmented with a tambourine sample played with a foot trigger on my left, and a deep tom sample on the "1." I also added occasional samples of sleigh bells, guiro, and one new sonic discovery, a slowed down whistle that appears only once, in the third verse. I felt it had a "haunting" effect, and it's interesting how familiar noises like that can be transformed by detuning them - I've used the same trick before with clave samples.
I had intended to play this entire piece of music with the snares turned off-just for fun, really, a thematic challenge, but also because I thought that darker sound would suit its atmosphere. Booujze had agreed at first, but while we were recording the song, he suggested trying the piccolo snare for the guitar solo. That little side drum lives on my far left, and I was riding on the Paragon "Sidewinder" on the far right, so it was quite a stretch from all the way over there to all the way over there - oh, and play bass drum and foot-triggered tambourine as well!
That improvised juggling act was also a tribute to Gump and Rich, in a way, because all at once I started playing that piccolo snare for the first time-ever! However, Gump had the drum up there, tuned and ready; Rich turned on the mic and I whacked the drum a couple of times for him; then we continued recording. Just like that, without any "technical delays." Wonderful.
A couple of weeks after recording "Monkey Biz," Booujze decided he wanted to hear snares in the choruses, so he tried adding that sound artificially, by using a sample from my under-snare mic in another song. (On that subject, Rich's professional pride would demand the assurance that this was the only time we ever used a sample with real drums, reflecting his contempt - and mine - for the modern habit of replacing real snares and bass drums with "punchier" samples, as a matter of course.)
In this case, the added sound of the snares was no problem for me, if Booujze thought it worked better-I could easily have played it that way, after all. (Though we all know it's not always that easy to "choreograph" flicking the snares on and off in mid-song.) Most fascinating to me is hearing how the placement of those snare beats in the choruses remains slightly different - lazier, less urgent - because I played the drum with the snares off. I heard it differently, and thus played it differently, with a more laid-back feel.
In those choruses, once again I dared to actually repeat a couple of fills- the "flying brick" bits with Geddy, as a deliberate percussive motif for us to pound on, and the long, triplet-feel, snare and floor tom fills in chorus two and three (they sound like "falling down the stairs," I think), mainly because I finally figured out how to do those without getting "wrong-handed" at the end!
The solo drum fills over the end section were entirely improvised (Booujze sending me out to go crazy again). Similar to the chorus fills mentioned above, I had been working on angular, across-the-time triplet-feel figures (Latin in derivation, I would say), so that ambition shows up here. I was also pleased to get in a quick, open single-stroke snare roll-in the style of Buddy, Mel Lewis, or Joe Morello (all that in 1.5 seconds and about twelve notes). That mental and technical collage (let's call it) definitely only happened once, and not all at the same time, so I'm kind of hoping we won't play this song live- so I don't have to learn that section!
But we'll probably have to play it. It might be a beast, but it's also a feast.
A drums-only mix of "The Main Monkey Business" can be heard on www.neilpeart.net.
"The Way The Wind Blows"
Simply put, this is my favorite track on the album-as drummer and listener. It's just got everything. The opening montage of rolling tom echoes and rudimental snare (in three again) dives into the "electric blues" section (a collective channeling of our earliest influences), then the jagged, syncopated drive of the verses. That drum pattern was Booujze's idea, at the last possible minute. While I was out in the studio recording the song, he called me into the control room to discuss the verses. I had been playing them with combinations of 16th-note hi-hat patterns and bass drum and snare accents, but Booujze wanted them to be more "active." Typically, he air-drummed something like "bada-dabop, da-bada-da-bop, da-bada-da-bop, da-bop-bop, badala-badala, booujze."
So ... I had to come up with four new verses, just like that. However, once again that gives those parts a nice seat-of-the-pants quality. The bridges and choruses called for more 3/4 tom patterns and ride cymbal articulations, and I was happy to answer that call! Booujze's suggestion that I might try playing real timpani in the choruses instead inspired a timpanic approach to the tom fills. (A couple of Nick Mason-type jobs toward the end, too, I would say. I have always liked his fluid, laid-back approach to timekeeping and fills, but never really played that way myself before.) In the second blues section, Booujze suggested I put in a fast buzz roll, so I whipped off a floating single-stroke burst that remains one of my favorite moments-again, to listen to and to play.
"Hope"
The most perfect drum track I have ever recorded. (Ha ha!)
"Faithless"
This is another arrangement tour-de-force, combining lots more 3/4 and 4/4 combinations, but in quite a slow tempo for us. Early in the songwriting, Geddy had half-jokingly lamented, "Why do all our songs have to be so fast!" Despite the obvious association with our name (and our natures-we come by it honestly), we decided to try something a little less frantic. This song achieves a stately majesty as a result, especially in the choruses. (In fact, the choruses are slowed down even more, by two beats-per-minute - the first time we've tried that device. It is hardly noticeable to a listener, or even to me while I played it, but gives the arrival more weight) A slower tempo also gave me a different framework for fill construction and placement, allowing me to explore some fresh directions in that area.
A couple of the little hi-hat figures before the bridge vocals were particularly fun to try, and I guess those bridges (in three again, or six, as you wish) stylistically kind of reference early Bill Bruford and Phil Collins. A little Nick Mason returns in the verses and choruses-though maybe there's some "me" in there, too, being passive-aggressive again. And one more great drummer to mention: I recently heard "Purple Haze" on the radio, and was immediately reminded of the influence Mitch Mitchell has been on my drumming. I think you can clearly hear his inspiration on a few of the fills I played near the end of this song.
I liked Booujze's idea for the delicate military snare roll trailing off at the end. We drummers call that an "existential metaphor." (Don't we?)
"Bravest Face"
Like "The Larger Bowl," this one is another drummer's feast Dynamics range from ... well, nothing ... to delicate double-stroke snare work, subtle timekeeping and vocal-framing, staccato punches, all the way out land "way out" it is) to semi-chaotic, machine-gun fills. (For once, those were not Booujze-inspired-but fairly tightly composed.) The drums follow the vocals pretty closely once again, both framing and accenting, and in fact, in the last chorus where Geddy sings "there's no magical place," Booujze suggested that lyrical change from "magic" because the extra syllable would kick with the drums better. So sometimes it goes both ways.
Generally, I stayed away from the splash cymbals on this record, because-much as I like them-it seems to me they are a little too "common" lately, not to say overused (Booujze agreed). However, there's one little whim I've long wanted to find a place for - a staccato, choked splash figure like Gene and Buddy used to do. I put one in at the beginning of the second verse, and it makes me smile every time I hear it.
"Good News First"
When Alex and Geddy first start putting a song together, sitting in the studio with guitar, bass, and vocal mic, they use a drum machine for tempo and accompaniment. Alex does the programming, sometimes coming up with highly unusual parts that can inspire me with a non-drummer's vision - especially a great non-drummer like Alex! The "Neanderthal" verses in this song came about that way. (And naturally I used my Troglodyte cymbals and Einstein heads.)
The hi-hat chokes that alternate in the intro, and again later, are the kind of funky stuff guys like Vinnie Colaiuta seem to pull off effortlessly. For me, they're the result of much work and experimentation, and in this case, playing them with my left hand proved to be the trick. (I used that again in the next song, too-because it was new to me.)
Similarly, I found an effective combination of sticking in the fill in the second chorus. Beginning with a quick snare triplet, my left hand moved up to the 13" tom while the right stayed on the snare, then at the end the left jumps to the cymbal for the 16th-note push with the bass drum. Another variation of that, without the push, appears in the middle eight-which was one of my favorite parts on the album to play. Simple, but it feels so good-classic tension and release, I guess. That part concludes with a brief "hang," or hesitation, before I tumble down the toms, with snare flams, in an attempted Latin-flavored time sense.
My loose approach to playing behind the guitar solo, and the bridge out of it, channels the spirit of '60s Toronto "blue-eyed soul," with a bit of Keith Moon-a style known as "Wholiganism." Those stabbing, triplet figures I mentioned in "Workin' Them Angels" return going into the last chorus, and these are all results from the Tao of Booujze: "Just go crazy!"
"Malignant Narcissism"
Near the end of the sessions, with the drum tracks long recorded, I was watching Geddy and Booujze work on vocals. Between takes, while Geddy rested his voice for a minute, he was messing with a fretless bass, just riffing away on it. Booujze started recording some of those riffs over the vocal mic, and he thought it would be cool to put a few of them together to make a short, snappy instrumental to be our (lucky) thirteenth track.
I had been away from the studio for a couple of weeks, but I'd asked Gump to leave up a few pieces of the drumkit for Booujze to mess around on, four drums and four cymbals. Before I knew it, there were microphones around that little setup, and Geddy and I were working out an arrangement. By the end of that day, we had recorded "Malignant Narcissism" (apt title for a bizarre instrumental with show-off bass and drum breaks, it comes from Team America: World Police). Soon shortened to "Mal Nar" for everyday working purposes (said with robot voice, "We are from the planet Malnar"), it was intentionally rough and ready, cheap and cheerful, down and dirty, all that kind of thing. Booujze heard me counting off the tempo on my snare rim, and wanted me to start the song like that. My drum breaks represent more "tributes," the first a variation on one of Buddy's, the second incorporating some melange of Tony Williams, Terry Bozzio, Steve Gadd, and me.
And yes, it was fun to record it on that basic little kit.
"We Hold On"
These verses begin very simply, the later ones punctuated with sharp "tattoos" on the high toms. The first jagged one-hander is another Mark Craney dedication, while the others offer nods to several reggae drummers and Latin timbale players, plus Stewart Copeland, Nick Mason, Kevin Ellman (the first guy I ever heard using "concert toms," with Todd Rundgren's Utopia). and - hey - me again! It's always great to find a place for a fill that goes up the toms, too, like the last one.
The choruses were influenced by Booujze's ideas (like the little snare "skip"). while the double-bass-pedal fills that repeat (though each time different) between sections were developed in live performance-in my solo, the usual crucible for new developments, but also in one of our oldest songs, "Working Man." During the past couple of tours, introducing a new style of fills into an old song helped keep it interesting for me. Other variations of that device appear as a repeating motif in "Far Cry," too.
I can also trace the development of that approach back through the past couple of Rush albums, in double-pedal rhythmic patterns I used in the songs "Test For Echo" and "One Little Victory." Starting from that foundation, I opened up those patterns and moved them around the kit, finding new variations all the time.
It is also fitting, and fun, that this final song concludes with the kind of "rock flourish" we might use to end a song onstage. Taking note of that, and some of these other observations, I can't escape a gnawing realization; apparently playing live is good for my drumming.
Well, yeah, I know - "Elementary, my dear Einstein."
And yes, the high-intensity "elevation" that only comes from live performance is partly why I'm about to start rehearsing for another tour. Anyone who knows anything about me knows I do not love touring-but I can say I love preparing for a tour. Building up to performance condition, playing through all the songs again and again until I get them smooth and strong, and facing the challenge of putting the sets together, composing a new solo and rehearsing it, all of that, for weeks and months before the first show. It's a worthy achievement, and feels good to accomplish ... the first time. After we get through the first show or two in front of an audience, the Sisyphean repetition starts to weigh on me.
Not drumming, though, or songwriting and recording. Certainly my favorite part of the job is getting together with Alex and Geddy in some little studio to exchange new ideas for words and music. And that exciting first day, walking around my drums and thinking, "Hmm .. . what can I change?"
Or playing through a new song the first few times, stopping to listen back and make adjustments as I go, but not feeling I'm really "getting" it. After a few hours of that, I'm ready to quit. Then I come in the next morning and listen, and suddenly the flaws seem less apparent, somehow.
"Hey, that's not so bad!"
"Maybe I won't quit after all."