Rush: Interview with Alex Lifeson
By Steve Swift, Power Play, October 2007, transcribed by John Patuto
---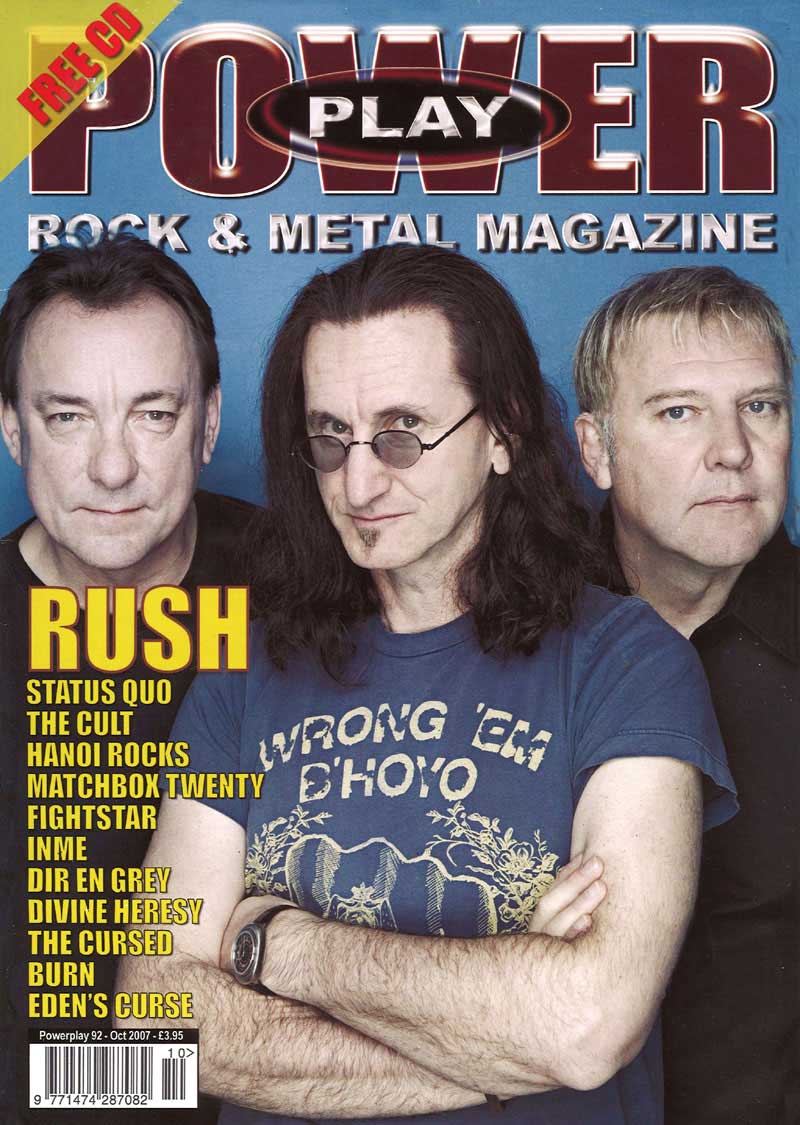 Well, I've been a fan since I heard "2112" since the late 70s, so this one was a bit special. Like with Glenn Hughes, I was actually nervous - that never usually happens. But Alex couldn't have been more laid back and nicer. And why shouldn't he be? He's done it all, he's got what many are calling that eponymous 'return to form' in classy new album "Snakes And Arrows" and he's adored by millions. Just makes you want to stretch out in your hammock, doesn't it? Well, he might be by tomorrow, because it's the last night of his current tour before a week off. And the next leg has 'England' stamped on it!
"Yeah, the beginning of October, actually. The last tour we realised that we can't be apart for so long. Twelve years," he deadpans. "That's far too long. And we had such a great time on the "R30" tour so we made it a point to come over. There's just so much to do. We've been off for three years - well, when I say off, I mean not touring - but in that time we've released a couple of DVDs, mixed a bunch of stuff, done a lot of work. It's not like we have a lot of free time!" he chuckles. "But I'm not complaining!"
"Snakes And Arrows" is a grower. It's not stunning or jaw-dropping, but when some of those tracks get under your skin, they'll let you know that Rush can still do the business. And it does sound a bit harder, less synth-driven, than some of the recent stuff.
"Right, yeah. We sort of made a conscious effort to move away from keyboards since the early 90s. And certainly in the last three records we've done, we've sort of gotten away from keyboards altogether, with "Vapour Trails" and even "Feedback", although that was a little bit different. You know, we're more guitar driven now; some of the keyboard things that we would do in the past, the guitar takes up those responsibilities for that harmonic content or melodic content. It's quite a happy arrangement that we have right now, and the feeling, I think, more from the three-piece perspective. I certainly had no objections to synthesisers or those sorts of sounds, if they are of a benefit to the songs, but the way we're writing these days, we're writing more in a three-piece context, so I think we're all a lot happier with this sort of direction. We sort of sit down and start writing and jamming. Gedd and I love just jamming together, bass and guitar, so it starts there for us."
There's never been much info about dissention, anger, splits from the Rush camp. They seem a settled unit. But a few years ago, there might have been no more Rush at all, as Neil Peart lost his wife and daughter in separate incidents over a very short time. Whist Alex and Geddy gave him the time to grieve and make the decision whether he wanted even play again, they must have considered the future without the band that's been so much of their lives.
"Well, you know, that was ten years ago - ten years ago just a few days ago. And probably three years or so after the event, we were all kind of thinking that. Geddy was working on his solo record. I was doing some work on film and television and with a band, and we were looking at just keeping ourselves musically busy in other areas. And if that was the end of the band, that was the end of the band - there was nothing we could do about it, and I remember thinking that it would be sad to have it end that way. But Neil came back and wanted to be get back to work, and is doing great right now. And this is probably one of the happiest, best tours we've done in ages. It did [feel like it was a long time] and certainly it showed in the making of "Vapour Trails". We spent 14 months making that record. To get back into the swing of things and get everybody back up to speed took a little bit longer and was a very delicate process, but in contrast, this record took us about five weeks to record and then another five weeks to mix," he sighs. "We went from fifty, sixty something weeks to ten weeks! Back into the groove! Everything was very positive, from the early stages of writing right through to the actual recording. I mean, we were so well prepared, we were so well rehearsed and very unified in direction. And working with Nick Raskulinecz was great, and Rick Chycki is a fantastic engineer. He did great sounds - immediately - so there was no faffing; you could get right into it and start getting great takes. Typically we record individually. We have a guide track and Neil will play his drums to that, Geddy will redo the bass, then I'll do the guitar. Some tracks we do off the floor - "The Main Monkey Business" [from the new album] for instance. We had a riot making that record. You know, making a record is a lot like going to the dentist: usually you go and things are not so bad ... oh, oh, there's a cavity, we got to pull that one out... oh, this one's gonna be a tough pull! With this record, we got to the dentist and we just got handed a toothbrush and told 'Come back in six weeks'! Everything just seemed to fall in place and everything ran smoothly. We all were so enthusiastic; we couldn't wait to get into the studio every day to get back to work. Very, very seldom is it like that, so we took advantage of that."
Alex mentions that they've been together so long and have such an understanding of each other that it really helps in the process, and personally too.
"I live five minutes from Geddy, a five minute walk from his house! We've known each other for forty years. We're friends, we play tennis, we go for dinner, we do stuff socially. And to be able to hang out with your buddy from grade school and have an incredible career and opportunity, it's pretty amazing."
People seem to want to split the Rush career into different sectors. I read a Rush retrospective a while ago in a classic rock magazine ... oh, alright, it was Classic Rock magazine ... that split the earlier, 70s proggier albums and the mainly 80s synthier, slightly poppier stuff completely down the middle, suggesting you either liked one or the other. And that's what a lot of people think. Unsurprisingly, Alex thinks it's piffle.
"If [fans] are gonna spend time arguing about the different phases of this band, then maybe they should start doing other things - there are things more important than the different phases of Rush's development," he chuckles. "You know, I think there were a lot of things going through our heads at the change of that decade - we'd gone through the 70s, we'd gone through the whole sword and sorcery, the long velvet jackets and all that, and it felt like something fresh and new was coming with the 80s. And we wanted to write in a more economical way. We still wanted to pack as much musical punch as we could but in a shorter framework. So it seemed like a natural progression, a natural evolution for us. You bring up "Signals": I like a lot of the songs on "Signals", but I've never been happy with the production on "Signals", and I think that's one of the main reasons why we split with Terry Brown. And then with "Grace Under Pressure", it had quite a different sound from those previous records - it was such a period of heavy keyboards in the 80s, and we went through that phase with "Power Windows" and "Hold Your Fire". We're always trying to move forward with everything."
'Cos if you don't, you stagnate and die, don't you?
"Well, you stagnate. You don't die anymore. What you do is, you do the casino tours. You can keep working until you're well into your seventies by playing to fans who are also in their seventies, who are rushing between the slot machines. Certainly, I don't mean to sound like I'm making fun; things change for people and it becomes a living and a way of making a living, and I certainly don't hold it against anyone for just relying on their hits - it's a great living for them. Styx and Journey and Foreigner ... Def Leppard - they go out and they do these tours, and there's an audience for them, but that's not what we are. We want to move forward all the time. It would be stagnation death for us."
They have been a mega-selling band for so long, so successful for so many decades and yet Alex doesn't seem to have any pretensions at all - in fact, if anything, he seems to have quite a healthy distance from it.
"You know where it all comes from? It's a long time ago, your priorities are different now and you look at things differently. It's a big show, it's a lot of responsibility, it's a lot of work, and it takes a lot of professionalism to do it the way it's expected to be. And you take great pride in your abilities to do your job as well as you can. It's how you conduct yourself in your life, it's how you find balance in other parts of your life, the priorities. I wouldn't be the musician that I am without having the family that I have. That's the most important thing to me in my life; so long as I have that I can do anything. I'm about to meet for the first time my latest grandson - he's four weeks old - when I go home tomorrow. I love those little guys and I spend every minute that I can with them."
And then Alex has to go and sound check. But I couldn't let him go without asking about the washing machines on the "R30" DVD.
"Oh, Geddy's an idiot!" he guffaws, and then he's gone.
What a gentle gentleman. Sounds like he's got his work/life balance sorted out. He's been in the business all those years and isn't ground down by it, and that's a rarity. I think it should be celebrated. I'm sure Alex would raise a glass with you.
"Snakes & Arrows" Special UK Tour Edition (CD/DVD) is released by Atlantic Records on September 3rd. See RUSH on tour in the UK in October: Glasgow SECC (Oct 3), Newcastle Metro Arena (Oct 5), Sheffield Hallam FM Arena (Oct 6), London Wembley Arena (Oct 9-10), Birmingham NEC (Oct 12), Manchester MEN Arena (Oct 14). Tickets: 0871 4244444, www.ticketline.co.uk/rush#tour.