Neil Peart's News, Weather and Sports
Haste Ye Back
NeilPeart.net, November 2007
---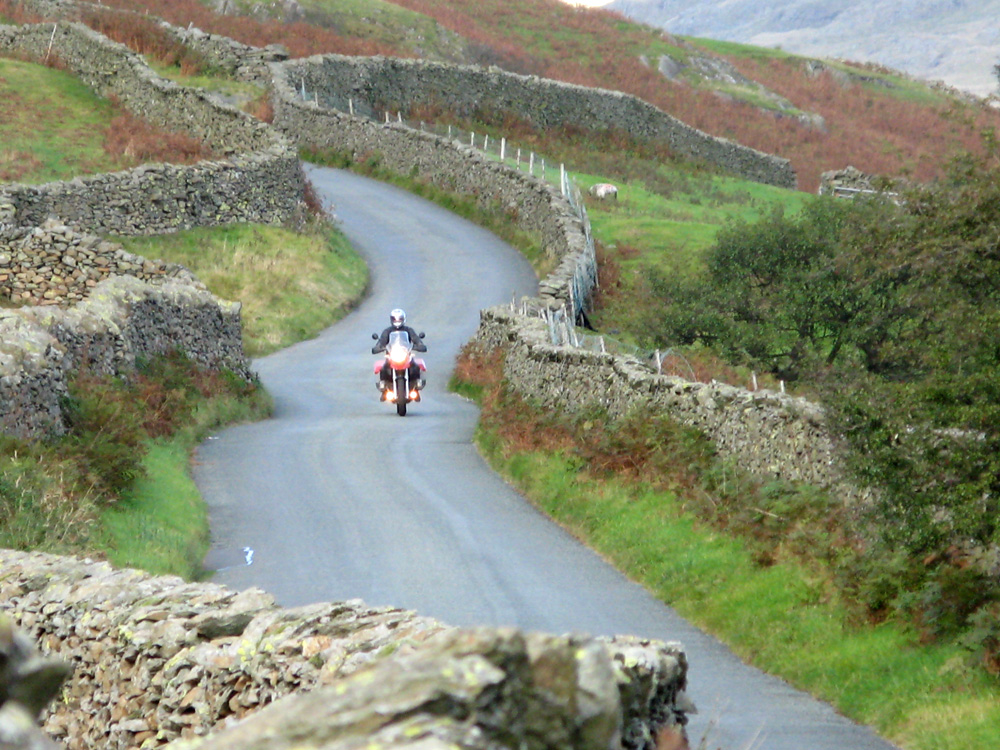 Above Lake Windermere, England
Late at night on the first of October, the bus pulled up to our hotel on the coast of southern Scotland. I stood in the dark forecourt, smelling the chilly sea-tang of the night air, and feeling a little, oh, "psychedelic" - after an all-day bus ride, an eleven-hour flight, a nine-hour time difference, and all that disturbance in my circadian rhythms.
Brutus and I unloaded the bikes from the trailer, with help from Mark, our European driver. Once we had our bags and riding gear off the bus, Mark drove on to Glasgow with Michael, who had flown in from California with me. (In silent protest at not being my riding partner for this leg, he pretended to sleep through that whole operation. So passive-aggressive.)
The next day would be a setup and soundcheck day at the Scottish Exhibition Centre in Glasgow, followed by the first show (of fifteen) on this European run of the Snakes and Arrows tour. I had wanted to arrive a day early - to start getting over that psychedelic state of mind.
While Brutus checked us in, I looked over the bikes, seeing how they'd weathered their overseas flight with the rest of the band's gear. I turned on my GPS unit, "Dingus II," which hadn't been activated since the last show, in Toronto. At first the screen showed its usual "Searching for Satellites" function, and worked away for a few minutes, searching its little heart out. Then suddenly the screen went blank.
A message box, small (as if tentative, or ashamed), lit up, and I could hardly believe my eyes.
It read, "Are You Currently in Kansas?"
Um, no, Dingus, we're not in Kansas.
It seemed I wasn't the only one having a psychedelic experience.
Fortunately, we had two computer experts on hand, Michael and his associate, Kevin, who was helping with security in Europe. Over the next two days, the two of them spent hours downloading European maps and trying to get the software and the units to work together. Eventually, Dingus II and Brutus's new unit, Dork Deux, found their way out of Kansas, and were ready for Europe.
The first couple of days helped to prepare Brutus and me, too. I defined the "Three Rs" of motorcycling in Britain as, "Rain, Roundabouts, and the Wrong Side." We got used to all that surprisingly quickly, first with a fair-weather excursion to the Isle of Bute and the majestic country west of Loch Lomond, but especially after our ride on the show day in Glasgow. We caught a morning ferry to the Isle of Arran, and rode all the way around it in teeming rain. The narrow lane threading along the rugged coast reminded me of the Pacific Coast Highway up around Big Sur, only at about one-tenth scale. Carefully, even nervously, we picked our way around dozens of tight, steep turns, on a surface awash with rain, fallen leaves, mud, and sheep droppings, for sixty tortuous miles.
Such conditions demanded highly technical riding, as we needed to steer, shift, and brake with as much smoothness as possible. In subsequent days, I found the lessons and exercises I practised so intensively on those sixty miles around the Isle of Arran had stayed with me. Somehow my riding was elevated to a previously unattained seamlessness of upshifts and downshifts, and after something like 200,000 miles of motorcycling, that was a revelation. Apotheosis, even.
Like country roads and drivers most everywhere, our travels and encounters on the Scottish lanes were pleasant, and sometimes charming. After one stretch of roadworks and detours, a sign politely apologized, "Sorry For Any Delay," and somehow it seemed sincere, like the sign outside the little villages in Ayrshire, Robbie Burns country, "Haste Ye Back." You had to smile at that, and hope that you might indeed haste back there one day.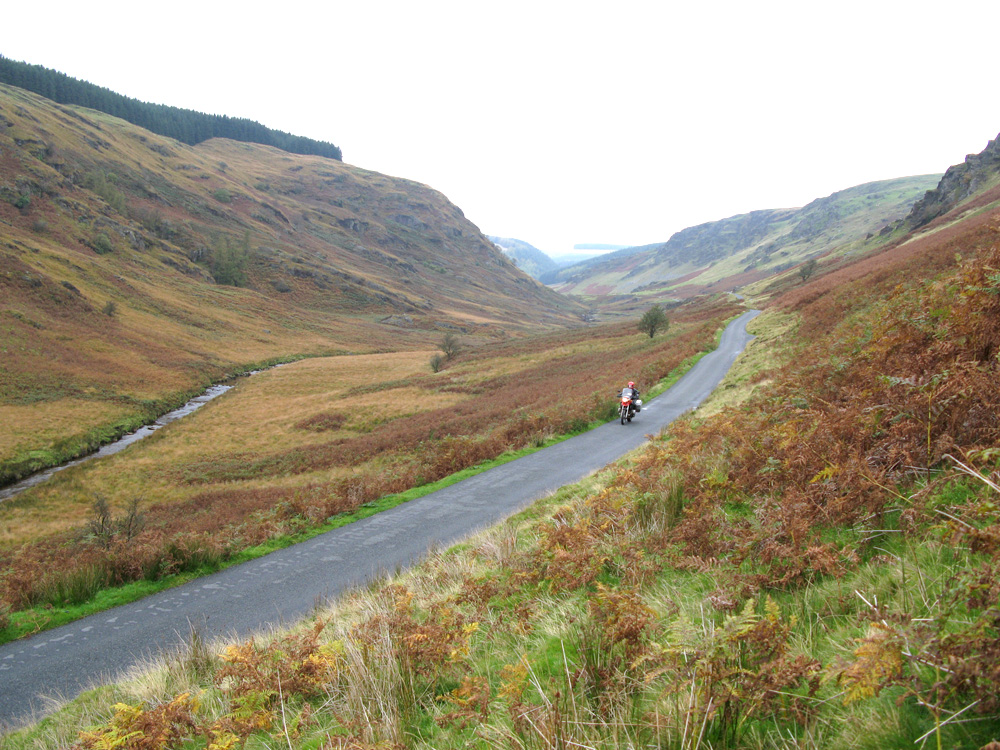 Between the shows in Britain, from Glasgow to Newcastle and down through Sheffield, London, Birmingham, and Manchester, Brutus and I had some simply wonderful rides, with incredible scenery and radiant weather - at least most of the time. Unforgettable days carried us through the Lake District, the Yorkshire Dales, the postcard villages of thatched cottages in Devon and Somerset, and this day in the wilds of Wales, on the way to Aberystwyth for a night off between Birmingham and Manchester (passing signs for places named Abercegir, Bontdolgadfan, Melinbyrhedyn, and - get this - Llanfihangel-yng-ngwynfa).
Overall, impressions remain of narrow lanes between weathered stone walls or tall green hedges, through farmlands, moors, dales, fells, tiny stone-walled villages, ancient oaks, autumn woodlands, and pastures dotted with sheep - so many sheep. (I am pleased, and a little surprised, to report that sheep are actually smarter than deer [see August '07]. Sometimes we crossed areas of "free range" grazing, and on one remote moorland road on our way to Newcastle we had to open and close five separate gates keeping sheep in or out; but although dozens of woolly balls clustered along the open roadsides, they had the basic good sense to stay off the road, and to get out of the way when we approached. We didn't have to kill one!)
Puttering slowly along those tiny lanes (as I remarked earlier about similar American roads, they were the kind no one would travel unless they lived on them), we also startled many pheasants, red grouse, magpies (who fly off in a whirr of black and white wings like those little garden pinwheels), and a pretty hawk they call a common buzzard. (It deserves a nicer name.)
There were, however, less "picturesque" moments. Referring to the ups and downs of anyone's life, I always liked the title of Mel Tormé's autobiography, which played on a famous description of his voice as "The Velvet Fog." Mel called his life story It Wasn't All Velvet.
Early one morning as Brutus and I lingered over breakfast in our country hotel, before suiting up to ride to the next show, we were looking through the English papers. Brutus was paging through The Times, and said, "Hey, look at this." Even upside down, I recognized a live shot of us, and a headline that was snotty and dismissive. It was a review of our London shows, and obviously not a good one. I said to Brutus, "Never mind that," and he said, "Yeah," and turned the page.
Later that day, at the venue, I was checking my e-mails, and saw a story on AOL titled "Worst Rock Lyricists." Curious, I opened it and read that some "hip" magazine had declared Sting the all-time worst rock lyricist, which seemed kind of dumb. Then, in second place, I was startled to see - gulp - my name. Ouch!
I felt my face burning with shame and anger, to be so publicly declared "the second worst rock lyricist of all time," and to read my work described in words like "an awful mix of science and fantasy." Though obviously written about songs from thirty years ago, and by someone whose choice for "great" lyricists would probably be, oh, Joey Ramone or Morrissey, it still stung.
After the show, as Mark, our European bus driver (who was incredibly helpful this tour, so attentive to the needs of us and the bikes - which are, of course, of equal importance), drove us to our overnight stop, we were followed by two cars, and Mark couldn't shake them. Now, imagine yourself sitting at home one night in your pajamas and making this statement: "I was followed home from work by two carloads of strangers, and they won't leave."
I couldn't confront these invaders without making matters worse, so poor Brutus had to go out and lay down the law­ - or at least threaten to summon them. For the second time on that British run I had to overhear the complaint that makes my skin crawl, "But we made them what they are." (As Katharine Hepburn once said, in a similar situation, "The hell you did!)
In a somewhat lighter vein, here's a bit of advice that Alex, Geddy, and I were joking about during an intermission one night, and agreed ought to be passed along: Guys, if your girlfriend hates Rush, don't bring her to the show. And if you absolutely have to bring her, buy her earplugs. At two of those British venues we looked out all night at a scowling female, front-row center, each with her fingers in her ears for the whole show. Hardly inspiring, for them or us!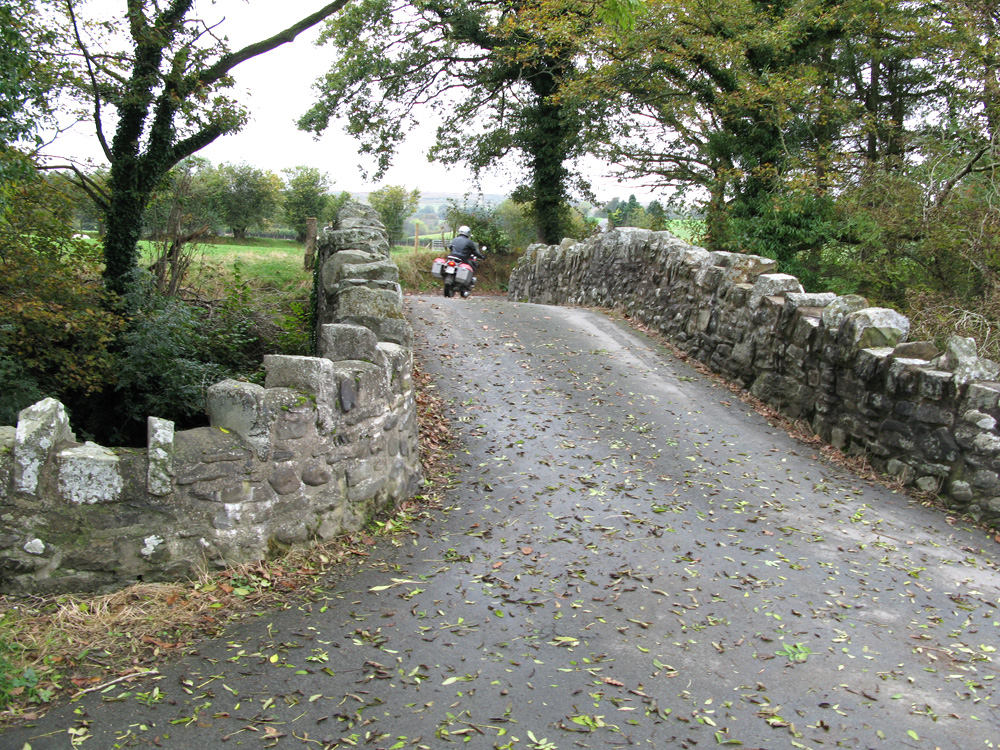 But as the English like to say, after a good bout of complaining, "Still ... mustn't grumble."
After the final British show, on October 14 in Manchester (which I felt was particularly good, especially the lively and responsive audience), we had a day off before a pair of shows at the Ahoy arena in Rotterdam, in the Netherlands. Those performances would be filmed and recorded for an upcoming concert DVD, and having seventeen cameras and a recording truck present is always a little unsettling. You just never know if the added pressure is going to be inspiring, or nerve-racking. On that occasion, Alex and Geddy and I were fairly ecstatic to feel that we played really well on those two nights. All things considered, they may have represented the true climax of the tour. Sure, there were many satisfying shows among those sixty-four performances, I am glad to report, but those two are permanent.
On the day off before, Brutus and I had slept through the ferry crossing from Dover to Calais. Waking at a bizarre roadside parking area in northern France, we unloaded the bikes once more and spent the day riding around that area and neighboring Belgium. We had decided to visit some of the World War I battlefields we had read about so often - from the poem we learned as schoolchildren, "In Flanders fields the poppies blow/ Between the crosses row on row," to novels depicting the horrors of trench warfare at places like Vimy Ridge, Passchaendale, Ypres, the Somme, and so many other bloody pieces of ground where Canadian boys had been sent to be slaughtered.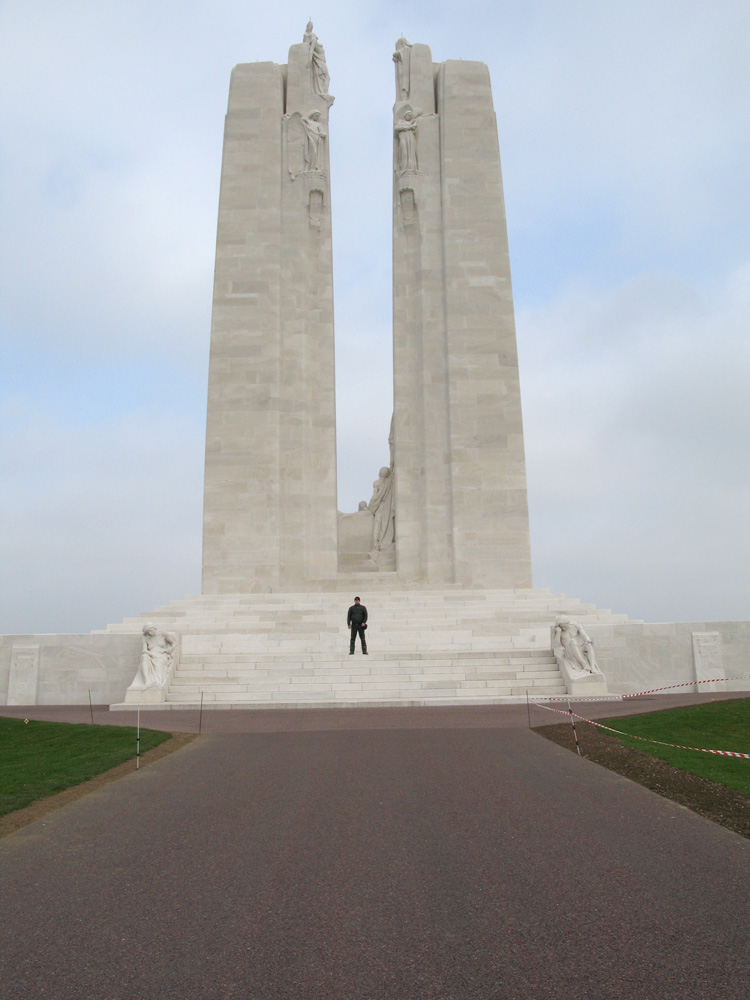 This memorial at Vimy Ridge commemorates the 66,000 Canadian soldiers who were killed in that "war to end all wars." Of awesome scale and presence, the monument is set amid grassy fields that remain humped and cratered from that long-ago artillery, and threaded with preserved trenches and tunnels. In that one battle at Vimy, in April, 1917, 3,598 Canadian boys were killed, and 7,000 wounded. In tribute to them, the land was given by France to Canada in 1922, and it became, uniquely, a Canadian national park on foreign soil. The magnificent memorial was finished in 1936, then restored earlier this decade, and rededicated by Queen Elizabeth II and representatives from the French and Canadian governments in April, 2007.
That area of northern France and neighboring Belgium is thick with First World War battlefields and, inevitably, cemeteries, filled with foreign soldiers from Canada, Britain, Australia, New Zealand, and even Morocco - colonial outposts of the allies, Britain and France. Brutus and I stopped at several of those sites, and I couldn't help thinking, in my usual reductive manner, that it had all been so stupid - such a waste.
By the time we pulled up at a Canadian memorial in Belgium that commemorated a battle for an objective with no more significance than its name, Hill 62, and where another 8,540 Canadian boys had died so horribly, I said to Brutus, "This is starting to get to me."
He nodded, "Me too - let's head for the hotel."
So we rode on to the pretty little city of Brugge, in Belgium, where we stayed for the two Rotterdam shows - only ninety miles away, and offering the novelty of a night ride back after the first one, on largely empty motorways and tunnels. I've written before that I seldom ride at night, for reasons of safety and lack of scenery, but once in a while it's kind of thrilling.
Other days were more uplifting than all those cemeteries, like a ride along the foothills of the Bavarian Alps in Germany, then north through the Black Forest, with the trees, grass, and rooftops frosted by an early snowfall.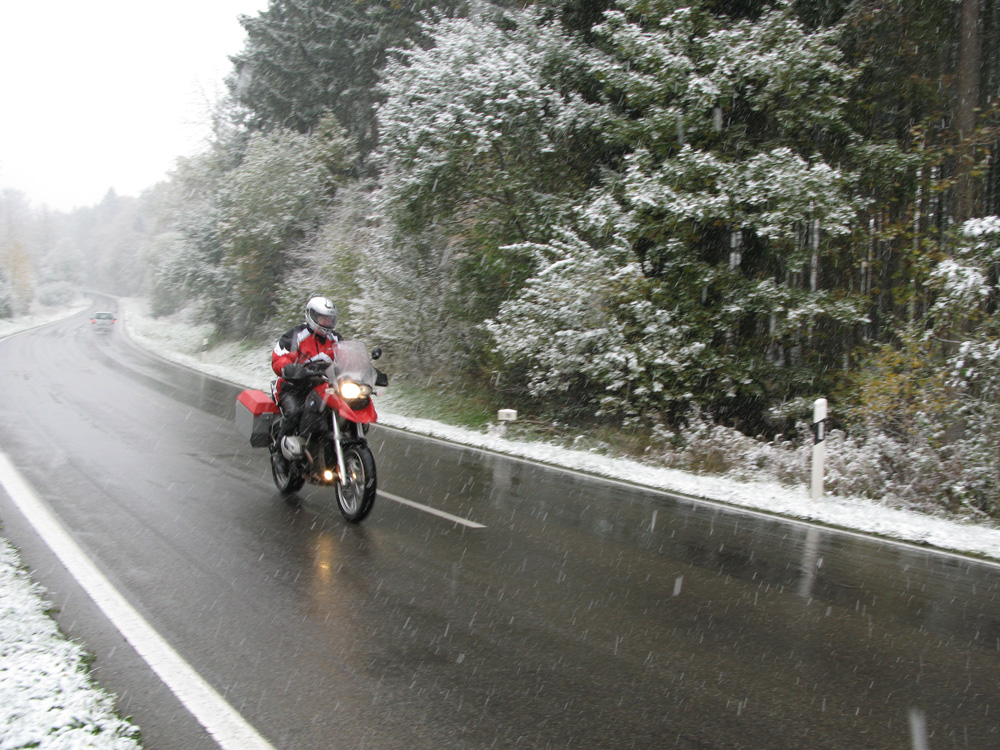 At that time of the year (mid-October), the roads were not yet frozen, and thus were no more slippery than in the rain, but the whiteness around us made everything bright and somehow enchanted. I had visited Mad King Ludwig's castle, Neuschwanstein (the model for the Disney version), several times, by bicycle, car, and motorcycle, but in that white-frosted setting, it seemed even more of a fairy-tale vision.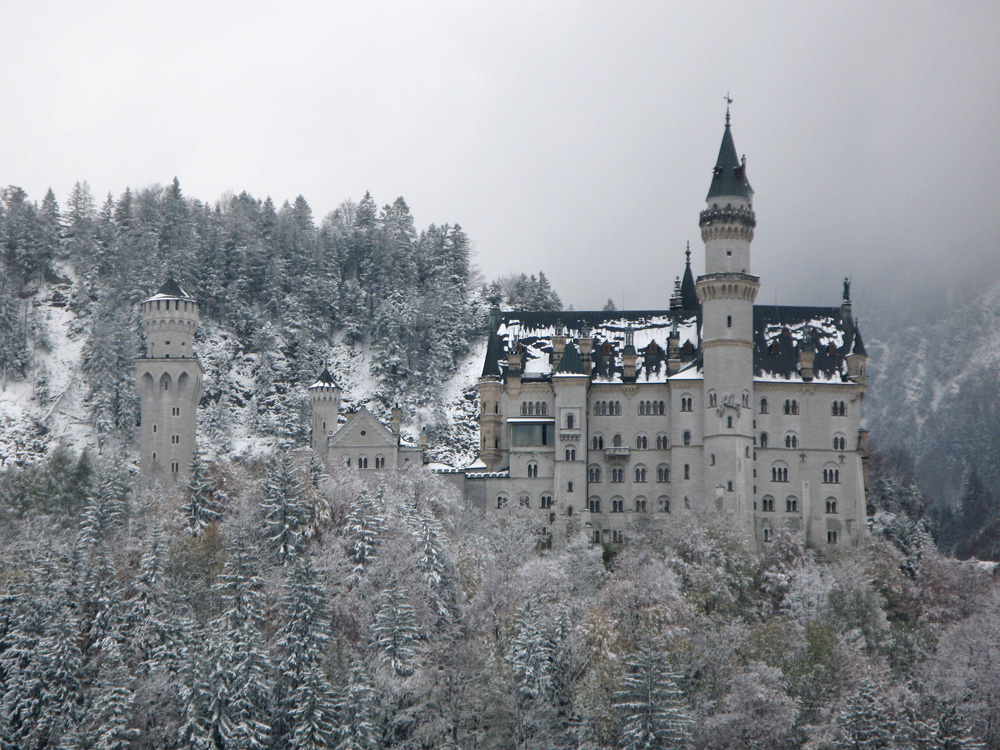 And such a story attaches to that castle, and to the poor bedeviled king, who, if not actually mad, was declared insane by his own ministers to stop him bankrupting the kingdom with his endless castle-building. He died under mysterious circumstances in a lake near one of his other fantasy castles, aged only forty, feeling sad and abandoned by his people.
Brutus and I did have one truly warm day, and it was perhaps my favorite of the European rides. Mark drove us from the show in Mannheim, Germany, to the next venue in Milan. After sleeping on the bus, as we always did on show nights, Brutus and I rode out on a day off, working our way from Milan to Monte Carlo over the French Alps.
With some difficulty, we discovered an ancient pass, the Col de Tende, which had been bypassed in the late 19th century by a tunnel. A single lane, mostly unpaved but for the hairpins, it twisted in dozens of tight switchbacks up the steep mountainside.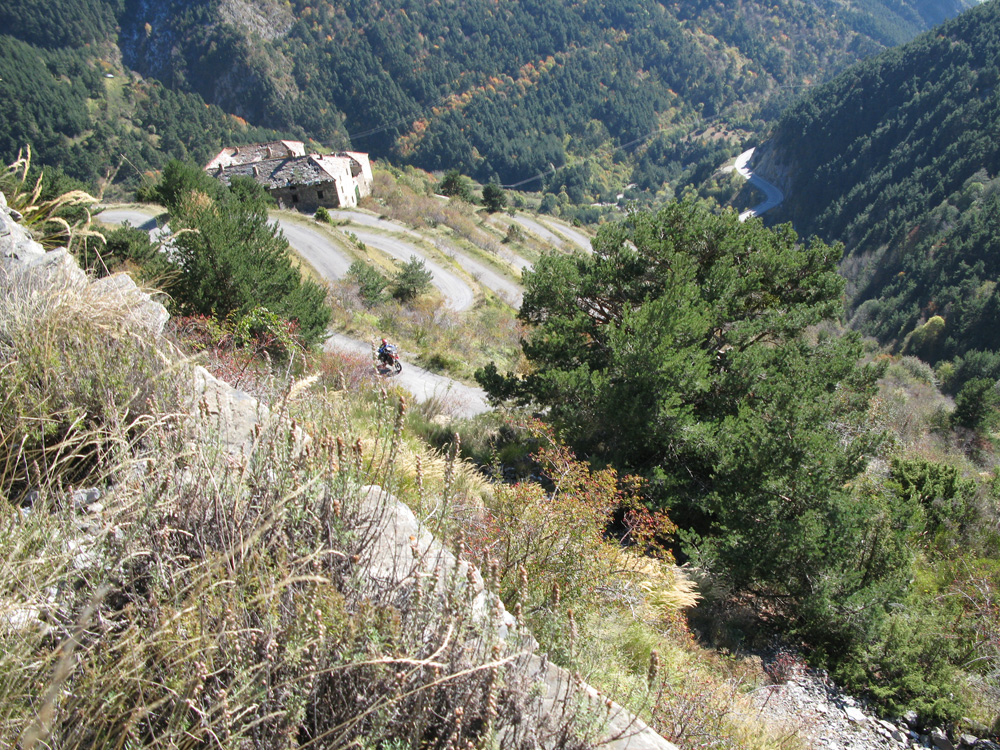 Brutus appears here, far below among the tight loops, with an abandoned stone building behind him. At the bottom is the main road, emerging from the tunnel.
At the top, high above us, we could see a massive-looking structure - the abandoned ruin of Fort Central, on the French-Italian border - but I realized it was going to take at least another hour to get up there, and another back. With serious regret, I decided we'd have to save it for another trip, and head for Monte Carlo.
I had long wanted to visit that fabled capital of the tiny principality of Monaco, whose fame far outscales its square kilometer of size, plus - rare delight! - my wife, Carrie, was going to be there, accompanied by Michael and his girlfriend, Danielle, driving in from Milan for the evening. Any other day, I'd have been up that pass no matter what, but my feelings that day were the opposite of the Scottish sign - Haste Ye Onward!
It is a pleasure to report that I found Monte Carlo to be ... everything it ought to have been. After we negotiated the crowded, winding streets, our luxurious hotel had an incredible view over the yacht-studded Mediterranean, and we all shared a memorable meal and a visit to the famous Casino. (With Brutus as coach, Michael and Carrie both won a few euros at roulette, then were smart enough to stop.)
A few days later, as the tour, and Brutus and I, worked our way north to Scandinavia, things got really frosty. One morning in Norway, on our way from the ferry terminal of Kristiansand to Oslo, my motorcycle's thermometer showed -4°C (25°F). The landscape, so much like Ontario's or Quebec's, with glaciated rocks and lakes surrounded by second-growth boreal forest, was coated in translucent white frost. Signs pointed us toward names like Mjåvatn, Øynaheia, Åmli, and Vegusdal. The temperature barely rose above freezing all that day, and when Brutus and I made it to the arena in Oslo, I walked into the dressing room and said to the guys at work, dramatically throwing out my arms, "I'll never be warm again!"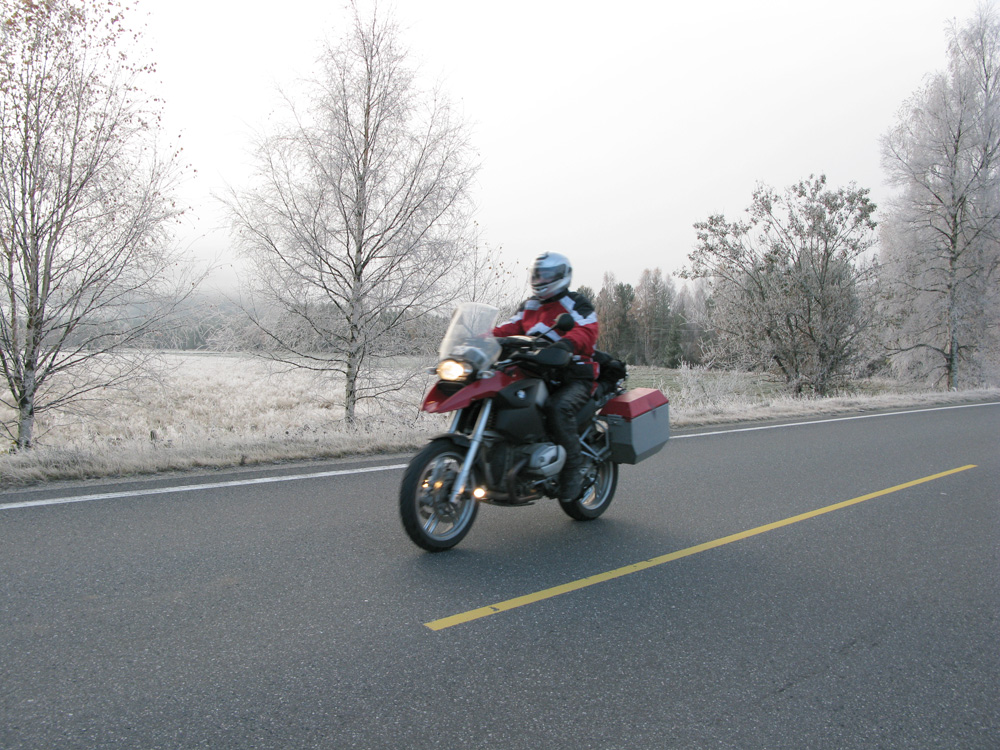 Still, mustn't grumble - Brutus and I were relieved and pleased enough that we were even able to ride in Norway, Sweden, and Finland. Given the time of year, we hadn't taken that for granted. The ferry rides were enjoyable, too, especially the overnight sailing from Stockholm to Helsinki, with our large cabins looking forward, over the ship's bow.
But I was awfully tired by then, and so were Alex and Geddy. As we approached the end of the tour, it occurred to me that each of the three of us, in our own way, was quietly going insane.
Apparently, so were some of the crew members.
Everybody and everything had simply become beat up and worn down. Gump's careful maintenance was keeping the drums looking and sounding good, but little things still tended to wear out and break (and Gump himself was feeling pretty road-weary, like all of us). The bikes were scratched and dented (mostly from trailer mishaps, when rough roads caused the tiedowns to snap, and one of the bikes would break loose and fall into the other); our tires were worn, and a list of service and parts needs was growing at the back of my journal.
Day and night, my body was sore all over, "weary from my nose to my toes." In the bus lounge at night after a show, Brutus laughed when I struggled up from my seat with each motion accompanied by Germanic groans, "Ach, der oofen-aufen, einbahnstrasse, gemütlich, schadenfreude." (Somehow German best expresses an aching body).
But the general, all-over pain is only the natural result of exertion (and advancing years), and can be endured, and eased with a couple of Bufferins. It's the more specific pains that are worrisome.
For a few nights my left index finger had an agonizing bone bruise, which caused me to turn my grip on the stick a little so it wouldn't hurt so much. However, that tiny adjustment affected my shoulder, making it ache all the time, so I worried about the cuff rotator problems that have plagued other drummers I know. That means surgery, and a long recovery.
Later on, my right index finger developed a split callus between the first and second knuckles, a deep fissure into the tender flesh below. It throbbed all the time, especially when I was playing, from the impact of each stroke, plus the sweat getting into it. I couldn't even bandage it, because I needed the sensitivity of feeling the stick in that "cradle" of my fingers.
My right big toe also ached from a bone bruise for a few shows, and throughout this entire tour I had an ear infection that never had a chance to clear up, what with wearing earplugs on the bike all day, and the in-ear monitors onstage.
Right at the start of the European run, a crown came loose on one of my front teeth. I couldn't get it fixed properly until I got home, so I had to bite and chew around it. My socks had holes in them, my shaving kit was falling apart, and the bus's hot water heater packed up for the last few days, so I couldn't have a shower after a cold ride, or a sweaty show.
Apart from the general fatigue, I also noticed some psychological signs of the "on the road too long" syndrome. During the previous break at home, one morning I took a shower and got dressed, then went to put my laminated "Tour Staff" pass around my neck - laughing grimly to think that I felt naked without it, even in my own house.
One night in a European hotel, I woke up in the dark and looked at the bedside clock. The red LEDs said 4:55, and I frowned in my dozy stupor, "Damn - only five minutes 'til sound check." It was, of course, 4:55 a.m.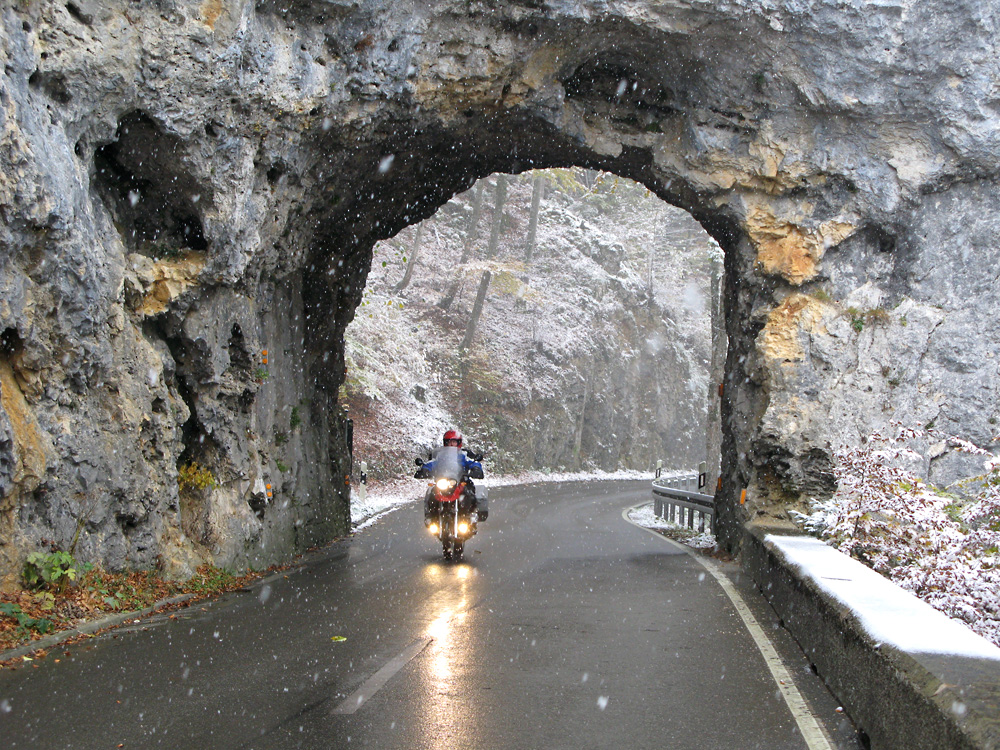 Brutus in the Black Forest
Altogether, Brutus and I rode 7,268 kilometers (4,543 miles) in Europe, while Alex, Geddy, and I played fifteen shows. That brings me to a total of 39,059 kilometers (24,412 miles) of motorcycling on the Snakes and Arrows tour, on my way to sixty-four shows with the guys at work.
In summing up all of those travels, and all of those performances, I now realize that I learned a few new things on the motorcycle, and on the drums. As I mentioned in a Modern Drummer story written before the tour, I remain ambivalent about touring personally, but I have to admit it's good for my drumming. Night after night, in my pre-show warmups on the little drumset in the Bubba Gump room, new rhythmic ideas and figures were worked out and introduced into my solo, sometimes that very night. Such immediacy is possible because I have continued to improvise the first half of that performance each time, and find a way to open the solo with a different figure every night (though I did use "Wipeout" twice - on my birthday, to commemorate the first song I ever played on drums, and on the last night, in Helsinki, for the same reason).
I also find my playing and - especially - my listening are continuing to develop in a way I wrote about in an earlier story in this space [July '07]. I can still feel myself growing into an ever-greater understanding and control of time. Similar to discovering a new level of motorcycling technique after 200,000 miles, it may seem strange to find new musical attainments after playing for forty-two years, but ... I guess that's how long it took me. (I never have been a fast learner - just stubborn.)
Another analogy between motorcycling and drumming is that many of the more subtle techniques can be learned, but not taught. In each pursuit, one level of understanding and accomplishment leads to another, and there are no shortcuts. That's certainly how it is with this idea of time sense - though one example I might offer is that I have begun to check my tempos in each song against Geddy's vocal phrasing. As I try to nail the "perfect" tempo, I listen to the way his singing falls against the time, especially at the beginning of the song. That can be a perfect indication of whether the tempo is too fast or slow.
When I told my friend Matt Scannell about that insight, he said (speaking for all singers, I'm sure), "I wish you'd tell all drummers about that." So I am. Spread the word.
One more comparison with these rarefied techniques on drums or motorcycle is that they remain elusive sometimes. One day you've got it, the next day it's gone. After that apotheosis on the Isle of Arran, I found that some days I simply could not attain that seamless shifting on the bike again, no matter how hard I tried.
Likewise with some of the new drum ideas I was coming up with on the practice kit - one day I'd nail it; the next day I couldn't. All you can do is keep trying - be stubborn.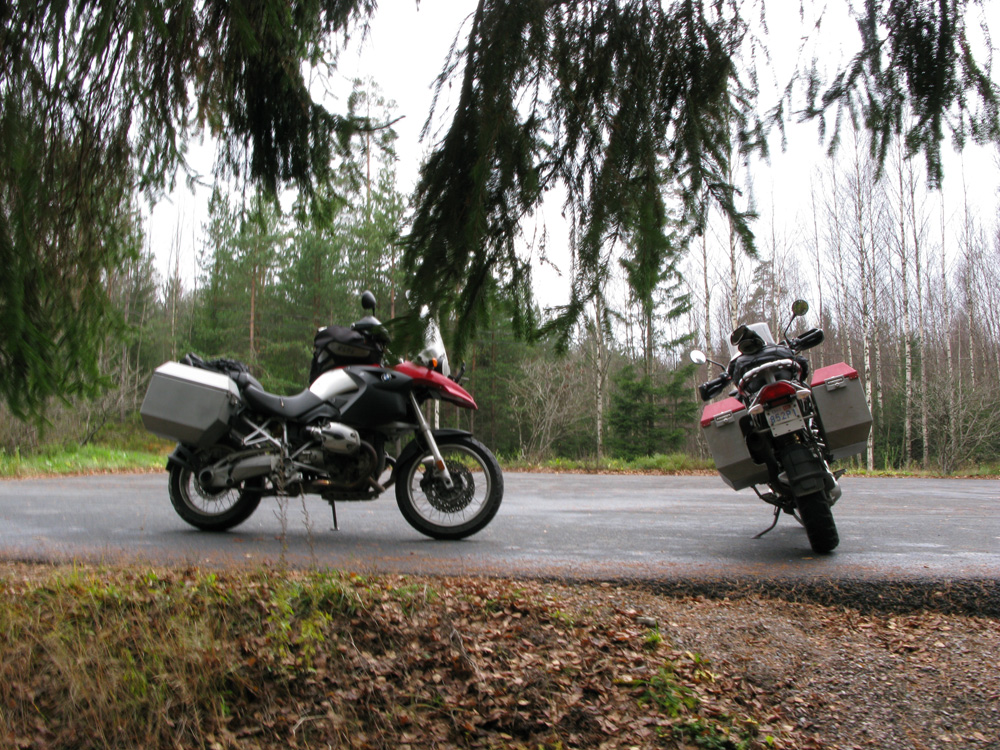 The last ride, to the last show, in Finland
And thinking of the "on the road too long" syndrome, it should be remembered that our families are subject to that, too. Big time.
I am reminded of a print that hung on my grandmother's wall when I was a boy. Dating from World War II, it was a Norman Rockwell-style painting of a young girl, a mother, and a grandmother standing in profile, as if staring out to sea in a blue twilight. The caption was a quote from John Milton, "They Also Serve Who Only Stand and Wait."
As much as my life on tour can be exhausting and tedious, it is never boring. (Though to be honest, I don't think I've ever been bored for a single minute in my life.)
For our loved ones, left alone at home, the long months of a tour can be even harder to endure. It is well to remember that, and for others to realize it.
For those of us off on foreign campaigns, in Florida or Finland, we need the faith that our loved ones at home are feeling the way we do, like the signs in Ayrshire, "Haste ye back."